In a world of passionate romances and enthralling flings, some of our favorite Hollywood couples have withstood the test of time and continue going strong even today. From Rita Wilson and Tom Hanks to William Daniels and Bonnie Bartlett—these star marriages prove the power of true love.
Often, enduring and long-lasting relationships in Hollywood are either portrayed on the big screen or left to the audience's imagination. Watching our beloved stars part ways is heart-shattering and can shake our belief in eternal love and the sacred institution of marriage. But is that all there is to it?
The answer is "No." You'll be surprised to learn that some famous A-list pairs have proven critics wrong, not letting the glitz, glamor, or attractive co-stars get in the way of their feelings. We have curated a list of ten of the longest Hollywood marriages that show genuine love still exists!
10. Hugh Jackman and Deborra-Lee Furness: 26 Years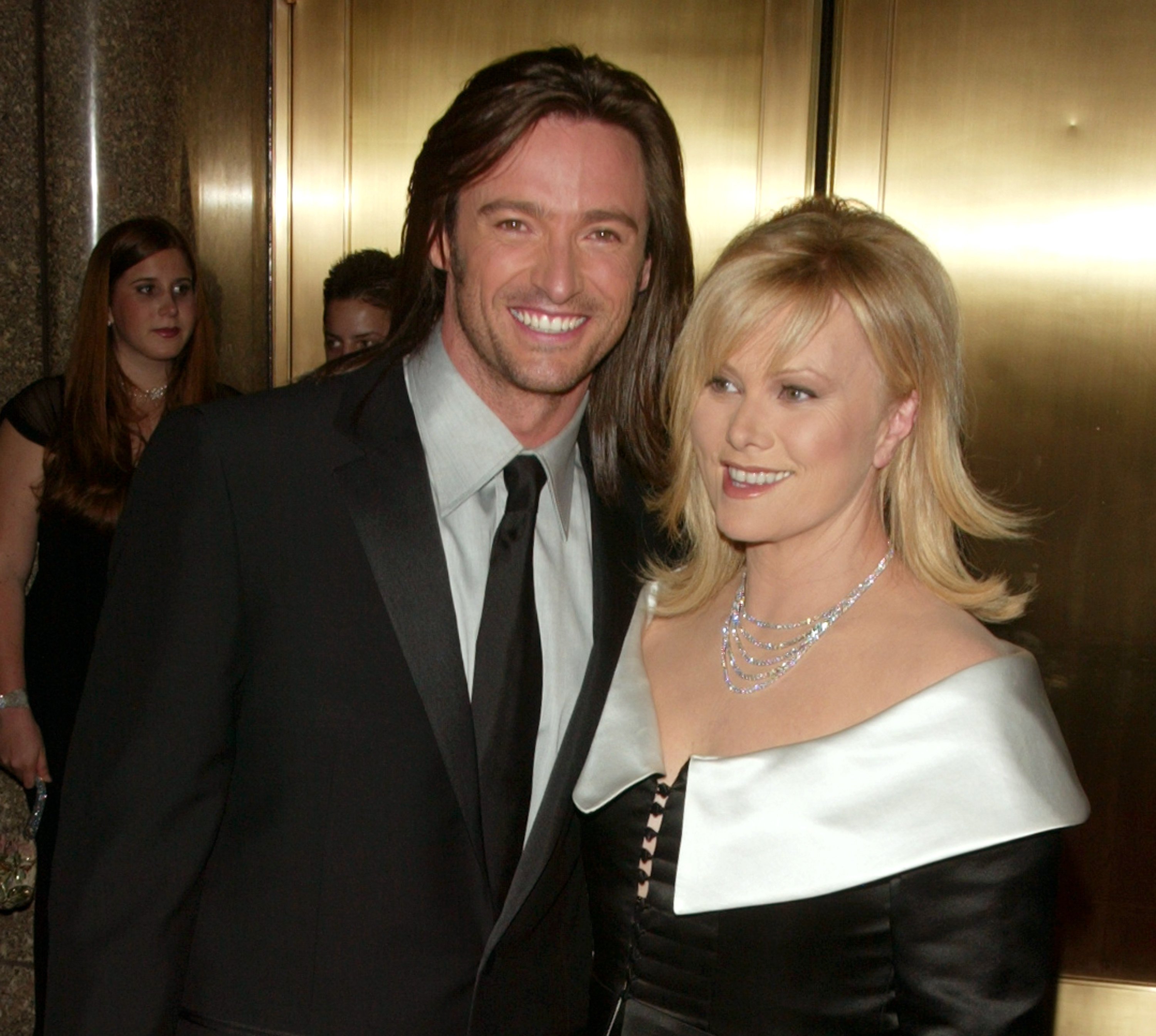 Hugh Jackman and wife Deborra-Lee Furness during the 2003 Tony Awards at Radio City Music Hall in New York City, New York | Source: Getty Images
Hugh Jackman met Deborra-Lee Furness on the set of his first job in 1995. Although she was 13 years older than him, they didn't let age get in the way of their love. Only a year later, on April 11, 1996, the couple tied the knot and have been together for 26 years, all set to celebrate their 27th wedding anniversary in April 2023.
While talking about his lovely wife, Hugh said he knew she was "the one" within 14 days of crossing paths with her. Since Deborra-Lee was already 40 when she married Hugh, the couple immediately began trying for a family. But after their pregnancy struggles, miscarriages, and IVF attempts, the pair turned to adoption.
Hugh and Deborra-Lee are doting parents to their two adopted children—Oscar Maximilian Jackman and Ava Eliot Jackman, and couldn't be happier. When asked about the secret to their long marriage, Hugh replied:
"I think [in] relationships, you gotta be yourself, even the bits you don't love, the bits you're embarrassed about, or things you did wrong. If you're in a situation where you can be yourself and really be honest, that's a good start."
9. Tom Hanks and Rita Wilson: 34 Years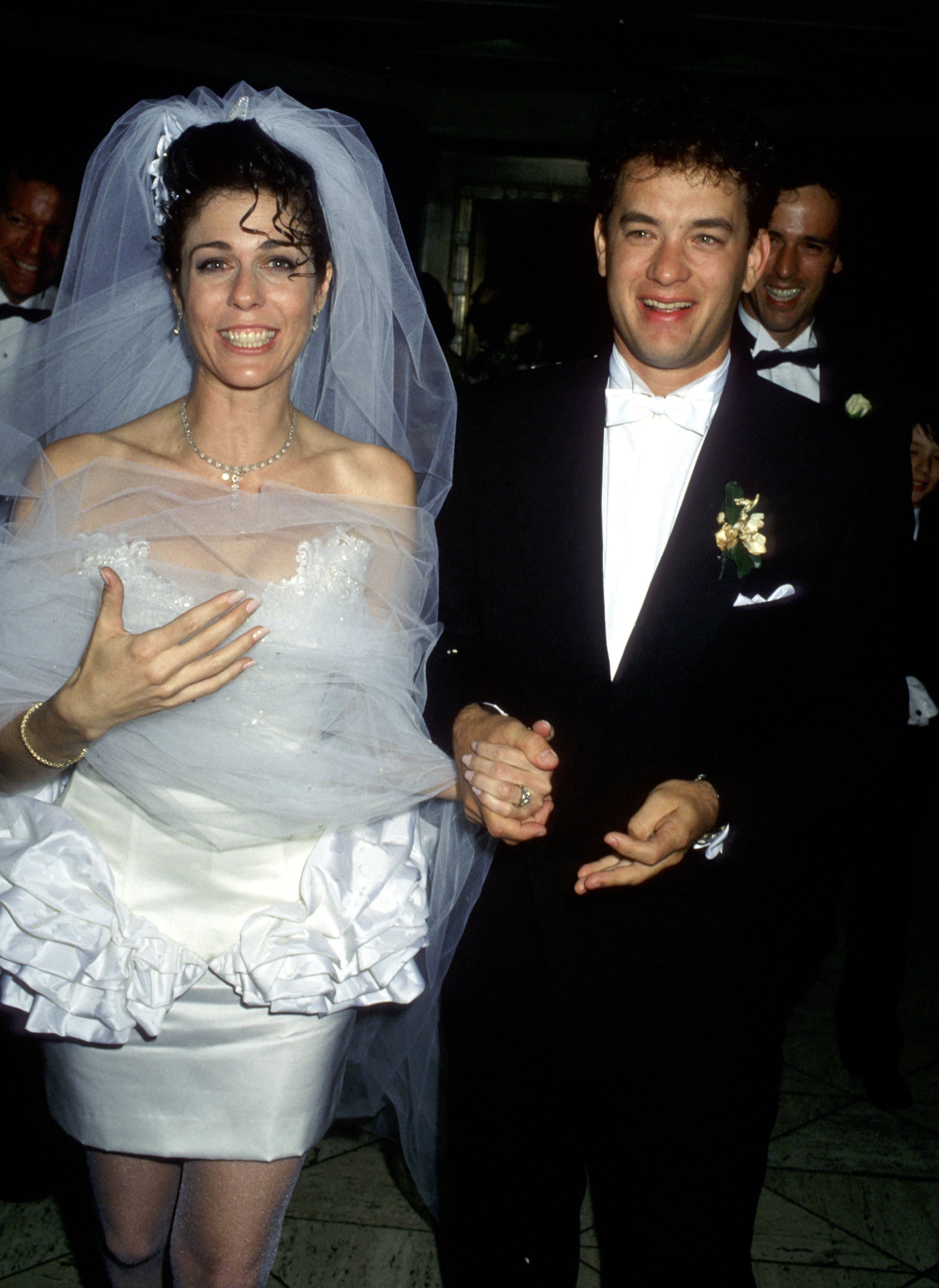 Rita Wilson and Tom Hanks at their wedding reception at Rex's in Los Angeles, California | Source: Getty Images
Tom Hanks and Rita Wilson met on the set of the ABC show "Bosom Buddies" in 1981 when the former was still married to his high school lover. However, he couldn't deny his attraction to Rita. When he and his wife parted ways in 1987, Tom and Rita made their relationship official and wed on April 30, 1988.
They are doting parents to two children and have hit the incredible 34-year mark in their marriage. The duo has supported each other through life's highs and lows, including Rita's breast cancer diagnosis and their COVID-19 battle.
In a 2012 interview with Piers Morgan, Rita recalled one of her sweetest moments with Tom: "We were holding hands, and we were waiting for the traffic light to change. And he looked at me, and he said, 'You know, I just want you to know that you never have to change anything about who you are in order to be with me."
When Tom bagged the Best Actor award at the Oscars in 1994, he dedicated the win to his wife and kissed her before going on stage. He also admitted during a 2018 podcast that his wife made him laugh harder now than she did years ago in 1986.
Tom and Rita will celebrate their 35th wedding anniversary in April 2023 and continue to cherish each other. When asked about the secret to his enduring and happy marriage to his wife, Tom responded, "We learned the secret of happiness with each other a long time ago, and that's always telling the truth."
8. Michael J. Fox and Tracy Pollan: 34 Years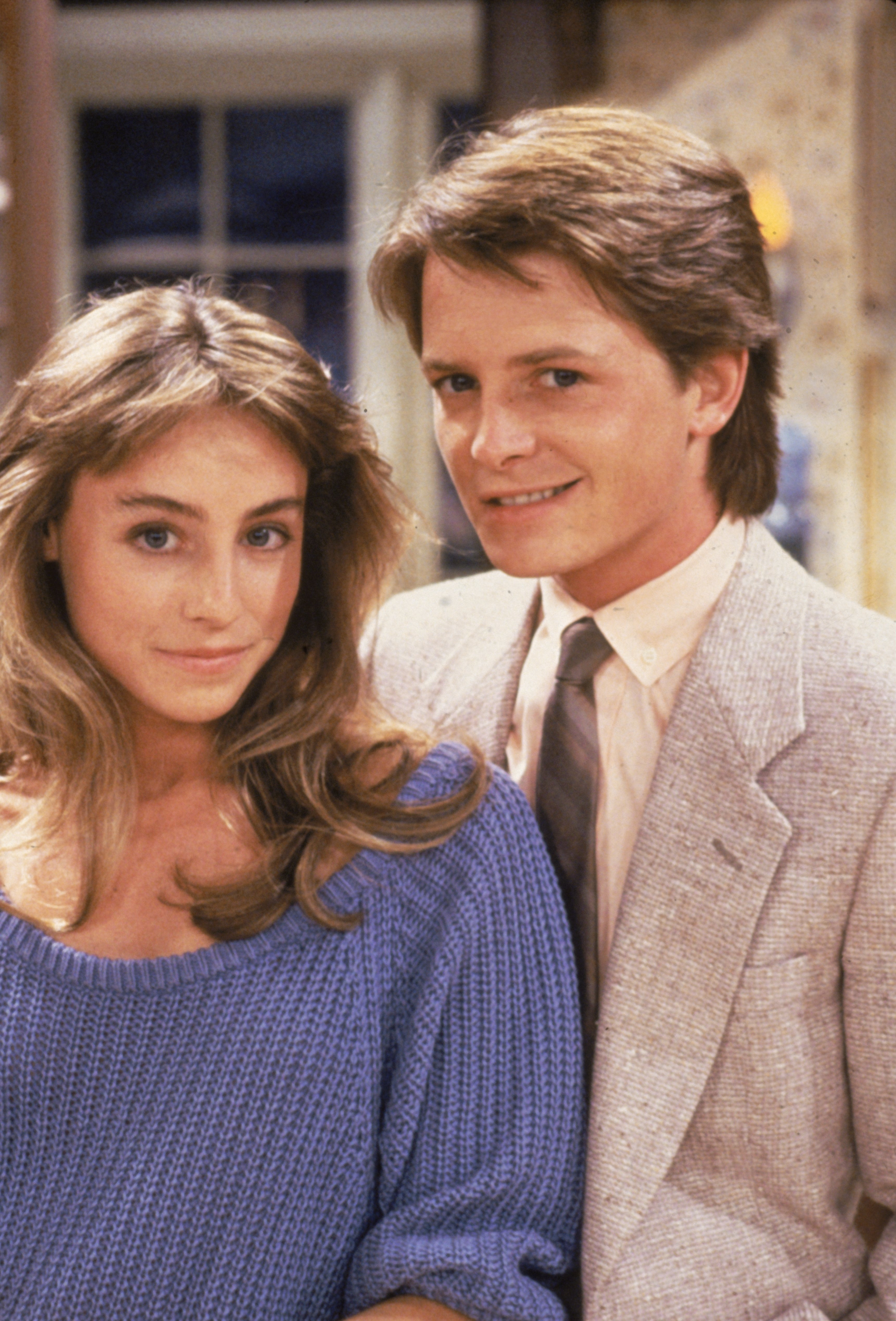 Promotional portrait of actors Michael J. Fox and Tracy Pollan on the set of the television series, "Family Ties." Fox and Pollan were married in 1988. | Source: Getty Images
Michael J. Fox met Tracy Pollan on the popular 80s show "Family Ties," where she was cast to play his on-screen girlfriend. They were dating different people at the time, and after breaking up with their partners in 1987, they entered into a relationship and tied the knot on July 16, 1988.
When 29-year-old Michael was diagnosed with Parkinson's disease in 1991, he struggled to go public with his diagnosis for years and became lonely. During that time, the actor said he began drinking heavily, and Tracy made him realize that he needed help.
Michael said he then sought rehab and therapy, and eventually, things worked out for the best. In addition to helping her husband bounce back from his darkest phase, Tracy supported Michael during his four months of struggle to regain his ability to walk.
Tracy and Michael have been married for 34 years and share four children. In November 2020, the "Family Ties" alum shared one secret about his long and fruitful marriage: "Sense of humor. Both our families had that."
7. Christopher Guest and Jamie Lee Curtis: 38 Years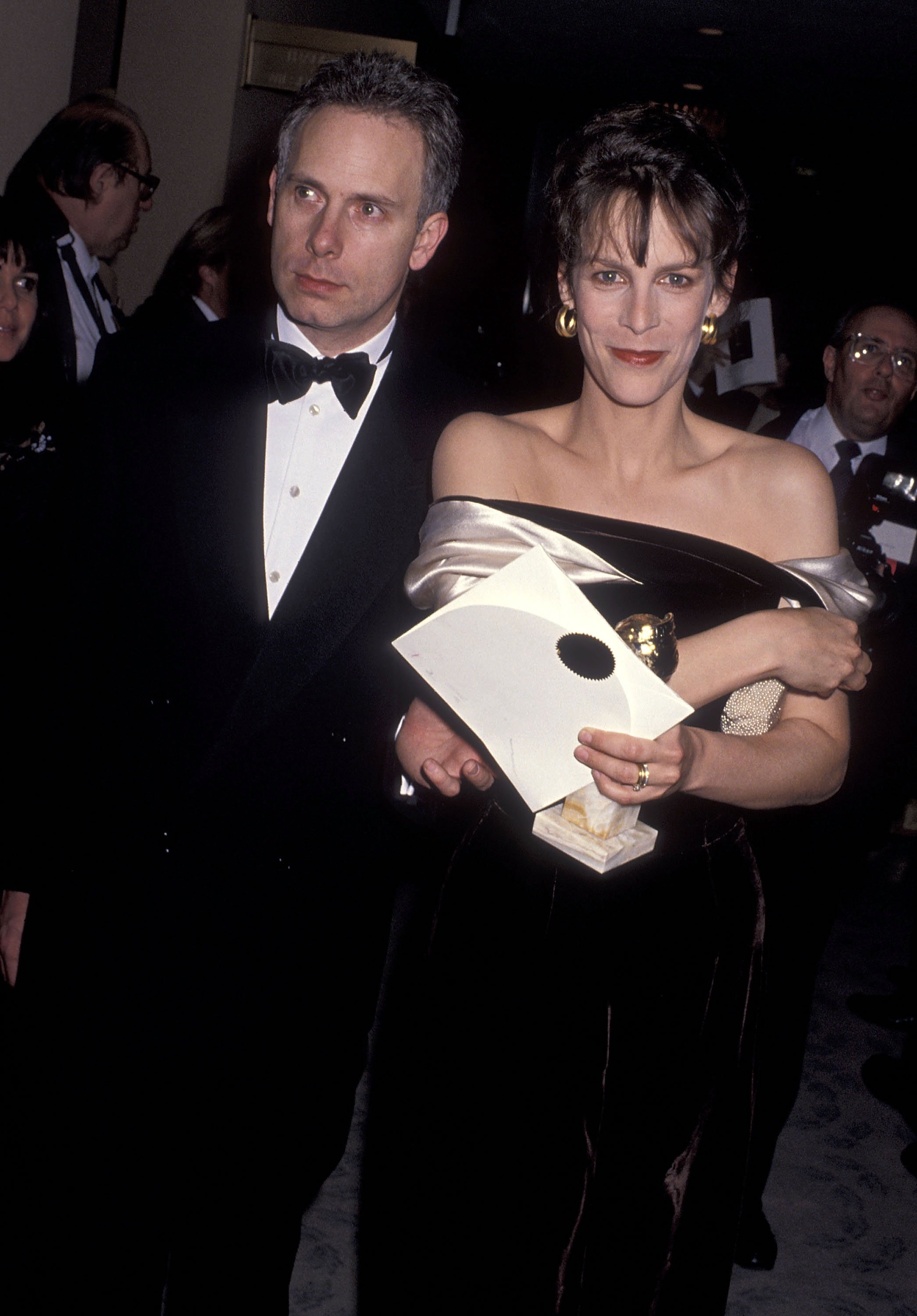 Actor/Writer Christopher Guest and actress Jamie Lee Curtis attend the 47th Annual Golden Globe Awards on January 20, 1990 at Beverly Hilton Hotel in Beverly Hills, California. | Source: Getty Images
In a 2004 interview for Oprah Magazine, Jamie Lee Curtis shared details about how she met and married Christoper Guest. Jamie Lee said she was going through a Rolling Stone magazine with her friend when she stumbled upon a picture of three men. Regarding the 1984 incident, she added:
"I looked at the man on the right, wearing a plaid shirt and a waggish smirk. I'd never seen him before, but I pointed at him. 'I'm going to marry that man,' I said to my friend."
Then, one day, Jamie Lee's friend saw Christopher, and her agent tried to set them up on a date. Things didn't immediately work out, but the pair went on a date the next day.
On December 18, 1984, they tied the knot and have been together for 38 years. They are proud parents to two children, Annie and Rubie.
Jamie Lee shared a golden tip for anyone wanting to stay in a long-lasting marriage: "Don't get divorced. Don't leave. That's really it — two words."
6. Sam Elliott and Katharine Ross: 39 Years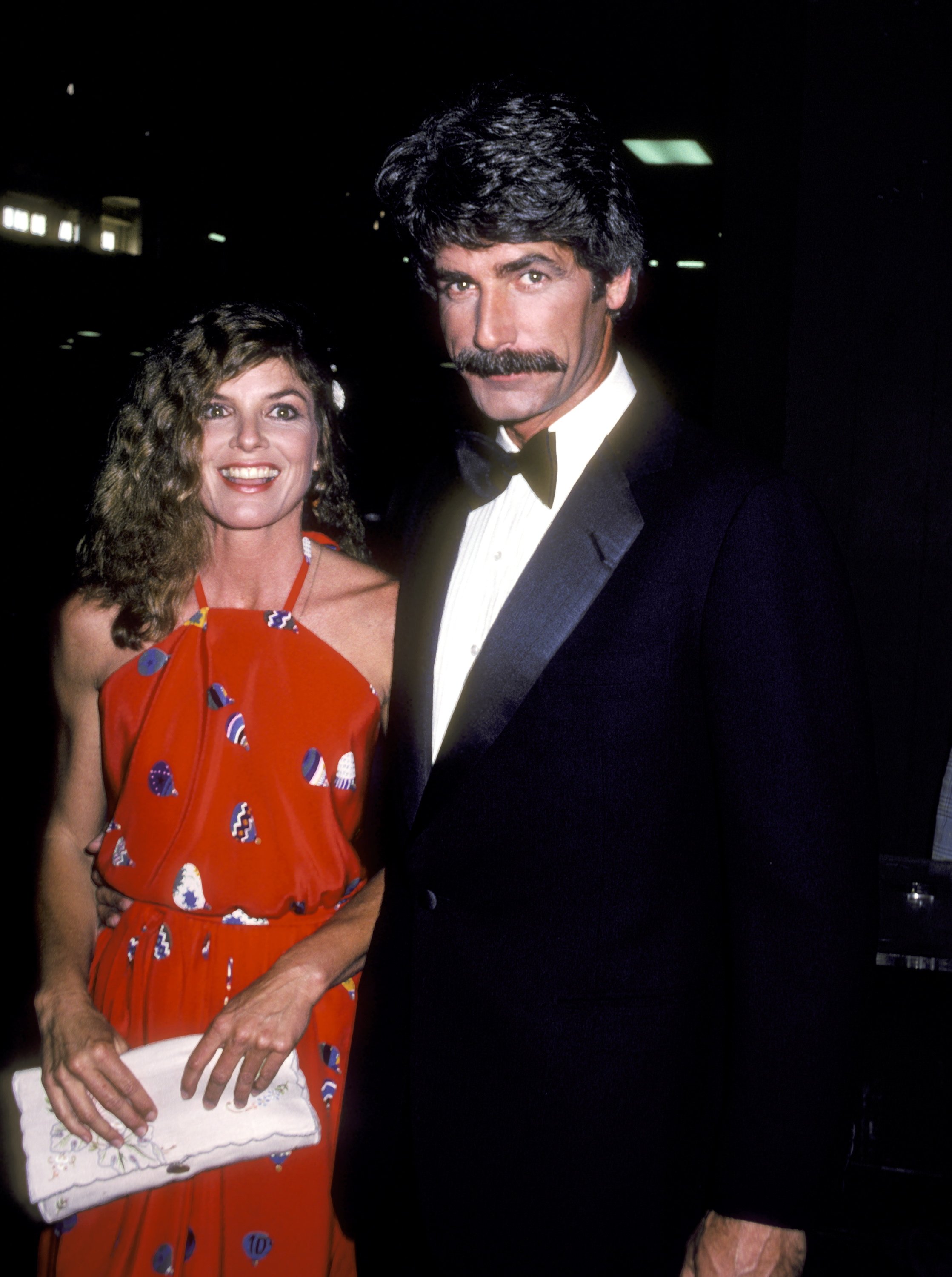 Actors Katharine Ross and Sam Elliott attend the 16th Annual Academy of Country Music Awards on April 30, 1981 at Shrine Auditorium in Los Angeles, California. | Source: Getty Images
Sam Elliott and Katharine Ross starred together in 1969's "Butch Cassidy and the Sundance Kid," but they only began dating in 1978 when they worked on "The Legacy." Regarding their almost first meeting, Sam said he noticed the gorgeous brunette while filming but felt she wouldn't be interested in going out with him.
But things took a turn for the best, and Sam became the leading man in the "The Graduate" star's life. Katharine, a dazzling beauty of her time, fell in love with Sam's mustache, deep voice, and rugged looks. On the other hand, Sam was happy to find a partner with a shared sensibility.
The couple wed in 1984 and have been married for 39 years, making it Katharine's fifth and Elliott's first marriage. They share a daughter.
In an interview with AARP magazine, Sam said the secret to his lasting relationship was working together to make things work and not walking away from the commitment.
5. Don Gummer and Meryl Streep: 44 Years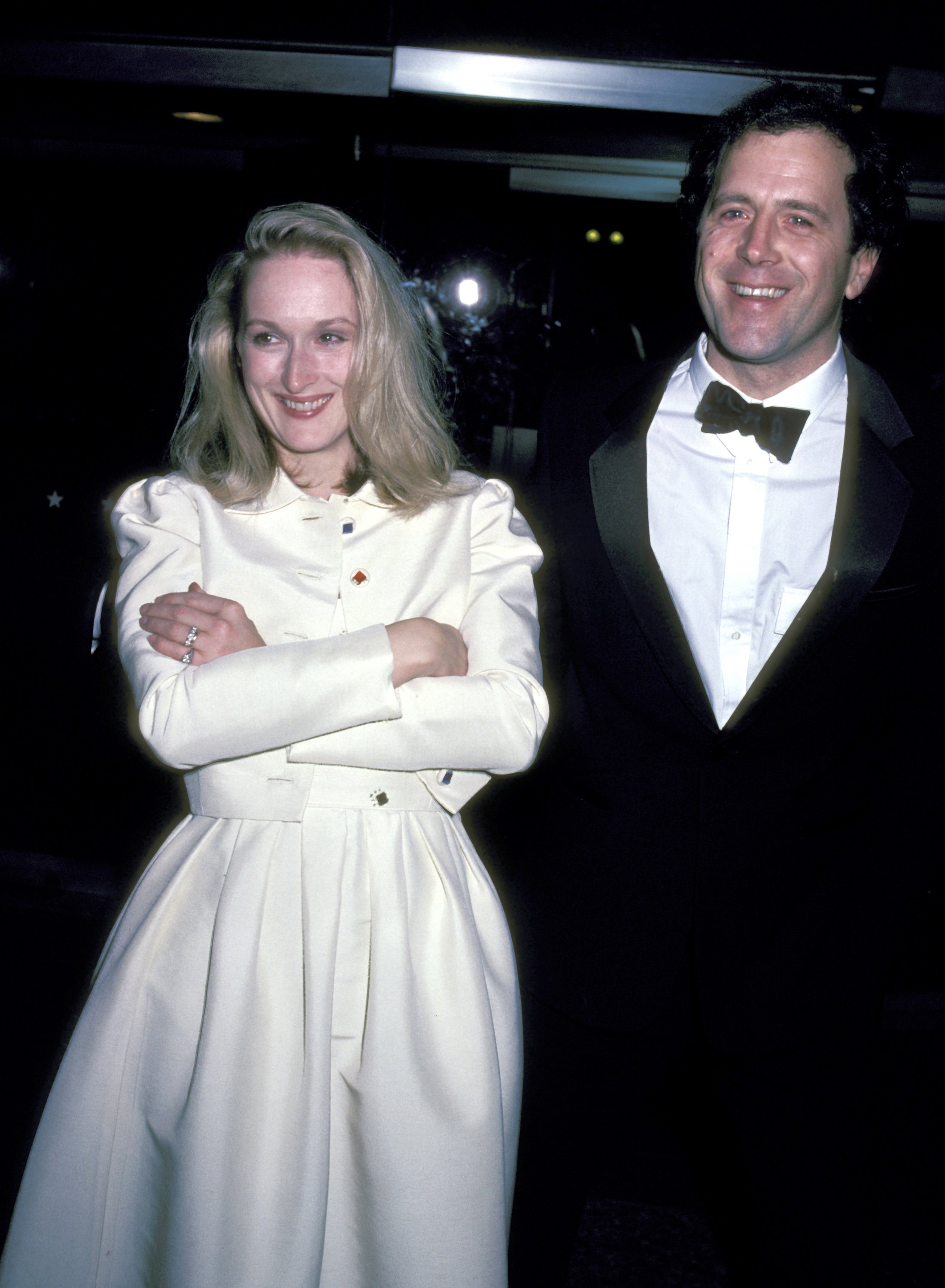 Meryl Streep and husband Donald Gummer during the 4th Annual Kennedy Center Honors at the Department of State in Washington D.C. | Source: Getty Images
Don Gummer and Meryl Streep's love story is one for the ages, and they have been going strong for over four decades. Their story began from harrowing circumstances. When they first met in early 1978, Meryl was mourning the death of her boyfriend of two years, actor John Cazale.
She went to Canada to stay with a friend afterward, still heartbroken and crippled by the loss. Later, she returned to New York and learned she was being evicted from the apartment she had shared with her late lover. Meryl's brother came to help her pack her belongings, bringing along his friend, Don Gummer.
Don, who lived only a few blocks from Meryl then, invited her to stay in his loft while he was out of the country. They stayed in touch through the ever-romantic and timeless mode of communication: letter writing. Eventually, they fell in love, married on September 30, 1978, and raised three girls.
While accepting her 2012 Academy Award, Meryl thanked her loving husband during her acceptance speech, adding, "And I want him to know that everything I value most in our lives you've given me." Sharing the secret to her 44-year marriage, the three-time Oscar winner expressed:
"Goodwill and willingness to bend—and to shut up every once in a while. There's no road map on how to raise a family: It's always an enormous negotiation."
4. Jeff Bridges and Susan Geston Bridges: 45 Years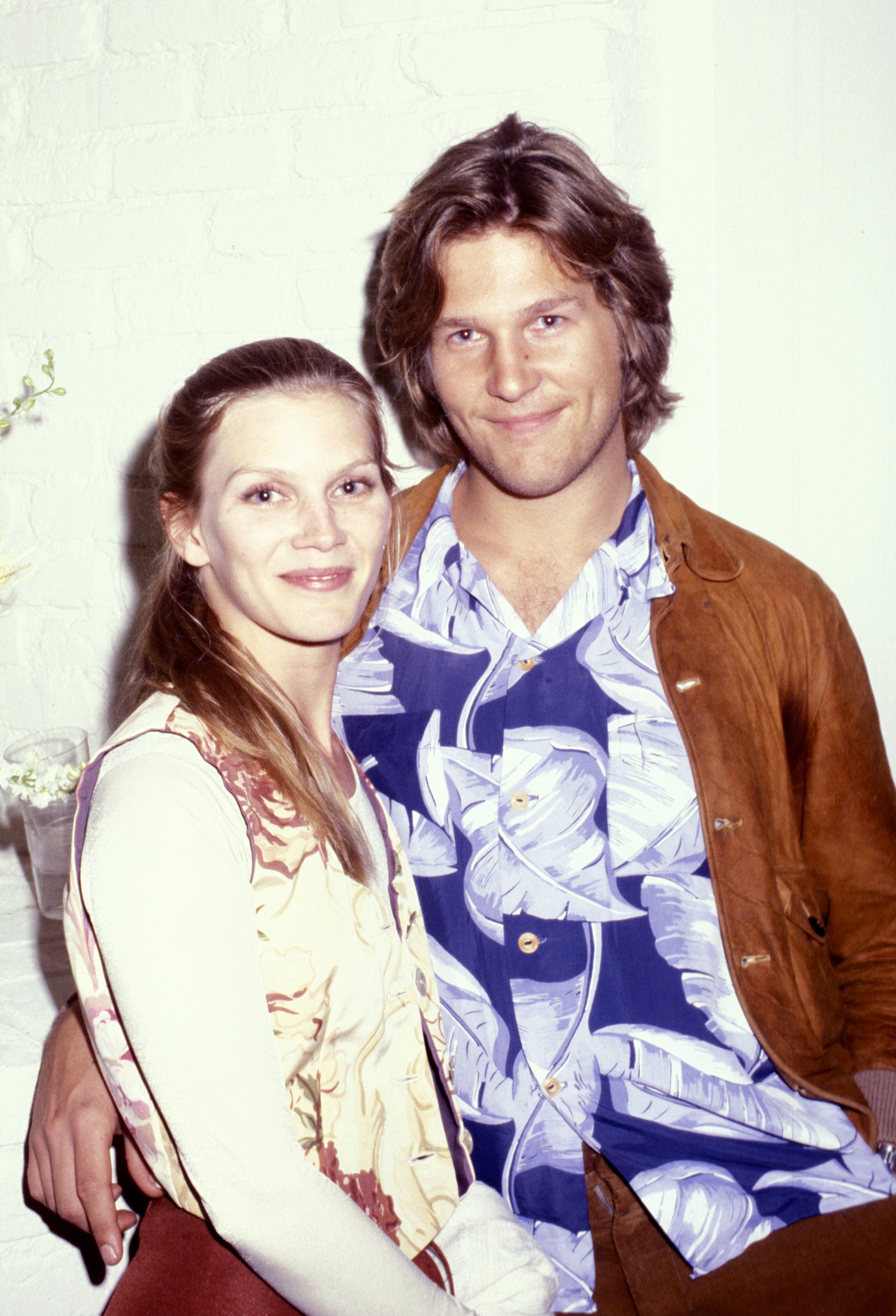 Susan Bridges and Jeff Bridges during the opening of the Camp Beverly Hills Boutique in Beverly Hills, California | Source: Getty Images
Love sparks flew around Jeff Bridges as soon as he saw Susan Geston Bridges while filming "Rancho Deluxe" in Montana in 1975. Although she had a broken nose and bruises around her eyes from a car accident, Jeff knew she was "the one."
Susan reportedly turned him down initially, but they met again a few days later and never parted ways. The couple eternalized their love on June 5, 1977, and are parents to three daughters: Isabelle, Jessica, and Haley.
There was a time when Jeff said he was fearful of commitment, but everything changed when he saw Susan. The "True Grit" actor said he even carries a picture of his wife that was taken the first time they crossed paths.
Looking back on their 45-year-long marriage, Jeff noted that he and his wife often fought, and things weren't always easy. But he said they rely on active communication to resolve conflicts and prefer to talk whenever something bothers them. "My marriage just gets better and better every year," he added.
3. Ron Howard and Cheryl Howard: 47 Years

American actor Ron Howard marries Cheryl Alley at the Magnolia Park United Methodist Church in Burbank, California on June 7, 1975. | Source: Getty Images
Ron Howard and Cheryl Howard experienced a love that many can only dream of in their lifetime! Their paths intertwined in high school, and they had their first date when they were only 16. Since then, they have been inseparable. While reflecting on how he met and fell for his wife, Ron said:
"I felt really lucky when we met. It's crazy — we were teenagers, it shouldn't have worked. We got married young, that shouldn't have worked either, and yet it really and truly has."
In his memoir, "The Boys," Ron recalled moments from his first date, "Cheryl, front-row redhead Cheryl, occupied my thoughts, all the time. At home, I looked her up in the yearbook and found out her last name: Alley. Then I checked the white page of the phone book. Then I…well, I guess I stalked Cheryl."
The Oscar-winning director revealed that he drove past Cheryl's home many times, rehearsing his words before finally calling her and asking her out on a movie date. Although the couple didn't share a magical kiss, he returned home riding on the clouds.
The Howards have been happily married for 47 years, with their relationship lasting even longer. They have four children: daughter Bryce Dallas, twin girls Jocelyn and Paige, and son Reed.
When asked about the secret to his enduring marriage, Ron said there was no tactic or technique he and Cheryl followed other than open communication and handling tough conversations constructively.
2. Alan Alda and Arlene Alda: 65 Years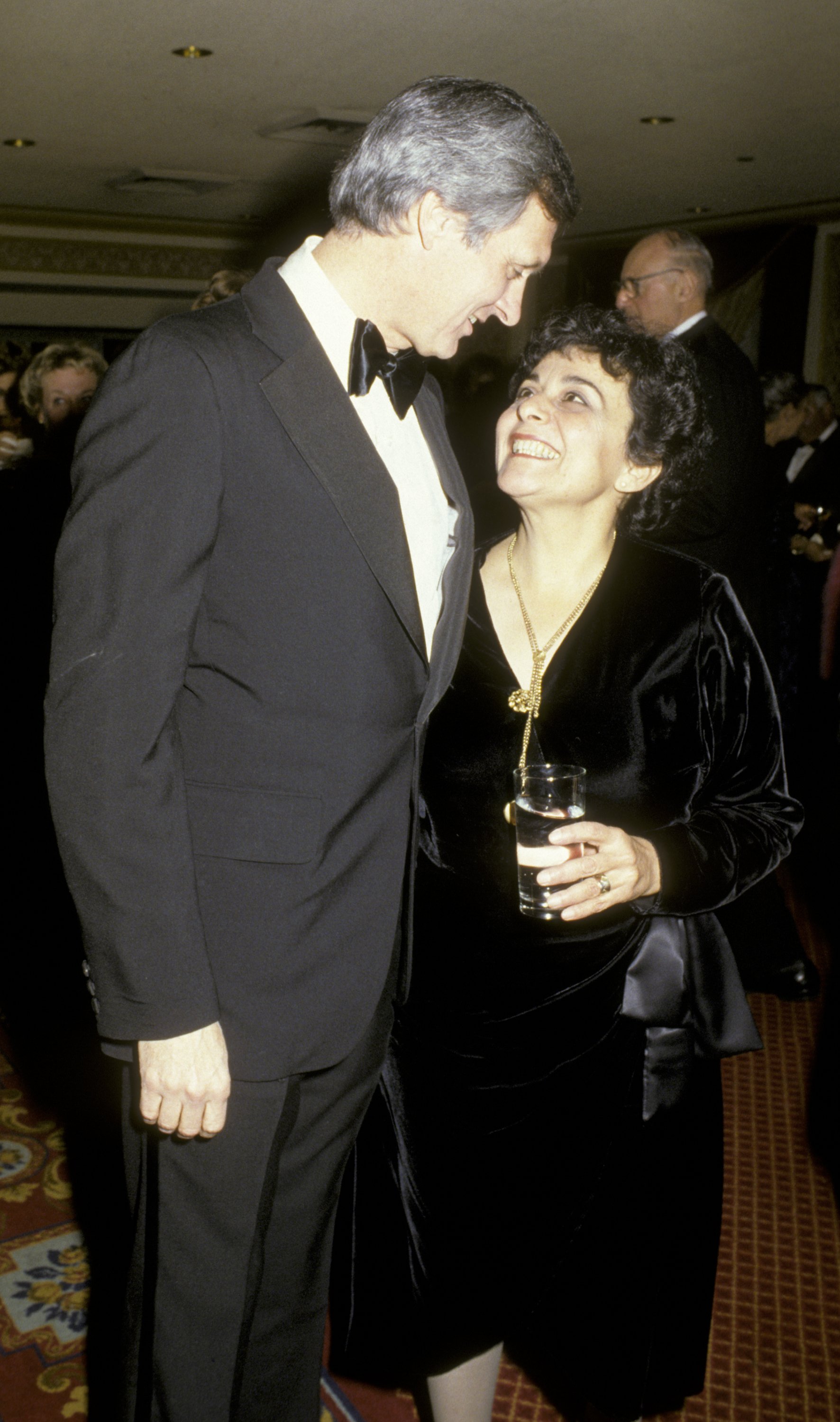 Alan Alda and wife Arlene Weiss attend the First Annual Guild Hall Awards on September 23, 1986 at the St. Regis Hotel in New York City | Source: Getty Images
Alan Alda had a long and fulfilling acting career, renowned for his performance as Hawkeye Pierce in the comic series, "M*A*S*H," Arnold Vinick in "The West Wing," and Ted in Woody Allen's comedy-thriller, "Manhattan Murder Mystery."
When he was an English student at Fordham University in the Bronx, Alan went to a dinner party one evening where he met Arlene Alda. She was a music student at New York City's Hunter College then and was attending the dinner through a mutual friend.
However, Alan and Arlene didn't come together until the host's rum cake accidentally fell on the floor, and they were the only ones to eat it. In a tweet shared in August 2021, the "Crimes and Misdemeanors" alum admitted that he and Arlene were inseparable after that dinner, and he was captivated by how she laughed at his jokes.
They married on March 15, 1957, and have been together for 65 years. In an interview with The Guardian in 2019, Alan said his wife's secret to a lasting marriage is a short memory. On the contrary, he admitted to following a pedestrian approach in arguments. According to Alan:
"When you're in the middle of yelling at each other, which you will at some point, remember that you're talking to the person you love more than anybody in the world and it might change the tone of the conversation."
1. William Daniels and Bonnie Bartlett: 71 Years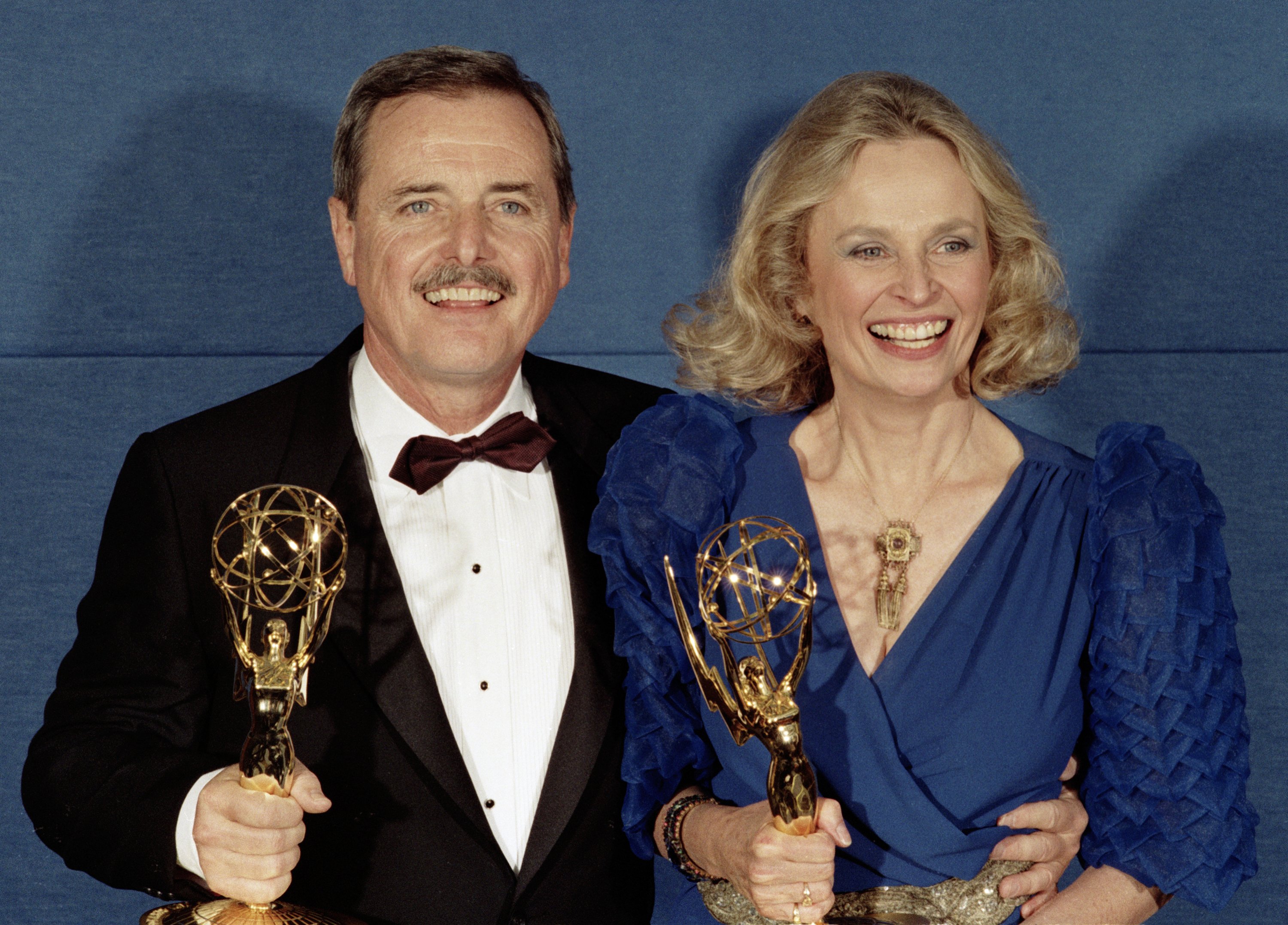 Emmy winners and real-life husband and wife William Daniels and Bonnie Bartlett celebrate their Emmy Awards backstage at the Emmy Awards on September 21, 1986 in Pasadena, California. | Source: Getty Images
We conclude this list with a couple who have been in the marriage arena for over seven decades and still counting! Williams Daniels, known for his performance as Mr. Feeny in "Boy Meets World," went on to marry Bonnie Bartlett, who appeared in "St. Elsewhere," where she played his on-screen wife.
They tied the knot on June 30, 1951, making their communion 71 years strong! In 2017, William appreciated his wife, calling her an incredible artist with two Emmy wins under her belt. He said he welcomed her feedback on his acting and strived to improve his work. The "Knight Rider" star stated:
"So we help each other, and we respect each other, and that's the ingredients I think that makes a successful relationship."
In an interview with Forbes in 2021, Bonnie said the one thing she loved the most about her husband was his sense of humor.