When a 7-year-old boy was asked by his father to be best man at his wedding he didn't even know what the term meant.But that didn't deter him from taking on the role with enthusiasm, preparing a 3-page speech and unknowingly stealing the show.
This little boy is not only the most competent reader I've ever heard, but delivers his speech with emotion and honesty leaving the crowd not knowing whether to laugh or cry.
Choosing your best man is probably one of the most important jobs for the groom; not only do you need to consider who your closest friend or relative is, but if they can also deliver that all-entertaining speech. If not then your guests will leave your big day only remembering the embarrassing stories or the jokes that weren't funny.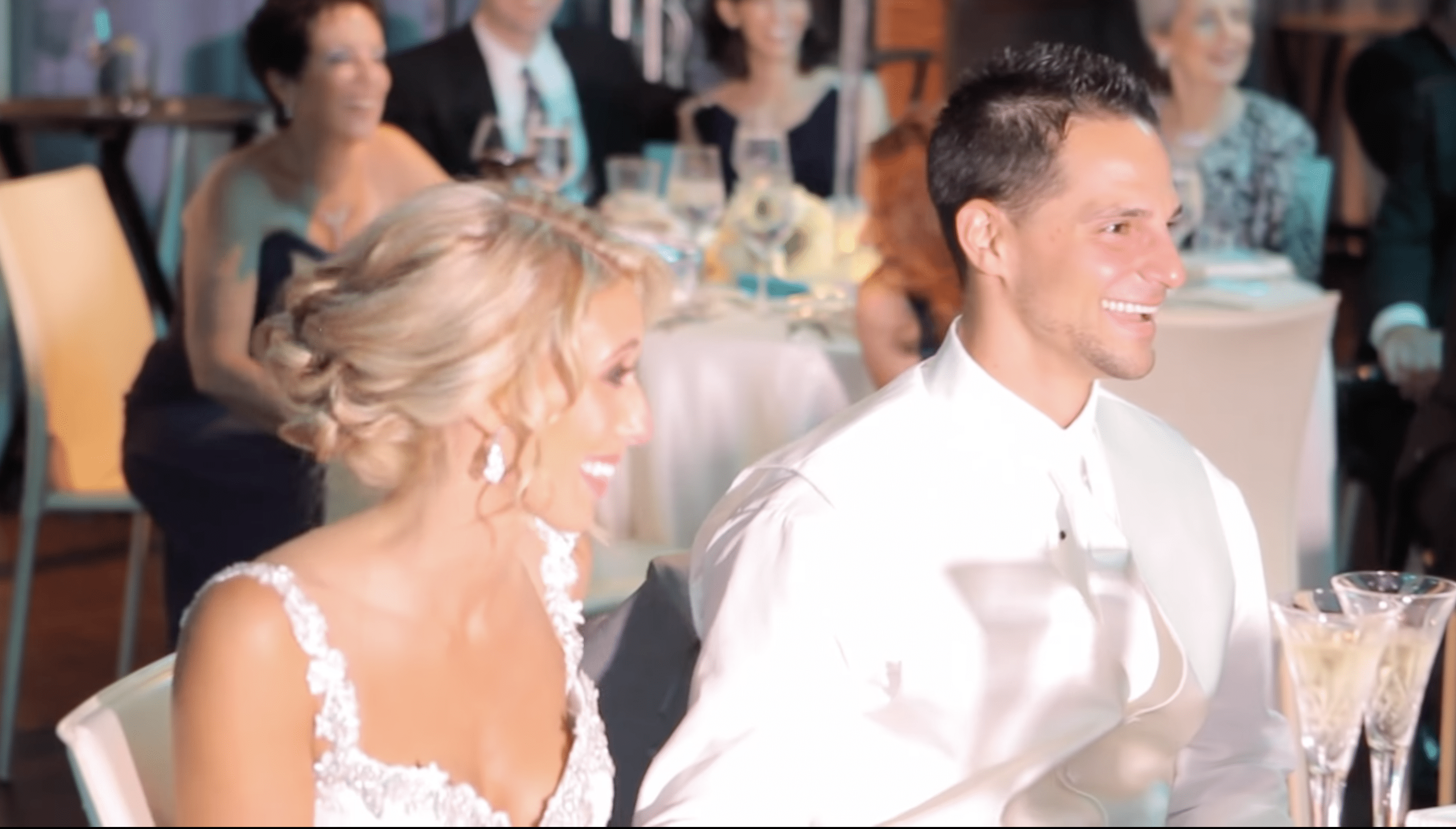 Nick del Bono and Lauren Elise laugh as their son, Vincent, gives his best man speech. | Photo: YouTube.com/Ashe Productions
YouTube
Often, a couple asks their closest friends or siblings to take on these roles, but Nick del Bono picked his 7-year-old son Vincent to be his best man at his wedding in Atlanta, Georgia, to Lauren Elise in 2014.
Little did he know the youngster would deliver the most fantastic best man speech, leaving a lasting impression on everyone.
As the youngster takes to the front, microphone in one hand and his 3-page speech in another, the guests couldn't believe it when he introduced himself.
The little fellow began sharing a few hilarious details about his dad, revealing some of his father's tricks, including flicking deodorant balls at Lauren, scaring her while she showered, and making their apartment stink.
Vincent then shared what made Elise the perfect life partner for his father. He said she was fun to have around and even hung out with him, leaving his dad and stepmom in tears.
Vincent then shared what made his dad the best and nobody could hold back the tears.
The 7-year-old boy not only admitted that his dad had the biggest muscles compared to all the other dads of the kids in his class, but called his father a superhero and shared all his superpowers. "He takes care of me when I'm sick. He reads me stories every night before bed. He taught me how to ski. He taught me how to throw a baseball. He teaches me how to have good manners."
The little best man said that his father never missed any of his games and always made him laugh.

Vincent also told the crowd that when his dad asked him to be his best man, he had no clue what a best man was. But after taking on the role, everything became clear to him.
"Every real superhero needs a sidekick – that's me. And every TRUE superhero needs a pretty girl by his side – that's Lauren. In my opinion, we make an unstoppable team," he said.
Vincent completed the speech by saying that he was happy his dad had married Lauren because it meant a baby brother.
The following year Lauren shared the news with TV show host Ellen Degeneres on Facebook and said exactly nine months after their wedding Vincent got his wish and they welcomed a baby brother for him.