An older woman knew better than anyone that music is food for the soul. She loved attending her favorite band's concerts until her health worsened, and she couldn't get out of bed. Unbeknownst to her, the universe had a heartwarming surprise in store for her.Franca is a huge music fan.
One might think she loves music because she is familiar with its timeless nature. Perhaps, whenever she hears her favorite tunes, she is transported to another world, far more magical and enchanting than the existing one.
Franca particularly enjoys listening to her favorite band, Cosimo and the Hot Coals, a Milan-based group offering a rich collection of Hot Jazz music. The band with five members performs in swing dance events, jazz clubs, and festivals in Italy and worldwide.

Grandmother Franca | Source: instagram.com/cosimoandthehotcoals
Missing Her Favorite Band
There was a time when Franca loved nothing more than attending the live concerts of Cosimo and the Hot Coals and having a spectacular time. But over time, her health began to decline, and eventually, she reached a point where she couldn't get out of bed.
Franca enjoyed seeing her lovely grandson play the drums.
While Franca missed many things about her life, being unable to see her beloved group intensified her feelings of emptiness. When Cosimo and the Hot Coals learned about her predicament, they decided to remedy the situation.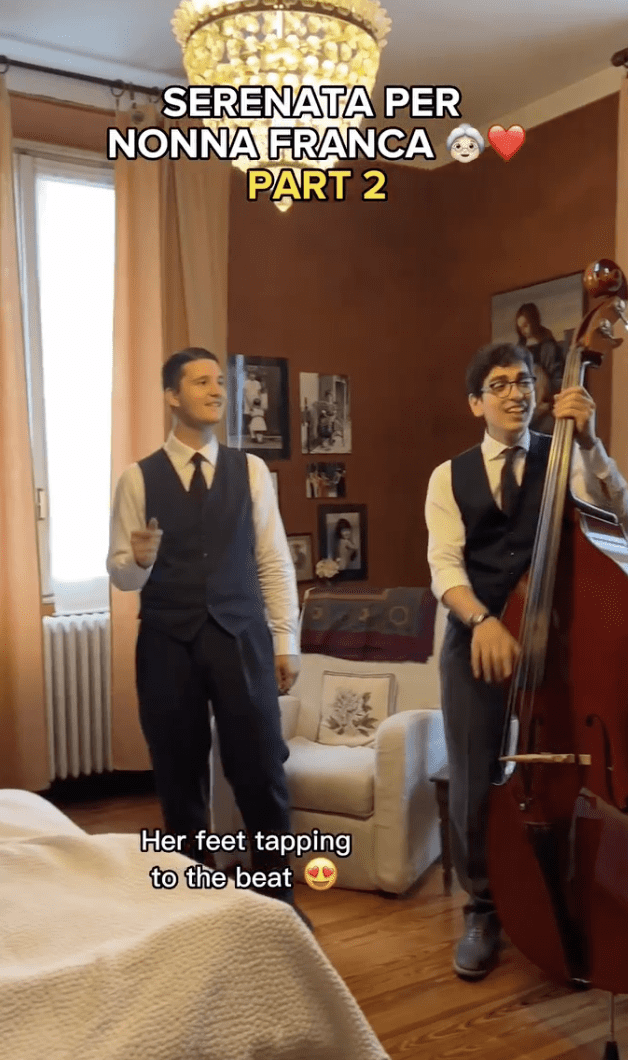 Members of the Cosimo and the Hot Coals perform for Franca | Source: instagram.com/cosimoandthehotcoals
What a Surprise
Knowing that their beloved fan could no longer attend their live concerts, the band devised a brilliant plan. The five-piece Italian group serenaded Franca at her home, giving her an extraordinary live performance.
According to Scoop Worthy, the band members occasionally stopped by her house and performed in her bedroom. And every time Franca saw her favorite musicians, she was overwhelmed and felt indescribable emotions.
Catching the Live Action
To share her precious reaction with the world, Cosimo and the Hot Coals captured short clips from their performances and shared them on Instagram and TikTok. They shared the first part of the video on September 17, 2022. In the clip, the band sang and played instruments in front of Franca's bed. The text inlay read:
"A 94 yo girl loves us so much. She'd like to attend our live shows but she is no longer able to (sic)."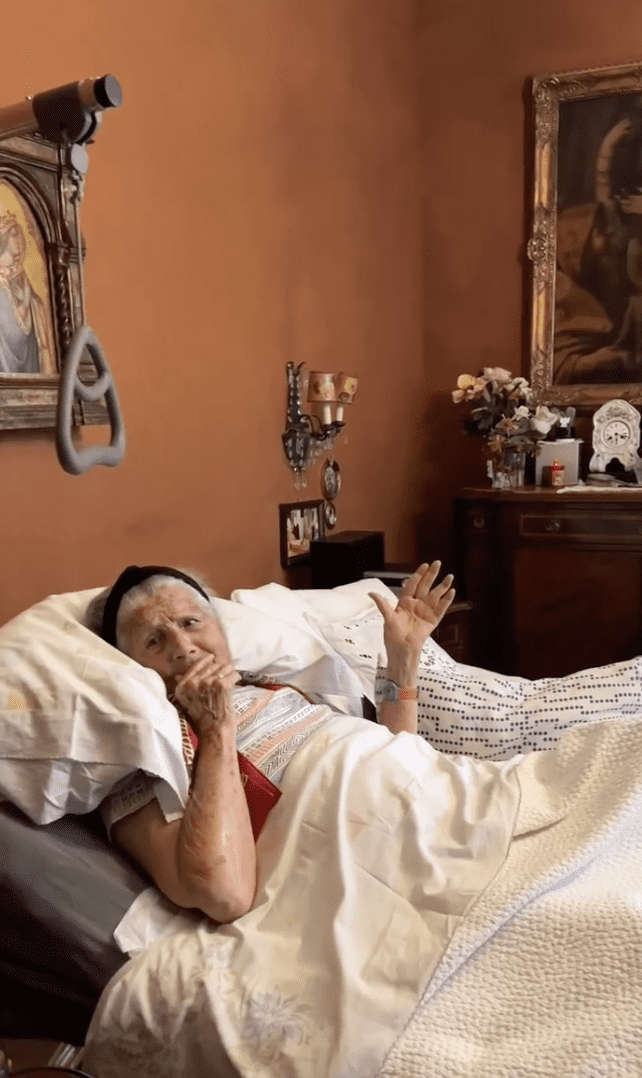 Grandmother Franca | Source: instagram.com/cosimoandthehotcoals
Too Many Emotions
In the video, Franca lay in bed as her favorite band performed right before her eyes. The text inlay further said, "That's why sometimes we simply stop by to play a song for her, and every single time her reaction is priceless [sic]." Throughout the clip, the senior citizen could be heard saying, "No," "Too Good," and "Baletto."
Apart from the band being her favorite, Franca has another reason to love it. She is the grandmother of the band's drummer, Michele Capasso. Franca enjoys seeing her lovely grandson play the drums.
Priceless Reaction
As the five young men gave her an exclusive performance, Franca was deeply touched. The caption of the video reads in part:
"Serenade for Nonna Franca. Some time ago we visited Michele's grandmother, grandmother Franca. Her reaction was priceless and reminded of us the real reason why we love making music so much."
But that wasn't all. The group also shared a second part of the video, encapsulating Franca's heart-melting reaction. The inlay text said, "This is probably the best thing you'll see today. Her feet tapping to the beat. She is truly amazed. Literally crying (sic)."
The Online Reaction
Several netizens were touched by Franca's soul-warming reaction and shared their thoughts in the comment section.