Anyone familiar with Hollywood probably knows who Jim Carrey is. His hilarious movies are adored all over the world, as well as his charismatic personality. You might recognize him best from "The Mask" and "Ace Ventura: Pet Detective," but he has so much more to offer.
Some of his other notable films include "The Truman Show," "Liar Liar," "Dark Crimes," "I Love You Phillip Morris," and "Eternal Sunshine of the Spotless Mind." The latter is a massive example of how many comedic actors can perform no matter what genre they're offered.
Of course, Carrey still loves comedy and more youthful movies such as "Kick-Ass 2" and "Dumb and Dumber To." Aside from his significant roles, Carrey has also been involved with some of the most well-known female celebrities in the business.
He dated stars such as Renée Zellweger, Jenny McCarthy, January Jones, Linda Ronstadt, and more. However, Carrey has only been married twice. His first wife was Melissa Womer, and his second wife was Lauren Holly.
He and Womer had a daughter, Jane, during their time together. She was a contestant on "American Idol" in 2012. His last known girlfriend was Ginger Gonzaga, and the pair confirmed their relationship in 2019. However, news of their separation broke out in October 2022. It appears he's not seeing anyone right now.
Carrey's Tough Childhood and His First Home
His fabulous self and his incredible fame at a relatively young age disguise the fact that Carrey didn't have the best childhood. Sometimes, people who had to grow up in the most challenging times want to make everyone else smile.
Most people have no idea that the comedian was homeless at some point. His family had to live in their car. Now, the actor has amassed a net worth of over $150 million, which is why it's so hard to imagine his tough roots and how he overcame those struggles.
The Canadian native is not the only North American who has had to live in their car. It's a sad reality for many people, but it's hard to imagine how anyone could rise from that to become one of the most celebrated people in the world.
Things weren't always like that, though. His father, Percy, had a job as an accountant, and his family was considered "lower middle class." However, Percy lost his career, and things spiraled from there. At 15, Carrey started to work as a janitor with his brother to help support their family.
His family owned a Volkswagen van, and they all had to sleep there once his parents lost their house. They had to move the van through trailer parks and campgrounds. At one point, a family member let them use their yard to set up a tent.
Aside from janitorial work, the actor and his older brother were security guards at a tire factory, where his father also found a job. However, the pay was not nearly enough to get their family out of that situation.
Before their lives spiraled, Jim was a top student, but the long shifts affected his grades and self-esteem. He was known already for his outgoing personality and bravery. Sadly, the actor had to drop out of high school at 16 to continue working.
Meanwhile, his mother had addiction problems at the time because of her own upbringing, and there wasn't much she could do for her family. Carrey said:
"And that's not intentional abandonment — she was always there for me, she was always there in the house — but if you're high on painkillers, that's abandonment."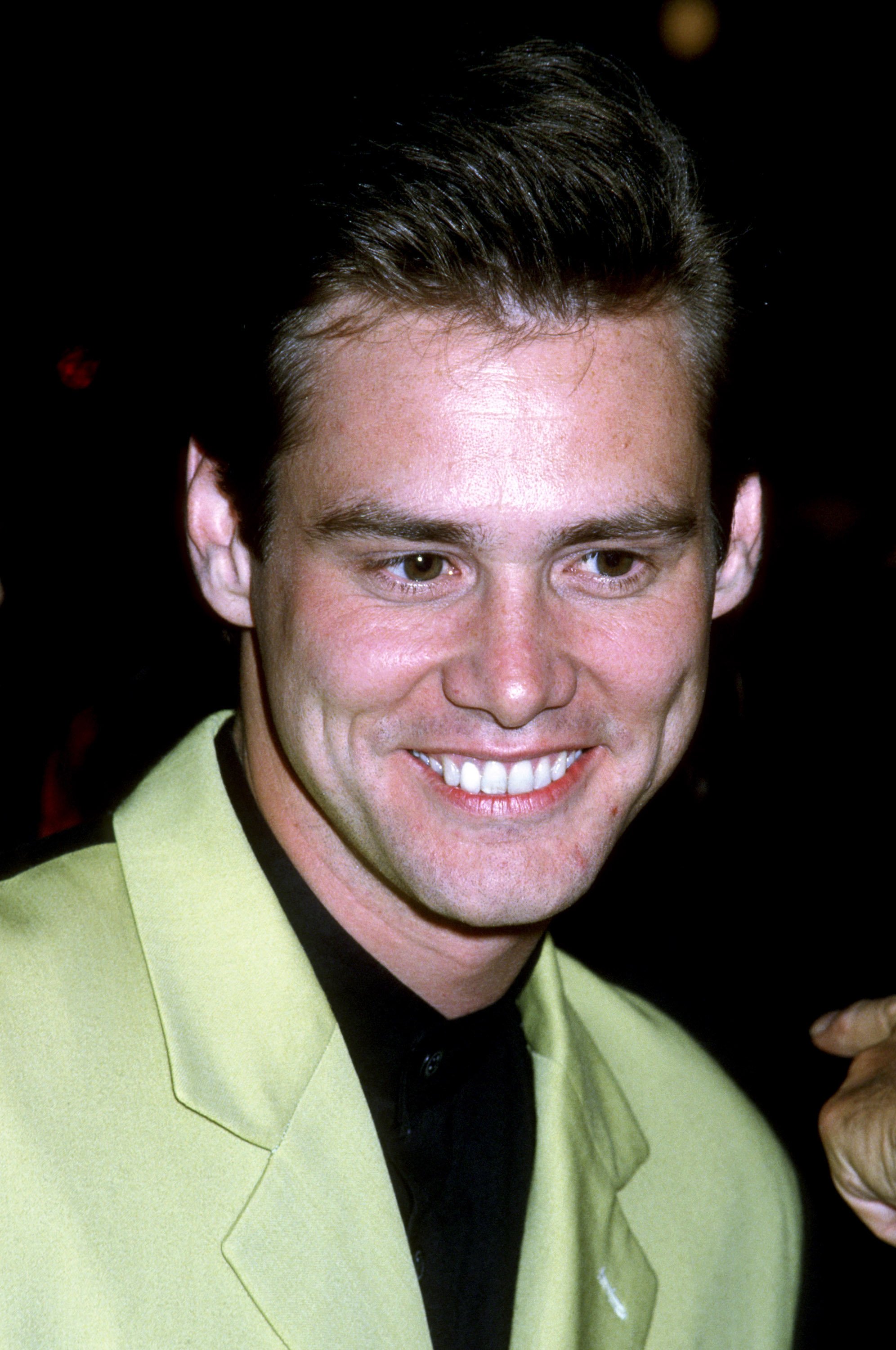 Jim Carrey during World Premiere of "It Could Happen To You" at Sony Paris Theater in New York City, New York, United States. | Source: Getty Images
The actor continued, saying that everyone feels abandoned in certain ways by people over time. However, that makes everyone believe in themself, which is not a bad thing in general. Carrey later talked about how angry the entire situation made him. Luckily, his humorous personality saved him.
After his long shifts, Jim took the stage at nightclubs around Ontario. People loved his stand-up performances, which led to great things, such as opening acts for Rodney Dangerfield and Buddy Hackett.
Looking back, Carrey can laugh about his situation, and humor is the only reason he managed to get out of the hole. Things were particularly tough because his job as a janitor was made worse by several pranks from the factory employees, which were malicious and meant to demean him.
He became angrier and angrier at the world, mainly because his father was in pain, too. Fortunately, he never gave up hope. He wrote stand-up and kept dreaming. Carrey can look back at the experience and admit that he learned much from it.
His parents also taught him much about what's really important in life. Unfortunately, the challenging situation meant he had to give up on his childhood. His teenage years were completely different from what others experienced.
However, making fun of his complicated life gave him an authenticity that audiences loved, making him better. Naturally, there were still some struggles even after getting his first major role in "Ace Ventura."
Many critics hated the movie and gave him negative reviews, but the box office doesn't lie, as it was an evident success. Therefore, Carrey had the power to negotiate his future contracts by the time he was offered the leading role in "The Mask."
His success in "Ace Ventura" changed another significant part of Carrey's life. He bought his first home in Los Angeles in 1994, right before the film's release. Back then, it was estimated at $3.8 million.
No one loved that home more than Carrey, calling it "a place of enchantment and inspiration" to him over "30 very creative and prosperous years." He added:
"Every night, the owls sang me lullabies, and every morning, I sipped my cup of joe with the hawks and hummingbirds under a giant grandfather pine."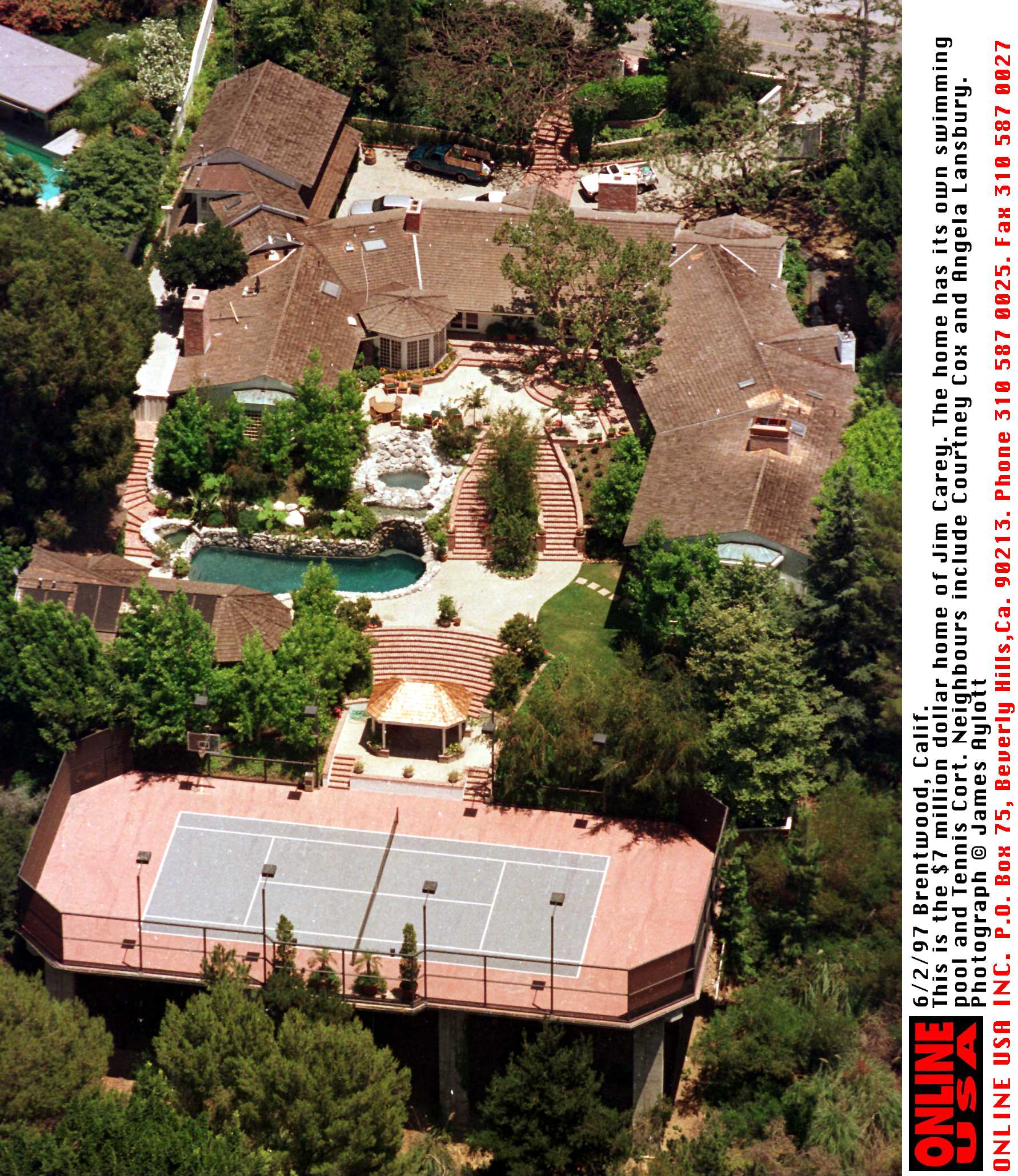 This nine-bedroom, 9,000 sq. ft. compound in Brentwood – with pool, hot tub, tennis court and guest house – is a perfect place for Jim Carrey, 36, and ex-wife Lauren Holly, 34, to get reacquainted. | Source: Getty Images
Selling His First Beloved Home
It was recently announced that Jim Carrey is ready for changes as he placed his home for sale after 30 years of owning it. It's now valued at $28.9 million. When the news came out, the actor said:
"For three decades it's been a sanctuary for me but I don't spend a lot of time there now and I want someone else to enjoy it like I have."
The beautiful ranch-style property consists of 12,700 square feet and has five bedrooms and nine bathrooms in the main house. There are also high, beamed ceilings and several fireplaces along the living and dining areas. It has a complete professional kitchen with bar seating and a breakfast room.
Pear trees also surround it, and there's a balcony in the main bedroom with the best view in the world. The 2-acre grounds also feature a gym, a tennis court, an outdoor yoga area, a pool, a pool house with a spa, and so much more.
There's even a custom-designed home theater where Carrey has displayed pieces from his career, such as the overalls from "The Cable Guy" and the Santa costume from "The Grinch." He also added the Riddler costume from "Batman Forever" and his awards. The pictures online of the home feature some of the actor's own artwork.
Carrey is a painter known for the colorful and bold pieces that decorate his home. He also made a sculpture called "Ayla" and displayed it on his lawn. Sadly, the souvenirs and his work won't be sold with the house. Sotheby's International Realty is in charge of the sale.
In 2017, Carrey appeared in a short documentary, "I Needed Color," and talked about his artwork and creative process. He explained:
"When I really started painting a lot, I had become so obsessed that there was nowhere to move in my home. Paintings were everywhere. They were becoming part of the furniture; I was eating on them. […] You can tell my inner life by the darkness in some of them. You can tell what I want from the brightness in some of them."
Jim Carrey, the Dedicated Grandfather
The actor became a grandfather in 2010 at the age of 47. His daughter, Jane, was 22 when she welcomed Jackson Riley Santana with her husband, Alex Santana. The baby boy was 7lbs, 11 ozs, and Carrey announced his birth on his now-deleted Twitter micro-blogging page. Back then, he wrote:
"Jackson Riley Santana, My Grandson, Born today! This is what 7lbs.11oz. of California dynamite looks like!"
At the time, Carrey was dating Jenny McCarthy, who called herself a grandmother, too. She took to her Twitter, thanked the pediatrician for his work, and called Jackson a "beautiful, healthy baby boy." It's hard to say if she is still involved with Jackson.
At the time, Carrey's daughter was happy about having a boy because she always felt comfortable around them. She explained that she didn't have many female friends growing up and was afraid that a daughter would not like her.
You might not know, but Jane is a singer and songwriter, while Alex Santana has a band called Blood Money. The actor's daughter said that they were going to balance music and parenthood together because it was just their dream true.
The actor went on several interviews at the time, confirming how much he loved being a grandfather. He also talked about not expecting to become one at his then-age, but life happens when you least expect it. Carrey added:
"I just get a lot of joy, a lot of joy from that little boy… he's just magical. It's the greatest feeling in the world, and as you get older…your connection to these things gets so intense…you just go, 'Without this, I die.'"
Years later, the actor was promoting his movie "Sonic the Hedgehog" in the United Kingdom and made an appearance on the show, "Lorraine." He talked candidly about his relationship with Jackson and laughed when host Lorraine Kelly said he didn't look old enough to be a grandfather.
Carrey told the talk show host that he's a good grandfather but that he feels a bit embarrassed to be called "Grandpa" in public. He added that his grandson is like a friend, but Jackson could also work as his bodyguard. That's exactly the kind of relationship you would expect Carrey to have with a child.
Jim also revealed that they like to play video games together and that Jackson is much better at them than he is. Carrey also has a swear jar and owes his grandson "about $500." They tease each other while playing, and it's a beautiful bond to have with his grandchild. The actor added:
"I'll say something like, 'I am gonna practice this, and I'm gonna kick your butt,' and then he says, 'Sure if you go back and get born again and start learning at the age of two.' It's unbelievable. He's like a jet pilot already."
It's hard to say if Jackson will want to join the entertainment industry like his famous grandfather. However, some people think he might be great if they ever make an "Ace Ventura" prequel film.