Hollywood veteran Andie MacDowell, born Rosalie Anderson "Andie" MacDowell in April 1958, is an American actress and former fashion model.
She began her showbiz career in modeling after being discovered on a trip to Los Angeles, California, by a representative from Wilhelmina Models. MacDowell later signed a contract with Elite Model Management in 1978 in New York City.
Modeling opened acting opportunities for the South Carolina native. She made her movie debut in "Greystroke: The Legend of Tarzan, Lord of the Apes," in 1984.
Upon realizing she could make a career out of acting, the "Maid" star instantly began studying method acting at the Actors Studio and later appeared in her most notable films including, "Four Weddings and a Funeral," "Groundhog Day," and "Short Cuts."
MacDowell is now best known for her successful modeling career and acting stints in films such as "Monte Carlo" and "Sex, Lies, and Videotape."

Besides her extensive work profile, the brunette is a mother of three and has been married twice. She shares her three kids with her first ex-husband, former model-turned-rancher Paul Qualley.
The couple welcomed their first child, son Justin in 1986. Their oldest daughter Rainey arrived in March 1990, and their youngest, Margaret, in October 1994.
The pair were married from 1986 to 1999, after which MacDowell wed Atlanta-based businessman Rhett Hartzog in 2001, divorcing him in 2004.
MacDowell's youngest child, Margaret, is the spitting image of her famous mother, and not only does she look like her, but she has also followed in her acting footsteps.
The striking resemblance between the mother and daughter duo was apparent when they attended the "Once Upon a Time in Hollywood" movie premiere in July 2019 – in which Margaret starred.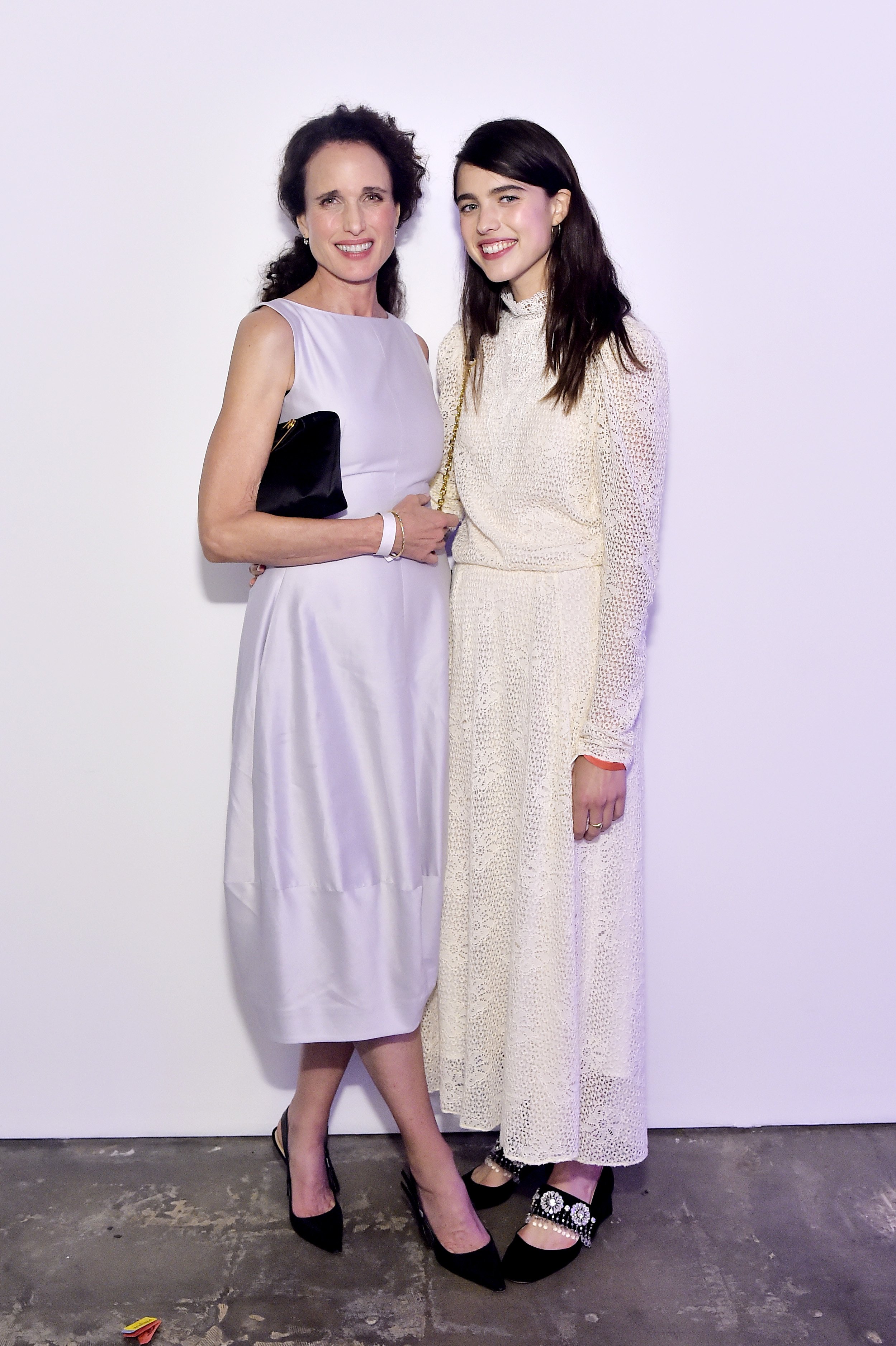 Actress Andie MacDowell and her daughter, actress Margaret Qualley, attend "L.A. Dances" at L.A. Dance Project on September 21, 2019 in Los Angeles, California ┃Source: Getty Images
Although it is evident that the apple does not fall far from the tree, acting was not initially the young Hollywood star's first choice.
Growing up, Margret was a dancer and had even signed up for ballet. She started dancing when she was four years old, and at age 14, she attended the University of North Carolina School of Arts.
When she turned 16, Margaret relocated to the Big Apple to study at the American Ballet Theater. However, one day when in dancing class, it dawned on her that she was only doing it for other reasons instead of passion. She recalled:
"I thought, 'I'm hating this class. I'm doing it all for the wrong reasons. I'm only here because I want to be better at school on Monday.'"
That said, she dropped the class, and although it was her "big dream" to become a professional dancer, she let go of that dream. After that, she bagged an advertisement gig with Kenzo in 2016—where she played a crazed dancer at an awards show.
Growing up, Margaret and her older siblings lived on a 3,000-acre ranch with no television. In June 2017, she revealed that they only saw their mother's hit film, "Four Weddings and a Funeral," for the first time in 2016.

The trio never got to watch their parent's movies growing up because MacDowell put motherhood first above anything else, which her youngest child said she is "grateful for."
The family of five later moved to a little town called Asheville, only to experience a divorce. MacDowell and the father of her kids separated when Margaret was five years old.
Despite that, Margaret devoted equal time to her parents and once admitted, "Like every child of divorce, I had parent-trap fantasies."
Today, her mom and dad are first-time grandparents as her brother Justin welcomed his first child with his partner, Nicolette, in January 2023.
When asked what she wanted to be called as a grandparent, MacDowell revealed she had not decided yet but thinks her granddaughter could call her "Nana or Grandma. Not Granny."
MacDowell's Aging Process – She Has Gray Hair
Now that she is a grandmother in her mid-60s, old age is slowly creeping in for MacDowell, and her gray hair is beginning to show. The L'Oreal spokeswoman revealed in November 2021 that she "started going silver during COVID."
At the time, her two daughters lived next door to her, and they used to tell her that she looked dapper with her new appearance, and she chose to embrace it.
"They saw me all the time, and they would say to me, 'You look badass, and you've got to keep this.' I fell in love with it and I decided to keep it," recounted MacDowell. She added keeping the look has made her feel even "more beautiful."
The doting mom noted not everyone has to do what she did with her hair, but she has chosen to accept it because "it suits me." Other people have also fallen in love with her look, and she feels better about it.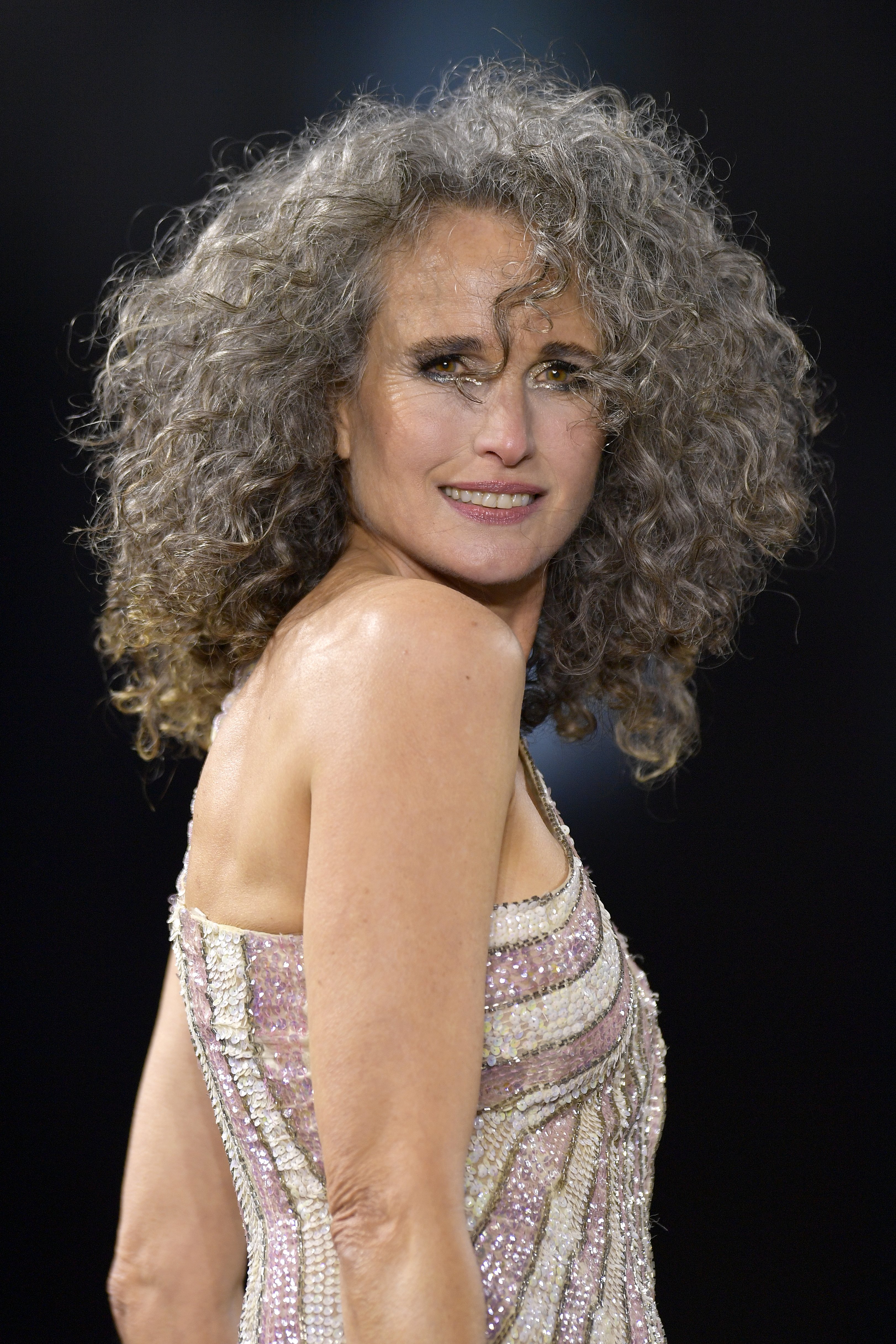 Andie MacDowell during the "Le Defile Walk Your Worth" By L'Oreal Paris Womenswear Spring/Summer 2023 show on October 2, 2022 in Paris, France ┃Source: Getty Images
The "Beauty Shop" star divulged she is happy that everyone around her has made peace with the fact that she is beginning to age and stated that there is a significant meaning behind that.
"I think that's an important message for all of us that we get older and we are beautiful," said the former Calvin Klein model.
MacDowell Working Side-By-Side with Margaret
MacDowell has done more than embrace aging. She has starred alongside her youngest daughter Margaret in the Netflix series, "Maid," which has been streaming since 2021.
The show follows a mother, Alex (Margaret), who struggles to leave an abusive relationship, get a job to provide for her infant child, and ultimately land an opportunity into the University of Montana's writing program.
This is Margaret's first television lead role opposite her mom, who plays Paula – her onscreen parent who is a narcissist and refuses to take medication for what appears to be an undiagnosed mental disorder.
MacDowell admitted she has wanted to play that kind of role for a long time. Interestingly, the show's creator, Molly Smith Metzler, revealed that Margaret suggested her beloved mother for the part.
It was a thought that had crossed Metzler and other producers' minds, but they believed it would turn out better if her daughter came up with the idea herself:
"It had to come from her. When we cast Margaret, all the producers thought her mom would be an amazing Paula. But we were afraid to bring it up because, well, it's her mom."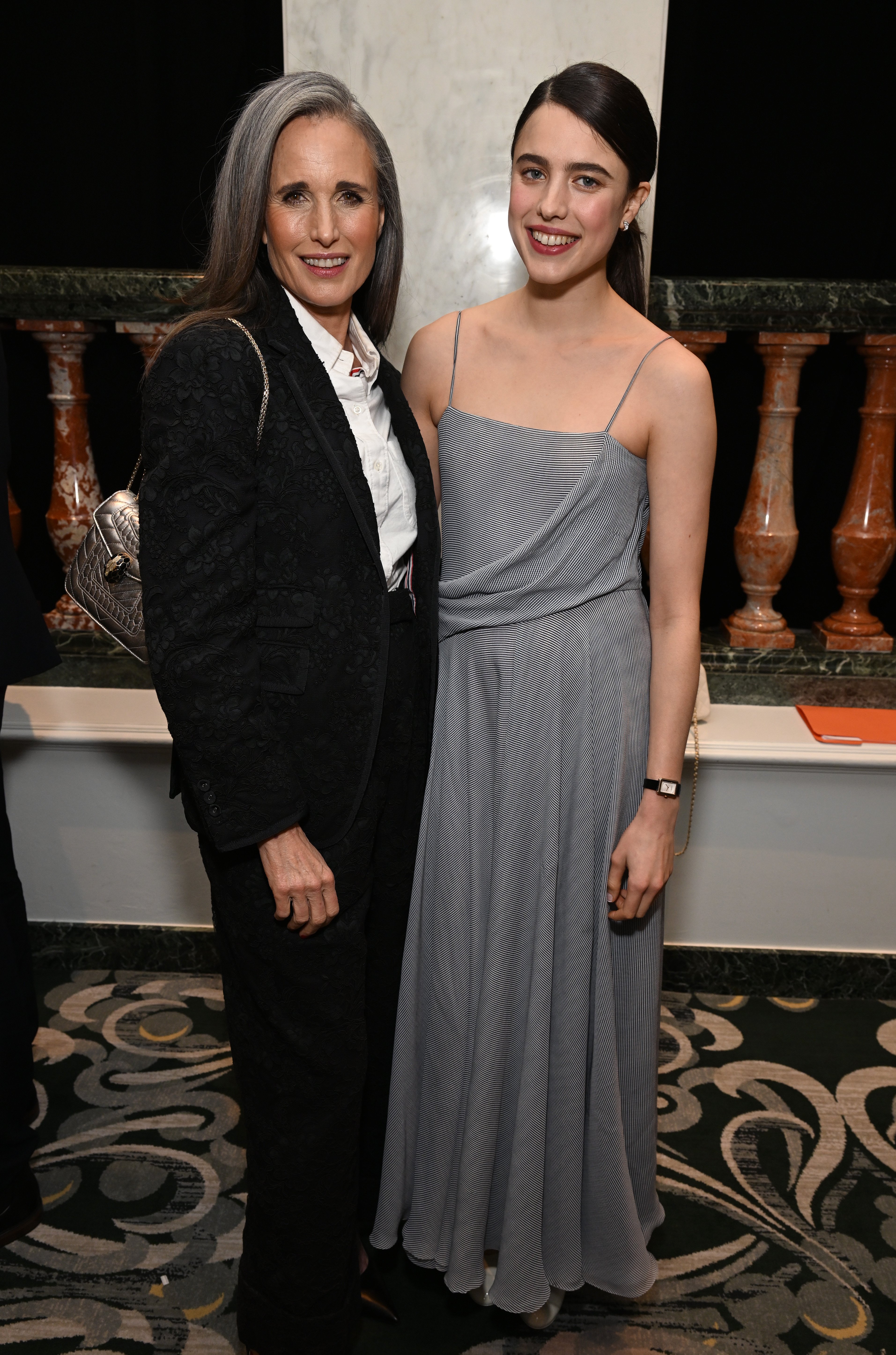 Andie MacDowell and Margaret Qualley attend the AFI Awards Luncheon at Beverly Wilshire, A Four Seasons Hotel, on March 11, 2022 in Beverly Hills, California.┃Source: Getty Images
Thankfully for them, the thought did cross Margaret's mind, and she told them that MacDowell would be the perfect fit for the role. "And we were like, 'Yes!'" Metzler recalled in 2021.
It was a surprise for MacDowell that her daughter put her name forward for the part. She had initially thought of them working together in the future but expected it later in Margaret's rising career.
The young actress began acting in small films such as "Palo Alto" in 2013, followed by her breakout role in the HBO series, "The Leftovers," which aired from 2014 to 2017. Then came the comedy film "Once Upon a Time in Hollywood" in 2019.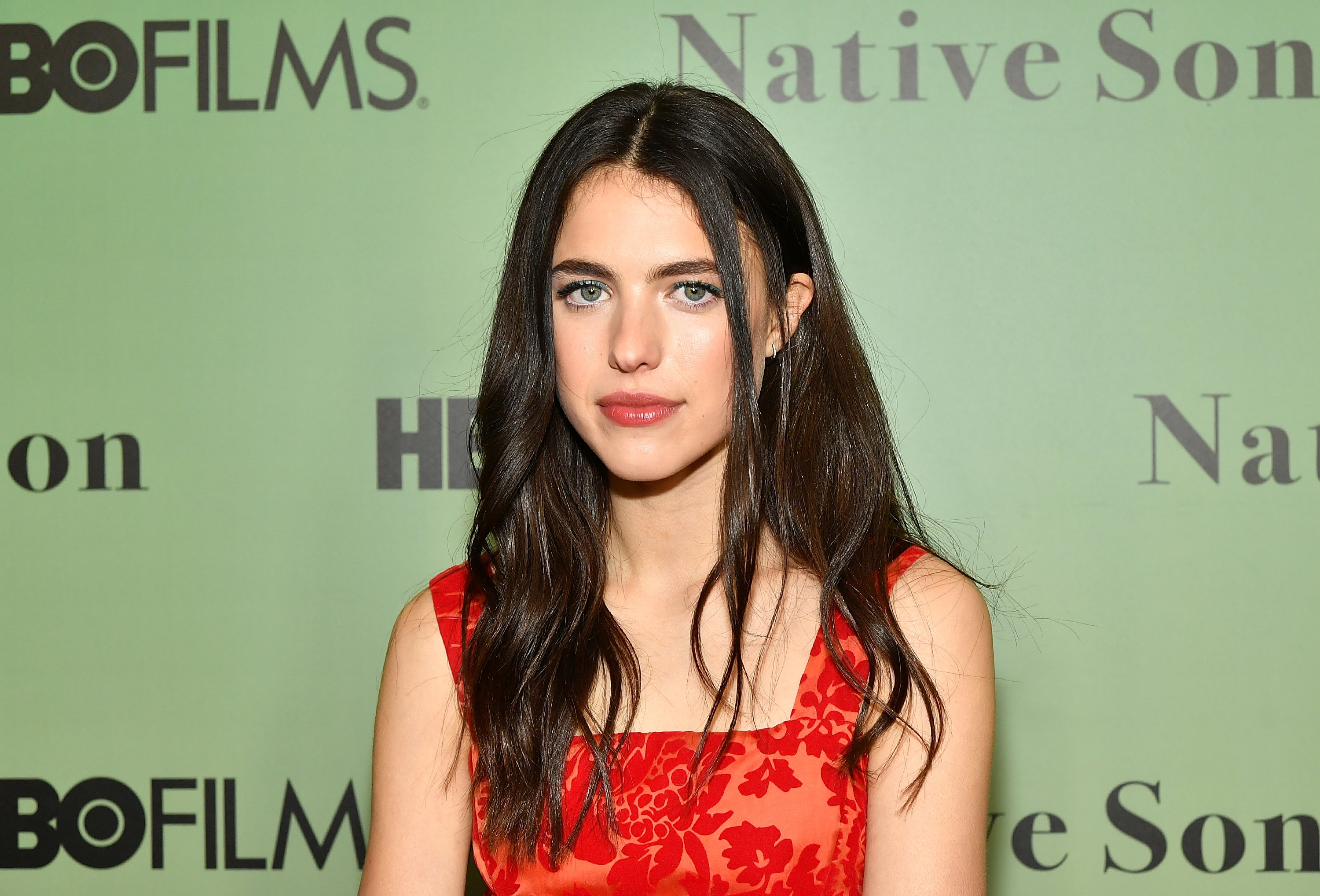 Margaret Qualley attends the screening of "Native Son" at Guggenheim Museum on April 1, 2019 in New York City ┃Source: Getty Images
MacDowell admitted that she enjoyed mothering her child while shooting the miniseries for nine months in Vancouver Island and even "cooked her soup on the weekends." Meanwhile, Margaret divulged she had always wanted to co-star alongside her loving mom, adding:
"And it just struck me that this would be a really special opportunity because the material was so strong and the mother-daughter dynamics were such a crucial part of the story, so it would be something meaty for us to dive into together."
Her mom revealed that they share a "close" bond and are both "emotional beings." So, seeing that the pair spend most of their time in each other's company and are aware of their emotional dynamics made it easier for them to portray their roles on screen, even if their real-life mother-and-daughter relationship differs entirely from their onscreen characters.
Moreover, Margaret expressed gratitude for having her mom beside her when taking on one of her most prominent career moves yet and admitted the experience felt "surreal."
MacDowell and Margaret are a great example of a mother-daughter relationship.