American Actor Arnold Schwarzenegger and his ex-wife, Journalist, and Author Maria Shriver had one of the most lovely romances in Hollywood. The pair first crossed paths through Tom Brokaw in 1977 at the RFK Pro-Celebrity Tennis Tournament.
Shortly after their first encounter, Shriver and her former husband started dating. They dated for a few years before Arnold popped the big question in August 1985.
Then, on April 26, 1986, the former couple tied the knot in a Catholic ceremony at the Kennedy family compound in Hyannis, Massachusetts. Three years later, Shriver and Arnold welcomed their first child and daughter, Katherine Schwarzenegger.
The following year after Katherine's arrival, the journalist left her job as co-anchor of the "Sunday Today" show to devote herself to her husband and little daughter.
Arnold Schwarzenegger with his new wife, Maria Shriver outside St. Francis Xavier Church after their wedding on April 26, 1986, in Hyannis, Massachusetts. | Source: Getty Images
Then in July 1991, Shriver and Arnold's second child, Christina Schwarzenegger, joined the family. As much as the former couple was happy about becoming parents to two kids, Katherine was excited to be a big sister. The journalist noted at the time:
"Katherine is just thrilled about her new baby sister. We feel so privileged to have another child. We're so happy."
Two years after Christina joined the brood, Shriver and Arnold welcomed another child, Patrick, in September 1993. Then in September 1997, the pair expanded their family even more with the birth of their fourth child, Christopher.
For the next couple of years, Shriver and Arnold lived happily together with their children. But sadly, their union would eventually collapse.
Arnold and Shriver's Split
After 25 years of marital bliss, the former California governor and his ex-wife shocked the world when they announced their split on May 9, 2011.
According to a joint statement released by the duo, they decided after careful thought, reflection, discussion, and prayer. Following the shocking revelation, reports revealed that the "Terminator" star was to blame for the collapse of his marriage.
Besides being available for their children, Arnold and Shriver are present grandparents, a role they greatly cherish.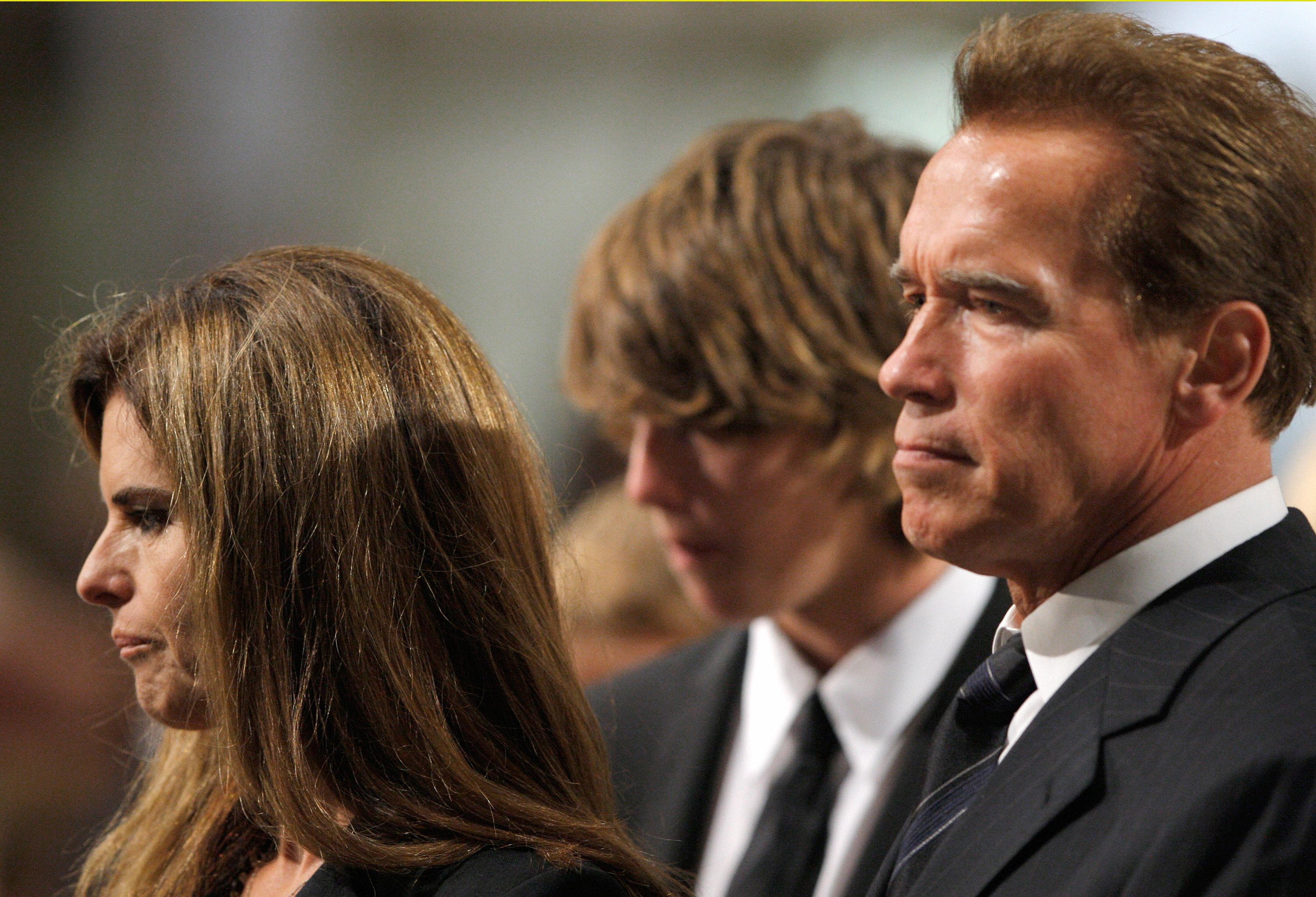 California First Lady Maria Shriver, niece of US Senator Edward Kennedy, her son Patrick and her husband, California Governor Arnold Schwarzenegger, attended funeral services for Ted Kennedy at the Basilica of Our Lady of Perpetual Help in Boston on August 29, 2009. | Source: Getty Images
Arnold had cheated on his wife with the family's housekeeper, Mildred Baena, and fathered a child, Joseph Baena, with her. The actor did not know that his affair yielded a child until over a decade after it happened.
Upon discovery, Arnold opened up to Shriver about his infidelity, which eventually led to their separation.
Knowing how much damage he caused, the actor felt devastated and took responsibility for his actions. In his words:
"There are no excuses, and I take full responsibility for the hurt I have caused. I have apologized to Maria, my children, and my family. I am truly sorry."
The Hollywood icon also noted that having an affair with the housekeeper was the most unintelligent and ignorant thing he had done in the marriage. According to him:
"It was terrible. I inflicted tremendous pain on Maria and unbelievable pain on the kids."
Following his confession and pleading, Arnold hoped for forgiveness from his ex-wife and his children. At the same time, he took responsibility for Joseph, giving him fatherly love and providing him with financial support.
Inside Arnold and Shriver's Lives as Parents after Separating
A decade after announcing their split, Arnold and Shriver finalized their divorce in December 2021. But before their marriage officially ended, the pair maintained a close relationship, especially with the kids, despite what happened between them.
On birthday celebrations, Arnold, Shriver, and their four children were present most of the time. For example, when Katherine celebrated her 27th birthday in 2016, the pair were there to spend the special day with their daughter.
Taking to Instagram, Katherine shared a picture of her, her parents, her sister, and her brother, Patrick, posing with a lovely cake. She captioned it:
"This is 27! Thank you to my amazing family and fabulous friends for making this birthday one for the books! Christopher, you were missed 27 will be my best year yet."
On another occasion — Arnold's birthday in 2020 — Patrick shared a lovely picture featuring every member of the family posing in front of a birthday cake and other desserts.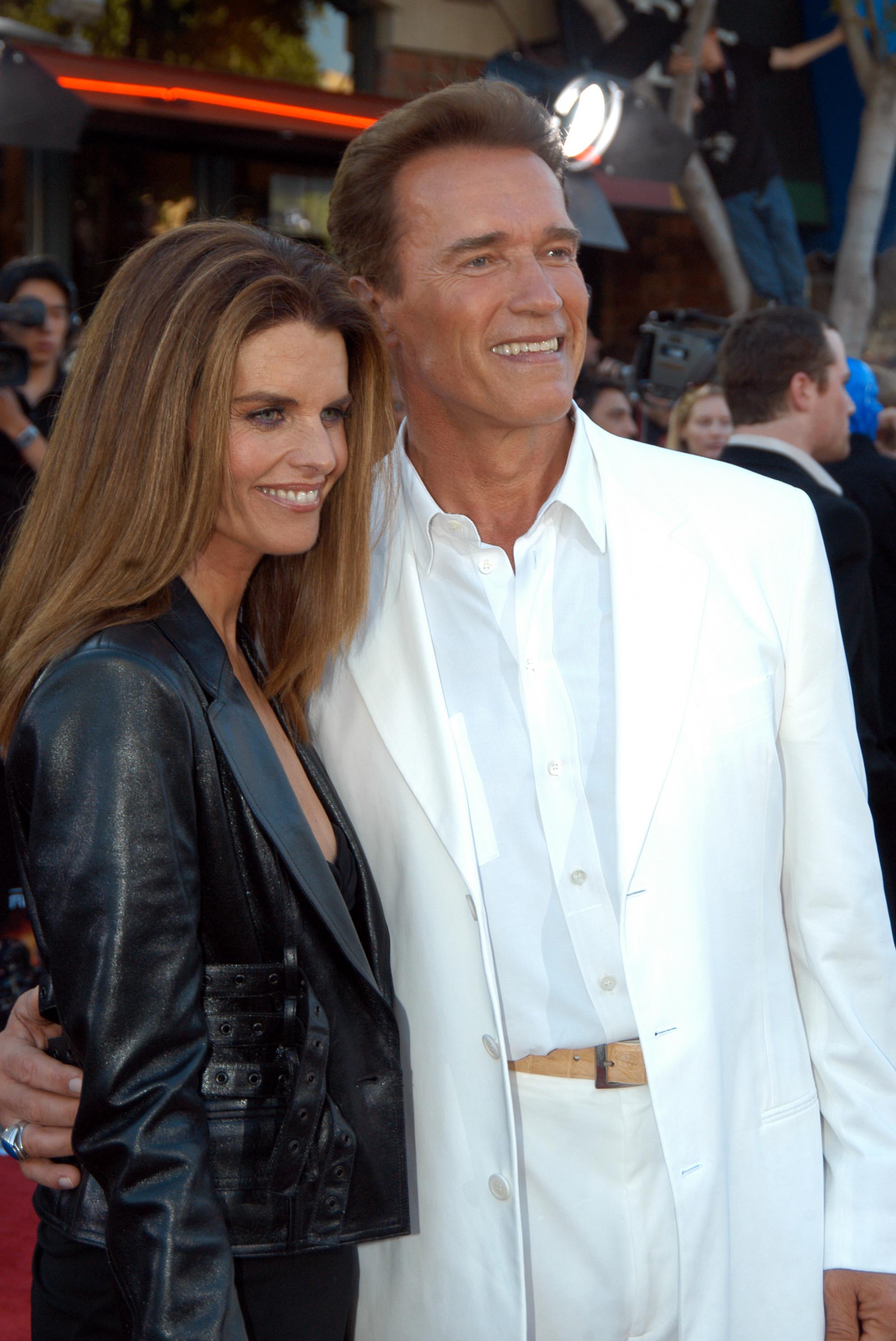 Maria Shriver and Arnold Schwarzenegger during Terminator 3 – Rise of the Machines World Premiere at Mann Bruin in Los Angeles, California, United States. | Source: Getty Images
About two months before Patrick's post, Christopher graduated from the University of Michigan and had his whole family present to celebrate with him A picture shared on Katherine's Instagram page showed the family of six with big smiles with Christopher holding a graduation celebration cake.
Two years later, Arnold and Shriver still celebrate their children's milestones together. On September 19, 2022, Patrick clocked 29, and to mark the occasion, he shared a snapshot of how that day went down.
In one of them, the former couple happily posed beside their son, holding a plate with a little cake and a "happy birthday" inscription written next to it.
Besides being available for their children, Arnold and Shriver are present grandparents, a role they greatly cherish. They became grandparents for the first time in 2020 when Katherine and her husband, Chris Pratt, welcomed their daughter, Lyla.
The actor was thrilled about his grandkid's arrival as he had looked forward to playing and making fun memories with her when Katherine was still pregnant. Following the mother and child's return from the hospital, Arnold and Shriver were spotted visiting their new grandchild.
Four months later, Katherine opened up about her parents' roles as grandparents and how amazing they were at it. In her words:
"They love [being grandparents]. It's a great and cool new role for them to experience. Also, for me as their daughter, to watch them in this new role is such a beautiful thing."
In addition, Katherine confessed that she felt blessed and excited about seeing her sister and brothers become aunts and uncles.
Arnold and Shriver Become Grandparents for the Second Time
In May 2022, Katherine and Pratt announced the arrival of baby number two, their daughter, Eloise, making Arnold and Shriver grandparents for the second time.
According to a source, the new parents felt blessed and ecstatic about welcoming their second child, as they had always hoped for Lyla to be a big sister.
Five months later, Katherine insinuated that she might have more kids as she came from a big family. However, she noted that everything is in God's hands. In her words:
"Whatever God has in his plan for us is what we'll do."
In the meantime, Katherine is getting motherhood advice from her mother. She says she feels lucky to have a role model in Shriver and looks forward to learning from her, especially how the journalist balances work with family.