To be happy, television star Suzanne Somers does not need money—she only needs her loved ones and her garden, and she enjoys cooking for the whole family!
Veteran actress Suzanne Somers went through a traumatic life experience beginning when she was young. Her family led a troubled life; her dad was an alcoholic who verbally and physically abused her.
Moreover, the California native struggled at school and was diagnosed with dyslexia. However, she did well in the performing arts.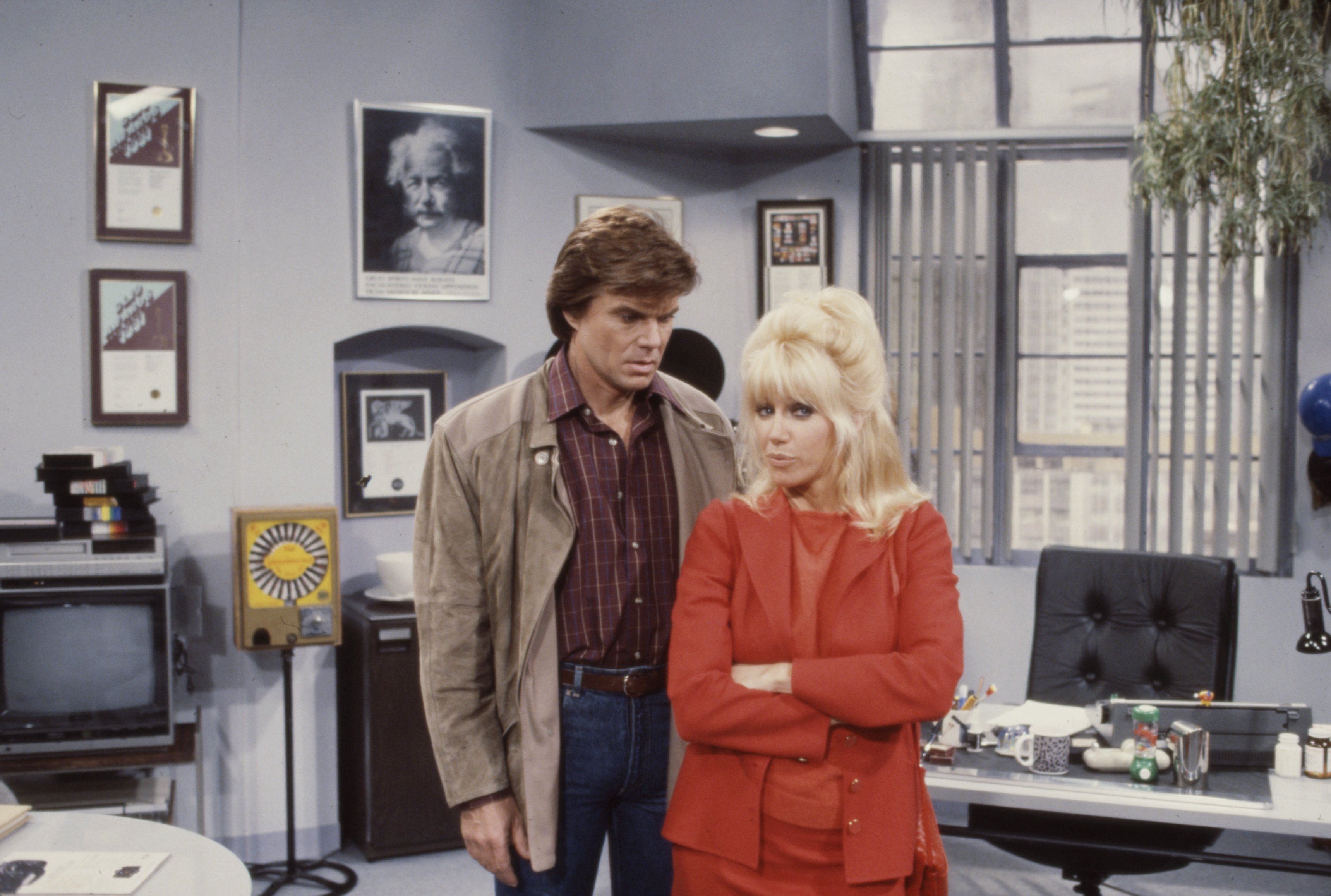 Actor John Davidson and actress Suzanne Somers appearing in the ABC TV show "Goodbye Charlie," on June 4, 1985 ┃Source: Getty Images
Somers married young to Bruce Somers in 1965, and the couple later became parents to their one, and only child, son Bruce Jr. They divorced in 1968 following three years of marriage.
Somers became a single mother but later met her second husband, Alan Hamel, whom she married in 1977. When starting her new life, Somers began to face her past traumas by going to therapy, and she eventually distanced herself from her older brother and sister, who were alcoholics.
Somers and Hamel have been married ever since. The same year the couple walked down the aisle, the businesswoman landed her breakout lead role in the sitcom, "Three's Company," which ran for eight seasons from 1977 to 1984.
Somers & Hamel's Marital Life Was Not Easy in the Beginning
In April 2015, Somers spoke candidly about her marriage with Hamel and their blended family. The Canadian TV host has two children from his previous marriage, and Somers revealed all their kids were unhappy about their new union.
Although it was "love at first sight" for the couple, when Somers and her son moved into the producer's home with his kids, she described it as "stepfamily hell."

Somers explained that because things were different back then, freely speaking about an official separation was still a new thing, including "blending families," adding:
"No one had rules."
To make matters worse, she and her husband had clashing parenting styles, making them constantly fight for years until they eventually found common ground.
Moreover, their former spouses interfered in their new life together as they influenced the kids, and that experience heightened the tension in their marital home:
"There was a lot of resentment all the way around, so they all acted out. I often marvel that we made it through."
The only way the pair survived the conflict was when she and Hamel began to support one another and became a "united front." The couple went to "therapy" to find the root cause of their issues, and they "both take great pleasure in having successfully made it," Somers said.

Somers and Hamel first lived together for a decade before getting married. They crossed paths on the 1969 "Anniversary Game" show, where Somers worked as a prize model.
The pair are now grandparents to six grandchildren. Somers gushed about her grandkids in December 2017 and said the best part about being a grandmother is that she gets "to fall in love all over again."
She expressed that she loves being a part of a "blended family," adding children cannot tell the difference at a young age. "They just love you. There's no 'Yours, mine, ours or anything,'" she said of her grandchildren.
The singer divulged she and the young ones enjoy making meals together as they are one big "food family." She joked that one other perk of being a grandparent is that she does not get to take on responsibilities that parents do.
Be that as it may, the "Step By Step" alum said seeing all her loved ones together makes her feel "successful" more than anything else:
"I look at all of them, and I [think], 'We made it through the rain', as Barry [Manilow] says."
Meanwhile, Somers and her husband are still madly in love even after decades of marriage. She said they are happy because they still "give each other a lot of attention," something she noted can be easily achieved.

The iconic Hollywood star stated that many other couples do not realize the effect this can have on their relationships:
"It's not, like, a chore for us. I love to hug him and rub his hair. He tells me I'm beautiful all the time and we hold hands while we sleep. It's the most beautiful part of my life."
The lovebirds seem consistent with the hand holding as she revealed that often when she wakes up, she would notice that they would still be holding hands.
Somers Finds Joy in the Simple Things
At 74, Somers finds happiness in simple things – in the love of her spouse, with whom she has been married for 45 years, in the street cat, Hank, whom she took home; in the flowers and vegetables that she grows in her garden and the meals, she cooks for her family. She believes that money alone does not make one happy–something she relayed to her son Bruce:
"I said to my son, and this is shallow, but money will not make you happy. But if you're happy and you have money, it's cool."
On Valentine's Day in February 2019, Somers told her Facebook followers that she was "in love" with her newfound cat, Hank. She posted a snapshot of her cuddling the pet while smiling.
A month before, the author showed social media followers her garden revealing where she found Hank and shared they would be getting him a cat box and that he would be living with them inside the house. Somers also disclosed that she has an "organic farm."
That same month, she urged her Instagram followers to tune into her Facebook Live and IGTV "to see real farm to table" as she picks up food from her garden for lunch. Somers posted a picture featuring her holding vegetables.
Later that year, the health spokesperson shared a photo of a plate full of veggies. It included potatoes, tomatoes, cauliflower, carrots, and peppers, and she said she had picked them from the garden and would be cooking dinner with them.
Somers also cooks with her beloved husband. She once posted a snap of the couple tasting food in the kitchen and captioned it: "We are spending the day prepping our Thanksgiving for two!"
"The Ropers" star also celebrated the special occasion with her family in November 2022 by sharing a video of them cooking up a storm in the kitchen.

She previously celebrated Easter with her loved ones and shared a family group photo on her Instagram showing all of them at a dining table.
Apart from celebrating special occasions with her relatives, Somers also gardens with her husband. She once shared a photo of them picking up vegetables from their garden and told her followers they would discuss "the importance of nutrients" on Facebook Live and IGTV.
Somers does not only enjoy spending time with her spouse in the garden. She once said he is "the love of my life," in an Instagram post accompanied by a black and white throwback snapshot of the beaming couple.