Barbara Walters retired in 2014. Her adopted daughter promised to take care of her if her mother got Alzheimer's. Now, Barbara has become a recluse, staying in her apartment in New York. And she's not doing great, according to her colleagues.
Barbara Walters, one of the most recognizable names in journalism, opened up about her relationship with her adopted daughter, Jacqueline Dena Guber. The TV host shared that she and her husband at the time decided on adoption after she tragically suffered three miscarriages.
Their opportunity soon came around when they were having dinner with another couple. During dinner, the other married couple mentioned they wanted to adopt a boy because they had a girl with blonde hair and blue eyes. They said they wanted the boy instead of the girl, and Walters jumped at the chance.
When they said they didn't want the girl, the "ABC Evening News" host happily offered to take the girl in. The other couple agreed, and they finalized the paperwork later. Walters named her new daughter Jackie after her sister, and she and the girl became extremely close.
She mentioned that the Pope and Queen Elizabeth II were still on her list.
Walters chose to raise her daughter far from the public eye, and Guber preferred being out of the spotlight in any case. Although, it was difficult to remain completely anonymous with a famous mother like hers, which she found extremely difficult. Walters said, "she just doesn't like to be a celebrity."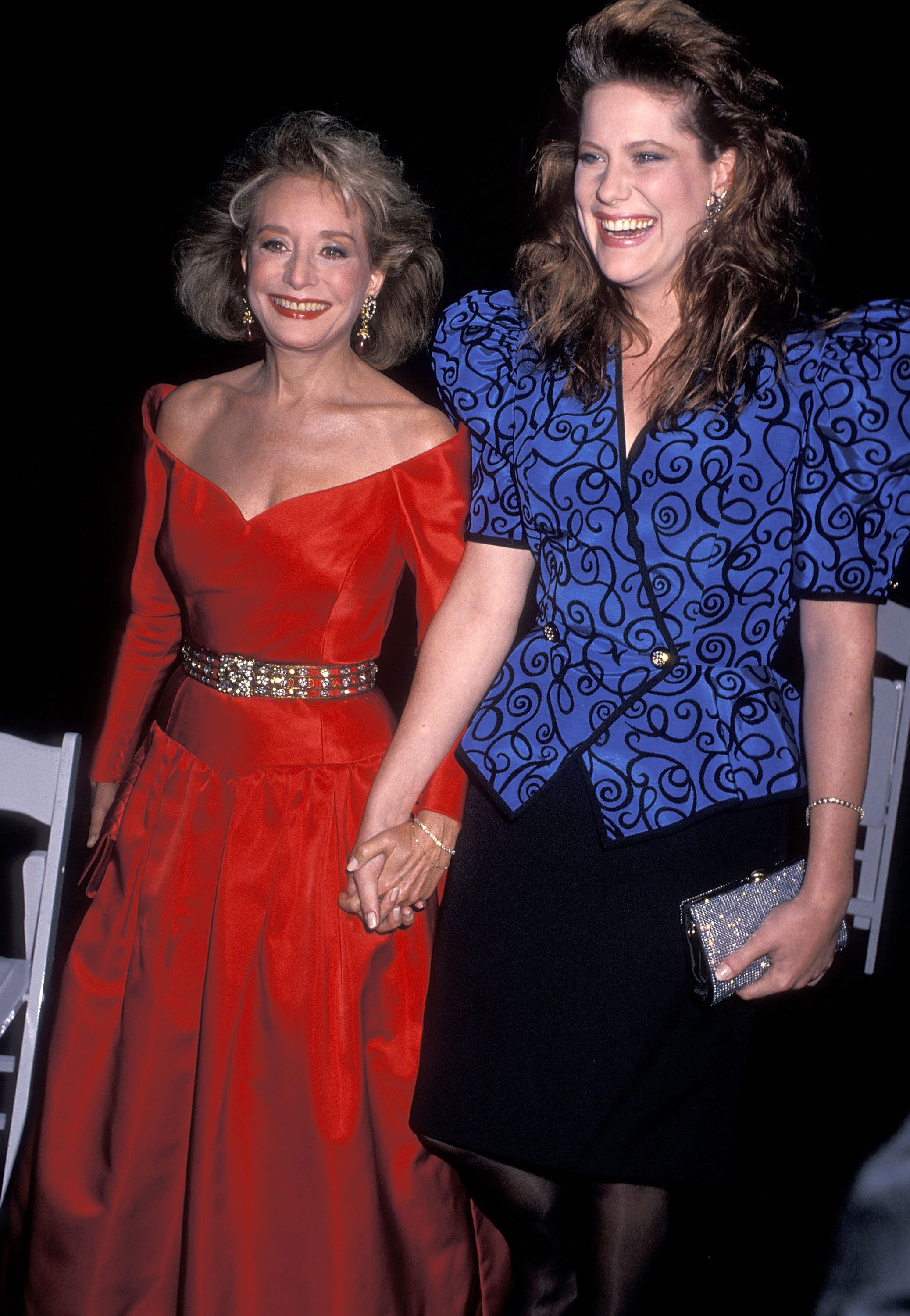 Barbara Walters and daughter Jacqueline Guber attend the Sixth Annual Television Academy Hall of Fame Induction Ceremony on January 7, 1990 at 20th Century Fox Studios in Century City, California | Source: Getty Images
When she announced the arrival of her child, the TV host received many responses from viewers saying they had suspected she was pregnant. She stuck to the story, telling people Guber was her biological child, but she never told the lie to her daughter. As soon as she could, Walters explained she was adopted.
Walters' Retirement after Surgery
Although Walters loved raising her daughter, she also had a career to manage. Eventually, she became so busy with her job that she didn't spend nearly enough time as she would have liked with Guber. The TV host had to choose between a successful career and an intimate personal life. She commented:
"I was so busy with a career. It's the age-old problem. And, you know, on your deathbed, are you going to say, 'I wish I spent more time in the office?' No. You'll say, 'I wish I spent more time with my family,' and I do feel that way. I wish I had spent more time with my Jackie."
She also admitted that she was never any good at being married. She considered different reasons this was the case and said her career may often have been too important, or maybe she was challenging to get along with. In the end, she found she did better on her own and wasn't often lonely.
In 2014, the journalism legend decided to take a step back from her work to spend more time with her daughter. Although she stepped down from her position, she admitted that she'd love to take up the mantle again in a few exceptional cases. She mentioned that the Pope and Queen Elizabeth II were still on her list.
In a recent interview with Rosie O'Donnel, a friend and intermittent co-host of "The View," the comedian revealed that Walters' age is definitely getting to her.
Despite the few cases in which she would return to journalism, she said she wanted a long break, and the odds of her return were low. When she left "The View" as host, the journalist stayed on as a co-executive producer for a while and spent her time off doing things she never had the time for while working.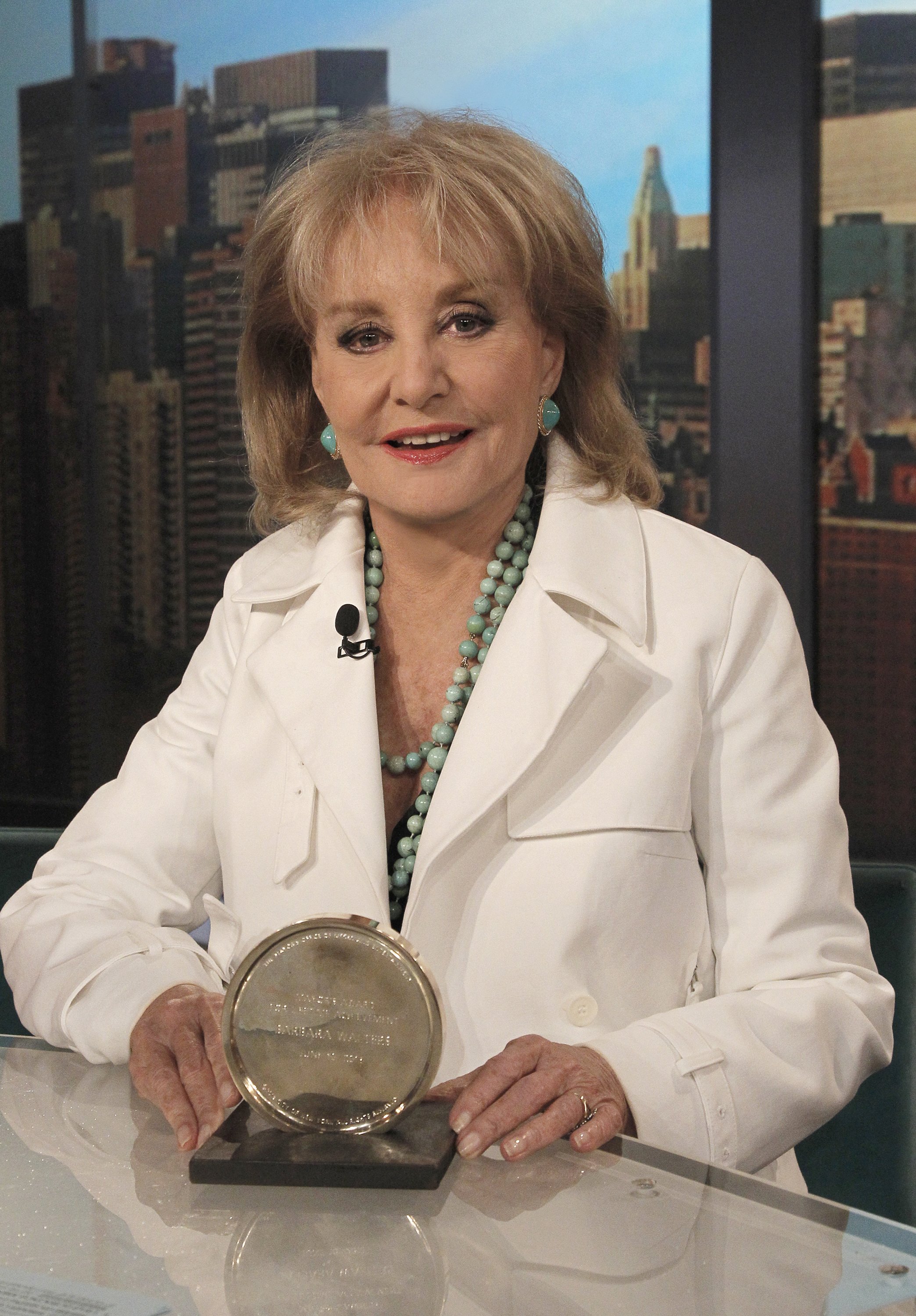 Barbara Walters received "Made in NY" Mayor's Award for Lifetime Achievement, 2013 | Source: Getty Images
When Walters was asked about the importance of love in a happy life, she responded by saying, "Probably the most important thing you could have, and it's not necessarily romantic love." Throughout her life, Walters was married multiple times, but her daughter was the only person she always had with her.
Age Caught up with Walters
After retiring, Walters largely retreated to the safety of her New York City apartment. She hasn't been seen going out, and reports indicate that she spends almost all her time in her home. Multiple reports suggested she's having a tough time in her old age, and her old co-host, Jenny McCarthy, said:
"I heard that she's in a place of not doing great, and I just talked to Sherri Shepherd about it and we're sending some cards over to her."
Sources have implied that the journalistic giant suffers from increasing confusion and forgetfulness, and she stays inside due to a fear of falling and breaking something. According to Walters' rep, though, the aging star is doing fine.
In a recent interview with Rosie O'Donnel, a friend and intermittent co-host of "The View," the comedian revealed that Walters' age is definitely getting to her. O'Donnel believed the ex-host wasn't up to speaking to people.
Despite her age and apparent health issues, Walters has a good support structure and the unconditional love of her daughter. The TV personality shared in an interview that her daughter promised to take care of her when she got too old:
"My daughter said to me recently, 'Mom, when you have Alzheimer's, you can come down and live next to me.' Not 'if you have Alzheimer's,' but 'Mom, when you have Alzheimer's!' I take that as a very loving compliment."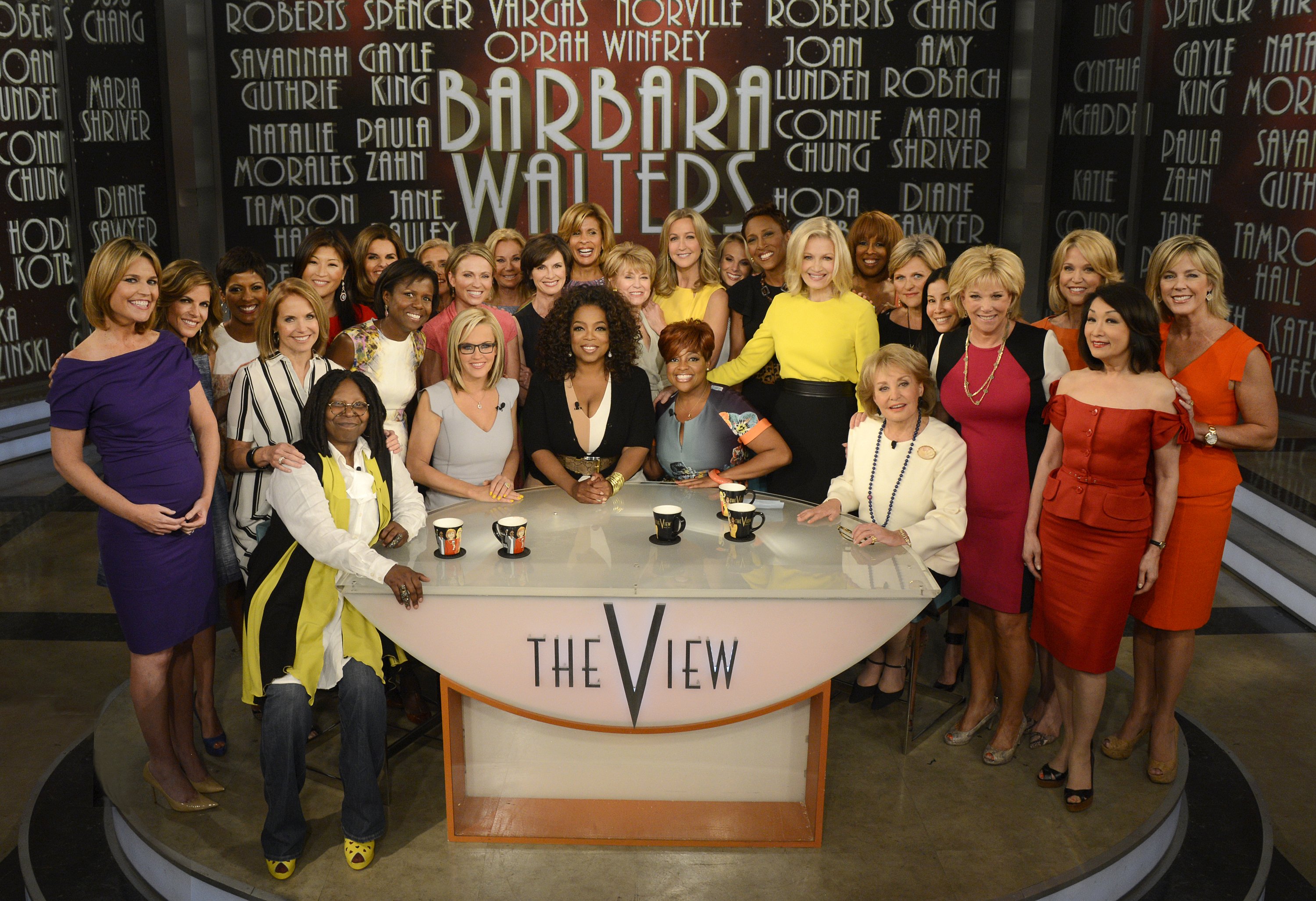 Barbara Walters says goodbye to daily television with her final co-host appearance on "The View," airing Friday, May 16 | Source: Getty Images
Hopefully, with support from Guber, Walters gets to live out the rest of her days in comfort. The reporter was an inspiration to an entire generation of female journalists, and many have said they learned a lot from her. McCarthy commented that Walters is a "juggernaut" that "just keeps going."