Country crooner Blake Shelton has been married three times but has no biological children. However, since marrying his third wife, Shelton has become a stepfather of three and thinks the world of his stepkids.
Before meeting his current wife, country singer, Blake Shelton, was married to fellow country music superstar Miranda Lambert. The pair were first linked following their duet performance at CMT's 100 Greatest Duets event.
However, both Hollywood stars were involved with other people at the time. Shelton was married to his first wife, Kaynette Williams, whom he wed in 2003, while Lambert was engaged to Jeff Allan McManus.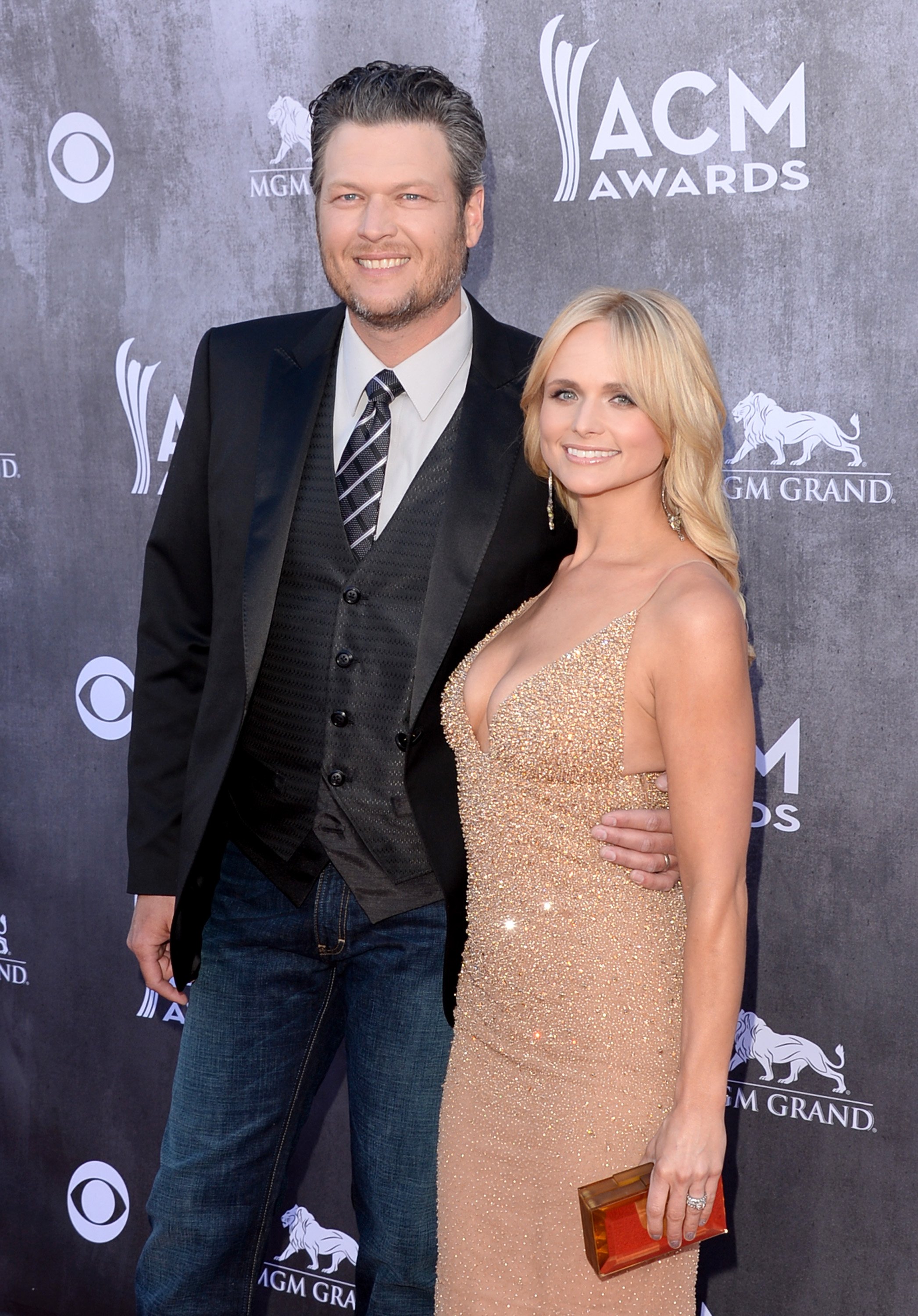 Country singers Blake Shelton and Miranda Lambert attend the 49th Annual Academy Of Country Music Awards at the MGM Grand Garden Arena on April 6, 2014 in Las Vegas, Nevada | Source: Getty Images
Per Us Magazine, Shelton and Williams parted ways, and Lambert broke off her engagement shortly before she and the TV personality started dating in 2006.
The country icons walked down the aisle at Don Strange Ranch in Texas in front of Reba McEntire, Kelly Clarkson, Josh Kelley, and Martina McBride.
Following their whirlwind romance, Lambert and Shelton announced their separation in 2015 and had their divorce finalized the same day. They released a joint statement saying:
"This is not the future we envisioned."
In July 2011, Shelton publicly expressed his desire to have children one day, stating that he admired watching his parents with their grandkids:
"When I see my mom and dad with their grandkids and that relationship down the road, that's what I'm looking forward to more than anything."
However, a year later, his then-wife made a contrasting statement. Lambert said in 2012 that she wanted to plan for motherhood "the right way," adding because she and her husband both have demanding careers, it would be inconvenient to have kids at the time:
"I don't have to have children and raise them on a plane or a bus. Right now, we're both at our peak and having a blast, and I don't think either one of us are thinking about changing a thing."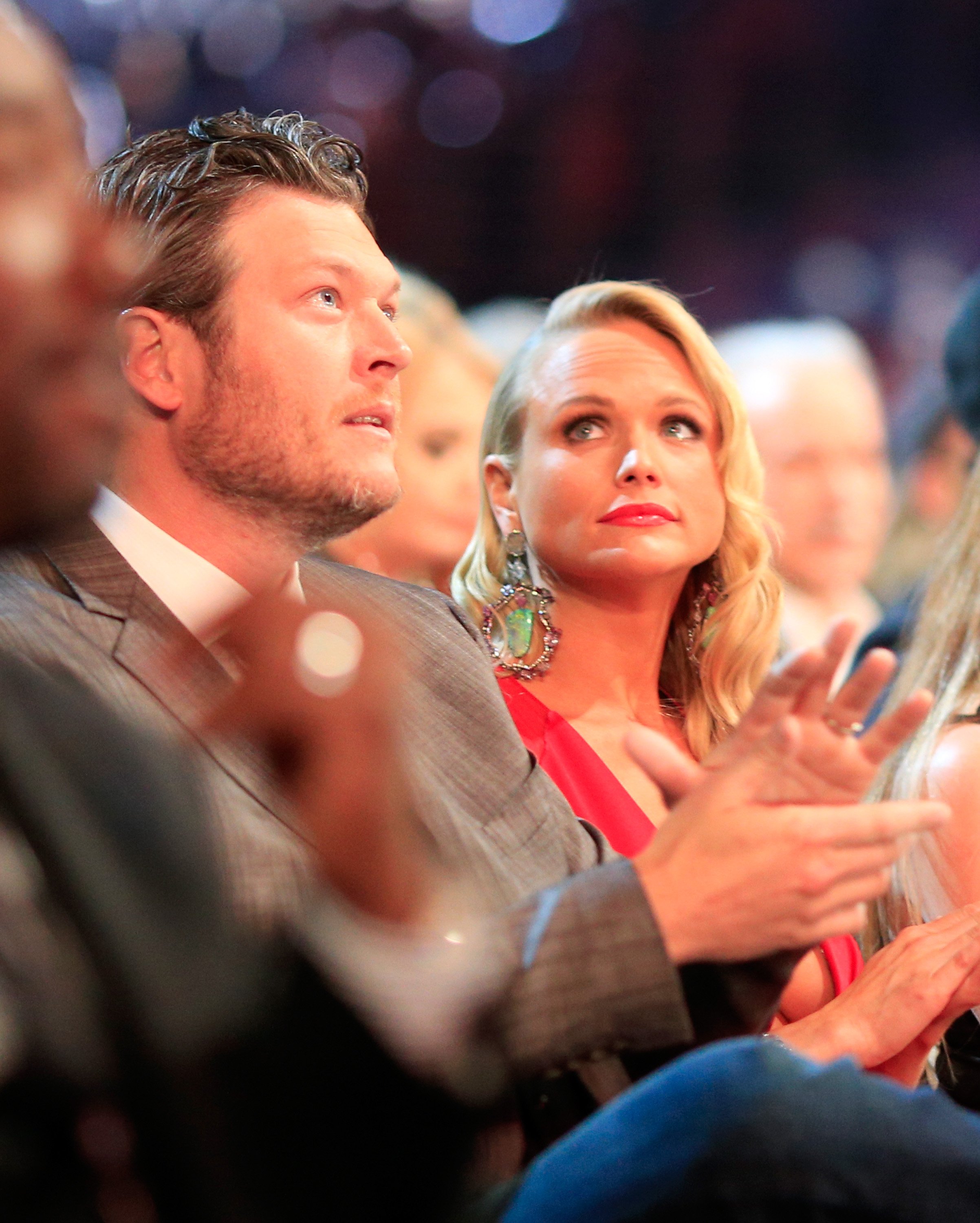 Blake Shelton and Miranda Lambert attend the 56th Grammy Awards at Staples Center on January 26, 2014 in Los Angeles, California | Source: Getty Images
That said, the Grammy Award winner and "The Voice" coach – once dubbed the "king and queen of country" – never had any kids together until the end of their marriage.
Shelton Leaned on a Co-star for Support amid His Divorce
In a Billboard cover story in 2016, Shelton got candid about hitting rock bottom amid his divorce from Lambert. He opened up about it to his then-colleague, Gwen Stefani, whom he barely knew at the time during Season 7 of "The Voice."
He recalled her stunned reaction when he broke the news that he and the songwriter had split. Shelton said the former No Doubt lead vocalist shed tears upon learning the news:
"I won't forget that day. I looked over at Gwen – who I didn't know – and she had these huge tears in her eyes. I thought, 'Wow, she feels super bad for me.'"
Little did he know that Stefani was also going through a separation from her husband of over ten years (20 years together and three kids), Gavin Rossdale. However, she had not announced it yet.
Later that day, she asked to speak to Shelton alone, and he thought he would tell him something cliché regarding getting through the heartache of his divorce. Instead, it was the opposite of that.
The Oklahoma native revealed Stefani did not "tell him much" about her love life but only mentioned that she was going through something similar and that she understood what he was going through and could not stand it herself. In July 2016, Stefani told Howard Stern that she "went white" when Shelton told her about his divorce.
Shelton disclosed that was how he and the fashion designer formed a friendship and a bond. After that, they kept in touch once a week via email, which later progressed to texts three times a week:
"Next thing I know, I wake up, and she's all I care about. Gwen saved my life. Who else on earth could understand going through a high-profile divorce from another musician? You can't even imagine the similarities in our divorces."
Following their exchange, the pair hinted on social media that they were an item but never admitted it themselves. Four months later, one of Shelton's representatives acknowledged that he and Stefani were dating.

The couple met in April 2014 while coaching "The Voice" contestants during Season 7. Stefani posted a selfie of her and Shelton together on Instagram in November 2015 and captioned it "Him," alongside a heart emoji.
When his rep confirmed their relationship in November 2015, after the duo had everyone else talking about the status of their relations, they had been spotted together over Halloween weekend that year.
The lovebirds made their red-carpet debut in February 2016 at the Vanity Fair Oscar Party. At the time, a fellow attendee told People that the couple was overly affectionate, joined at the hip, and smiled the entire evening.
Shelton and Stefani got engaged in October 2020. The mother of three posted a photo of the couple kissing while holding up her hand to show off her engagement ring. "Yes, please," the caption reads.
The "Nobody but You" singer reposted the image on his social media account and thanked his then-fiancee for "saving my 2020 and the rest of life. I love you. I heard a YES!"
Per People, the happy couple eventually tied the knot at Shelton's Tishomingo ranch over the Fourth of July weekend in 2021.
Shelton Became a Loving Stepdad to His Wife's Kids
When Shelton married Stefani, he became her kids' stepfather and fell in love with them. The pop singer shares sons Kingston, Zuma, and Apollo with her ex-husband, Rossdale.
However, her brood gained a bonus dad once Shelton came into their lives. Per People, a source revealed that before Shelton popped the question, he asked his stepsons for approval.
The insider disclosed that the "Happy Anywhere" singer had already won over the hearts of Stefani's family, who approved of him while noting that he was a "great extra dad to the boys."
So much so that he revealed to Entertainment Tonight in August 2022 that his wife and stepkids take priority over his music career because they are all "a new phase of my life."

Shelton explained that while he would not entirely step away from singing now that he is a family, he was merely taking a more relaxed approach to his new life. Luckily, his record label allows him to be more flexible when composing songs to balance his work and personal life.
In February 2021, Shelton admitted that being a stepdad was not a walk in the park. He divulged that he, too, has a stepfather in his life who inspires him and guides him on how to parent his stepkids, something he takes very seriously.
He noted that he still manages to have fun with the children. The TV star stated he does take his fatherly role in their life seriously while not forgetting to have fun. "I can't image my life without these kids," said Shelton.