A loving 8-year-old boy stepped up as his great-grandparents' caregiver after they took care of him all his life. The responsible little boy helps them with household chores and makes life easier for them wherever possible.
We often hear stories of grandparents stepping in to become primary caretakers, but grandchildren stepping in as their grandparents' caretakers is another story. In Australia, a young pre-teen voluntarily stepped up to care for his elderly great-grandparents after raising him since he was a baby.
At 72 and 63 years old, Julie and John thought they were long done raising children. However, in 2012, their great-grandson Liam, then only a few months old, was entrusted to their care.
There was nothing the couple wouldn't do for their darling boy, who lit up their worlds. Speaking about her lovely grandson, Julie gushed: "He was a beautiful little baby, and I was so happy to have him."
However, as time passed, Julie and John realized they would need to rely on Liam the way he relied on them during his childhood. While they are still capable of doing things themselves, Liam, now 10, has been helping them since he was 8.

Anything for his "Dad" and "Ninny"
Liam grew up happily helping his "dad" and "ninny" with everyday activities. He helps his ninny whenever she can't reach something at home, watering the plants, doing the grocery shopping, checking the mail, looking after their pets, making cups of tea, and many more.
Julie proudly shares that, more often than not, Liam already knows what to do and doesn't need to be told. "He's a very smart, capable little boy," his ninny shared.
Liam never gives his great-grandparents anything to stress about. In fact, even when it comes to school, he organizes everything he needs himself and gets ready without asking for help.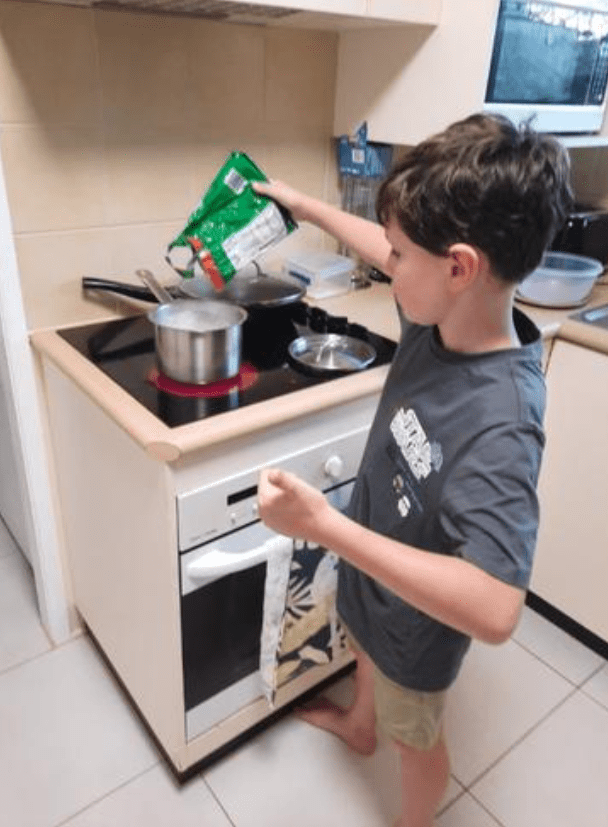 Liam being useful in the kitchen | Source: Kidspot
Learning to Be Independent
More than the usual household chores, Liam also enjoys cooking for the family. Some of his favorite things to cook include pasta, pancakes, and toasted sandwiches. Julie gladly revealed how her darling boy would make her toast for breakfast every morning.
Liam also does well in school and is a recipient of a scholarship from a prestigious school in Toowoomba. The scholarship is a big help to Julie and John, who are both living on their pensions.
Admittedly, the elderly couple finds it difficult to raise a child at their stage in life because they cannot provide him with the luxuries they wish they could give him. "Finding the extra dollar for things that we would like to give him and places to take him because he deserves it has been the hardest thing," Julie admitted.
Blessed with Liam's Presence
Despite the simple life they live, Liam has remained loving, sweet, and kind to everyone he meets, which Julie and John couldn't be more proud of. They find comfort in knowing their great-grandson is with them, having lost all their three children as adults.
However, Julie doesn't want her great-grandson to feel "tied down" to them simply because they're getting older. But while Liam still lives with them and will continue to do so in the foreseeable future, she is grateful for all his help.
The proud great-grandmother is motivated to wake up each day knowing she's going to see Liam, which gets her excited. While she can, Julie will continue raising him to be the sweet, loving boy he is so that he grows up to be a good man.
Boy Who Cares for His Elderly Neighbors
Like Liam, a teenage boy dedicated much of his free time to his elderly neighbors, hoping to help them out with their daily tasks whenever possible. Romemylion Mitchell warmed the hearts of many when they discovered that he developed a strong bond with his elderly neighbors, who eventually grew fond of him.
Romemylion lived across the street from Trent and Cianne Joyner and would check in on them every day to make sure they were okay. He voluntarily mowed their lawn, went to the grocery store with them, and did other acts of kindness without expecting anything in return.
While Trent and Cianne's daughter Tiki Joyner Edwards didn't live with them, she occasionally visited and found out about what Romemylion had been doing for her parents. She decided to share his story on Facebook, and it moved the hearts of thousands of people when she wrote:
"I just want to take a moment and recognize this sweet fella that lives across the street from my parents. He checks on them every day and has grown to love and care for them deeply."

When Cianne was hospitalized, Romemylion burst into tears and embraced her once he was able to visit. He stayed by her side, showing her just how much he cared. Romemylion is living proof of the goodness left in this world and an inspiration to many on how to be a great neighbor.
Caring for the elderly enables these two boys to live their lives to the fullest until the end.