On Tuesday, January 10, Brad Pitt astounded his fellow actors and gawking fans with his youthful and refreshed looks. Although the "Bullet Train" star didn't receive any awards at the latest Golden Globe awards, his name rang from the stage often, with many adoring speeches paying homage to the Hollywood hero.
The 59-year-old was nominated for Best Actor in a Supporting Role in Any Motion Picture by the "Everything Everywhere All at Once" star, Ke Huy Quan. Nonetheless, Pitt took the loss in his stride and even posed for a snapshot with his contender.
Throughout the night, the "Ad Astra" actor chatted away happily with his fellow entertainers, stopping to take photos and swapping good-humored jokes. Notably, Pitt could be seen raising a bottle of water to all who mentioned him in their speeches and stuck to his choice of drink throughout the night.
The final impetus behind their separation was reportedly Pitt's dependence on alcohol.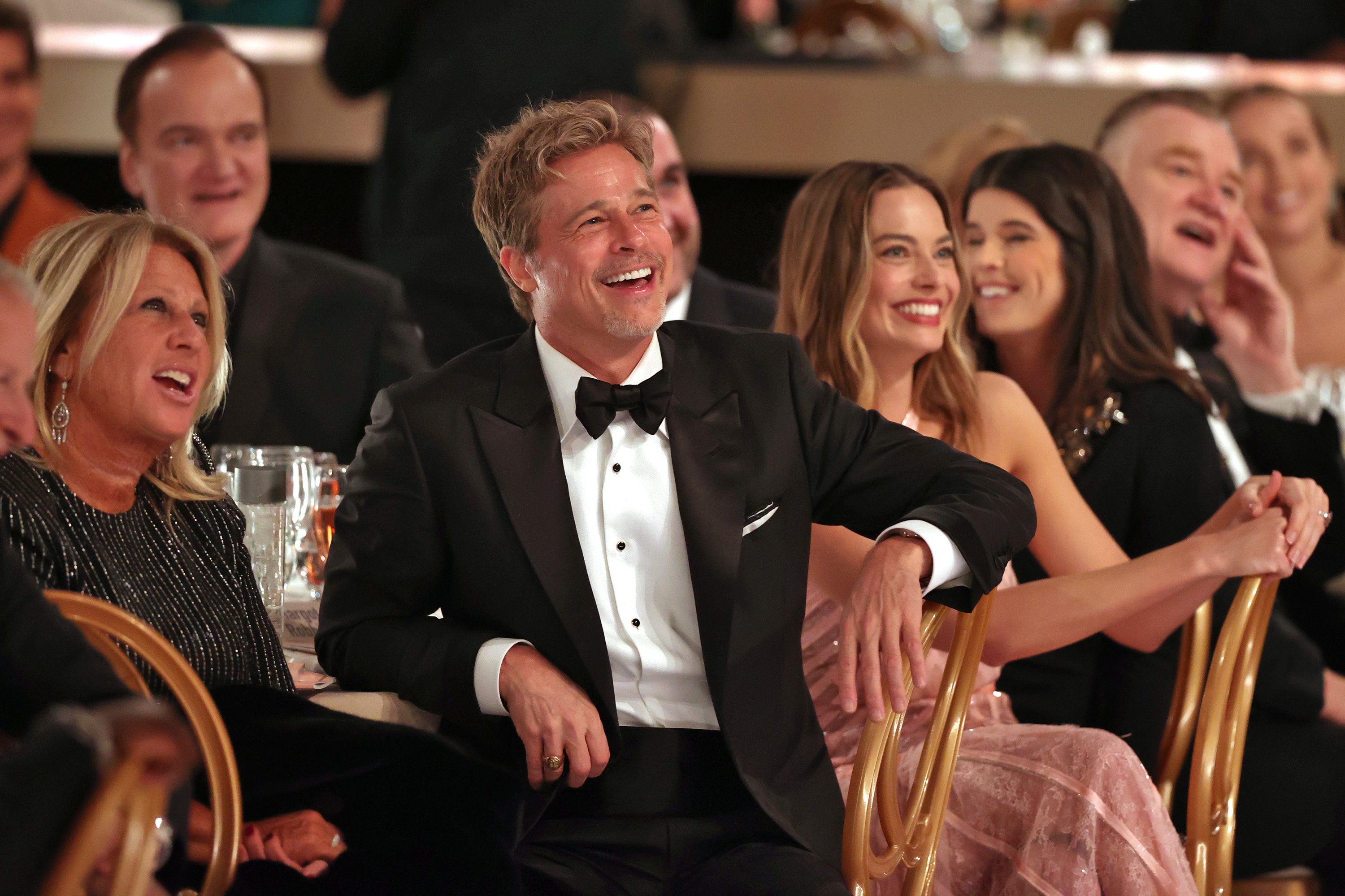 Brad Pitt at the Beverly Hilton Hotel on January 10, 2023 in Beverly Hills, California | Source: Getty Images
Over the past few years, Pitt has been working through the aftereffects of a complicated and painful divorce from his ex-wife, Angelina Jolie. Seeing him look "young," "happy," and "like a new man" has left his costars and his fans elated, and many voiced how glad they were he is "recovering" after the ordeal.
How Did Brad Change Himself After a Hard Divorce?
Pitt and Jolie had an exceptionally complicated separation, made even more convoluted by the six kids they shared. After spending 11 years together, raising their blend of adopted and biological children, Pitt and Jolie called it quits after a long time of not seeing eye-to-eye.
Pitt turned his entire life around after things between him and Jolie ended.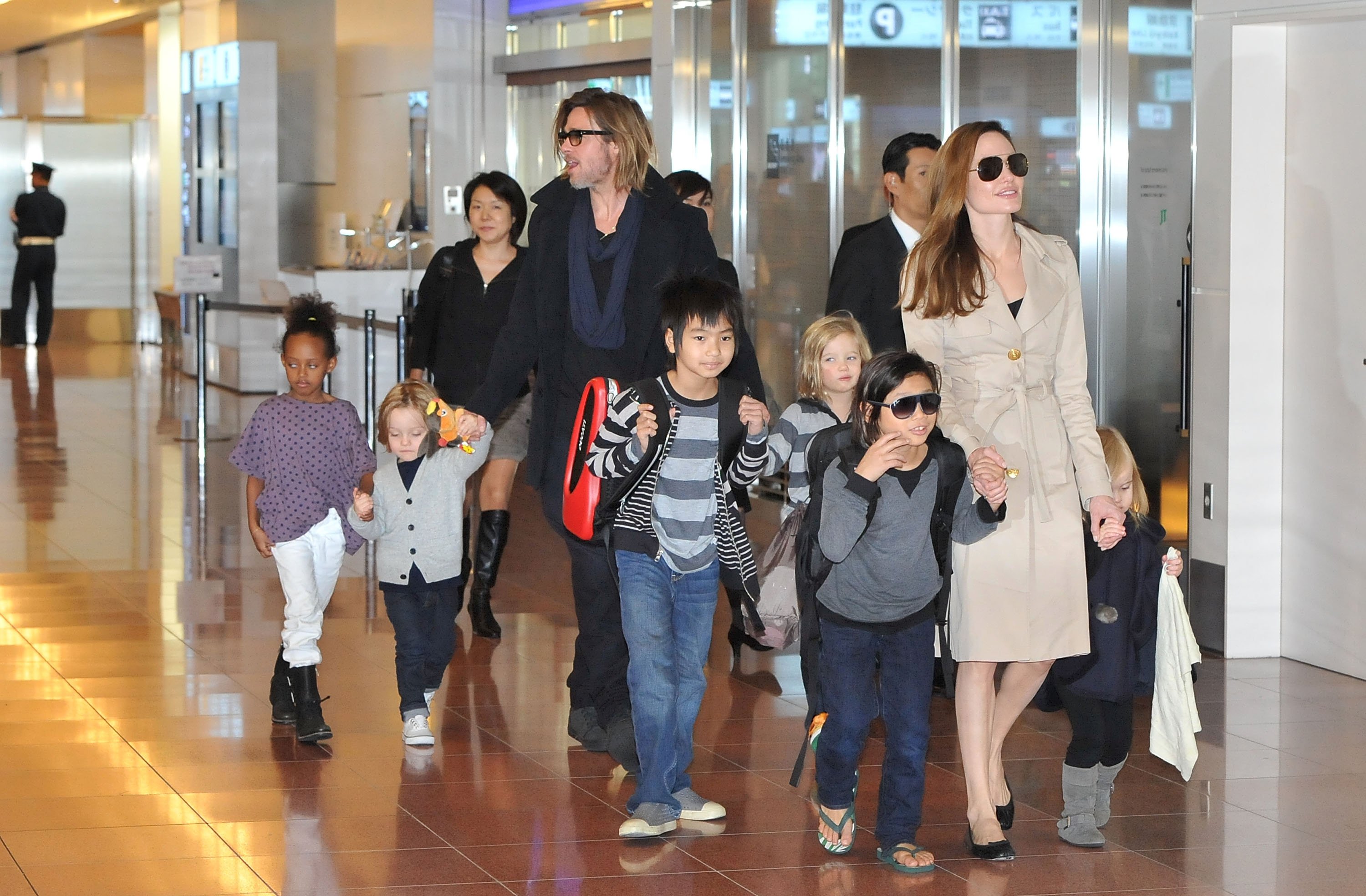 Brad Pitt, Angelina Jolie and their six children Maddox, Pax, Zahara, Shiloh, Knox, and Vivienne at Haneda International Airport on November 8 in Tokyo, Japan | Source: Getty Images
The final impetus behind their separation was reportedly Pitt's dependence on alcohol. After an argument on a private plane in 2016, the two decided the time had come to end things. After they went their separate ways, Pitt did a lot of introspection and sought help with his substance abuse problems. He commented:
"I had taken things as far as I could take it, so I removed my drinking privileges."
Eventually, he found the support and opportunity to talk about himself openly with Alcoholics Anonymous. The actor spent more than a year with this group, which consisted solely of other men with similar issues. Pitt attributed much of his recovery process to the openness and trust he found in these individuals.
Pitt's Emotional Speech for Kids and Devotion to Them Nowadays
Pitt turned his entire life around after things between him and Jolie ended. He found new vitality and immersed himself in his work. But, after losing himself in his mistakes, he realized he needed to "be more" in his children's lives. He mused:
"People on their deathbeds don't talk about what they obtained or were awarded. They talk about their loved ones or their regrets — that seems to be the menu. When I get in that busy work mode, I'm not hearing. I want to be better at that."
He shared that, although he doesn't necessarily regret his past mistakes and what they've taught him, he does worry about the image being portrayed by the media and what his kids might read into it. And the actor has put a lot of thought into his role as a dad. When he won the Oscar for Best Supporting Actor in 2020, he said:
"This is for my kids, who color everything I do. I adore you."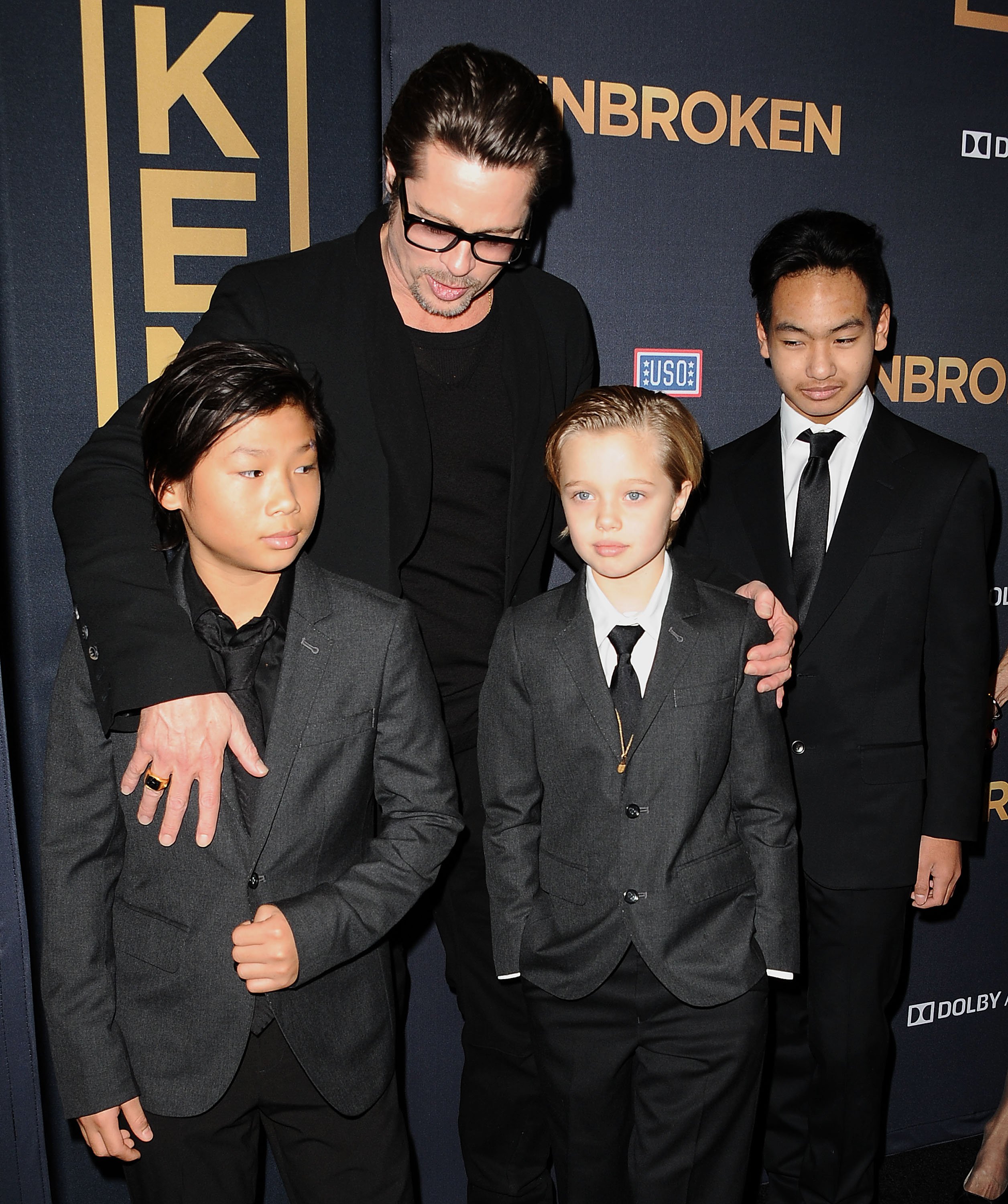 Brad Pitt, Pax Thien Jolie-Pitt, Shiloh Nouvel Jolie-Pitt, and Maddox Jolie-Pitt at TCL Chinese Theatre on December 15, 2014 in Hollywood, California | Source: Getty Images
The loving father of six has opened up about his relationship with his children on multiple occasions. After his divorce from Jolie, he didn't get to see them as often as he would have liked, but over the years, he has managed to remain a part of their lives.
Although the actor is still constantly keeping himself busy with new films and projects — not to mention his winery, Château Miraval — he spends most of his downtime catching up with his kids. Since his final separation from Jolie in 2019, things have been looking up for Pitt, and insiders say he's bouncing back nicely.