Brad Pitt and Angelina Jolie had one of the most highly publicized relationships in Hollywood after Pitt divorced Jennifer Aniston to be with Jolie. They welcomed six children together and appeared happily married for some time.
Yet their relationship soon soured, and the spouses divorced. They have been embroiled in bitter legal battles since their divorce, but it appears that Pitt has finally found happiness with a new partner.
Pitt, who is now almost 60, has recently revealed that after his divorce from Jolie, he attended Alcoholics Anonymous meetings for over a year and got sober. He said he valued the group he was a part of because it was private and safe, which meant nobody would share his stories.
He said he stopped doing everything bad when he started his family with Jolie, but he continued drinking alcohol throughout their marriage. Yet when they divorced, he found he was drinking too much because he wasn't dealing with things.
The actor said that he started therapy to deal with those things and was grateful that he had managed to get sober because he had now dealt with his deeper issues and he joked that he even had feeling back in his fingertips.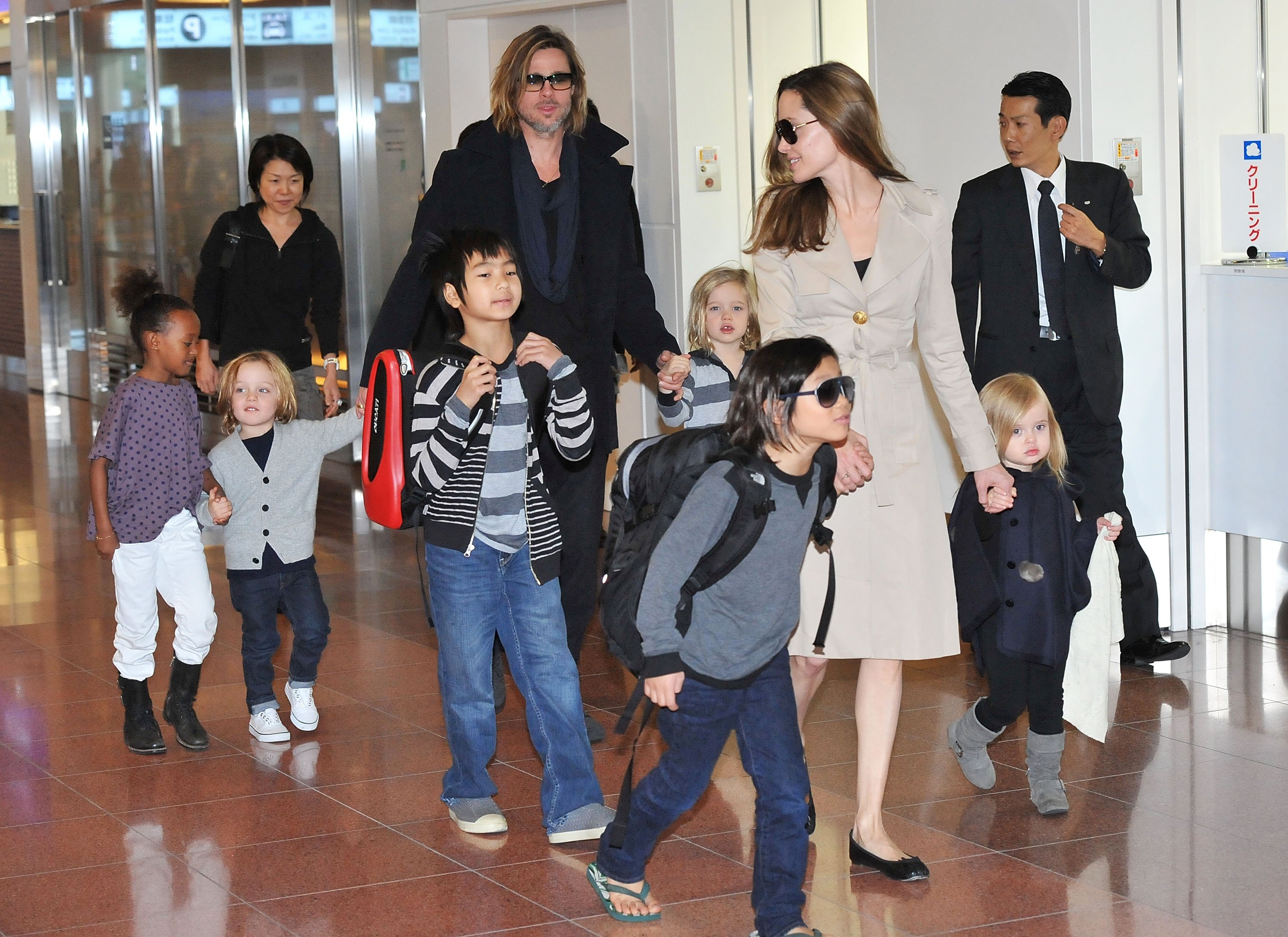 Brad Pitt, Angelina Jolie and their six children Maddox, Pax, Zahara, Shiloh, Knox, and Vivienne arrive at Haneda International Airport on November 8 in Tokyo, Japan | Source: Getty Images
When asked how he could so quickly stop drinking after he had been drinking for so long, he said it was because he had realized that he just didn't want to live that way anymore and knew he had to make a change.
Talking about how he could share all his feelings with the group he was part of, Pitt said it was made up entirely of men who placed great trust in one another. Talking about the experience, he shared:
"You had all these men sitting around being open and honest in a way I have never heard. It was this safe "pace where there was little judgment, and therefore little judgment of yourself."
He said nobody in the group sold his stories to the tabloids, which has happened to other people he knows, because the men all leaned on one another and were able to be vulnerable about their experiences together.
The Woman Who Supports Brad After Divorce
Pitt is now 59 and still involved in the custody battles and other legal battles that arose due to his divorce from Jolie, which he announced when he was 52. However, after seven years of suffering, in November last year, Pitt found happiness and support in the arms of Ines de Ramon.
Pitt and de Ramon were first linked outside a Bono concert last year, where they were seen embracing and smiling. Reports said the pair was affectionate as they stood outside the show and appeared happy in each other's company.
They have since been seen out together on many occasions, and those close to the couple have said they have grown much closer over the past couple of months as their relationship has developed to new heights.
Pitt and his new beau were seen together at the premiere of his new film "Babylon," de Ramon also attended his 59th birthday party in December. Sources close to the couple said they had supported one another as each of them was going through a divorce.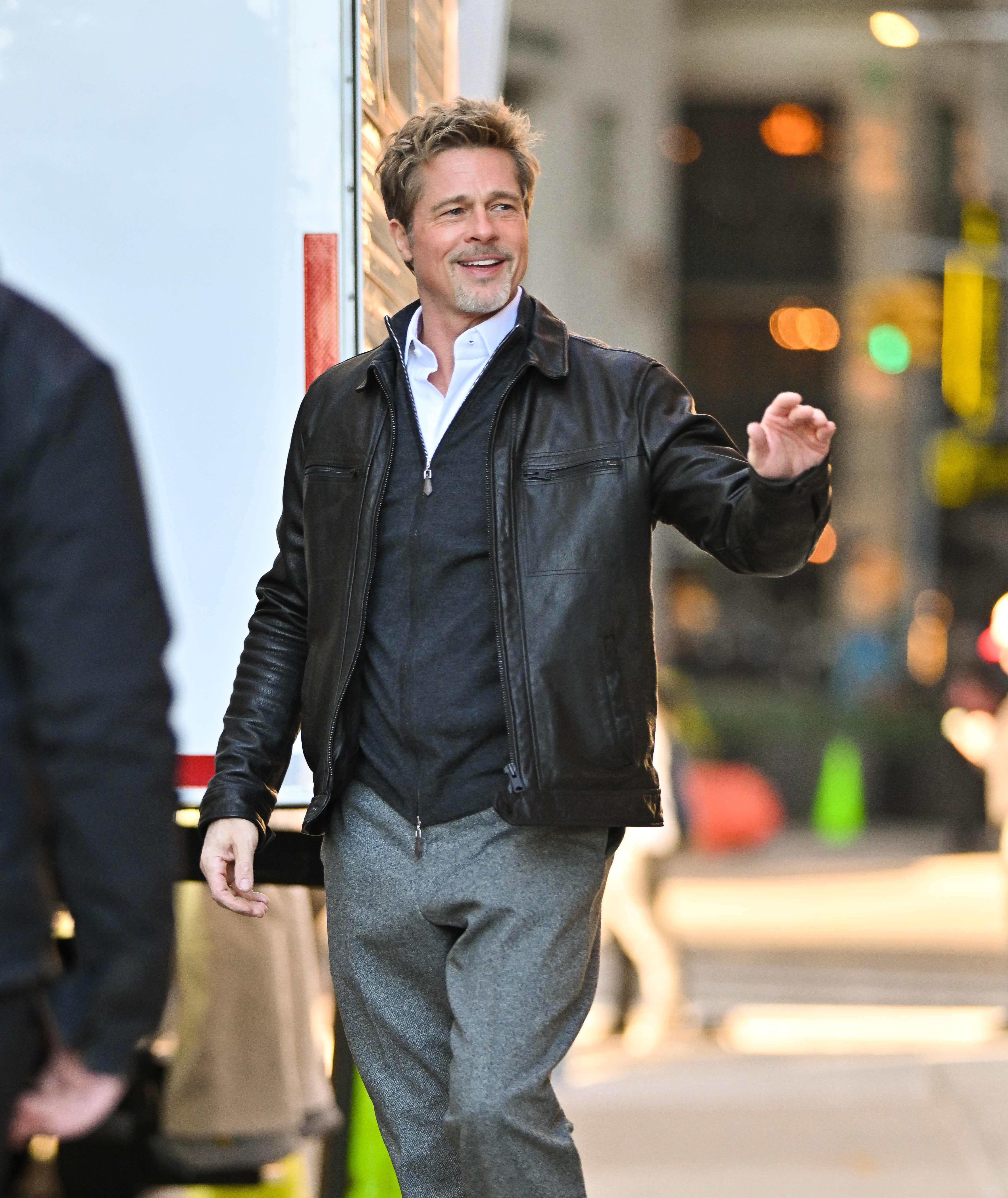 Brad Pitt is seen on the set of "Wolves" in the Financial District on February 14, 2023 in New York City | Source: Getty Images
Pitt's new love is a celebrity health coach who is suffering through the end of her own marriage but has been a great support system for Brad, say insiders. Sources say the pair bonded over their divorces, and their relationship has become quite serious.
A close friend shared that de Ramon is good for Pitt because after his high-profile relationship with Jolie, de Ramon is lowkey and doesn't subscribe to drama. The friend also said that Pitt is not bothered by de Ramon's ex-husband's opinion of him or their relationship.
How Did Pitt Win de Ramon's Heart and Introduce Her to His Kids
Pitt and Jolie share six children, Maddox, Pax, Zahara, Shiloh, Knox, and Vivienne. While the actor does not share a great relationship with all of his children, de Ramon has met "most of his children," as a friend reported.
The couple is happy together, and Pitt continues to share grand gestures to win his sweetheart over, like sending flowers to her place of work when they could not be together for Valentine's Day last week. Pitt was in New York City filming "Wolves" on the day.
However, de Ramon looked delighted as she walked out of her offices and held a bouquet of peonies. She also held a baguette under one arm as she smiled sweetly, carrying all the Valentine's Day treats she had received.
De Ramon's Ex Files for Divorce Immediately
While de Ramon and her ex-husband have been separated for five months, with a mind to get divorced, they had not made anything legal yet. However, Pitt's grand gesture to de Ramon for Valentine's Day changed everything.
Soon after Pitt sent flowers to de Ramon on Tuesday last week, her ex-husband filed for divorce. He filed on Friday and cited "irreconcilable differences" as the reason for their divorce. The pair married in 2019.
A rep for the ex-couple said that while the divorce filing had only just happened, the pair split in September. The representative said it was a mutual decision between the couple and what they believed was best for them.