Parents capturing their children's first steps, first plane ride, literally their first whatever it may be and sharing it online is not out of the ordinary. While it's adorable to watch babies' eyes light up when they experience new things, it's not always possible to gauge how they really feel.
What if you captured someone experiencing those same things for the first time, but they were older and knew how to express their true feelings?
The Walker family from Waxhaw, North Carolina did just that after they adopted two brother from Sierra Leone. Jamie Walker recently shared a video of her son Abraham receiving his first birthday cake, and the sixth grader immediately broke down in tears.

Prior to the now viral video, Joe Walker took a trip to Sierra Leone with a friend who started an orphanage in the country. While there he met a boy named James, Abraham's brother.
The two formed a close bond.
The Walker family began sponsoring James and spoke with him every month, but after six months James was forced out of the orphanage.
Joe got James a phone so the two could stay in touch.
James went back to his village, but it wasn't a long term solution.
"And we knew that if they didn't get back to the orphanage they were going to be put back on the streets," Joe told WCNC. "And so we put a team together."
After a long discussion, Joe and Jaime proposed the idea of adoption to their four children and then to James and Abraham.
"They were really excited and they wanted to be a part of the family and know what a family was," Joe said.
COVID delayed the adoption process, but fall 2021 the boys were officially in the United States and part of the Walker family.
Once the brothers were in the States, Jaime began documenting many of their "firsts."
"It's absolutely magical and amazing because you think about the first time you take a toddler through, and they're like in awe. And some kids hate it. It's the same, only they're old enough to verbalize how crazy this experience is," she told Fox 46.
On May 19, the family celebrated younger brother Abraham's birthday. While they don't know his exact age – record-keeping in Sierra Leone is not taken seriously so the boys' birth certificates aren't accurate – they lit a bunch of candles and instructed him to make a wish.
But Abraham couldn't. He was overwhelmed.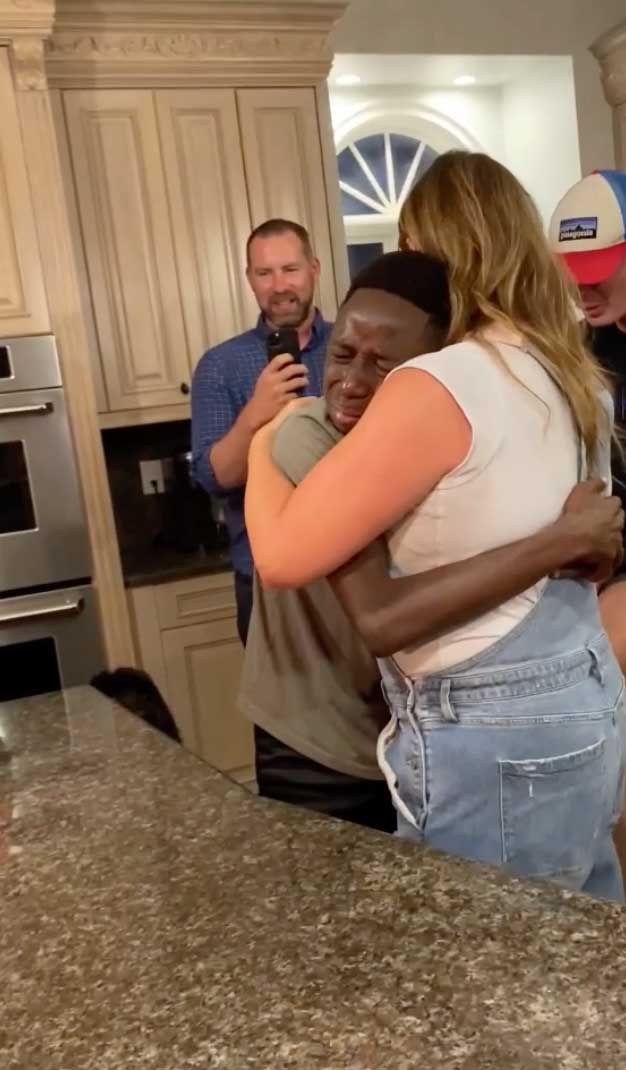 Screenshot
"We never knew about something called a birthday," he said. "It just feels like God is showing all the blessings in you. Everybody in the whole world is giving you their best love that they have ever given. That is what it feels like to have that cake."
Just a month later it was his brother's turn.
Jaime suspected James' reaction would be "cool and collected," but she was wrong… very, very wrong.
"The most intense hug I've ever had. I could feel his joy, his gratitude, his hope, his love, his everything. It was all there wrapped around me," she wrote on Facebook.

"I love them more than they can ever imagine in the world. They're the ones that showed me to the world, and showed me what happiness is, and showed me what love is, and showed me what it means to have a family around you. I really, really want to say thank you to them for that," Abraham said.