As Bruce Willis continues to fight his disease, his family is next to him in this challenging moment. And although he divorced his ex-wife Demi Moore 22 years ago, she and all his daughters are united with his wife in praying for a holiday miracle.
"Moonlighting" alum Bruce Willis was diagnosed with aphasia in March 2022. Since then, his blended family, including his former wife, Demi Moore, has come together to support him during this challenging time.
The retired actor has been married twice and has five daughters. His first marriage was to Moore, whom he spontaneously wed in November 1987.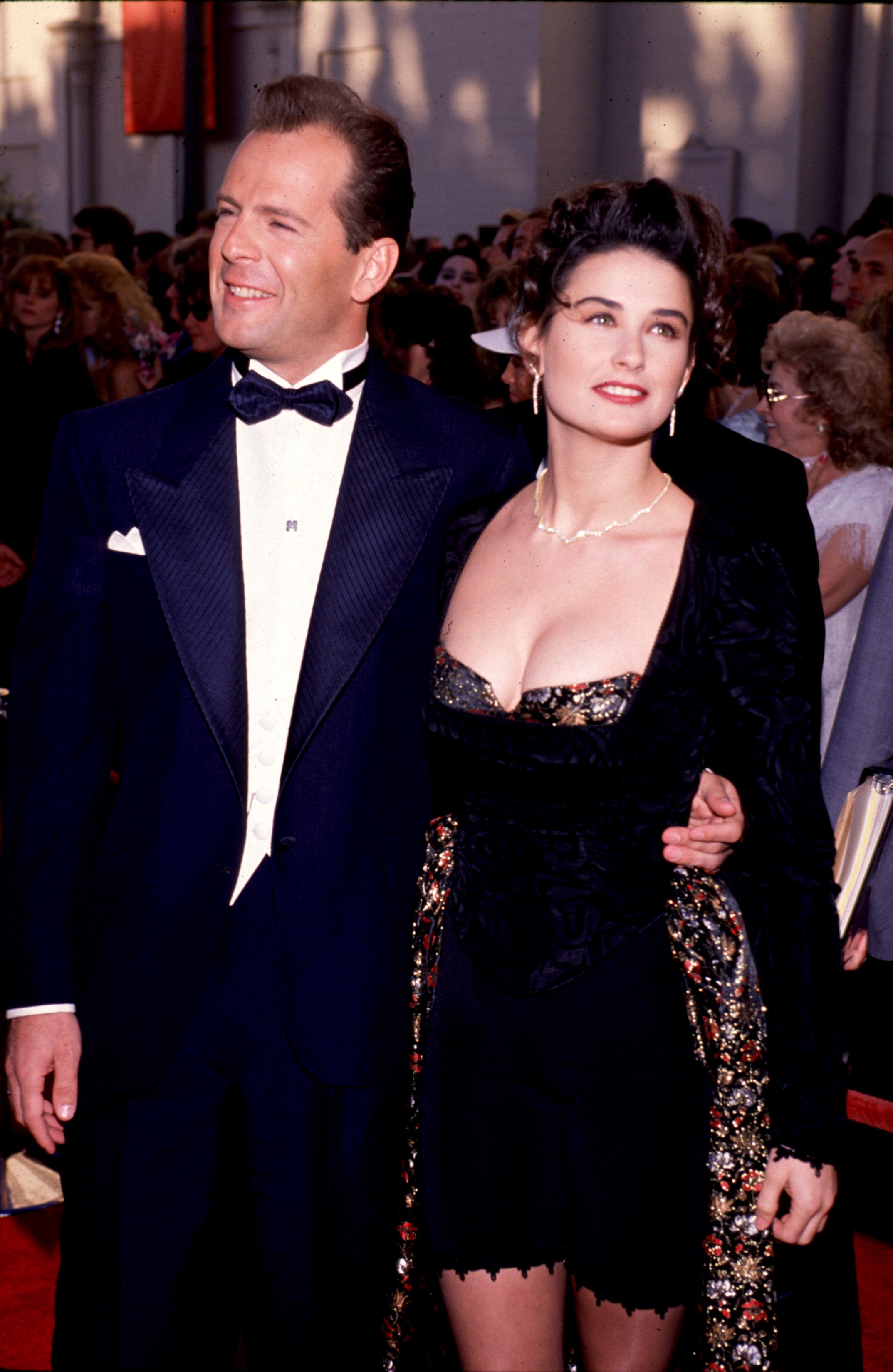 Actor Bruce Willis and his actress wife Demi Moore attend the Emmy Awards on September 15, 1988. ┃Source: Getty Images
While it was his first union, it was the actress's second marriage. Moore had been previously married to musician Freddy Moore from 1980 to 1985 before meeting the "Die Hard" star.
Moore and Willis tied the knot after dating for less than a year. However, Moore insisted that they were not in a hurry to exchange wedding vows:
"There was no rush. We got married in Las Vegas [but] we went there to see a boxing match. We had sort of talked about [getting married] laughingly, and it just seemed OK. It seemed like [waiting] didn't matter, that we loved each other so much."
The following month, the couple learned that Moore was pregnant with their first child. Their first daughter, Rumer, was born on August 16, 1988. They welcomed their second daughter, Scout, in 1991, followed by their third daughter, Tallulah, in 1994.
After becoming parents of three, the Hollywood couple's marriage faced its challenges, leading to a divorce filing. Willis spoke candidly about the separation in an interview with Rolling Stone in December 2000.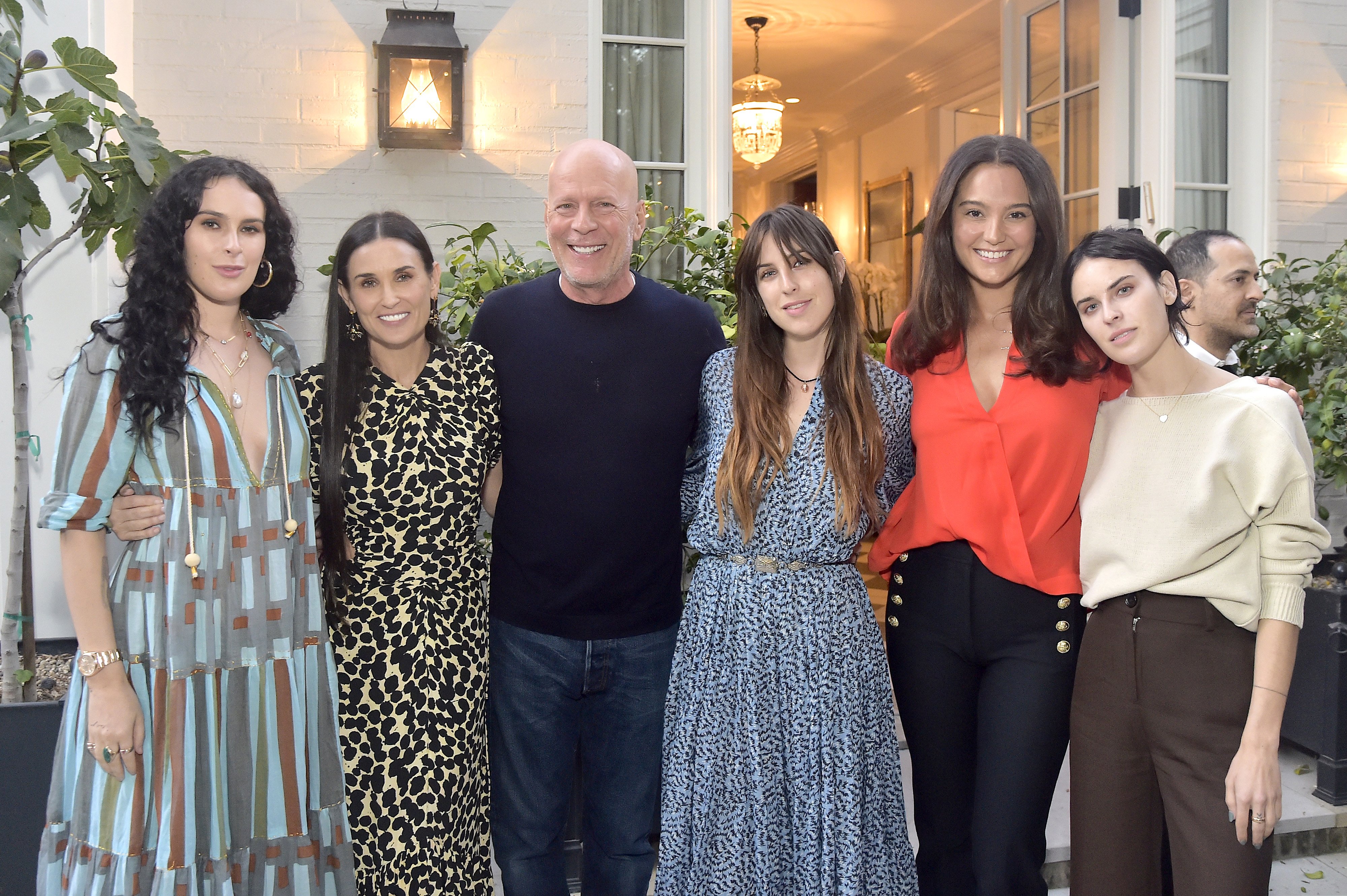 Rumer Willis, Demi Moore, Bruce Willis, Scout Willis, Emma Heming Willis and Tallulah Willis attend Demi Moore's "Inside Out" book party on September 23, 2019 in Los Angeles, California.┃Source: Getty Images
When asked what raptured his marriage to Moore, the German native said he was still to make sense of it. At the same time, he expressed his love for the mother of his children:
"I haven't figured it out yet. I still love Demi. We're very close. […] We realize we have a lifelong commitment to our kids. Our friendship continues. The institution has been set aside."
Willis and Moore separated in June 1998 and finalized their divorce in 2000. Despite ending their marriage, they continued to co-parent their kids cordially and became known as the friendliest exes in showbiz. Moore and the kids even accompanied the family patriarch to the premiere of "Bandits" in 2001 to support him.
When asked about her friendship with Willis once, Moore revealed that because she was a "product of divorced parents," she and her brother would often be caught in the middle of it all, and she did not want her daughters to experience the same toxic environment she had growing up. She explained:
"At the time, I could not have seen what a gift that situation was, but without that experience, I would have not known there was a different choice to make in my own divorce."
Moore clarified that she did not get hitched and have kids, only to dissolve her marriage, remarry, and become friends with her former husband. "But since that is what happened, I am grateful it turned out this way," she expressed.

Following their divorce, Moore married actor Ashton Kutcher in 2005, and even then, her relationship with Willis remained strong. She explained that the reason why she made her friendship work with him was because of their kids together. She added:
"One of the most healing things for Bruce was seeing me meet someone who has brought me so much happiness. And I so much want the same for him."
When Moore and Kutcher divorced in 2015, she and Willis remained close. She said it was a win-win situation for their brood because they did not "have to choose."
Willis Remarried & Had More Kids
Meanwhile, Willis remarried in 2009 when he wed model Emma Heming. The couple welcomed two daughters together, Mabel and Evelyn.
In April 2020, the father of five and Moore cooped up under the same roof during the COVID-19 pandemic lockdown with their children. The pair and their youngest daughter, Tallulah, posted a snap of the family on social media, including Tallulah's boyfriend and her pet dog.
The image featured Moore and Willis donning matching green-striped pajamas. Their child revealed on the post that they all had been quarantined for 27 days in the same house. Willis' current wife, Heming, approved the pic, writing: "Not many can pull that color off! Looking good squad."
Heming and the father of her kids celebrated their 10th wedding anniversary in March 2019 by renewing their vows. The mother of two revealed the couple decided to mark the occasion for their young kids and that it was a blast to celebrate their love in their presence.
The British-American native divulged it was "important" for her and Willis to make their daughters feel included in the event by making them flower girls. She added that a decade with their dad was a sentimental milestone, and they wanted to commemorate their time together.

Willis' blended family came together to celebrate as his young daughters and older ones are also close. Heming said she and her husband become almost nonexistent once Evelyn and Mabel see their older half-sisters, Rumer, Scout, and Tallulah:
"The older ones, they're awesome, and they love being around their young sisters. The young ones just adore them."
Moore was also present at the vow renewal, and Heming was happy about that, sharing that the "General Hospital" alum warmly "welcomed me into her family like I welcomed her into ours."
Heming expressed her immense "respect" for Moore and her admiration for how she and Willis ensured they had a smooth transition after their divorce by prioritizing their brood. The "Perfume" star stated she "learned and grew" from the duo's experience.
That said, she emphasized that it was significant for Moore to be present at their ceremony like she was when they first got married, adding:
"I loved having her there again. I wouldn't do it without her."
Willis Was Diagnosed with Aphasia & Is "Incommunicado"
While Willis seems to have built a happy tight-knit blended family, they have unfortunately received bad news as he has been diagnosed with aphasia. Willis' friend, Sylvester Stallone, gave an update about his struggling health in November 2022 and revealed:
"Bruce is going through some really, really difficult times. So, he's been sort of incommunicado. That kills me. It's so sad."
Following the news of Willis' diagnosis in March 2022, the "Rocky" star penned a heartfelt message on Instagram, wishing his costar well. Stallone wrote alongside a throwback photo of the pair, saying he kept the movie star and his loved ones in his prayers.
The Willis family, including Moore, Rumer, Scout, and Tallulah, released a joint statement announcing the "RED" star would be retiring from acting because of his condition. They stated they would be there for him "as a strong family unit."
The family's Instagram posts received many comments from celebrities alike, including Jamie Lee Curtis, who penned, "Grace and guts! Love you all." Rita Wilson wrote that she was devastated to hear about the sad news and thanked the family for sharing it with the world. "Keeping you all in our prayers," she said.
Matthew Perry took to Twitter and expressed his sadness at the news, adding that Willis is "still the coolest man" he had ever seen. He said he would continue to pray for him for a while.
Tallulah shared a sweet picture of her and her parents wearing plaid shirts and holiday sweaters. She posed, cuddling up to her mom's pet dog, Pilaf, as she embraced her from the side. In the photo, Willis was pictured warmly looking down at the puppy.
Willis, Heming, and the kids were in the holiday mood. Willis' wife shared pictures of her and the children decorating their Christmas tree at home. One of the images showed Evelyn and Mabel taking turns adding ornaments to the tree.