At the height of her career, Cameron Diaz, who had always wanted to live on a farm, took a step back from acting to do exactly that. In the years that followed, she met a man who showed her what a normal family is like, and thanks in part to inspiration from him, she returned to the movie industry eight years later.
Not many people can boast about having done it all at 40, but Cameron Diaz is different. At that age, the gorgeous woman, who was making $20 million per film at some point, was ranked among the most successful actresses with great hits like "Shrek," "Knight and Day," and "There's Something About Mary" under her belt.
The sky was the limit for this talented woman, but Diaz decided to walk away from the movie industry at the very peak of her career. In a past interview, she confessed that acting had taken most of her time, making it easy for her to "step back for a second."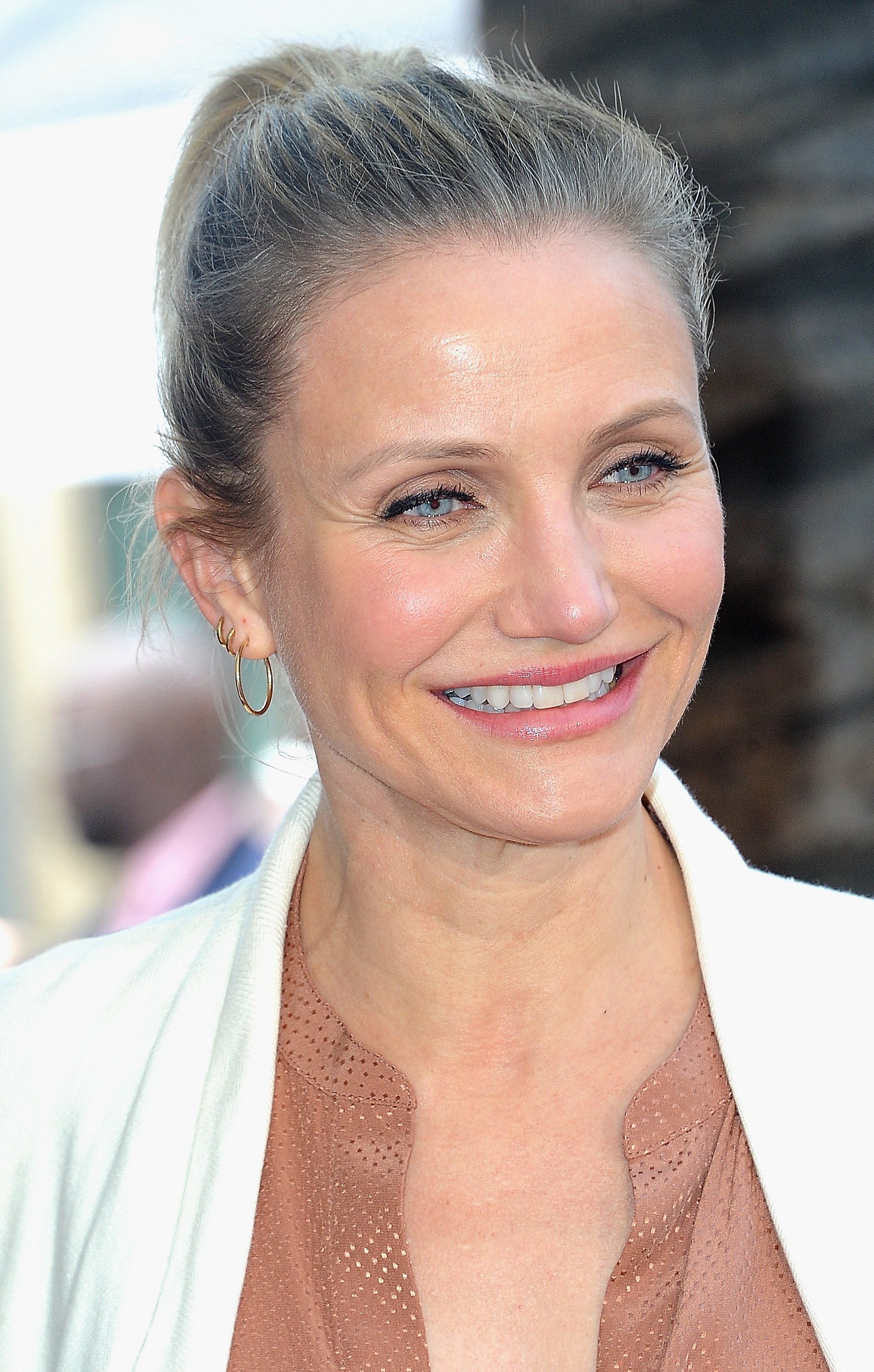 Cameron Diaz at Lucy Liu's Star Ceremony On The Hollywood Walk Of Fame held on May 1, 2019, in Hollywood, California. | Source: Getty Images
Taking such a break meant avoiding red carpets and minimizing public appearances, but that was not difficult for Diaz because she knew exactly what she wanted to do with her freedom. In 2010, she confessed to wanting to spend time on a farm.
She had always been on the move and felt the urge to connect with the earth through agriculture, so years later, when she finally got around to doing it, Diaz wasted no time moving to a farm.
In a more recent interview with her pal, Gwyneth Paltrow, Diaz, once the highest-paid actress in Hollywood, opened up about how it felt to take the plunge into the unknown. She said:
"I'm at peace. I got peace in my soul. Because I was finally taking care of myself. I feel like my feet are on the ground. I'm lighter."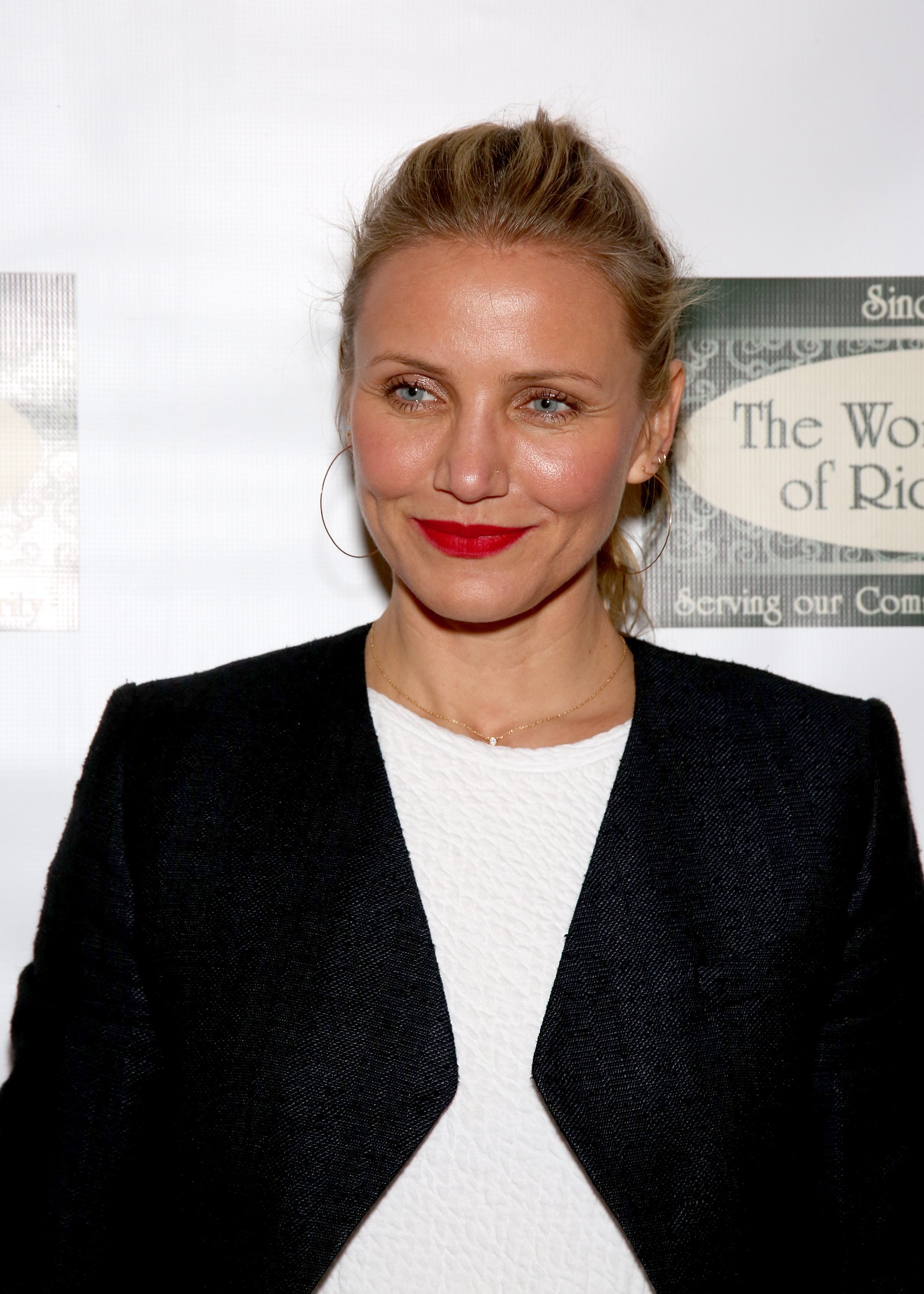 Cameron Diaz poses at The Women's Club of Ridgewood before her book signing and meet and greet at The Women's Club of Ridgewood on April 7, 2016, in Ridgewood, New Jersey. | Source: Getty Images
In the years that followed her semi-retirement, Diaz threw all her energy into enjoying her private life and developing her other potential. However, she never burnt the bridge linking her to Hollywood.
Madden was there for her as she came to terms with life off the set, and now he inspires her to return to work.
The break did the talented actress a lot of good and made her realize that there was still something missing; a family of her own. She had been in different failed relationships before then, but she knew the time would come for her to settle down.
Diaz met Benji Madden, the man that swept her off her feet during her break, and by January 2015, the pair got married in an intimate ceremony that went down in her home in Beverly Hills.
Speaking about him in the past, she revealed that their connection was instantaneous, and she knew at once that she had found the man she would marry.
Living on a Farm
As earlier stated, Diaz had always nursed a desire to spend time on a farm. During her time away from Hollywood, the gorgeous woman and her husband, Madden, moved into a farm-style house in a neighborhood occupied by stars like Vin Diesel, John Mayer, and Kate Upton.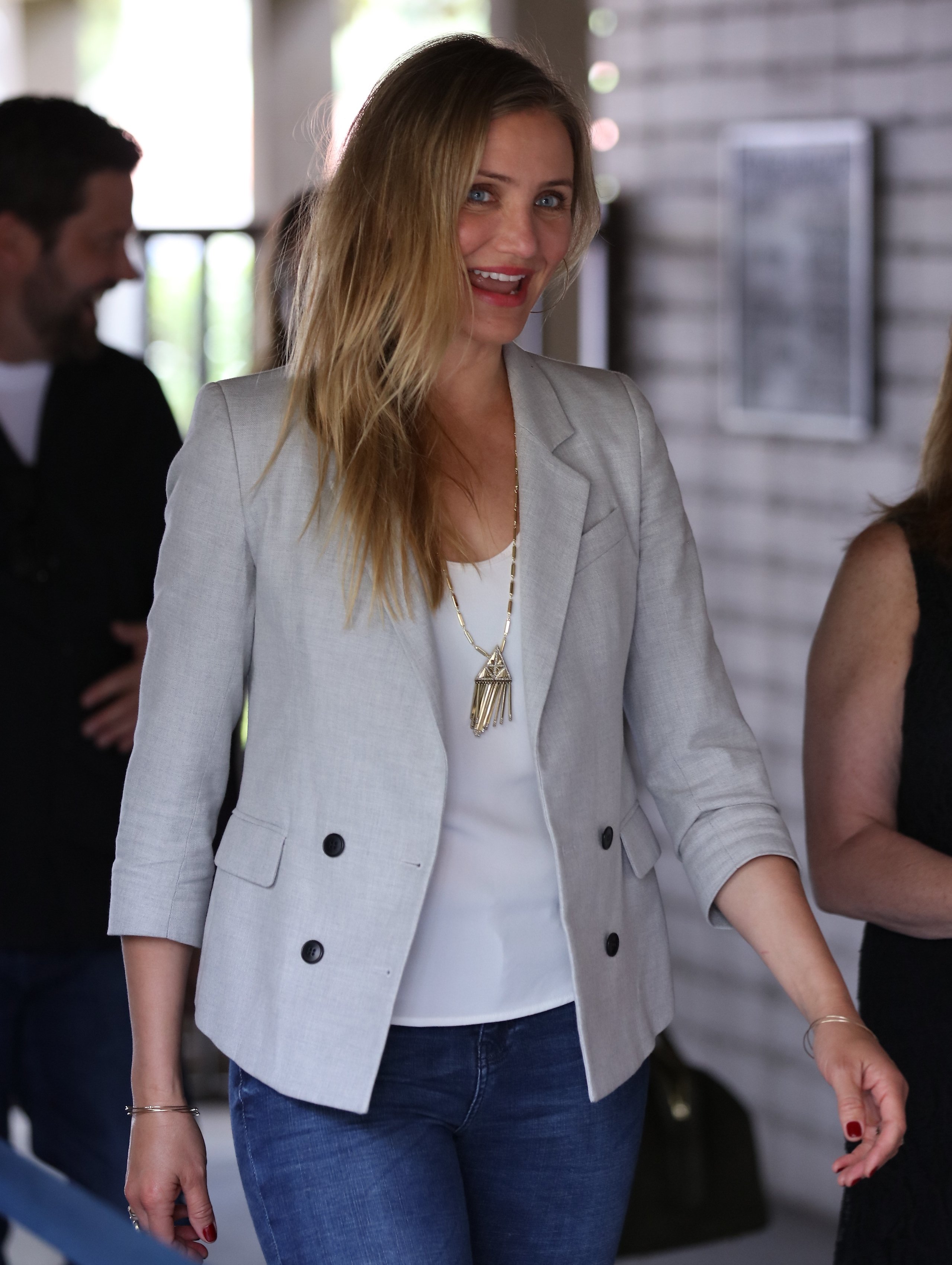 Cameron Diaz joins MPTF to celebrate Health and Fitness at The Wasserman Campus on June 10, 2016, in Woodland Hills, California. | Source: Getty Images
It cost $20 million to purchase the property, which sits behind a huge gate guarded by full-time security agents. The estate covers 1.7 acres and consists of a spacious main house and a detached guesthouse made with custom architecture.
It sports a long paved road, a garage large enough to contain three cars with space for ten more vehicles, a living room warmed by an amazing hearth, and a kitchen complete with state-of-the-art appliances, to name a few.
The place was perfect for her; Not only did it fulfill her wish to live in a farmhouse, but it also served as a great place for her and her family to live undisturbed by the daily rush of Hollywood.
Her spare time was occupied with family time, self-development, cooking demos, and wine-making. Diaz discovered a passion for making wines alongside her friend Katherine Powers after they realized that the wine-making industry was very vague about what the bottles contained. Power said:
"Hey, we're buying organic groceries and choosing clean skincare products and nontoxic household products. And [with wine], we just kind of said to ourselves, "This is just grapes, right?"
That simple question sent them down the rabbit hole of wine-making as they vowed to create a new brand of wine, one made organically with zero secrets.
Husband Who's Always There to Support
Before falling head over heels in love with Madden, Diaz had nursed doubts about fitting into family life. The "Shrek" actress once confessed that she wasn't sure she was ready when she tied the knot, but Madden had always felt special to her.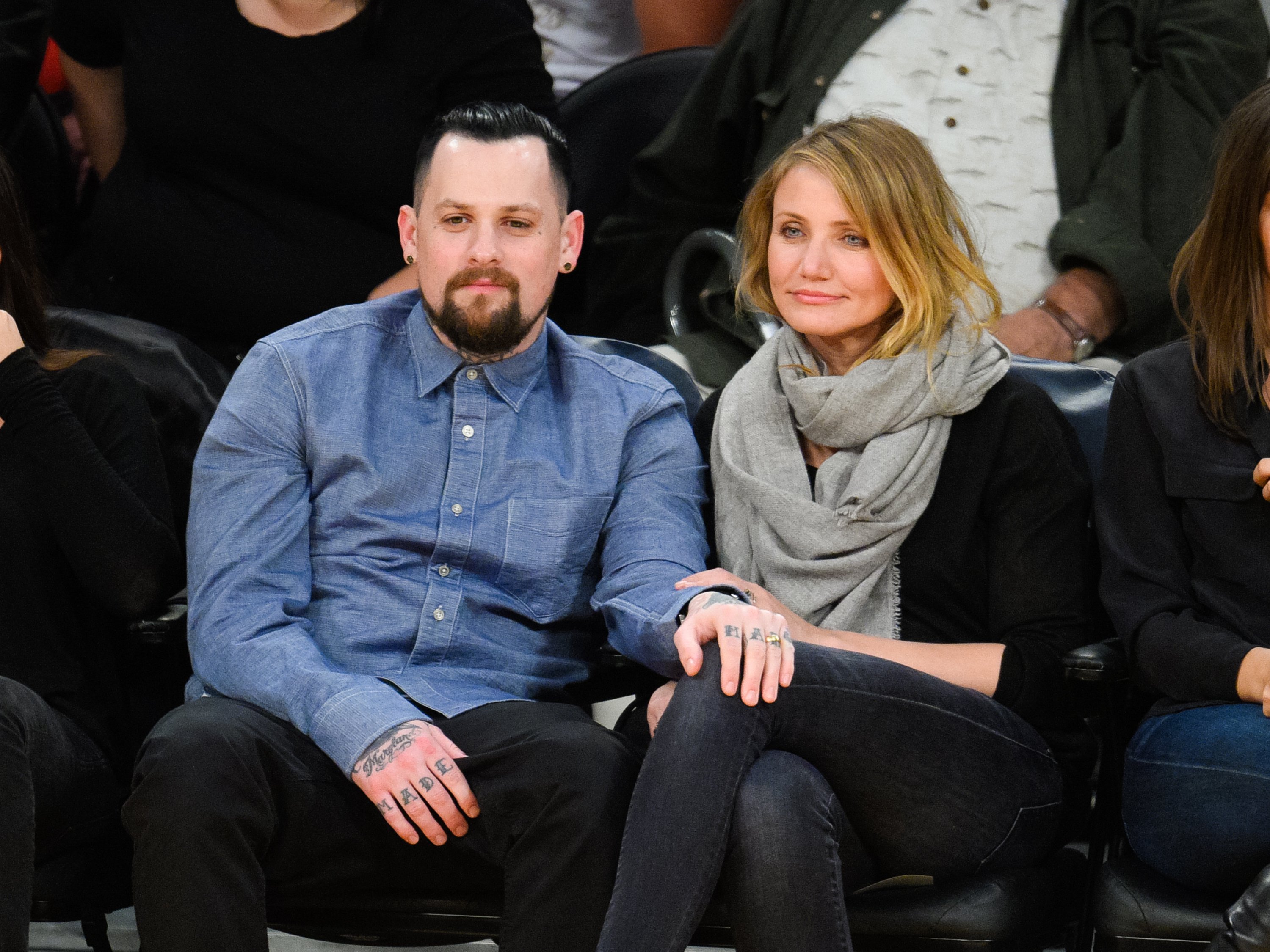 Benji Madden and Cameron Diaz attend a basketball game between the Washington Wizards and the Los Angeles Lakers at Staples Center on January 27, 2015, in Los Angeles, California. | Source: Getty Images
Her instincts had been spot on because, in the years following their wedding, Madden helped her see that getting married was not so bad. Diaz once admitted:
"Getting married to him was the best thing that ever happened to me. My husband's the best. He's the greatest human being and my great partner."
Madden helped Diaz find love and helped her come to terms with her decision to take a break from acting. It was not an easy time for her, and it told on their relationship; however, Madden remained by her side until she found joy.
Their blissful relationship resulted in the birth of their daughter, Raddix, in December 2019. Motherhood changed her life for the better, as she was able to experience things she had forgotten through her child's eyes.
Thanks to her hiatus, the proud mom had enough time to spend with her daughter and husband, but after all that time away from acting, she realized that she missed some parts of making movies. She once confessed:
"I miss aspects of acting or making movies. Making movies is a particular skill set that is fun to exercise and be a part of. But yeah, it's a different lifestyle. And you have to be ready to do that."
Madden was there for her as she came to terms with life off the set, and now he inspires her to return to work. A source said that he "encouraged her to unretire," while another has stated that he simply gave her the push she needed.
The talented actress is set to make her comeback with a movie with Jamie Foxx titled "Back in Action," and fans can't wait to see her bring the fire.