On February 7, 2023, Carrie Underwood decided to thrill her fans by opening up about something quite personal. The country singer took to her Instagram Story to share her video showing how she spent her day while on tour.
One of the clips showed her lying in bed seemingly ready to her day. The first thing that she did when she woke up was probably the same as some people in the US and it involved a wake-me-up beverage and religion.
What was most interesting about her daily routine was that it appeared to include a lot of things that ordinary people did daily. It included breakfast, exercise, and baking!
Carrie Shows off Her Super Ordinary Daily Routine While on Tour, Which Starts with Prayer
After getting out of bed, looking like she never slept at all, Underwood revealed that she had coffee to start the day. However, the image that the star shared also showed how she journaled and she noted how she read the Bible too, writing: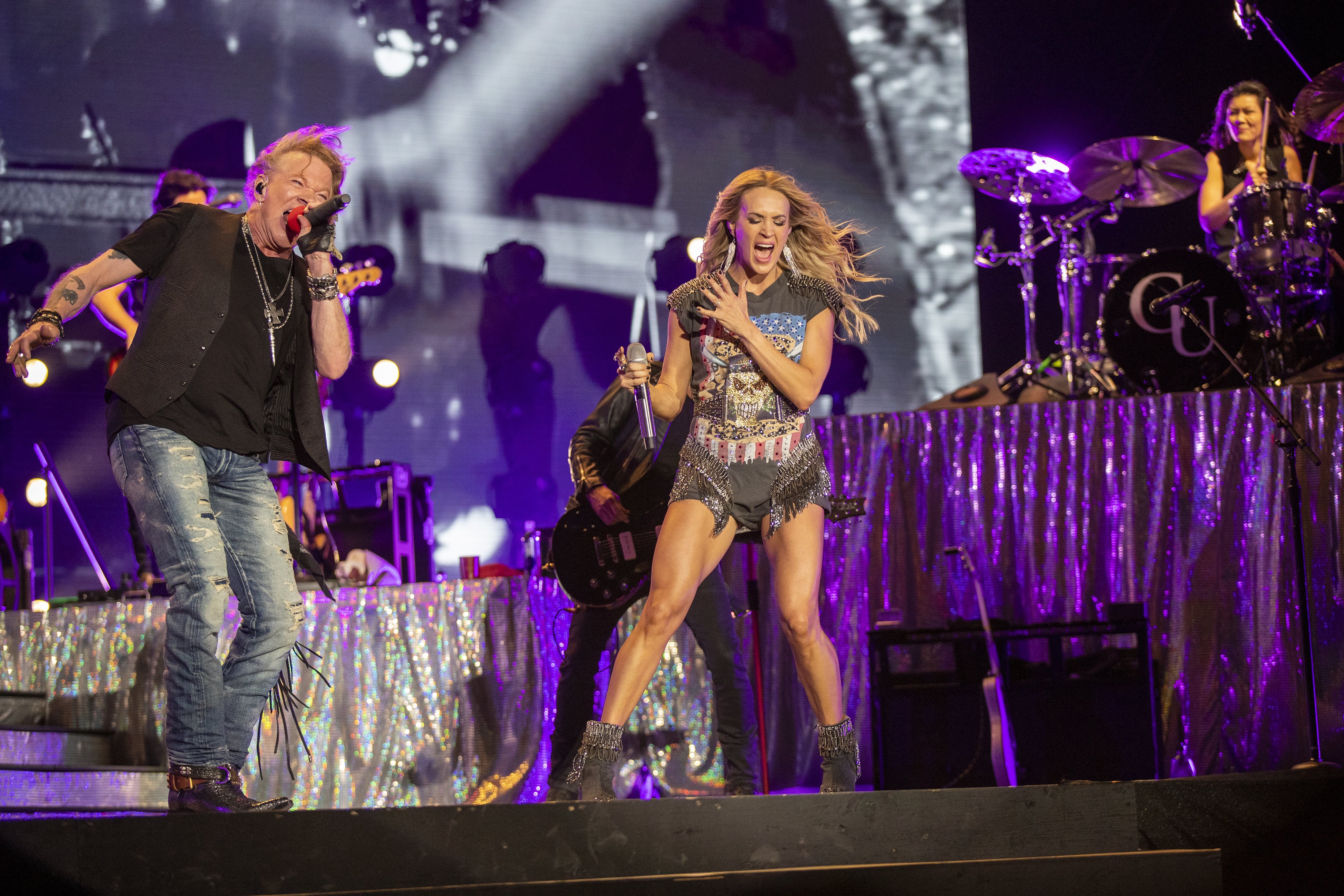 "Coffee and Jesus to start the day off right…"
Next up, the "Cry Pretty" vocalist had breakfast on her tour bus but only "enough" to get her "going." However, she also explained that she never had dairy products on days she was doing shows to preserve her voice.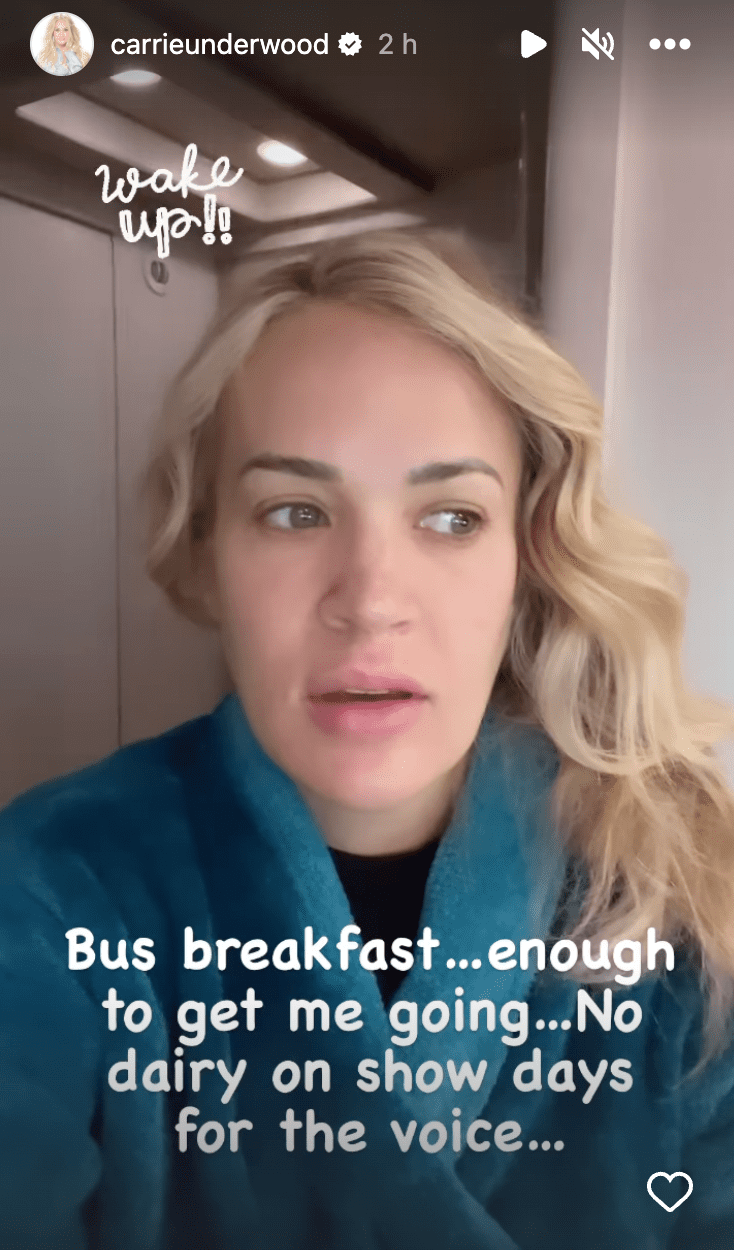 Carrie Underwood sharing part of her daily routine while on tour on February 7, 2023 | Source: Instagram Story/carrieunderwood
The musician woke up super early because by 10 a.m. she was working out in her mobile gym! After breaking a sweat, Underwood baked bread in a pot (that's all she had) and alongside a picture of her masterpiece, she joked:
"Bread maker by day, country music singer by night…"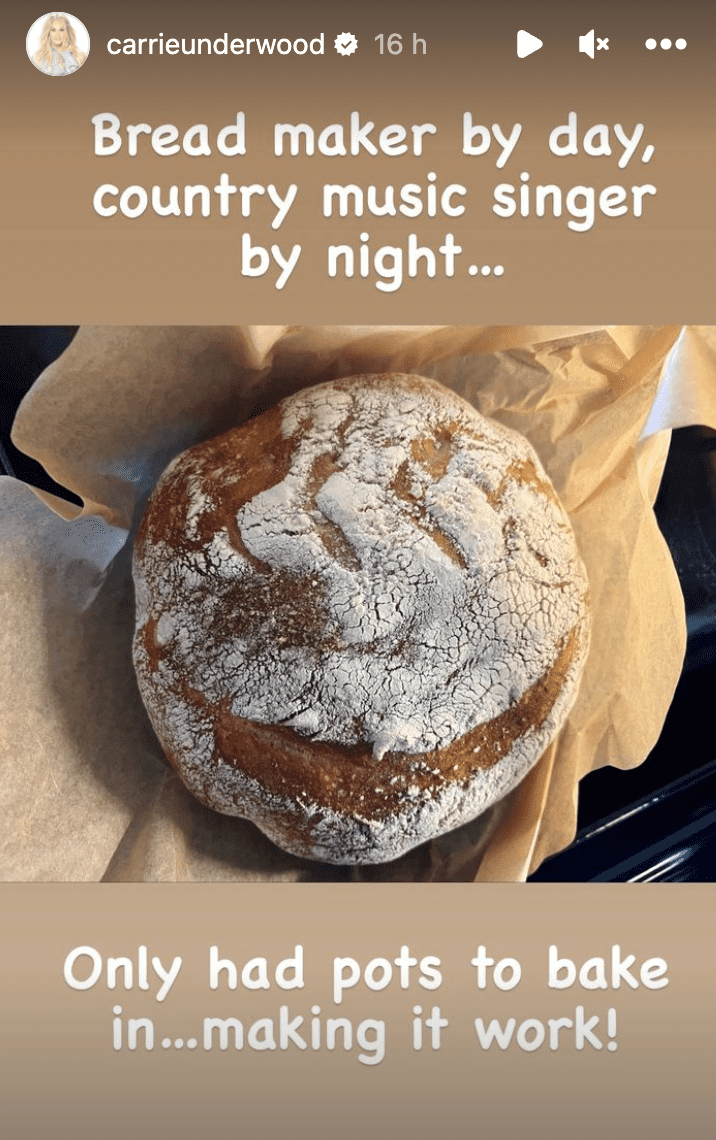 Carrie Underwood sharing part of her daily routine while on tour on February 7, 2023 | Source: Instagram Story/carrieunderwood
In another clip, the star was seen lying outside enjoying the sun in what looked like a bikini top. She revealed that when she had a day off, she spent it lazying around and doing what she liked.
While music might be how she makes a living, that wasn't the only thing she was capable of. When she wasn't working and making music for her fans, Underwood focused a lot of energy on her offspring.
Carrie Is a "Down-To-Earth" Mama
Over the years, Underwood has shown the world that she's not only a great musician but a fantastic mother and wife too! The star once shared a social media post where one of her sons were seen crashing her workout session with her husband, Mike Fisher.
The post was an encouragement for other mothers to push fitting in workouts no matter the distractions that might arrive. In the post's caption, the songstress confessed that "my boys" made her workouts fun and a little less productive, but she didn't mind.
Underwood also made time to be present for her second son, Jacob Fisher's first birthday where the boy was photgraphed after smashing into his cake. The post proved that the singer didn't mind showing the messy and silly side of her family life.
One publication noted how it made her a "down to earth" mother who had such occurances happening as a regular part of her life. The star appeared to embrace the madness that came with being a parent.
Part of the reason why her fans probably loved her so much was because she was honest about her life experiences. After welcoming Jacob, she took to Instagram and confessed that getting her body to bounce back after having him was more difficult than when she had her first son, Isaiah.
The country music singer admitted that she had been "pretty hard" on herself. Mike's wife said she went to the gym but couldn't run as far or fast and couldn't lift much weight or do as many reps as she could a year before.
The star lamented about wanting to feel like herself ahain and for her body to feel the way she knew it could. While working out that day, she realized that over the last eleven or so months, her body hadn't belonged to her.
Underwood noted how it had been a perfect home for her son but now it belonged to him whenever he needed to drink milk. The singer said as she prepared for red carpet season and a life on tour, she promised herself to start appreciating what her body could do and stop focusing on what it couldn't.
The artist appeared to be quite humble unlike other celebrities, a trait her fans probably adored her for. She seemd genuine and instead of chasing after wealth and flashy things, she was more interested in ordinary life experiences.
Underwood Isn't Interested in Fancy Cars and Mansions but Her School Reunion
Underwood once revealed that she preferred living a laid-back and "normal" life when she wasn't performing at events. At one point, she drove nine-and-a-half hours to attende her ten-year high school reunion in Checotah, Oklahoma.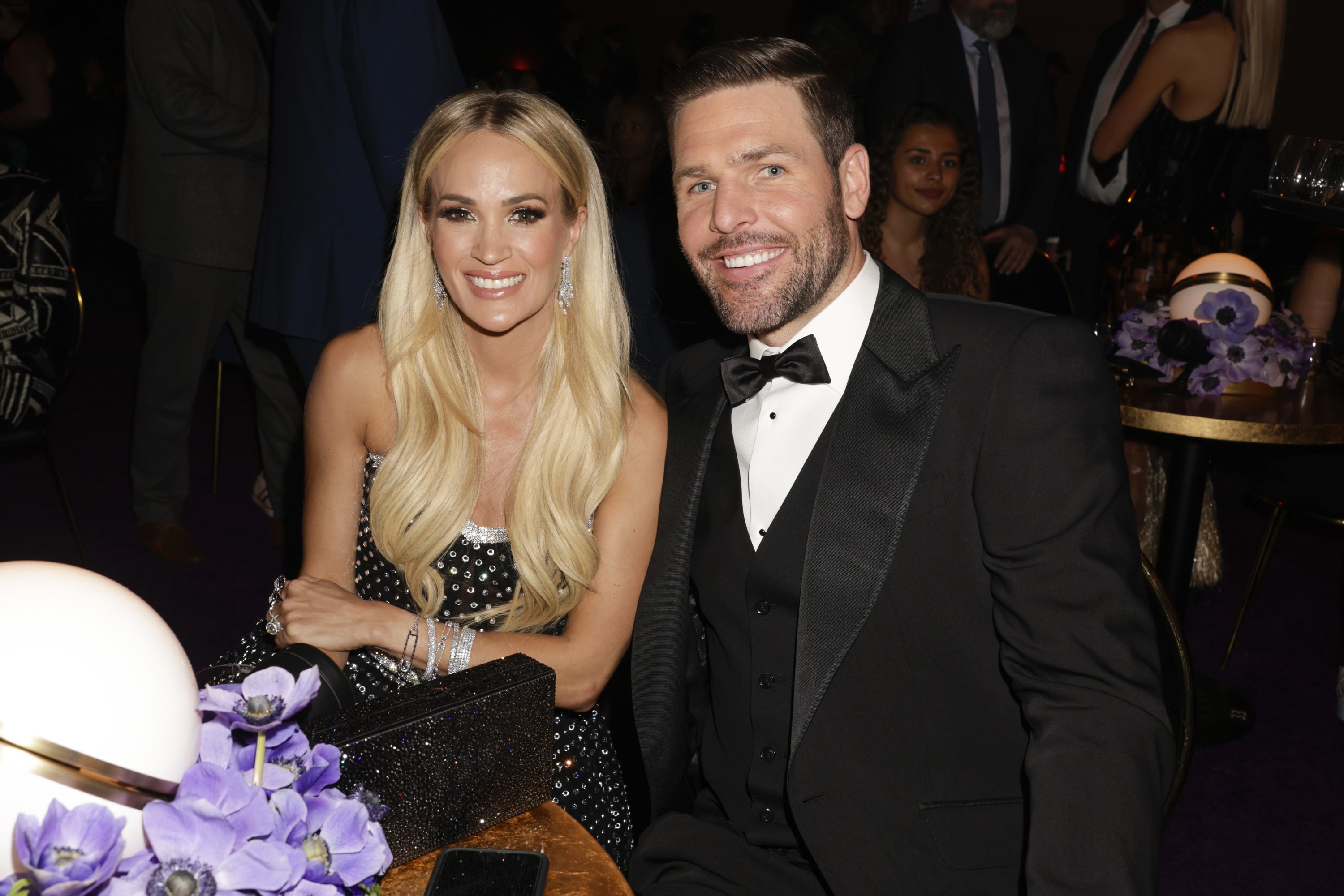 Carrie Underwood and Mike Fisher at the 64th annual Grammy Awards in Las Vegas on April 3, 2022 | Source: Getty Images
The "Good Girl" singer said she'd decided there wasn't a reason for her not to go to the reunion. The star got to see people she hadn't seen since graduation and was "curious" to see how her classmates had turned out.
The star [Carrie Underwood] said she thought it would be hard for her to write about her Louboutins.
Like anyone else, she wanted to know what they were doing, if they were married, and how many children they had. Mike's wife shared how it had been a good experience and that she had a good time.
Despite her incredible successes, Underwood confessed that some of her classmates were more interested in her former Nashville Predators hockey player husband than her fame. The "Blown Away" singer said most people were "pretty normal."
Underwood took a couple of photos and signed some items, but most of the men at the event asked where her husband was because they wanted to see him! The musician also confessed how she felt country music was for "real people."
The star said she thought it would be hard for her to write about her Louboutins. She also noted how her mansion wasn't relatable but her husband came from a small town and had parents that worked hard like her's did.
Underwood believed that the mindset hadn't been lost on her ans her husband because they didn't have things like bowling alleys in their basement. They also didn't have beach houses of one in Los Angeles and another in New York and she drove a three-year-old Ford Escape Hybrid.
The "American Idol" winner knew what she was getting into when she married Mike because he was a huge celebrity in Canada. He also knew what it was like being under a miscroscope and he traveled a lot, which was good for them because they were both independent people.