Chris Meloni's career-defining role remains Detective Elliot Stabler—a passionate man dedicated to his job on the NBC legal series "Law & Order." In reality, he is committed to his marriage of twenty-seven years and is in awe of his partner, whom he calls "my gurl." Here is an insight into their enduring love.
"Law & Order" star Chris Meloni and his wife, Sherman Meloni, have a beautiful love story synonymous with a rom-com novel. Throughout their time together, they welcomed two kids and created a desirable family.
Although their romance is interesting, it was not a fairy tale from the start, and it took a few years after their first meeting to become romantically involved.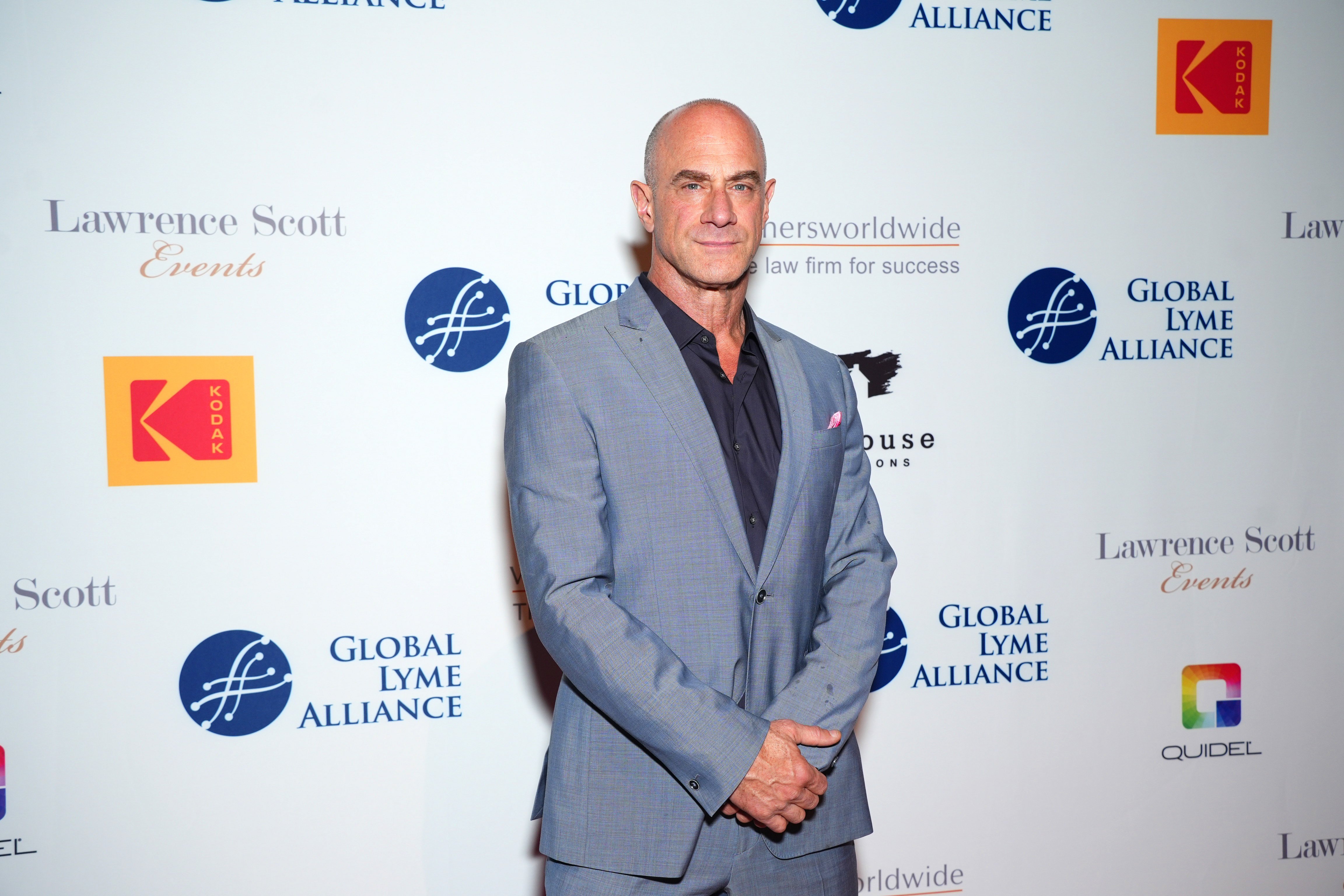 Chris Meloni on October 13, 2022 in New York City | Source: Getty Images
The duo met in 1989 during Chris's trip to Los Angeles. The actor had starred in what he described as an "immensely forgettable" HBO series, but he could not forget the production designer, Sherman.
She was in her 20s and made quite the entrance after arriving in a Harley, rocking her short, dyed-white hair and fashion glasses. Without wasting time, the onscreen star introduced himself and succeeded in flirting with her.
Following their conversation, Chris gave her a pass mark, maintaining that she was a cool chick, but with one problem—Sherman was in a relationship.
The pair later met again; this time, Sherman had noticed the actor driving through Hollywood Hills when she invited him to a party. However, she still had a boyfriend, so they maintained a pure friendship.
Fate happened when Chris bumped into the same woman again while in Los Angeles (he had moved to New York but came back). This time, the "Happy" star decided to leave a note by her house, but that did not spark a romance.
It took two years of them dating different people before their stars finally aligned. Six months into their romance, they moved in together and, four years later, had the most graceful wedding on a Malibu beach.
Since then, they have stuck together like two peas in a pod. Although with their backgrounds, the probability that Chris, a man who gave up on his dream to act, and Sherman, the daughter of an oil executive and a dedicated student at Cal Arts and Parsons, will have a perfect love story seemed odd, they made it work.
While describing why she fell for the onscreen detective, Sherman mused: "On our first date, we went to three parties… The first was in West Hollywood…Chris passed with flying colors." She continued:
"Next we went to a party given by Beverly Hills snootballs. Chris kept his manners… Then we went to a costume designer's party in the Hills, where we drank beers… And I thought: I can take him anywhere."

Sherman said she only realized Chris was committed to her when he tampered with his property for her convenience. "There were two concrete steps in front of his house. Chris had them cut out so I could get my cycle onto his lawn," she shared.
Married Life and Parenthood with the Melonis
In 1995, the couple hosted a medieval-themed ceremony on a beach, officiated by a nondenominational minister. After sharing their vows, Sherman dashed to Miami to work on a movie.
Chris emphasized that his wife has allowed him to grow at his speed. He praised her for being a level-headed woman, a mature spouse who views the world differently.
After their wedding, they continued to juggle careers and family life. The end game was to have a healthy family, including a house and kids, but it did not happen instantly.
Chris struggled with his career for some time, and through it all, he remained faithful to his wife and the rules they established. Amid their hectic schedules, they never spent more than three weeks apart, and eventually, the newlyweds settled in New York City.
Soon, Chris began receiving roles. He starred in the HBO prison drama "Oz," "Runaway Bride," "Wet Hot American Summer," and "Harold and Kumar Go to White Castle."

In the 1980s, the actor bagged his breakthrough role in the "Law & Order" franchise. With the flow of income, things turned around for the couple. They lived comfortably, traveled, and Sherman explored her dream of painting. Simultaneously, they welcomed two kids, Sophia and Dante.
On the legal drama set, Chris went through tasking work hours and barely had time to communicate with his family, but that did not stop him from thinking about them. The actor claimed:
"I love my children beyond all reason. They're my joy, even when they're wild with kid energy."
Chris, who confessed to not being a fan of a dramatic life, embraces the roles he plays in domestic dramas directed by his daughter. In a humorous tone, he explained that Sophia is never pleased with his choices in her plays.
Chris and Sherman's Romance: How Is Their Relationship Nowadays?
Sherman is in love with her husband's talent. In the past, to prove her allegiance to him, she watched the "Law & Order" series.
Apart from being a supportive partner, the production designer confirmed that their love for one another had been the key to their successful union. Their marriage has depended on mutual respect, trust, and a refreshing sense of humor for years.
Chris emphasized that his wife has allowed him to grow at his speed. He praised her for being a level-headed woman, a mature spouse who views the world differently. The "Man of Steel" star admitted that Sherman's artistic side fills him with joy, and even though he loves her art, he respects her space.
While they honor individual boundaries, the longtime love birds find creative ways to bask in each other's company. They create precious moments, including anniversaries, dates, watching the sunset, beach outings, and even celebrating each other online.
In numerous posts, the "Happy" star referred to his 63-year-old wife as his "gurl." Truly, the couple has maintained an ever-green love story, refusing to give in to the pressures of fame— in fact, they grow more connected as the years roll by.