We congratulate Christian Bale, the Hollywood actor famous for his adaptability and diverse roles, on turning 49 today. The Golden Globe winner has been known to play in films stretching across vastly different genres, and he is celebrated for his commitment to his characters.
Christian has portrayed various iconic characters, from the crime-fighting vigilante billionaire Bruce Wayne in Christopher Nolan's "Dark Knight" trilogy to the more unhinged Patrick Bateman in the thriller/horror "American Psycho."
But what truly inspires fans and critics alike is Christian's devotion to his craft. From playing the spindly Trevor in "The Machinist" to bulking up for his girthy role in "Vice," the actor has undergone some impressive changes. But through all the transformations, one person stuck with the actor — his wife, Sibi Blažić. He commented:
"She's had to be married to so many different characters over our marriage … I know it truly would be impossible to do it without her. She's such a good, strong woman."
Despite the tremendous effort Christian puts into his characters, he and Sibi have been happily married since 2000. Interestingly, the married couple first met through a mutual contact. Before she met Christian, Sibi worked in Hollywood as a personal assistant to a famous actress.
Christian Bale, Who Did Not Have Faith in Marriage, Is Going Strong with His Wife of 22 Years
The actor was born on January 30, 1974, in Pembrokeshire, Wales. He had an English mother, Jennifer Bale, a circus performer, and a South African father, David Bale, who worked as a commercial pilot. Growing up, the Bale family moved around various countries, and Christian claimed this influenced his career choice.
Before 2000, Christian was a self-declared bachelor-for-life. He had no interest in marriage and was adamant that he never would.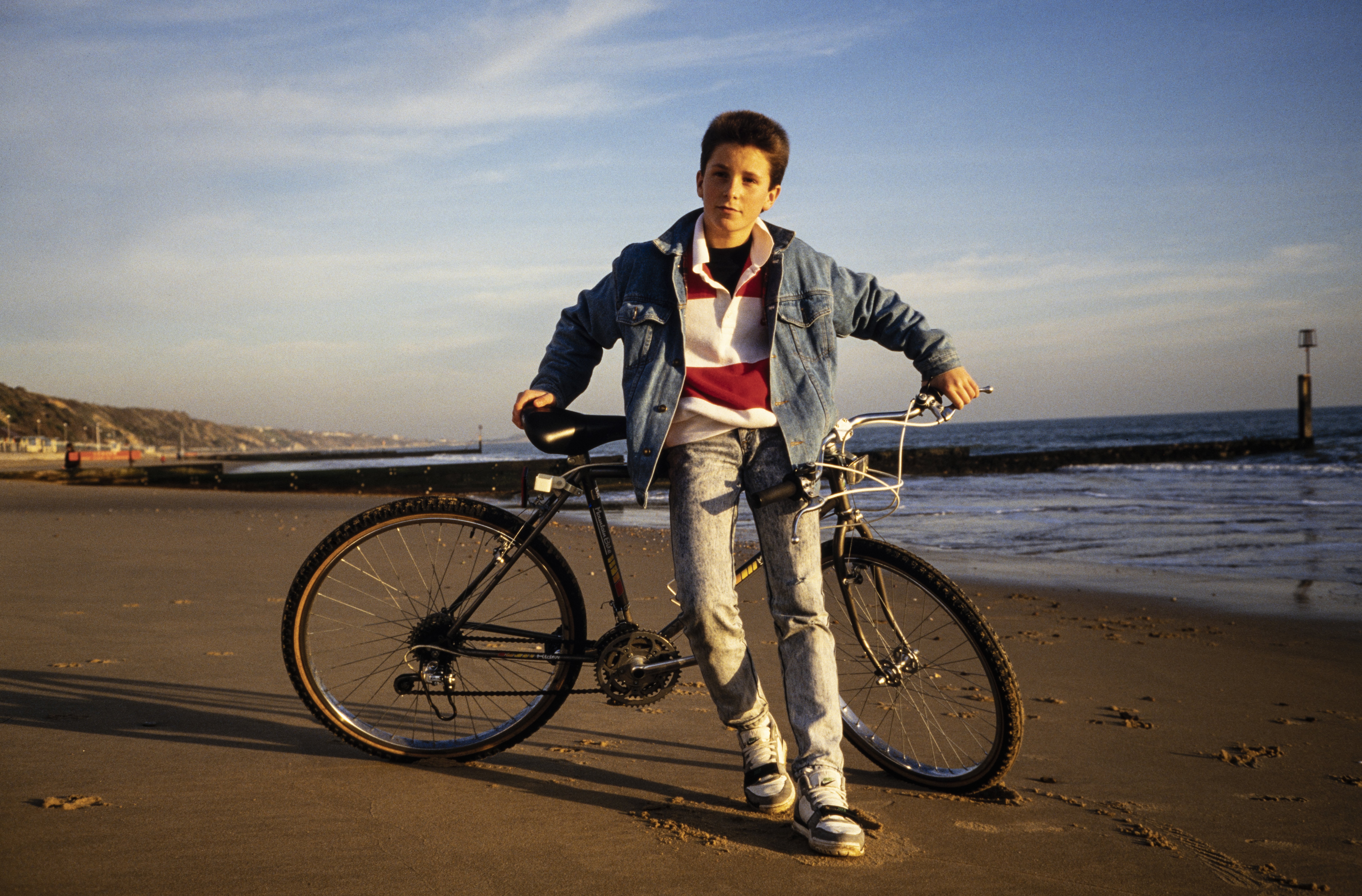 Christian Bale on Bournemouth beach in Dorset, on December 22, 1987 | Source: Getty Iimages
Growing up, the actor saw many couples in his family bumping heads and separating, including his own parents, in 1991, which tainted his view of marriage. Luckily, after he found widespread success as an actor, Christian met Sibi, who quickly proved that marriage is not always doomed and hopeless. Christian shared:
"I never planned to marry. Everyone was divorced in my family so I didn't have very healthy ideas about marriage. Then I met Sibi and suddenly it seemed a fantastic idea."
Christian met Sibi through Hollywood circles, and he said the former model "completes" him. When the actor met his wife-to-be, his entire view on marriage, tainted by his parents' and family's failed unions, was flipped on its head.
Who Is Sibi Blazic, the Woman Who Changed Christian's Views and Loves Him despite All His Transformations?
Before 2000, Christian was a self-declared bachelor-for-life. He had no interest in marriage and was adamant that he never would. However, when he met Winona Ryder's personal assistant, the actor started considering that his presuppositions may have been formed a bit too soon.
Christian shifted from being a bachelor with no intent to marry to a proud father of two who would babble incessantly about his children.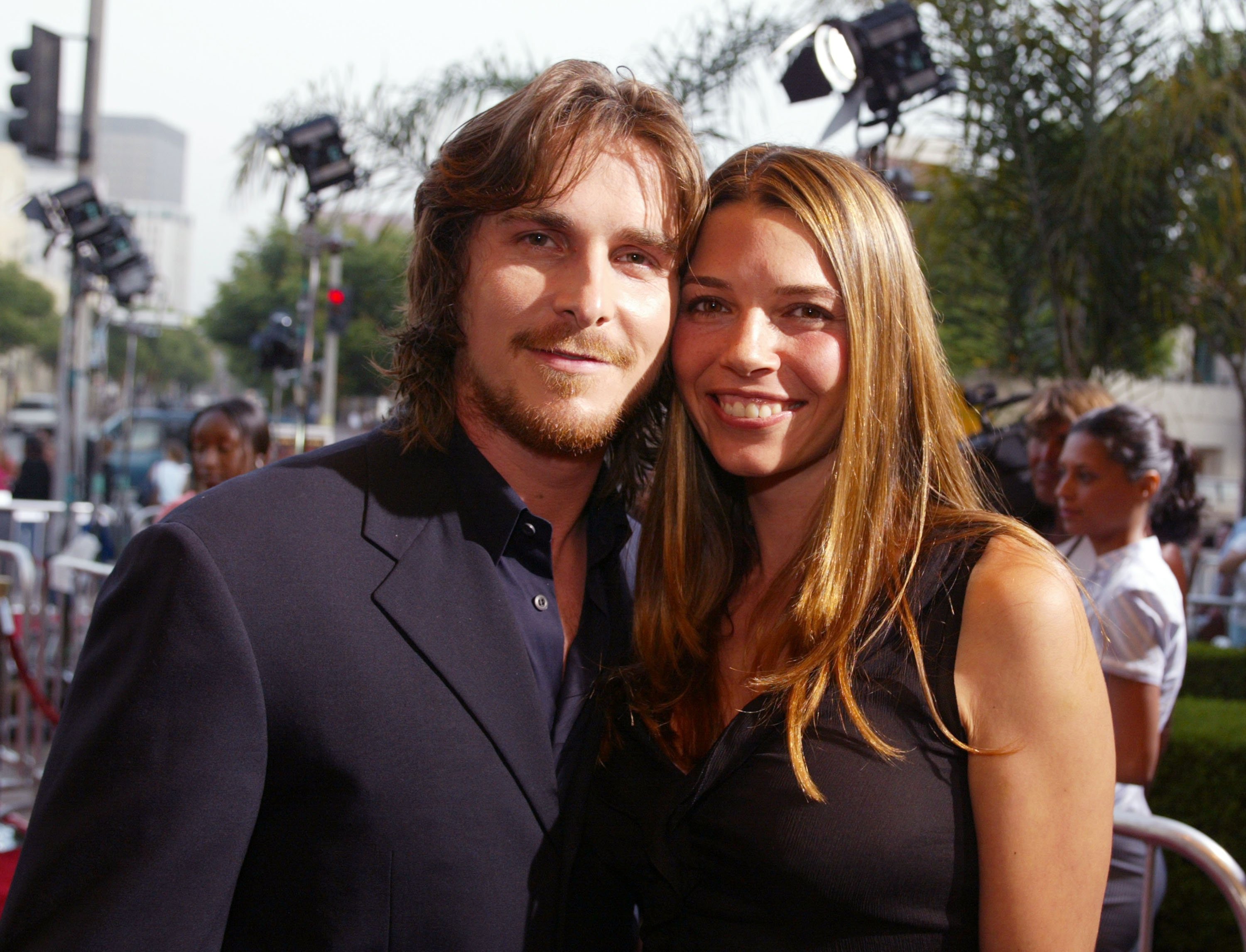 Christian Bale and Sibi Blažić at the Village Theatre in Westwood, California Tuesday, July 9, 2002 | Source: Getty Images
Christian was close friends with Winona, and when Sibi worked for her, the young ex-model caught Christian's eye. The pair dated for a while, and in 2000, the 26-year-old Christian and the 30-year-old Sibi eloped. The couple ended up in Las Vegas, where they officially tied the knot. Christian commented on his wife:
"But I suddenly found that I'd met somebody and I said, "I'm not gonna sit here saying, 'Oh no, I'm not ready,' and regret not having done this later on and the possibility of not having this person around."
Interestingly, Christian's father, David, decided to marry again around the same time his son chose to settle down with Sibi. David married Gloria Steinem shortly after his son tied the knot. Christian commented that he was happy for his father, since he was used to David being alone for most of his life.
Christian Bale – The Bachelor Who Turned Out to Be a Perfect Family Man
In 2005, five years after Christian and Sibi eloped together, the couple brought their first little one into the world. The parents welcomed a baby daughter, Emmeline Bale. After they had their first kid, Bale admitted that fatherhood suited him much more than he thought it would. The Oscar winner dished:
"It's all about my girls, my wife and my daughter. I carry a picture of them with me all the time. I've got incredible pride for my family."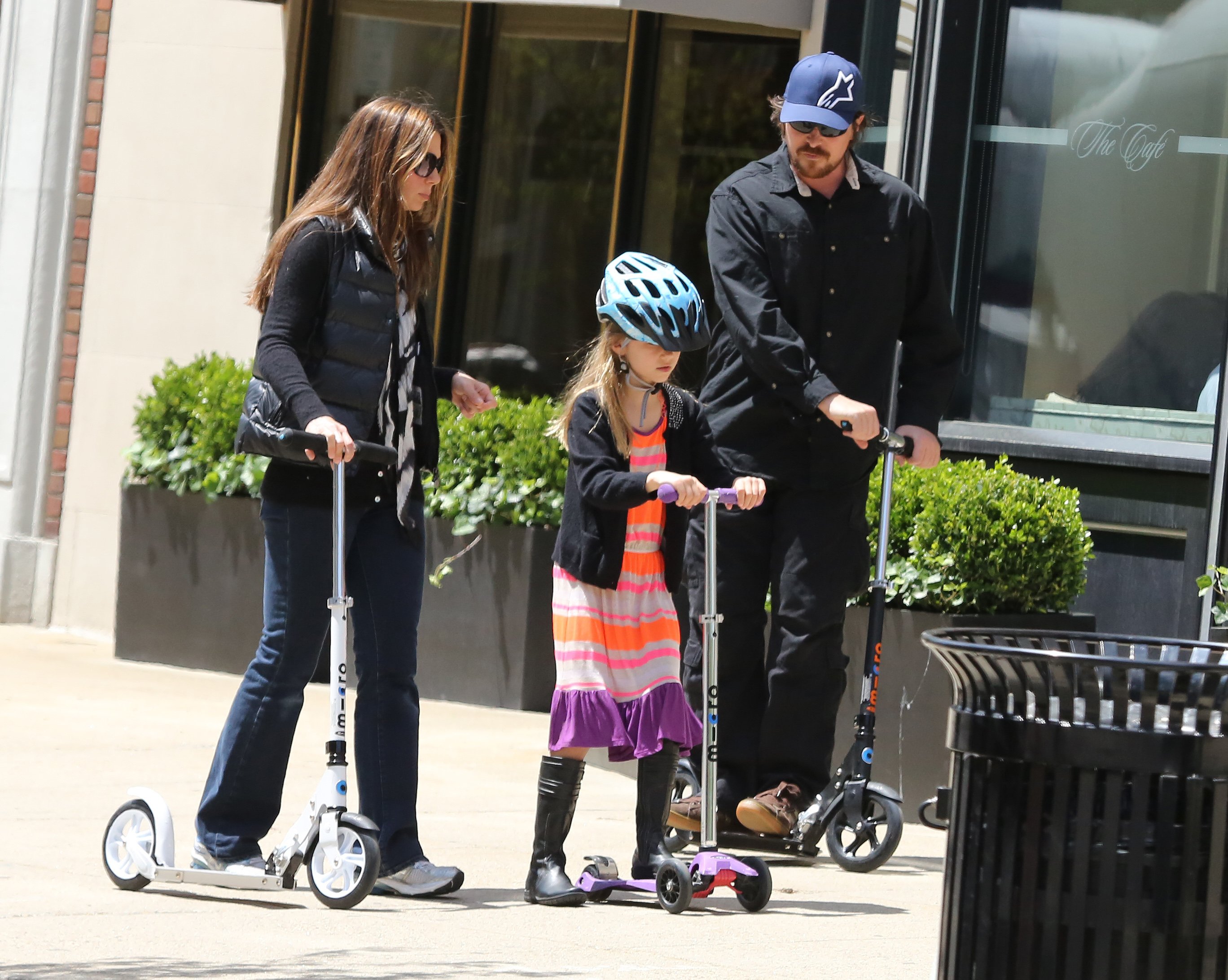 Christian Bale, Sibi Blažić, and Emmeline Bale on May 13, 2013 in Boston, Massachusetts | Source: Getty Images
In 2014, Christian and Sibi had their second child together — a boy named Joseph Bale. Christian shifted from being a bachelor with no intent to marry to a proud father of two who would babble incessantly about his children. The actor opened up about his new role, saying, "And nothing can prepare you for fatherhood. It's the best thing ever."
However, he remains a highly private figure and refrains from saying too much about his kids to the press. He has always kept to himself, rarely rocking the boat and even keeping the details about his marriage quiet. That said, he did share a few things about his kids and mentioned they had yet to enjoy most of his films.
He has also been seen out on the town with his family, although it happens rarely. In 2016, the media got a glimpse of the doting dad with his then-2-year-old as they made their way to a local restaurant. The actor looked casual in a t-shirt, sneakers, and an Adidas jacket as he held his little boy in his arms.
In 2022, Christian opened up about his children's choice of films and how it has affected his choice of roles in the past few years. Although his kids don't enjoy his dark, dramatic projects, they encouraged him to do "Thor: Love and Thunder." In the end, the actor enjoyed the Marvel franchise film, and his kids enjoyed seeing him in it.