For several years, entertainment icon Chubby Checker has been married to his wife and former Miss World, Catharina Lodders. The former once revealed that he knew the model would be his wife from the moment he saw her. Find out more.American Rock 'n' Roll singer and dancer Chubby Checker is known by many for making several dance styles like the Twist and the Pony.
Apart from his dance moves, he is popular for his hit songs like "Let's Twist Again."The 81-year-old superstar has enjoyed a successful career that has spanned decades, and he is still active. Checker has not only done well professionally; his personal and marital lives are also worth emulating.
He has been happily married to Catharina Lodders, a Miss World pageant titleholder, for 58 years. Let's take a deeper look into the life of the singer and his enviable marriage.
FEW FACTS ABOUT CHECKER
The renowned dancer made his debut into the world on October 3, 1941. He was born Ernest Evans in Spring Gully, South Carolina.
Checker spent most of his childhood days in South Philadelphia, living with his dad, Raymond Evans, a tobacco farmer, and his mother, Eartle Evans.

Chubby Checker attends Congresswoman Carolyn Maloney Fundraiser at the Princeton Club of New York on April 24, 2017. | Source: Getty Images
While growing up, the singer worked several odd jobs such as selling ice, working as a butcher's assistant, and polishing footwear. He got the nickname "Chubby" as a teenager while working at a Produce Store.
Although Checker did various menial jobs, the star was bent on making it big as one of the recognized singers. However, one of his greatest assets was his talent in imitating others. Checker loved impersonating the styles of his musical role models like Elvis Presley, Jerry Lee Lewis, and Fats Domino.
CHECKER'S RISE TO STARDOM
Checker developed his love for singing at an early age. During an interview, he opened up about how he picked interest in that genre of entertainment.
Checker revealed that his mother took him to the State Fair in Georgetown, South Carolina, when he was four years old. At the fair, he was privileged to witness a performance by the country singer Ernest Tubb, popularly known as "The Traveling Troubadour."
Upon seeing the artist, Checker was intrigued, and at that moment, he made up his mind to be an artist, performing on stage like Tubb. With so much passion for singing, Checker began his foray into the entertainment industry.
He formed a singing group, "The Quantrells," and started making appearances in churches and streets. With his immense show of skills, Checker managed to get the attention of Philadelphia music executives.
He finally signed a deal with Cameo-Parkway Records in 1959 and released two songs, "The Class" and "Dancing Dinosaur." After releasing the songs turned hits, the record label urged Checker to make his version of "The Twist," originally written and performed by Hank Ballard.

When Checker and Lodders got married, interracial marriage was forbidden in New Jersey and the Lutheran Church.
The singer listened, and upon the release of his version of "The Twist" accompanied by a dance routine, the song topped the Billboard chart in 1960 and 1962.
Following the song's success, Checker recorded more hits, but none attained the height reached by "The Twist." However, he capitalized on the song's success and released songs with similar titles like "Twist Around The Clock," "Don't Knock The Twist," and many more.
LOVE AT FIRST SIGHT
Catharina Lodders is a former model originally from the Netherlands. In 1962, she made history when she won the Miss World Beauty Pageant in London. At the time, the beauty queen was only twenty years old.
During her prime, Lodders captivated the hearts of many men with her good looks, and Checker was not an exception. The singer first saw his wife in the Philippines in the early 1960s and admitted to falling in love with her immediately he set his eyes on her.
Even though Checker had no intentions of getting married at the time, he was simply overwhelmed by Lodder's elegance. She was clad in a spotted bathing suit, and at that moment, Checker was certain he would marry the beauty queen.
INSIDE THE COUPLE'S ROMANCE/UNION
His dream of tying the knot with Lodders slowly began to manifest, and in no time, the pair became romantically involved. Checker and Catharina Lodders, who now goes by Catharina Evans, dated for a short time before taking their relationship a step forward.
On December 12, 1963, the singer proposed to his girlfriend at the home of his parents. His proposal came one month after Lodders's reign as Miss World ended.
The couple was head over heels in love with each other. However, their relationship left a lot of tongues wagging due to their racial differences. Many reports speculated that the dancer's mother was not in support of Checker's relationship with Lodders.
But, the star debunked the rumors, noting that the beauty queen and his mother only had an altercation once due to the language barrier, which he straightened out.
According to Checker, after the misunderstanding, Lodders and his mother got along very well. Despite the rumors, the pair sealed their romance by walking down the aisle.
On April 12, 1964, they said their vows at Temple Lutheran Church in Pennsauken, New Jersey. When they got married, the lovebirds were only 22 years old.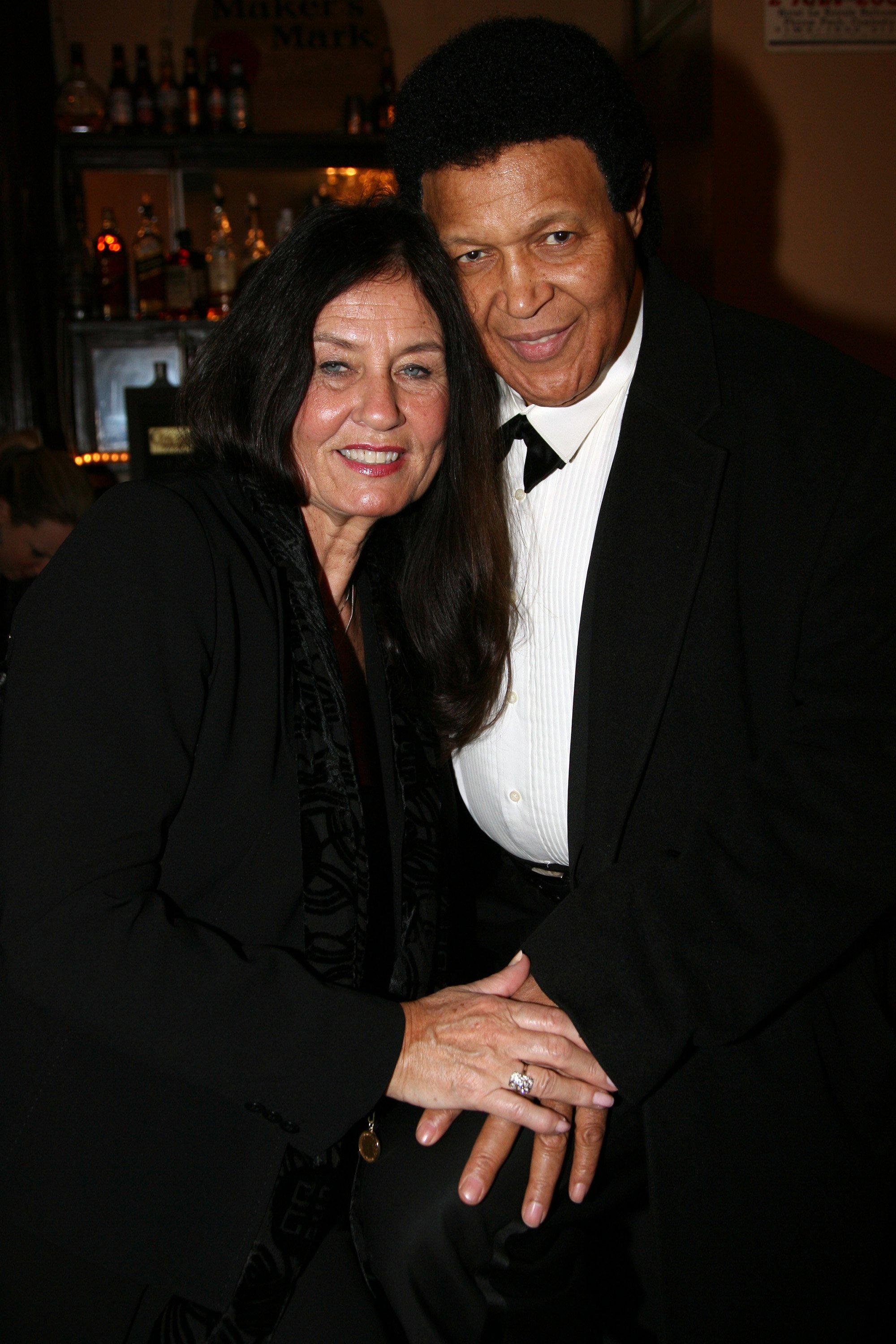 Chubby Checker in a photo with his wife, Catharina Lodders at The Cutting Room New York on March 6, 2008. | Source: Getty Images
Rev. George L. Garver officiated their wedding ceremony and kept the interracial nature of their union a secret. The ceremony was private, with police on hand in case trouble arose, as protesters were gathered outside the premises.
THE IMPACT OF THE INTERRACIAL MARRIAGE
When Checker and Lodders got married, interracial marriage was forbidden in New Jersey and the Lutheran Church.
However, Garver cared less about the state's laws and cared more about the couple's love for each other. Sadly, he became the target of racist threats and protests, forcing him to resign.
The love that binds the couple grows with every passing day, despite all odds. It has helped them scale through the challenges that come with being an interracial couple.
Checker and Lodders are not only great spouses to each other, but they are also doting parents to their three children, Bianca, Shan, and Mistie.