Country singer Crystal Gayle turned 72 on January 2023. Gayle is the sister of the late Loretta Lynn and is a legendary superstar in her own right.
The Kentucky native is one of country music's first crossover stars and is best known for hits including "Don't It Make My Own Brown Eyes Blue" and "It's Like We Never Said Goodbye."
Gayle began her music career in 1970, thanks to her older sister Lynn who helped her secure a recording contract. The "If You Ever Change Your Mind" singer revealed in August 2016 that her sibling gave her guidance regarding her career:
"She gave me the best advice: 'Don't sing anything that I would because we're only going to be compared.' She was right."
The chart-topping legend heeded her fellow country singer's advice and ensured she honed her music genre afterward and released multiple country-pop hit songs.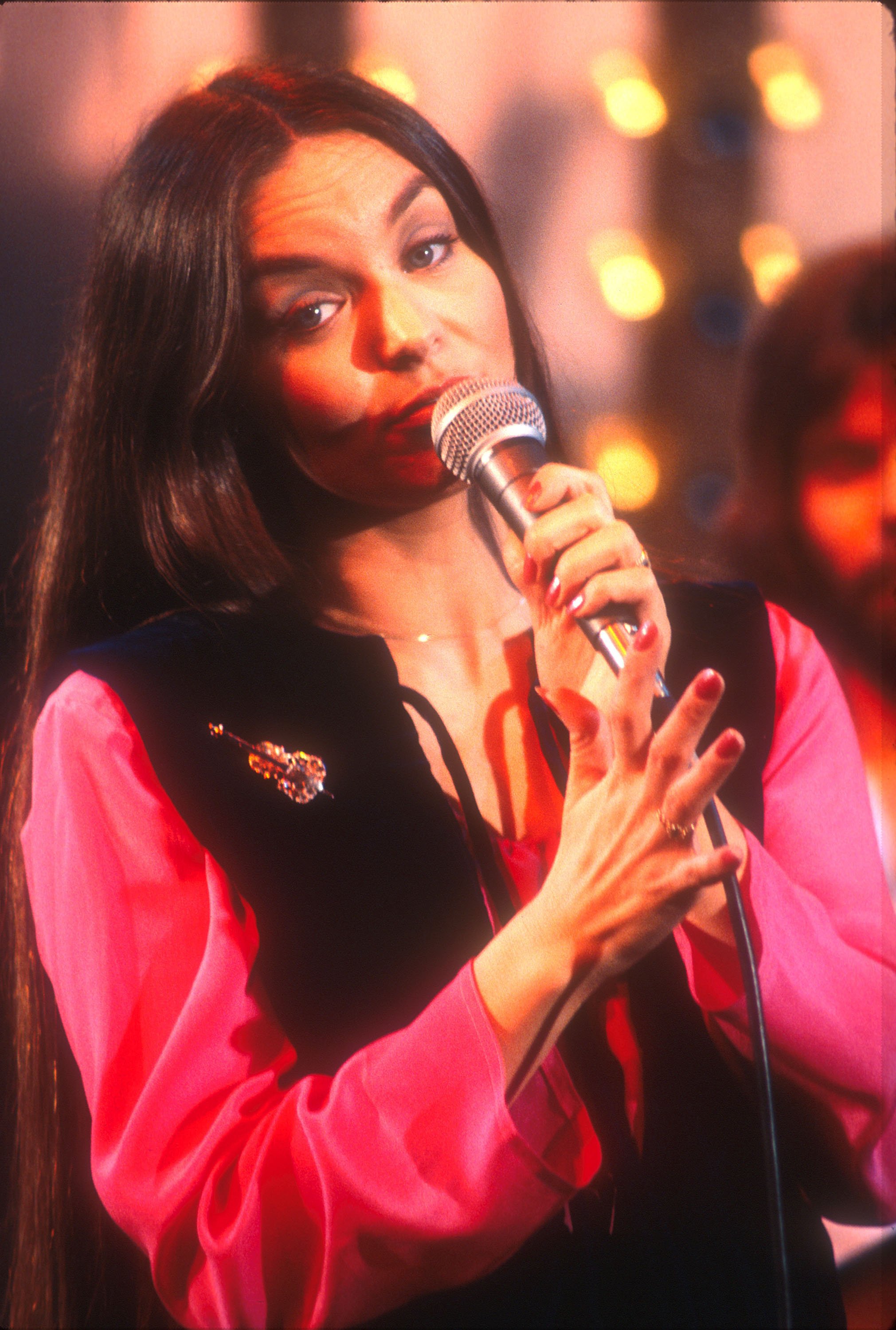 Country singer Crystal Gayle during the Crystal Gayle in Concert on April 10, 1975 in Burbank, California ┃Source: Getty Images
Besides her music, Gayle is best known for her signature look in Hollywood, which she has rocked for decades – her long dark hair. However, she admitted that there had been times when she attempted to chop it all off.
"There's been days where I just want to take the scissors," she said, adding when her kids were little, they told her she would no longer be known as Crystal Gayle if she decided to get rid of her mane.
Gayle Is a Happy Granny with a Husband of 52 Years
Gayle is a mom to a daughter named Catherine and a son named Christos, whom she shares with her husband of over fifty years, Bill Gatzimos. The couple welcomed their first child, Catherine, in 1983, followed by their second, Christos, in 1986.
She revealed in 2011 that her son and his spouse had blessed her and Gatzimos with a "grandson, Elijah." Gayle became so enamored by her grandchild that she found it difficult to leave the house for work:
"He's just a bright spot that you want to see all the time. He loves life."
The Grammy Award winner became a grandmother for the second time in August 2020. She gushed about the new family member online sharing the baby boy's first photos and penned that he was the reason she had been having a blast "with my new grandson, Bjorn Alexander Gatzimos."
Moreover, Gayle once said the holiday season is always fun with Elijah around as they get to bake "cookies" together. It is a fulfilling activity for her because she rarely did that with her brood growing up.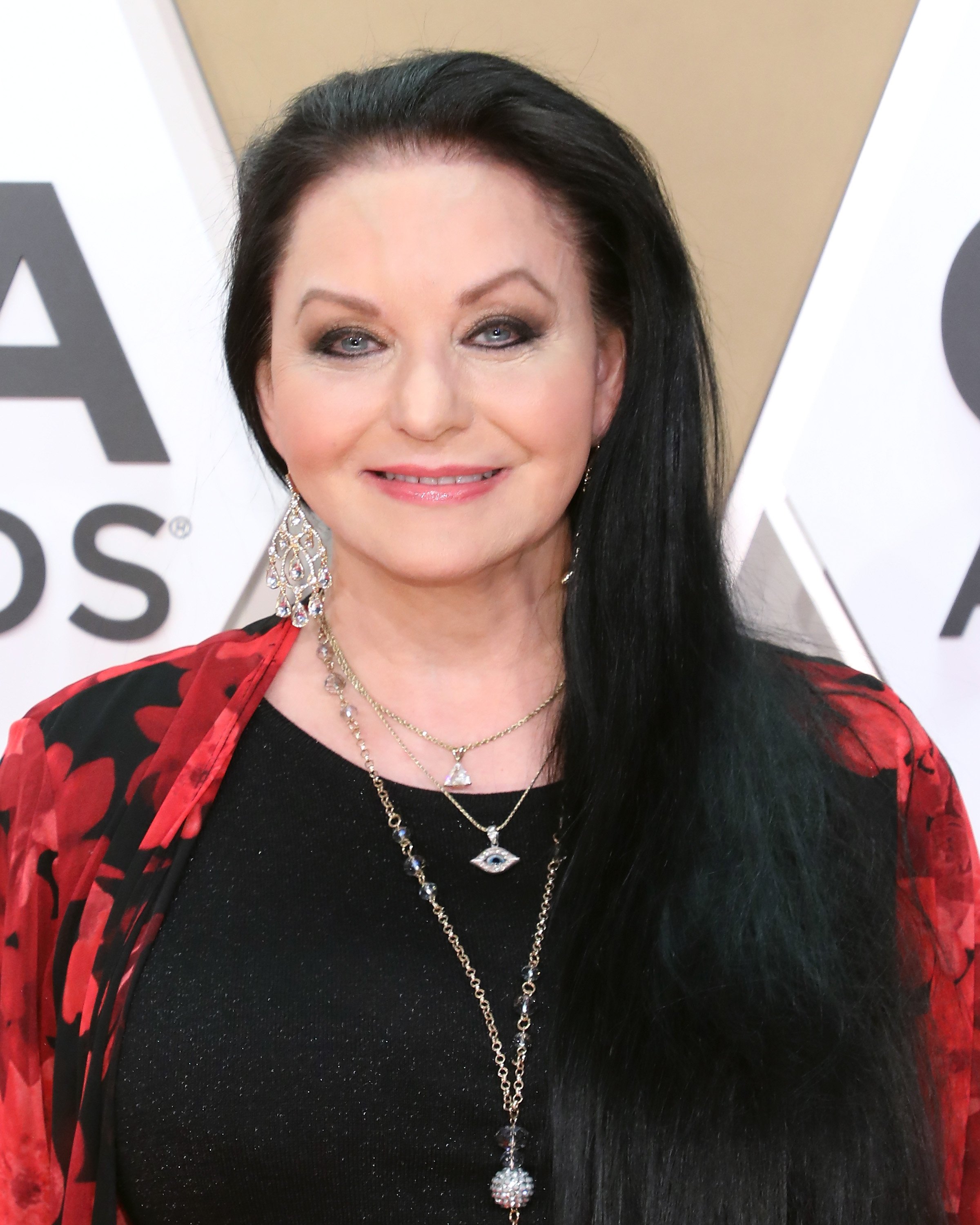 Crystal Gayle attends the 53nd annual CMA Awards at Bridgestone Arena on November 13, 2019 in Nashville, Tennessee ┃Source: Getty Images
Still, the proud mom shared that she and Gatzimos were "hands-on" parents with their children. The couple's daughter even tagged along with Gayle on work trips when she was still an only child. The doting mother revealed she even breastfed her one time after performing.
Gayle's kids are now grown up and have forged their career paths. Catherine pursued "photography" while Christos obtained a qualification in Accounting and Business from Belmont University in Nashville.
Lynn & Gayle: What Are Their Relations?
Growing up herself, Gayle had an enduring relationship with her big sister, Loretta Lynn, who died in October 2022 at age 90 – at her Tennessee home.
The siblings had a 19-year age gap, and when Gayle arrived into the world in 1951, Lynn and her spouse had already relocated to Washington state, where she first learned how to play and sing with a Sears guitar.
The songwriter successfully established her musical career and attempted to promote her other siblings' careers to no avail. But Lynn never gave up trying as she decided to turn her focus on Gayle's aspirations to sing, and she eventually joined her on tours during summer vacations as a teen.
The "Coal Miner's Daughter" singer always guided her younger sister whenever possible, especially on her musical journey. She influenced her career so much that she even suggested her stage name.
When Gayle turned sixteen, she performed at the Grand Ole Opry in her sister's place – who was ill at the time. She later divulged that she was confident that it was Lynn's then-husband, Mooney, who had a hand in her performing that evening.
Despite the sisters' close bond, some people tried to paint a not-so-good picture, alleging that there was bad blood between them. However, Gayle set the record straight:
"We fight a little bit, but that's just sisters. And we never fight over the music business."
When Gayle lost her beloved sister, she wrote a heartfelt tribute on social media alongside a galley of family pictures. She said fans had lost an icon, and her family had lost a sibling while expressing love for the superstar.