Former couple Demi Moore and Bruce Willis were married for 13 years before they divorced in 2000. However, what started as a painful separation, turned into something special.
The actress discussed the pair's divorce in her memoir, "Inside Out," and shared the most unconventional statement, saying she was glad they ended their marriage.
"It's a funny thing to say, but I'm very proud of our divorce," Moore penned in her book. She added her then-estranged spouse feared she would make their breakup unbearable by lashing out her "anger and whatever bagge" she had from their union to restrict his access to their offspring and that she would resort to tactics often used by people during a divorce:
"But I didn't, and neither did he."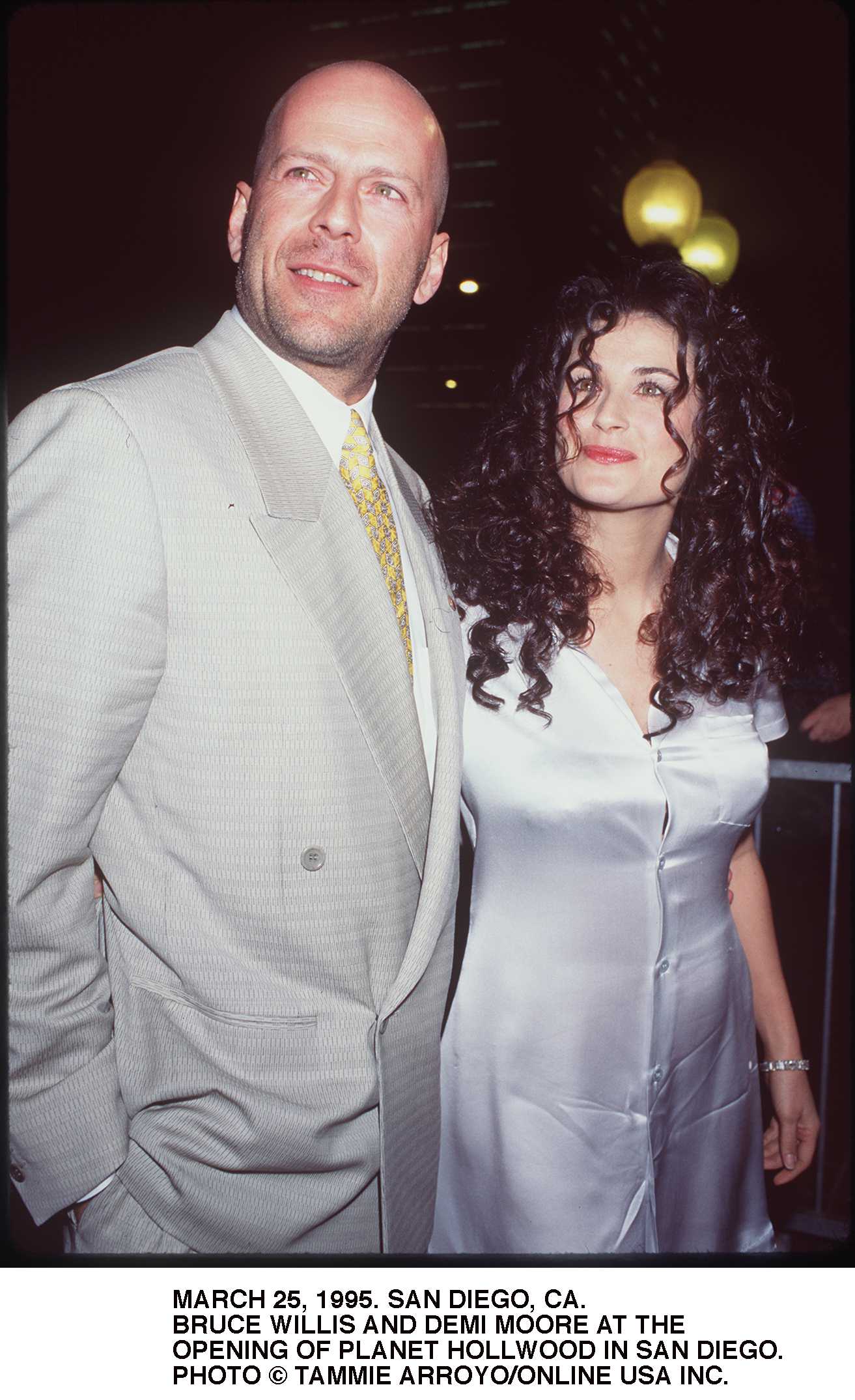 Bruce Willis and Demi Moore during the 49th Annual Primetime Emmy Awards at Pasadena Civic Auditorium on September 14, 1997 in Pasadena, California ┃ Source: Getty Images
However, Moore did admit that the process was challenging at first. Still, she and Willis could take what they once shared, which created their family, and turn it into "something new" that provided their daughters with a nurturing environment with caring parents. Their connection intensified more than ever before.
Moore and Willis had a whirlwind romance after crossing paths at the "Stakeout" Los Angeles movie premiere – which starred her then-fiance, Emilio Esteves.
The brunette, previously married to singer Freddy Moore from 1981 to 1985, began dating Willis shortly after they parted ways. Moore and the sought-after action star tied the knot four months into their relationship in Las Vegas on November 21, 1987. It was after learning they were going to become first-time parents.
She recalled they were walking inside the casino when Willis mentioned marriage. The pair had been "joking" at the idea before arriving at the casino, but when he suggested it again upon arrival, she could tell that he was adamant about it this time.
The duo welcomed three daughters: Rumer in 1988, Scout in 1991, and Tallulah in 1994. Moore later admitted that she and Willis seemed more invested in parenthood than their union. "I think both of us from the outset were more passionate about having kids than we were about being married," she penned in her 2019 autobiography.
Gradually their marriage faced trouble as they spent less time together and filed for divorce in 1998. It was later revealed that the two had been "leading" separate lives for a while following their separation announcement.
The same year their divorce was finalized, Willis admitted he still adored the mother of his kids. He added they both realized that they are committed for life to their three children, whom they would continue to bring up together, and that their friendship would lead them to move forward:
"I still love Demi. We're very close. […] we're probably as close now as we ever were. "

Additionally, the award-winning actor said there was pressure being married in the public eye, which is familiar with movie star couples. It has been two decades since Moore and Willis split, and after going their separate ways, they got involved with other people.
Willis dated several women following the divorce, and when Moore started dating, he became jealous. However, he credits his dear friend, actor Will Smith, who advised him to ensure he, Moore, the kids, and their respective partners got along well to show the brood that it was "OK," and that was when things started to make sense for him.
Willis eventually moved on and met model Emma Heming, whom he married in 2009 and had two daughters, Evelyn and Mabel.
Moore also wed actor Ashton Kutcher in 2005 but divorced him six years later in 2011. Despite that, she and Willis formed a blended family with Heming and Kutcher. The "Die Hard" star later became friends with the "Two and a Half Men" alum while the actress was introduced to Moore earlier.
Willis touched on the blended family subject afterward. He said they all had caused quite a stir because it is common for former couples to resent and "envy" one another while parting ways and that no one understands how he could still have a cordial relationship with his ex-wife. He explained:
"Demi and I made a choice to put the kids first, and we're lucky that it turns out we all have fun together."
In showing a united front, the exes were present to cheer on their eldest daughter Rumer when she competed in "Dancing with the Stars." Moore was even a surprise guest at Willis' Comedy Central Roast in 2014.
The "Ghost" star expressed gratitude for her blended family on social media in March 2022 as she paid tribute to the father of her children on his birthday. "Happy Birthday, Bruce! Thankful for our blended family," she wrote at the time.
Shocking Diagnosis
Sadly, the family received heart-breaking news in March 2022 when they revealed Willis had been diagnosed with aphasia – a communicative disorder. They released a joint statement including Moore, Heming, and their daughters on Instagram, announcing that, as a result, the family patriarch would be retiring from his longtime Hollywood acting career.
In February 2023, Moore provided an update on behalf of the family about Willis' condition, disclosing it had progressed after finding out that he now has a specific diagnosis: frontotemporal dementia (FTD).
"Unfortunately, challenges with communication are just one symptom of the disease Bruce faces," the mother of three penned on her Instagram account, alongside a photo of her former husband at the beach. She added that although this is saddening, they are relieved to finally be in the know about what they are dealing with specifically.
The family issued another statement on The Association Frontotemporal Degeneration official website, explaining the condition further. They shared that FTD is a condition that could affect anyone and that for those under the age of 60, it "is the most common form of dementia," as detecting it could take several years.
Regrettably, the disease has no cure, something the family hopes could change in the future. As Willis' condition advances, they ask the media to shed light on the disease to raise awareness.
Moore, Heming, and their daughters stated the head of the family has always used "his voice" worldwide as a means to help other people in raising awareness about troubling issues in public and in private.
They noted that there was no doubt that if he were in his good state, he would want to bring "global attention and connectedness" to those suffering from the disease and how it impacts them and their loved ones.
The Willis family added the actor has always been upbeat about life and has impacted other people's lives in a good way – and that it has touched him to see such care being reciprocated toward him and his loved ones. They expressed their appreciation for the immense adoration and empathy for him:
"We have been so moved by the love you have all shared for our dear husband, father, and friend during this difficult time."
Being beside Willis despite Divorce
Even though Willis and Moore divorced 23 years ago, they remain close, more so following his devastating diagnosis. She and Heming have become his carers, and they even branded themselves the "Ladies of Willis/Moore."
Heming and Willis have been married for 13 years, and Moore divulged that she considers her and her two young daughters her "family." She posted a group photo of the blended household which displayed them all having a meal together and posing as a unit.
"Getting into the holiday spirit," wrote Moore in her post in which Willis looked ever happy while smiling from ear to ear alongside his loved ones.
The father of five and the New Mexico native get along so well that they self-isolated together with their adult daughters, Tallulah, Scout, and Rumer, in Idaho during lockdown in 2020. However, Heming remained in Los Angeles with daughters Mabel and Evelyn at the time.
Moore got candid about the experience in February 2021 when she appeared on Naomi Campbell's YouTube series, "No Filter with Naomi," sharing that their time together was grace that came out of a global pandemic.
The movie star explained the world endured many obstacles and losses that came because of the COVID-19 pandemic. But she believes there was a silver lining resulting in "gifts and blessings," she said, adding, "I personally feel like I was grateful for things slowing down and the time that we had."
Moore and Willis cooped up with their children at their former Idaho home in April 2020, where they brought them up before filing for divorce. She further stated that things went according to plan because the "Moonlighting" alum came to spend quality time with them.
During quarantine, Willis and Moore put on a friendly display. They could be seen on social media photos having a good time with dance-offs, donning matching family pajamas, and celebrating Father's Day together.
The family get-together raised many eyebrows among fans, but the "General Hospital" star revealed Willis' wife, Heming, and their two daughters later joined the entire family when the children were done with school.
Moreover, her daughter Scout further explained that Heming stayed behind while awaiting one of her daughter's test results from a doctor and that her dad decided to travel down there first, and they got held up.
In addition, Moore emphasized what a "blessing" it was to reunite as a happy blended family because the experience made room for them to relook at what is "important and what needs attention that has been overlooked and neglected. It was amazing."
The doting parent divulged that her grown kids adore their younger half-siblings. She added that it is imperative for their close-knit family to remain bonded and for Mabel and Evelyn to feel at ease with her and get to know her better so that they could do the same with their older sisters. "It was sweet, and we did have some silly times for sure," she marveled.
Moore and Heming have established a special relationship, as she was present at her and her husband's vowel renewal ceremony in March 2019. Heming admitted she and her beloved spouse could not proceed with the ceremony without Moore's presence – who also attended their initial wedding in 2009.
"She welcomed me into her family like I welcomed her into ours," said the Malta native, adding she has "so much respect" for how Moore and Willis worked through their separation by prioritizing their children first. Heming stated she took pointers from the pair and "grew so much" from witnessing how their relationship matured throughout the years, adding it was "important" for Moore to be part of their celebration.
A family friend once attested to the two women's bond, disclosing that they "are close" and that together with Willis, they all get along well as one big happy blended family, adding there are no problems between them.
Even Willis and Moore's daughter Rumer has been fortunate enough to be raised by both her loving parents, who "never" influenced her to choose between one of them. The actress expressed she appreciated that she and her family pushed through the odds to "have deep and meaningful and honest communication."
Rumer referenced people she knows and revealed she has pals who came from broken homes at a young age and witnessed their parents use them as pawns and made them "to choose" where to go for the holidays.
Thankfully for her, things never came to that point concerning her and her parents. She said she is grateful to her famous mom and dad for preventing that from happening to her and her sisters. "I didn't have to do that," said the Kentucky native, adding she is glad her loving parents prioritized for them to become a unit, although "it looked different."