Academy Award winner Denzel Washington is a father of four kids, sons John, Malcolm, and daughters Katia and Olivia Washington – whom he welcomed with his wife, Pauletta Washington.
The couple married in 1983 and had their kids throughout their union. Their eldest child John was born in July 1984, followed by their second, Katia, in November 1987. Denzel and Pauletta's twins, Olivia and Malcolm, arrived in April 1991.
John is the couple's most well-known of the siblings, having established an acting career just like his famous father. He developed an interest in acting early and even appeared in some of his dad's films in the 1990s.
The Los Angeles native began to take the profession seriously in 2010, having starred in multiple movies like "Malcolm & Marie," and has appeared alongside some of the elite actors in the industry.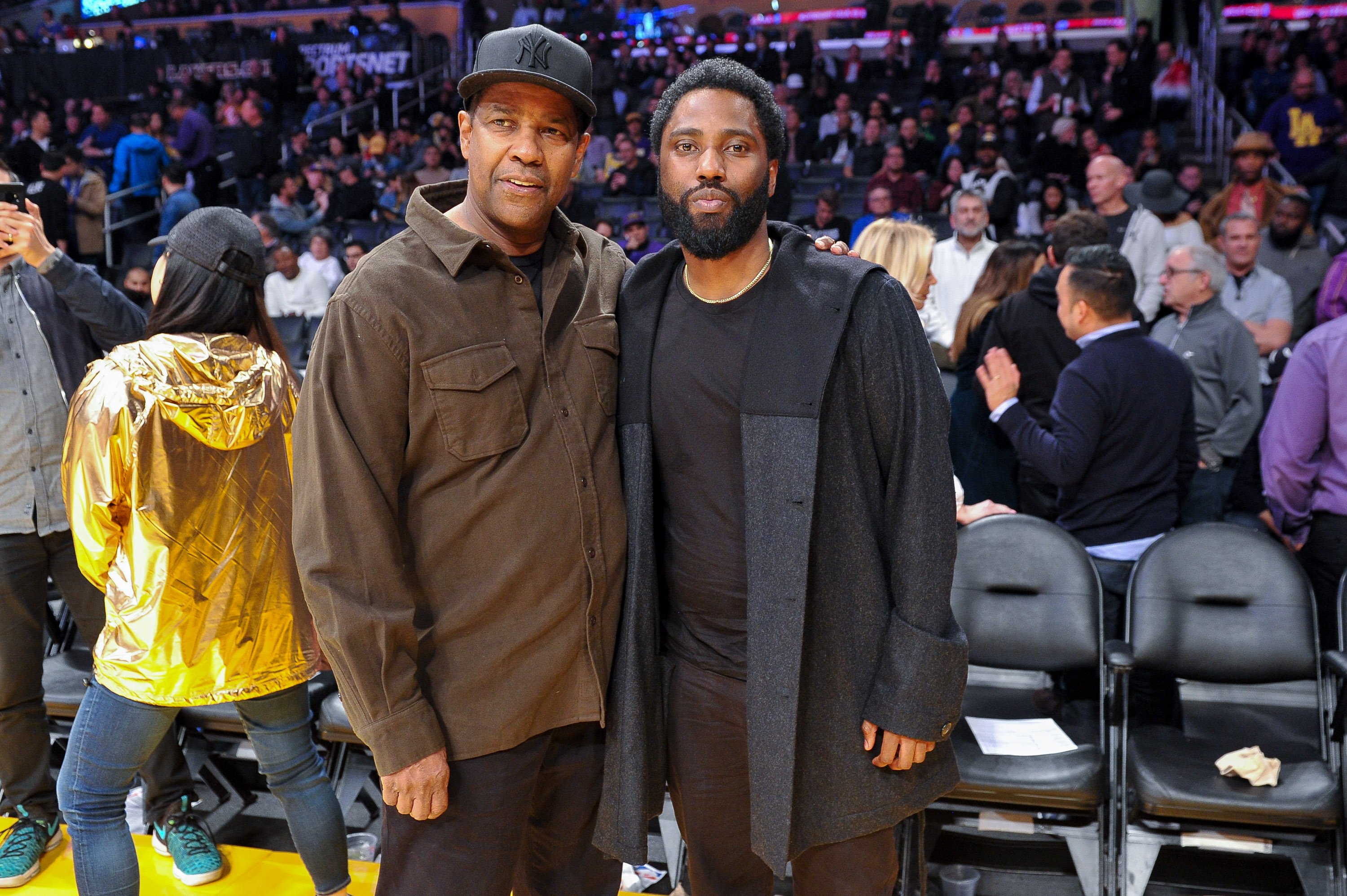 Actors Denzel Washington and son John David Washington attend a basketball game at Staples Center on December 5, 2018 in Los Angeles, California ┃Source: Getty Images
John appeared in numerous films with critically acclaimed filmmakers such as Christopher Nolan in 2020 and David O. Russell in 2022 for the movie, "Amsterdam."
He is best known for films including, "Tenet," 2018's "The Old Man & The Gun," "Monster" and the sport series, "Ballers" which aired from 2015 to 2019. But only some people know what the Morehouse College graduate did before launching his acting career.
David's Childhood & Football Career
John was initially passionate about football growing up and said it was the only way he could become independent besides being associated with Denzel.
The running back was signed by the National Football League's St. Louis Rams in 2006 and later said he perceived the sport as therapeutic.
"I was able to express a lot of my frustrations. My anxieties, my resentment [about] how I was treated or looked at, because of who I was related to. I hated the word nepotism. I knew that if I did well on the field, they can't say that my father did it," said John in August 2018.
Eventually, he achieved "success on the field," which enabled him to receive recognition for his efforts. People saw him as an "individual," and he said he constantly "needed that validation of independence."
However, once his sports career began to take off, John could not escape the fact that he would always be referred to as Denzel Washington's son. "It's not John David Washington that runs for 200 yards and five touchdowns. It's Denzel's son runs for 200 yards and five touchdowns. So, I see this thing was going to be inescapable," he expressed.

John went undrafted in the 2006 NFL draft but signed with the St. Louis Rams as an undrafted free agent. He parted ways with the team four months later but was re-signed with their practice squad.
Even when he signed with them, he emphasized that the press still penned, "Denzel's son makes the Rams!" That was when he realized that being related to the filmmaker would always follow him and decided to just as well follow in his acting footsteps.
But it was not an easy transition. The rising star did not know where to begin. Notably, John knew when he was five years old that he would someday become an actor. "I knew every one of my father's lines in 'Glory' – I broke the VHS tape – but I hid my love of acting to make it as my own. I was in a whole other business, but I always wanted to dip into the arts," the award nominee said.
He revealed his parents were behind him and that his mom is his "biggest fan" and "my father's tough love." John's first notable role was in "Ballers," wherein he starred as Ricky Jerret, a competitive NFL star."
A family friend suggested he audition for the role, but he had doubts about it. At the time, he was on pain medication and was not feeling up to the challenge.
Moreover, he believed it would be wiser to study the craft before diving into it, but the said pal stated that he could do both. John took the plunge under the circumstances as he suffered an injury of a torn Achilles and arrived at the audition in crutches.
Following the second audition, a woman told him he should never play football again because he was born to act. "She believed in me. Eight auditions later, I get the job," he recounted.
John now has his eyes set on stage acting and wants "to do Shakespeare" and perform live in the theater. That is his main goal in the meantime.
Acting Career & Relationship with Parents
John still spends time with his family, and when the ongoing pandemic began, he left his Brooklyn residence, moved back home, and slept in his childhood room.
He revealed that he does help out with the cooking at home with his loved ones. During his appearance on "Jimmy Kimmel Live!" guest host Samuel L. Jackson mentioned that John has good grilling skills.
In 2018, Denzel said he was proud that his son managed to break into show business on his own accord without relying on him to give him a leg up. The doting dad applauded David for acing his craft:
"That's my son, I love my boy, and I'm just happy he's his own man. He's independent."
John was with his father when he got nominated for his first-ever Golden Globe Award. The star got nominated for Best Actor in a Drama category for his performance in Spike Lee's "BlackKklansman."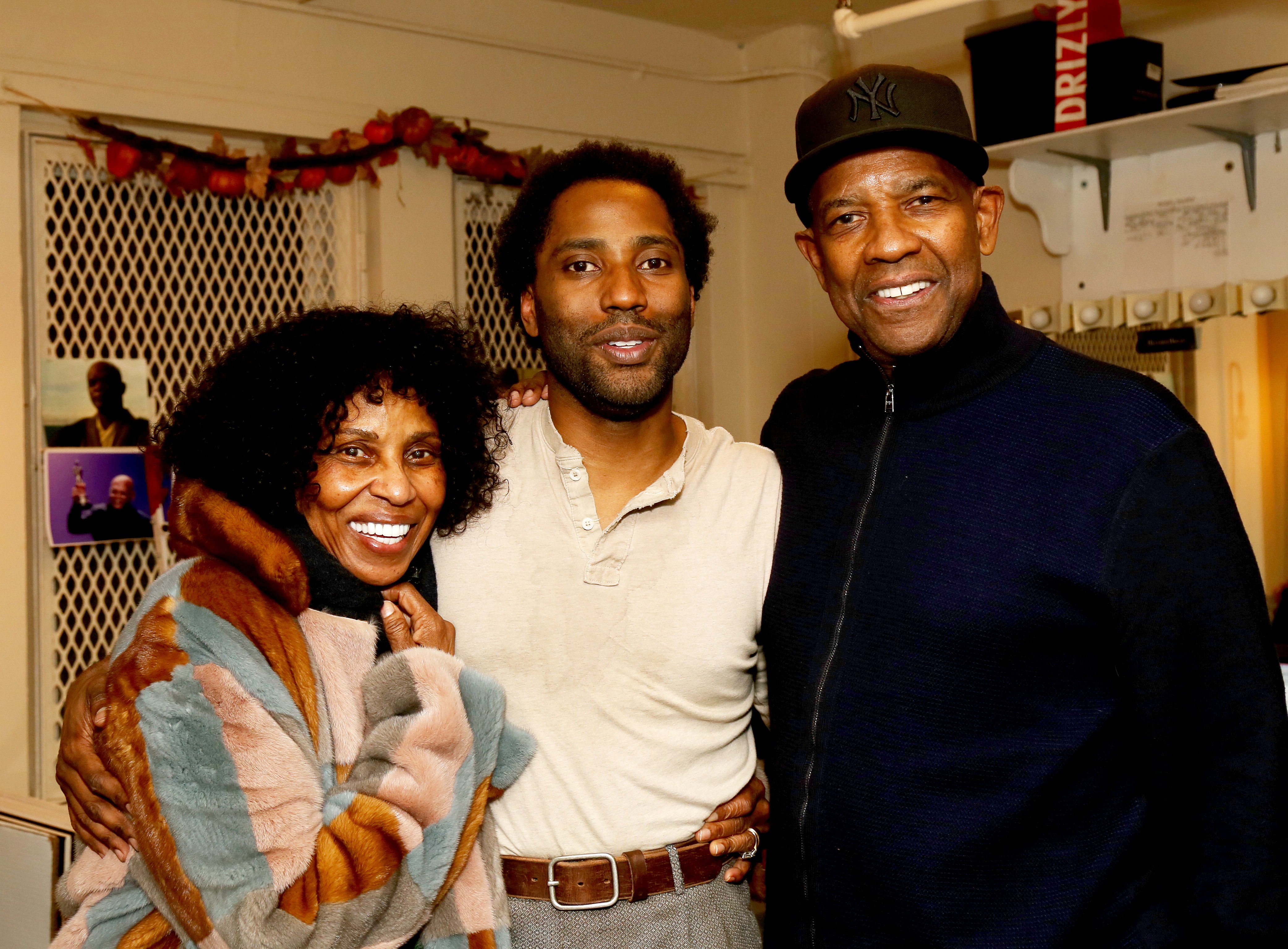 Pauletta Washington, son John Washington and father Denzel Washington pose backstage at the play "The Piano Lesson" on Broadway at The Barrymore Theater on November 18, 2022 in New York City ┃Source: Getty Images
Denzel woke his son up to watch the announcements together. Upon hearing his name, he held him tight "for what felt like ten minutes," John recounted.
Meanwhile, her essentially proud mother was on speaker phone as she was on a flight to Chicago and cried after hearing the ecstatic news. She told her eldest son she "loved me and was proud of me."
Denzel himself received the honor of being named The Greatest Actor of the 21st Century by The New York Times, and his beloved son said it was long overdue:
"It's about time. I think he's the greatest to ever do it, so it was a very proud moment for our entire family."
The "Man on Fire" star got emotional about what his son said: "Wow, I'm speechless," he expressed, adding it was his first time hearing of it.
When asked what he thought about his children's career paths, he noted that Hollywood should "watch out" for David's sister, Olivia.