Annie Potts rose to fame after her debut role in "Corvette Summer," but it was not until her role as Mary Jo Shively in "Designing Women" that she became a household name. She then had an extensive career in show business.
She was married three times and welcomed one son during a difficult time. She was a single mother for a while until she met her current spouse, who has been by her side for several years and welcomed two more sons.
While Potts was trying to juggle being a mother and being an actress, she admitted she found it challenging. She revealed:"I'd been doing series and movies on my hiatuses and found it wasn't good for the children, and I was exhausting myself. I don't regret [slowing down] because I got more time with them."
The actress mentioned that she had to move out of Los Angeles for the sake of herself and her children. While Potts was married three times before, the marriages never worked out. It was much better when she married her current husband, James Hayman, in 1990 than her past loves.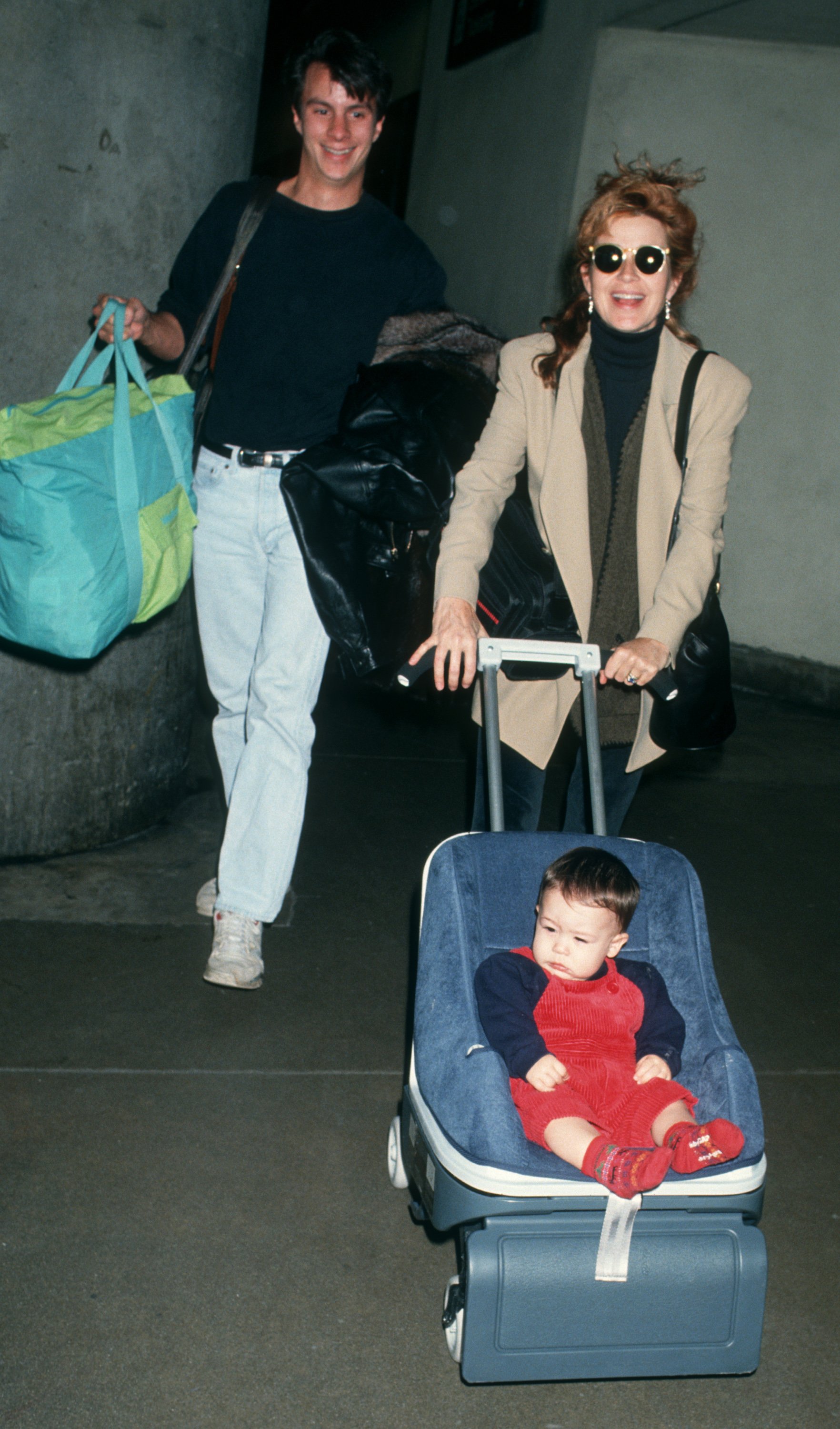 Annie Potts, husband James Hayman and son Doc Hayman being photographed on January 21, 193 at the Los Angeles International Airport in Los Angeles, California | Source: Getty Images
Potts shared what it was that showed her that Hayman was the one she could spend the rest of her life with, and she said it was because he loved her son, Clay, from the very first time he met him.
The actress said that when one gets involved with a person who has children, they have to know to love the child and the parent, and Hayman did that. Potts reminisced on the trio becoming an "instant family" before welcoming two more sons.
Potts and Hayman are now in a happy relationship, but the actress said that before she met him, she didn't feel like she needed to be in a relationship ever again. She was successful in her professional life and managed to raise her son on her own. She thought she didn't need a man.
She admitted that her attitude was such that she told Hayman she didn't need him, and he would have to prove that he was worthy of her attention and could bring something to her life that she didn't have.
He brought her happiness and lasting peace, as well as two more children, but it hasn't always been easy for the couple. Potts admitted:
"It's always a work in progress. Endure, endure, endure, endure. Family's really important to me, so we've worked at making it work."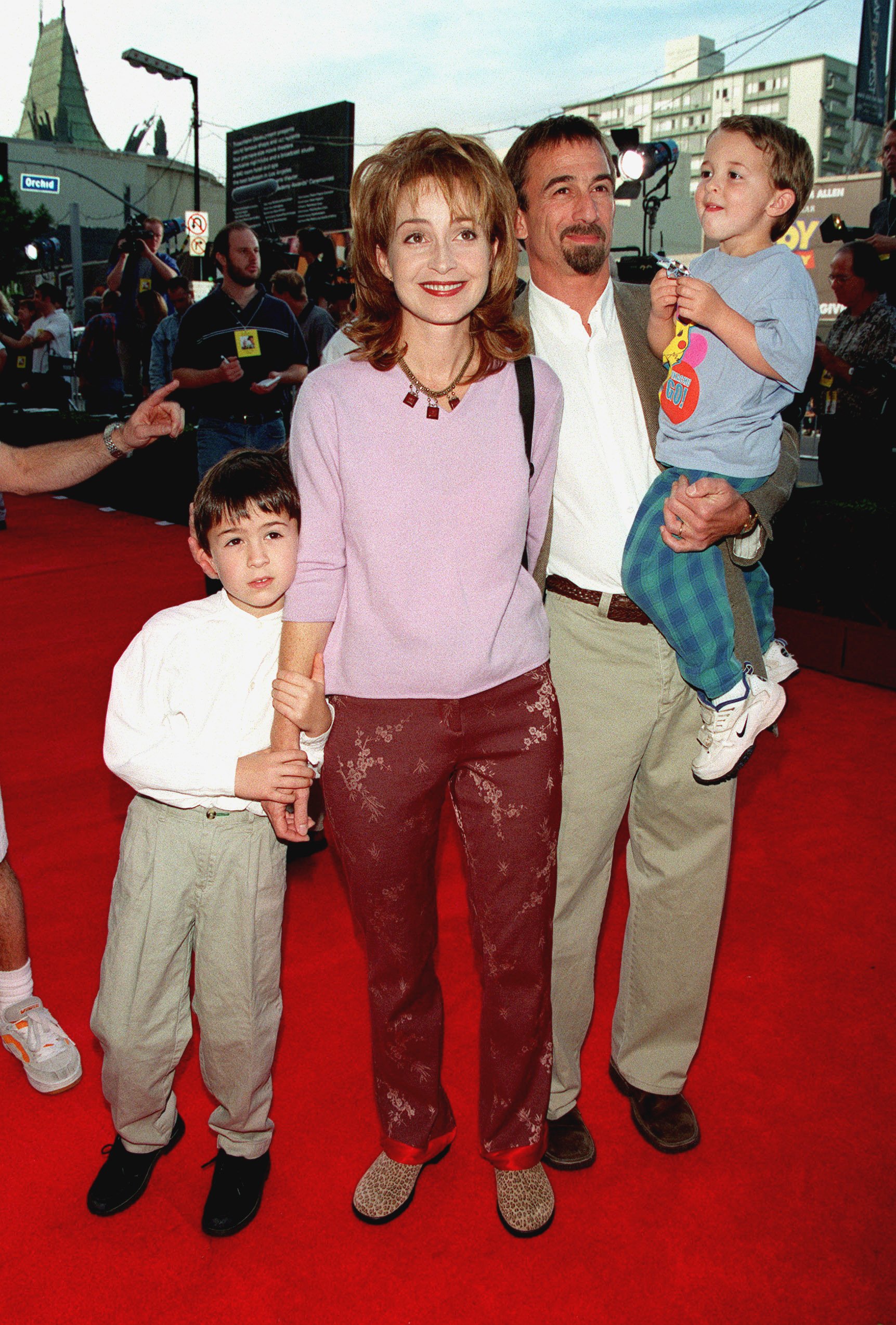 Annie Potts with her husband James Hayman and sons Harry and Doc | Source: Getty Images
Hayman and Potts met on the set of a movie in the 90s. Potts starred alongside big names in the film, while Hayman was the cinematographer. The actress said they fell in love because of their mutual love of work.
At the beginning of their relationship, Potts said all she and Hayman talked about was work, as Hayman worked 16-hour days, seven days a week. Although she barely got the chance to see him during this time, their relationship flourished.
Talking about why she enjoyed playing her famous role as Mary Jo Shively, Potts said it was because there was no representation of single mothers on television. She thought it was an important message to share.
Why Did Potts Need to Learn to Walk Again?
In the space of two years, Potts and her family experienced every emotion imaginable, from heartache to resounding joy. In July 2021, Potts and Hayman welcomed their first grandchild into the family.
On July 13, 2021, Potts took to Instagram to announce the birth of her first grandchild, a little boy named Cassius James Hayman. She shared a photo of the infant on his own, one with his parents and one with herself and her son.
In each picture, the family looked ecstatic to have welcomed their first grandchild into the world. Hayman and Potts gazed down on their little grandson with beaming smiles as Potts simultaneously held the child and her son.
In August 2022, Hayman took to Twitter to share a black and white photo of Potts gazing down at little Cassius in his crib. Hayman mentioned the photo had been taken the previous year and said his wife was "watching over" their grandson.
Potts also shared a photo of herself and Cassius in March 2022 on a boat. The baby was dressed in grey overalls, and Potts wore a brown hat with colorful trim. A dog sat in the background, and Potts said she and her grandson were on the lake.
Three months after she posted that photo, she announced the birth of her second grandchild, a boy named Silas. The actress mentioned she had become a "Meemaw" for the second time when her firstborn son welcomed his firstborn son.
Once again, she shared pictures of the infant on his own and some with his family. She mentioned that her heart was "exploding" with joy as she welcomed her second grandson into the family.
She has since shared many photos of her grandchildren on social media. She shared a sweet photo of Silas in September 2022 with a book on his lap. She joked that he was advanced for his age.
While her grandchildren have brought her insurmountable joy, she has also faced pain in recent years. It started when Potts was hit by a drunk driver at 21 and broke every bone in the lower half of her body but one.
She has since had more than 20 orthopedic surgeries and has been in chronic pain. However, in 2022, everything came to a head when she said she would have to get her ankle replaced. She said it was not a common surgery because the ankle joint is more complex than the hip or knee.
Potts said it would be a complicated surgery because she would have to be flat on her back for weeks after the surgery, and as an energetic person, that can be taxing. She also mused:
"I've had to learn how to walk again so many times now; I can't even count."
In April last 2022, Potts took to Facebook to share an x-ray of her ankle, which had been replaced. She called it a "bionic ankle" and said she was grateful for modern medicine, which allowed her to have a second chance at life, acting, walking her dogs, and dancing with her grandchildren.
Has 70-Year-Old Potts Really Not Aged?
Despite undergoing a complex surgery at 70, Potts returned to work soon on "Young Sheldon" shortly after she recovered and has kept audiences in awe of how young she still looks after everything she has been through.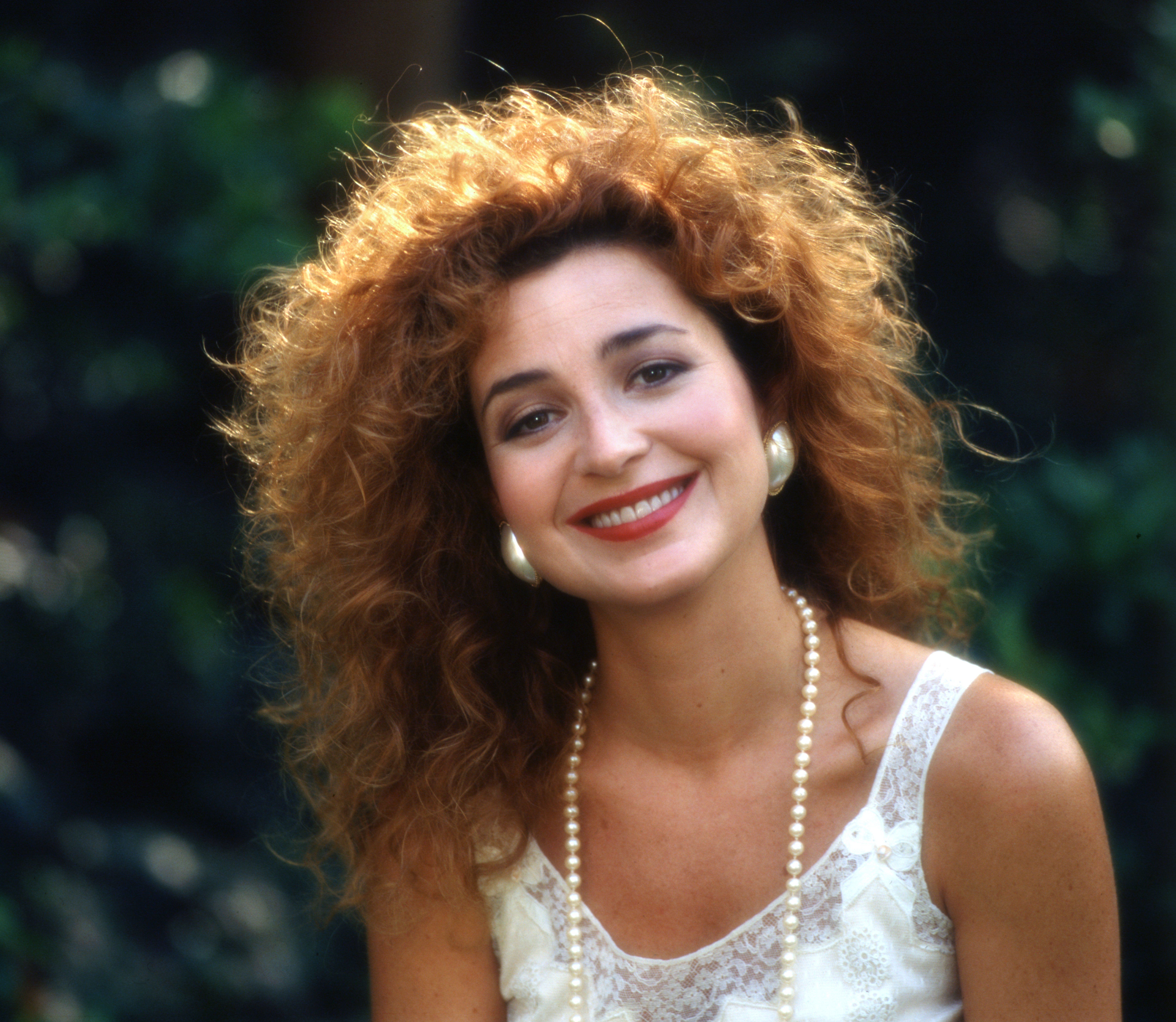 Annie Potts (as Mary Jo Shively), in the CBS television comedy, DESIGNING WOMEN. Photos session dated August 26, 1991 | Source: Getty Images
One Twitter user mentioned they were watching her in "Young Sheldon" and said she was an excellent example of what it meant to age gracefully. She gets similar comments on her Instagram posts.
On January 13, 2023, Potts shared a throwback photo of herself and thought her fans might not know where the image was from. Followers immediately began complimenting Potts on her appearance.
Some said she hadn't "aged a bit," while others said the photo looked like it had been taken the day before she posted it. One follower said:
"Gorgeous regardless of age. My inspiration."
Even though Potts is a grandmother whose body has been through a lot since her accident at 21, she still flaunts her body in a bikini and trains regularly, posting videos of herself boxing with a trainer.