Couples may age, and health issues may try to separate them, but that doesn't mean their love grows weary. One adorable couple from Birmingham, England, had people in tears as they embraced after five weeks apart.
Long-lasting love stories have become something of the past, but Betty Meredith, 91, and Kenneth, 96, gave netizens new hope after their romantic reunion went viral. The sweet couple spent many years happily married, journeying together through life's ups and downs.
Sadly, Kenneth was diagnosed with dementia, which forced him to live in a care facility away from his beloved wife. However, she couldn't bear to be without him, so she hatched a sweet plan to be with the love of her life again.

Her Husband Was Calling For Her
Betty was heartbroken when her husband moved to Bourn View Care Home in 2020. She thought about him every day and longed to be by his side. Kenneth felt the same way, and after spending decades together, their five weeks apart felt like a lifetime.
Betty refused to accept the new living situation and chose to move into his care facility. She shared that her husband kept "calling for [her] all the time," so she gave him what he wanted.
Kenneth burst through the door and couldn't contain his emotions when he saw the unexpected set-up and his beloved wife.
The Romantic Dinner
Betty decided she would surprise her husband with the news in the most heartwarming way. With the help of the staff at Bourn View Care Home, she planned a romantic dinner for them.
There were red roses, heart-shaped balloons, and an LED love sign. The proud wife couldn't wait to tell Kenneth the good news about their new living arrangement, and the moment was captured on camera, thanks to their granddaughter.
The Husband's Emotional Reaction
Kenneth burst through the door and couldn't contain his emotions when he saw the unexpected set-up and his beloved wife. A romantic song played over the speakers and created the perfect atmosphere for them to embrace and reunite for good.
The elderly husband asked his wife if she had come to get him so they could live at home together again. To his surprise, she replied: "I have come to live with you."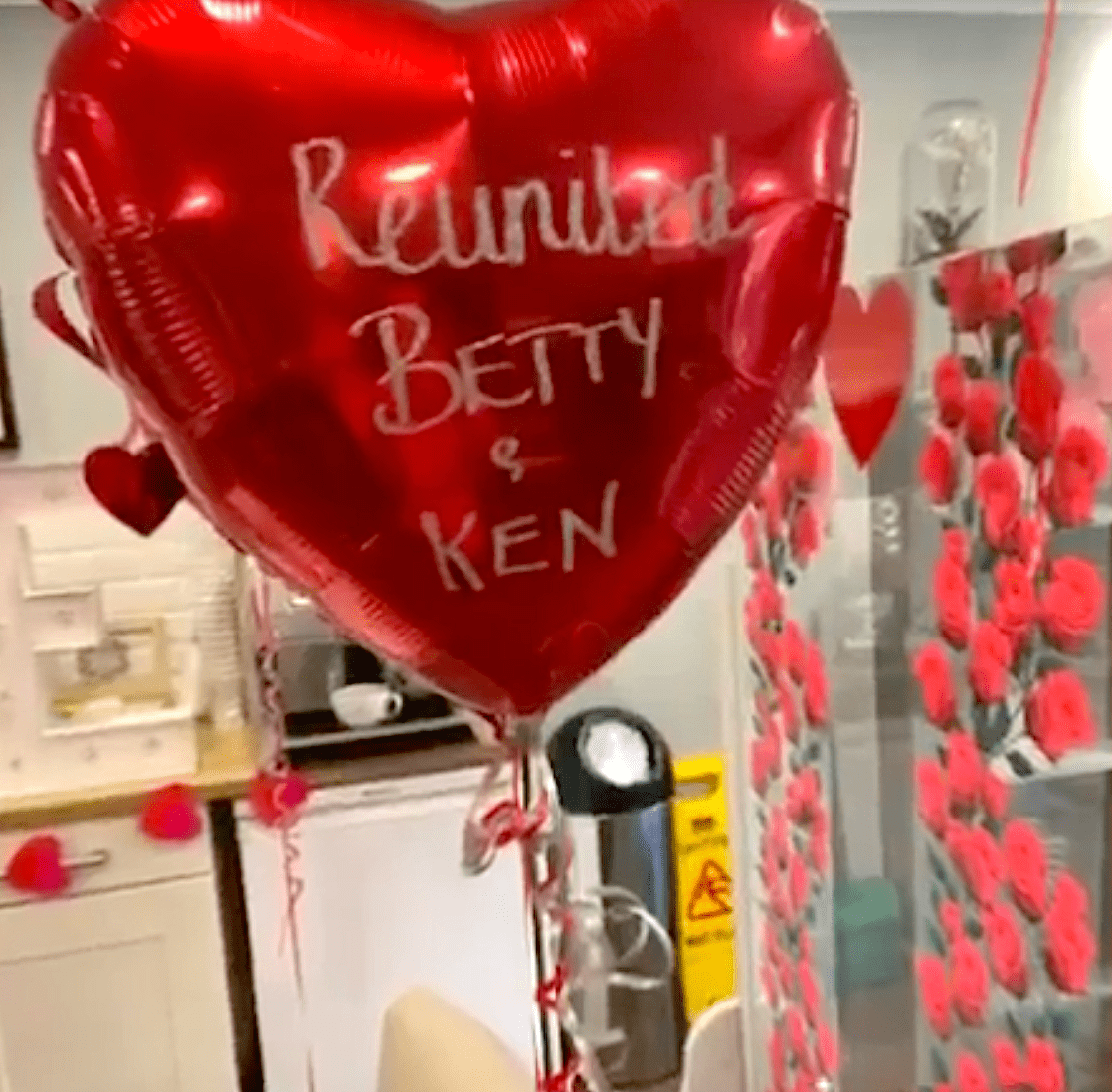 Balloons at Betty and Kenneth's reunion. | Source: Facebook.com/BournViewCareHome
The husband was over the moon and told his wife, "Just you and me." They cried together, and when Betty asked Kenneth if he was happy, the delighted man remarked:
​​"Now [that] I see you, it's better."
Together for 75 Years
Kenneth's dream of spending his golden years with Betty came true, and they were relieved they would never live apart again.
In January 2022, the couple celebrated their 75th wedding anniversary. The care home honored them by arranging a special dinner with fairy lights and a banner that read: "Congratulations, Betty and Kenneth."
The Online Reaction
The footage of their embrace and tear-jerking reunion touched many netizens. Users from the online community were thrilled for the couple, and many were in awe of their unfailing love and decades-long connection:
"Love strong and enduring and hopeful. The way it should be to the very [end]. Beautiful video."