Even though she has amassed massive fame and fortune, Dolly Parton has remained humble in her stellar career as a musician, businesswoman, and philanthropist. It's no surprise that success has followed her along the way.
As someone who grew up in a large family, Parton understands the struggles of poverty. She is now a highly-influential Hollywood star, and despite her accomplishments, she has never forgotten her humble beginnings.
The music superstar, whose real name is Dolly Rebecca Parton, was welcomed by her parents on January 19, 1946, in Sevierville, Tennessee, on Locust Ridge. She was born in a one-bedroom cabin. She had 11 siblings.
Robert Lee Parton, her father, was a sharecropper who couldn't read and supplemented his income by working in construction. He could not read or write due to a lack of access to education.
Growing up, the country legend, raised by a musically-oriented family, was constantly surrounded by music. Despite their difficult living circumstances, they found joy and connection through singing.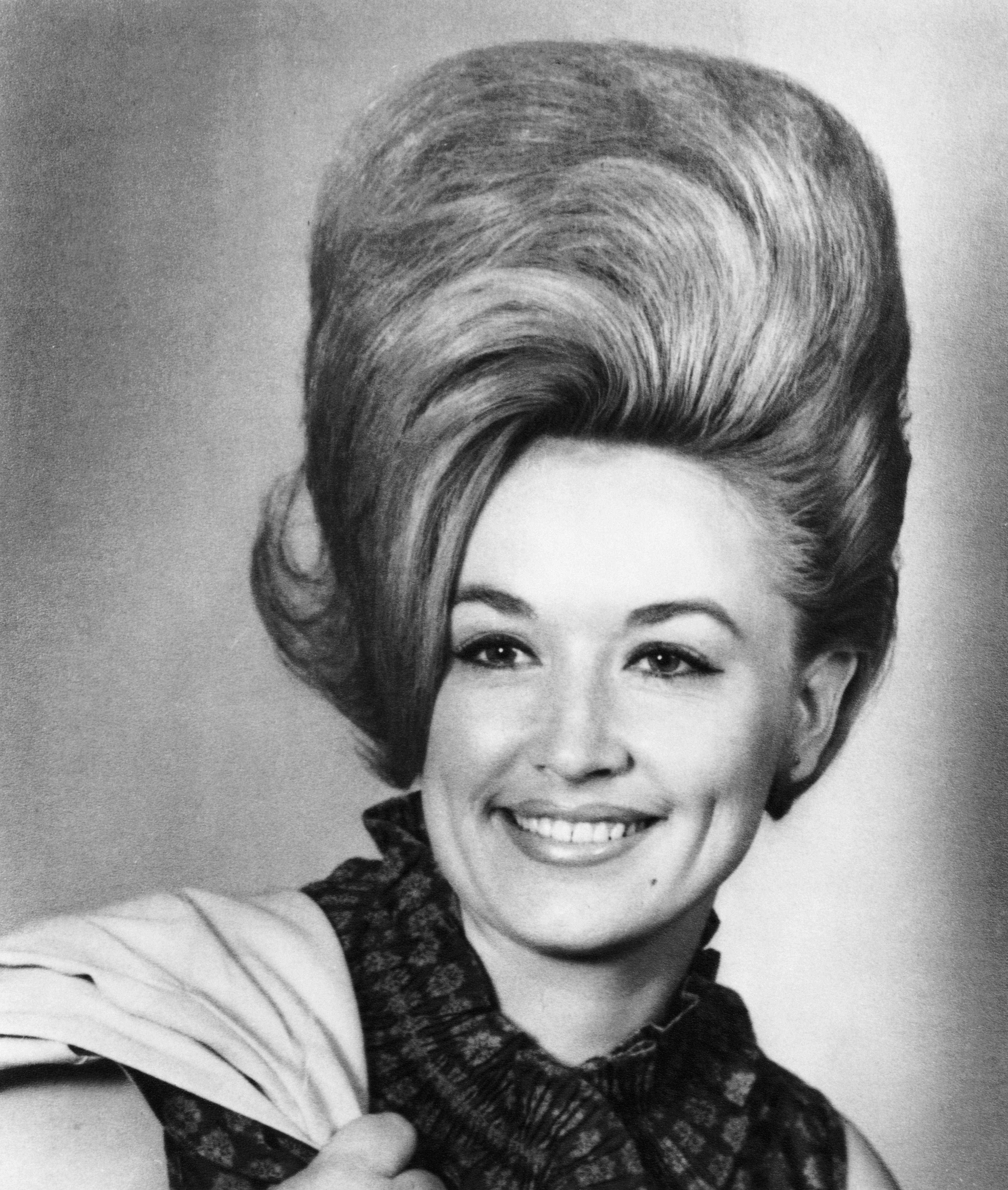 Dolly Parton poses for a portrait in 1965 in Nashville, Tennessee. | Source: Getty Images
Parton's mother, Avie Lee Owens, was a performer who taught her daughter how to sing. She played different music for her daughter, like church songs and Elizabethan ballads that had been in her family for generations.
Meanwhile, Parton's grandfather, Jake Robert Owens, was a minister and the composer of the hymn "Singing His Praise." Several Parton's siblings became interested in music, and some worked in her family band.
Parton also had an uncle named Sam Owens, a musician and singer-songwriter in his own right. Her uncle loved music and was the first person to notice that she had the potential to become a famous musician when she was a child.
Parton's siblings include Stella Mae, Cassie Nan, the twins Freida Estelle and Rachel Ann, and Willadeene, David Wilburn, Coy Denver, Bobby Lee, Robert, and Larry. Robert died in 2021 after a battle with cancer, while Larry died as a newborn.
Being the fourth oldest among 12 siblings, Parton frequently helped her parents care for the younger children. She lived with her family under one little roof.

At that time, the log cabin had only one bedroom and one living room, and there was no running water or electricity. The property still stands up to this day.
Parton has always been open about discussing her humble beginnings or how they influenced how she views life. She came from a large family with limited resources, so she is familiar with the challenges of being poor.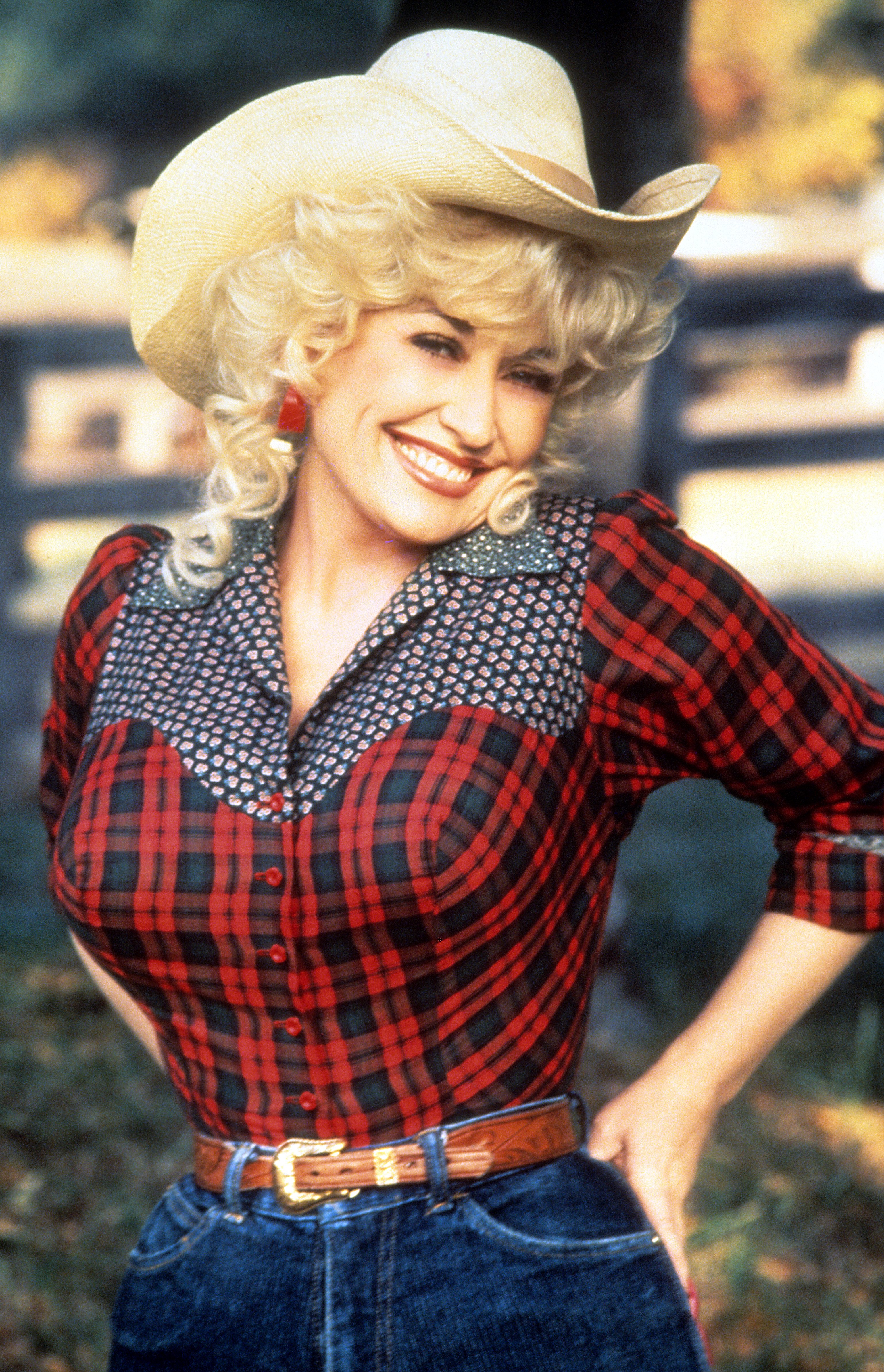 Dolly Parton beams in a publicity photo for her 1984 film "Rhinestone."| Source: Getty Images
In an interview with The Guardian in 2016, Parton reminisced about her childhood in the mountains of rural Tennessee. She focused on the early memories that brought her the most joy. She said:
"Of course, not everything was perfect, but I prefer to remember the best of times."
She remembered the days spent with her siblings, singing at church, and completing chores she wasn't particularly fond of. She also reminisced about the tons of laughter she shared with her family.
Parton remarked how her brothers and sisters would constantly sing and how she would always try to get them to be her backup singers when she tried to pretend to be the lead singer on stage, but they were completely disinterested.
Their little house, Parton recalled, was always packed with her siblings, leading to a lot of teasing and bickering. However, despite the chaos, they always stuck together as a family.
She added that they spent much time outside because the cabin was too small for her and her siblings comfortably. The space outside served as an extension for sharing meals, entertainment, and playing games.

Parton said her family had been grateful for having food and a roof over their heads. It was not exactly what they wanted, but her parents quickly emphasized that there were other families who suffered more than they did. She recalled:
"We were poor but I never felt poor."
Despite her family's modest beginnings, Parton's passion and musical talent would eventually lead her to become one of the most successful and beloved country music performers of all time.
Childhood in Poverty
Parton shared that, despite having fond memories of her childhood, growing up in poverty meant living in tough conditions. She lived in a shack with her family of 14. They had limited access to basic necessities such as bathing opportunities.
In a Playboy magazine interview with journalist Lawrence Grobel in March 1978, she shared that she was only eight years old when she first saw a toilet and bathroom in her aunt's home and was fascinated by them.
Laughing at how innocent and ignorant they were then, Parton shared that she and her siblings were afraid to use the toilet, thinking it would suck them in. "It was just really weird," she recalled.
Bathing every day was not a luxury for Parton and her family. They would often make their own soap, and on occasion, they would pile into the truck and drive to the river to wash in its waters.
There was a creek near where they lived, but the river was their preferred bathing spot, as it was like a "big bath" for all of them. They would swim together and wash each other's hair while their homemade soap flowed down the river.
Parton remembered telling a joke about how dirty they were, stating that it would have left a ring around the Little Pigeon River and likening their river bath to a "bathtub." Bathing in the river was a summertime ritual for them.
During the winter, the entire family would have a pan of water to wash with as much as possible. When Grobel asked Parton how many times she and her family would bathe in the winter season, Parton replied:
"Well, we bathed once a week whether we needed it or not, as the saying goes."
Bathing became more important to Parton as she reached high school. She would take a bath every night due to the unhygienic behaviors of her younger siblings during bedtime. She revealed:
"The kids peed on me every night. We slept three and four in the bed. I would wash every night. And as soon as I go to bed, the kids would wet on me, and I'd have to get up in the morning and do the same thing."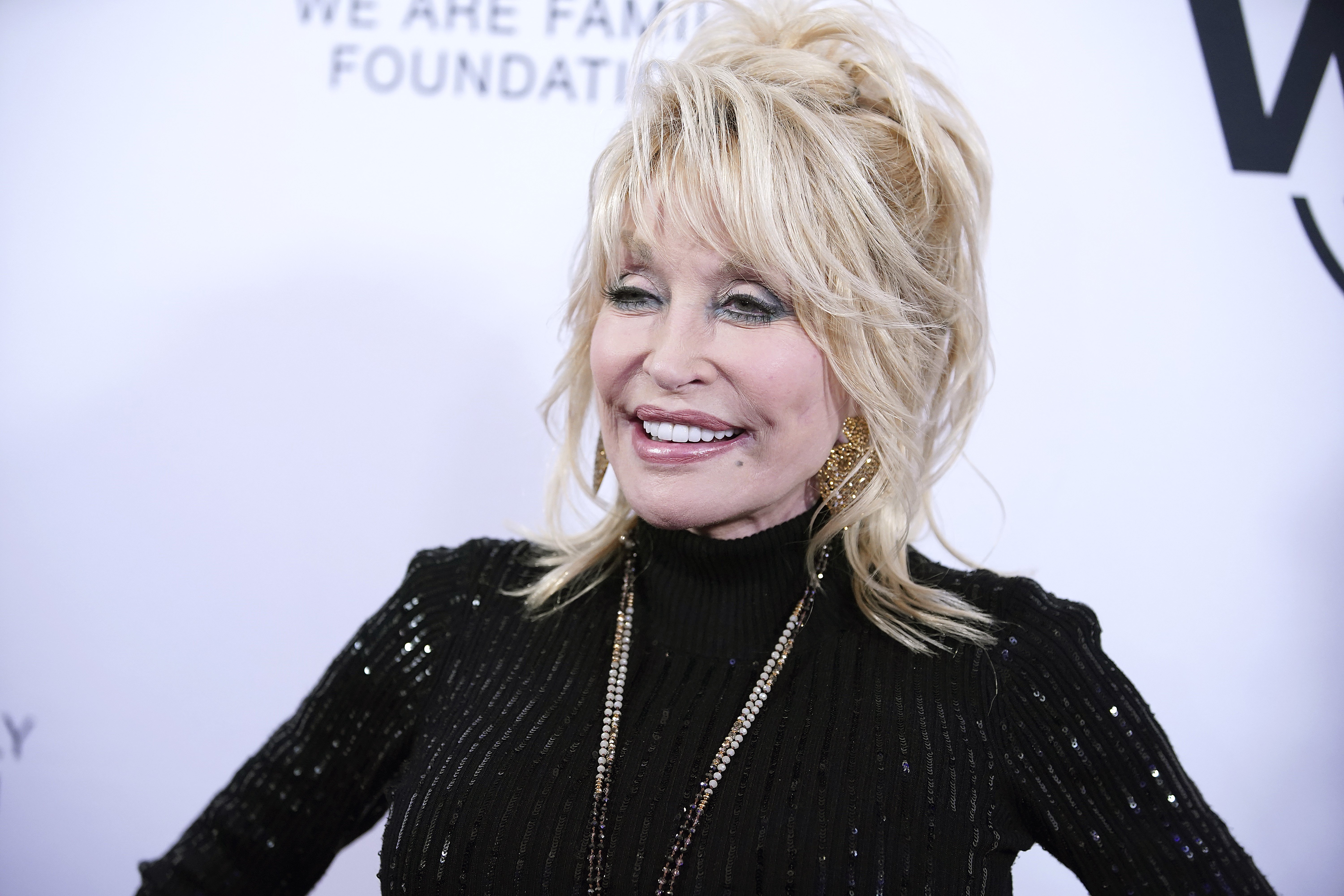 Dolly Parton attends We Are Family Foundation at Hammerstein Ballroom on November 5, 2019, in New York City. | Source: Getty Images
Unafraid to share her thoughts about it, Parton explained that even though getting peed on might sound unsanitary to some, she thought the urine was their source of warmth in the winter.
Living in the mountains, she recalled how freezing it was at home and even said it was almost a pleasure to be peed on because the room was as chilly as the outside. She said they would all bundle up and go to bed.
Giving Away Millions
Despite their poverty, Parton has described her family as happy and rich in other ways. Growing up made her modest, and after she earned millions, she never stopped taking care of people in need, like her family was some time ago. She remarked:
"My family will always be my greatest love. Sometimes it gets lost in the shuffle, but there's an element of family in everything I do."
She stated that her family has inspired her music and that her theme park, Dollywood, and Dixie Stampede—one of the shows in the park— are intended to enable families to spend time together and enjoy themselves.
In 2022, Forbes estimated that Parton's net worth was $375 million, making her a self-made millionaire. Her financial success stemmed mainly from her music publishing ownership rights and a theme park.
She controls over 3,000 songs, including the highly acclaimed track "I Will Always Love You," which she refused to share with Elvis Presley in the 1970s. This decision proved profitable when Whitney Houston covered the song in the 1990s.
Parton also has received a publishing fee for her songs when used in movies, broadcast, or sold. Forbes estimated that her songs are worth $150 million and that she has earned $6 million to $8 million in royalties.
However, the music icon's massive wealth comes from her famous theme park, Dollywood, one of Tennessee's biggest tourist attractions and reportedly brings in $3 million a year.
The country singer invested in a theme park called Pigeon Forge in Tennessee in 1968. She later renamed it "Dollywood," a play on the word "Hollywood." The park includes a hotel and a water park.
Parton has recently launched a new company called Doggy Parton, which is a play on her famous name. Her love of animals inspired the creation of her company, which produces dog toys and clothing lines.
Parton's childhood in poverty taught her that sharing her success with others is important. Parton, in addition to being a musician and businesswoman, is active in several charitable and social causes. She now donates millions to those in need.
In 2016, Parton joined forces with a group of musicians to raise $13 million for the recovery efforts of survivors of the East Tennessee wildfires, which hit the state's Pigeon Forge and Gatlinburg.
Other renowned artists, such as Chris Stapelton, Kenny Rogers, Lauren Alaina, Alison Krauss, Reba McEntire, Cyndi Lauper, and Chris Young, played at the "Smoky Mountains Rise: A Benefit for the My People Fund" concert.

In 2017, Parton gave a $1 million gift to the Monroe Carell Jr. Children's Hospital at Vanderbilt University Medical Center in Nashville after her niece received leukemia treatment from them.
In addition to providing financial assistance to those affected by natural disasters, Parton made a significant contribution to the healthcare sector by generously donating a substantial amount of money.
She made headlines in 2020 when she donated $1 million to vaccine research during the COVID-19 pandemic, which impacted people worldwide. Her contribution helped in the creation of the Moderna vaccine.
Parton is also known for her lifelong dedication to promoting early childhood literacy. Through her non-profit program, Imagination Library, she has sent free books to over one million children every month.
In 1995, Parton and her father, Robert Lee, founded a non-profit organization to help children learn to read and write. Her father was illiterate due to a lack of educational opportunities in his youth.
The program was created with her father as the main inspiration. The non-profit started in eastern Tennessee, but it has grown and now helps kids in all 50 states and the District of Columbia.
She and her dad's literacy program reached other countries, such as Australia, Canada, and the United Kingdom. In 2018, Parton went to the Library of Congress to celebrate that the program had given out its 100 millionth book.
Parton never imagined her campaign would be successful because she wanted to help her father and her hometown. "But then it just took its own wings, and I guess it was meant to be," she cheerfully shared.

Her father was able to see the fruits of their labor before passing away in 2000. Before he passed away, Parton stated that her father took great pride in making a meaningful contribution towards something worthwhile.
Furthermore, her aspirations for the Imagination Library are ambitious. She admitted that she has big dreams and wants to give away a total of a billion books, maybe potentially within her lifetime.
Even though Parton had a tough childhood, she never forgot how important family and community are. She used her success to give back, donating millions of dollars annually to various charitable causes, including education, health, and disaster relief.
Her humble beginnings taught her the value of hard work, determination, and the power of music to bring people together. And as she looks back on her life, she remembers the joy, laughter, and love that filled her childhood home and the family who supported her every step of the way.