Country singer Dolly Parton has been married to her husband, Carl Dean, for over five decades. The couple still casually go on dates, specifically at Taco Bell—where they used to go when they were still dating, and they have since kept it as a tradition.Parton was born on January 19, 1946, in Locust Ridge, Tennessee.
She comes from a low-income farming family and is the fourth of 12 siblings.The philanthropist is considered a musical pioneer in country and pop genres. She developed a passion for music as a child and was featured as a singer and guitarist on local radio and TV shows in Knox, Tennessee.
In 1964, Parton graduated from high school, and upon completion, she headed to Nashville to launch a professional music career. The young aspiring star became a protegee of country singer Porter Wagoner.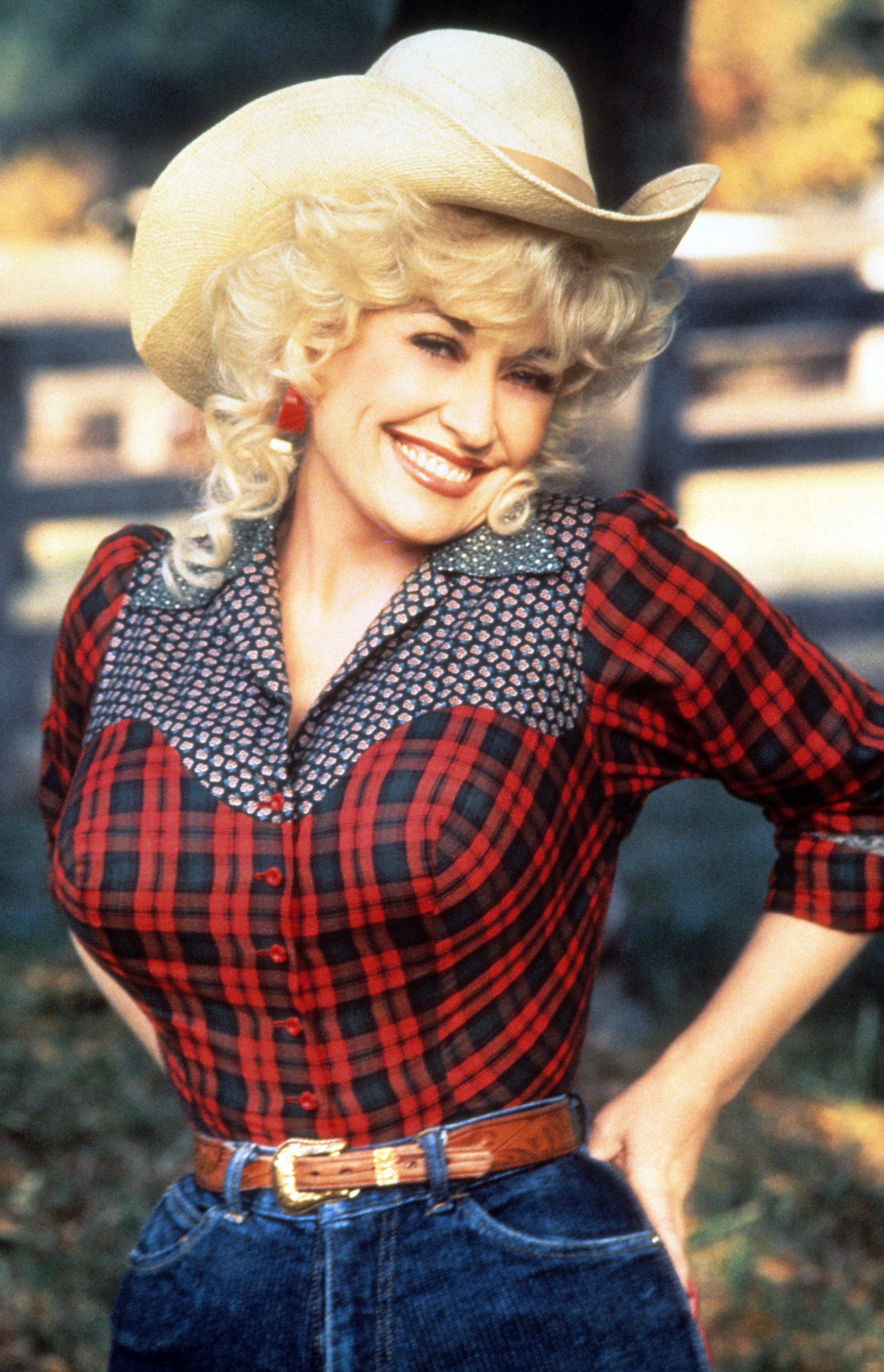 Dolly Parton poses in a publicity portrait for the film "Rhinestone" on January 1, 1984 ┃Source: Getty Images
She appeared several times on his syndicated show and began gaining recognition. Parton made such an impression and got the attention of RCA Records executives.
Subsequently, she recorded many songs along with Wagoner for the label and became one of the most popular rising stars at the time, and that's how she became established in the music business.
After making her mark, Parton parted ways with Wagoner to pursue a solo career. With that came the immense success of constant accolades and status.
During her rise to superstardom, Parton met her one and only husband, Dean. Although they started a life together, and he remained supportive of her thriving career, the couple never had children. Parton, who is godmother to pop star Miley Cyrus, explained:
"When my husband and I were dating, and then when we got married, we just assumed we would have kids. [..]. In fact, we thought maybe we would. But it didn't turn out that way."

When asked in 2014 whether she regretted not having kids, the "Joelene" hitmaker admitted she initially felt regretful but not much anymore, despite having picked out names for their future brood.
The Grammy Award winner said now that she and Dean are in their old age, they frequently touch on the subject of not being parents at this stage in their life and would tell each other:
"Aren't you glad we didn't have kids? Now we don't have kids to worry about."
Parton & Dean's Five-Decade-Long Romance
In 2015, Parton gushed about her beloved husband, saying she had married well. She also noted that she and Dean are opposites. While she is a global superstar, he is an ordinary man:
"I married a good man, a guy that's completely different from me. He's not in show business."
Despite not being a public figure, Dean still embraces his wife's life as a well-known celebrity. Parton revealed he shows interest in whatever she does and is always eager to hear about what she's up to as a star, and vice versa.

The couple met in 1964 at the Wishy-Washy Laundromat on Parton's first day in Nashville—she was eighteen years old then. When roaming around the streets, Dean saw her and greeted her, and she waved.
The award-winning songwriter instantly became familiar with everyone in the neighborhood, including Dean, who walked up to her at one point. When he first laid eyes on Parton, he knew he would make her his wife.
Meanwhile, the Country Music Hall of Famer shared what attracted her to Dean on her website. She was happy that he initiated the meeting and made eye contact while talking to her, which was "a rare thing for me."
The duo's newfound romance quickly progressed, as two years later, in 1966, Dean proposed. He told her that she would "have to move closer into town," and if not, they would have to get hitched.

The lovebirds secretly wed in Ringgold, and only three people, including the bride's mom, the pastor, and his wife, witnessed the ceremony. Parton explained they chose the location because they could attain their marriage certificate and marry on the same day.
Though they do not have kids, Parton is content with her life with Dean. The pair enjoy spending time together seeing sights in their town, including spontaneously pulling up at a motel. Parton said it does not matter what kind of place it is as long as it is spotless with a room and a restroom.
Dean and Parton renewed their wedding vows in their home in Nashville in 2016, following 50 years of marriage. She divulged they had a "simple little ceremony at our chapel at our place."
Though it was an intimate affair, the bride and groom dressed up to the nines for their special day, also because when they first tied the knot, Parton revealed, "I didn't have a big, long wedding dress."
The two celebrated their love with only close friends and family. The "9 to 5" singer said they did not want to make a fuss by having an extravagant ceremony. She also acknowledged that her spouse "looked handsome" for the occasion.

Dean has been a supportive husband for decades, even though he does it away from the limelight. When his wife bagged her first-ever songwriter award, he accompanied her to an award ceremony dinner to watch her accept the award for "Put It Off Until Tomorrow."
The couple dressed up for the evening and made a red-carpet appearance. They had dinner during the ceremony, and when the evening ended, Dean told Parton that although he wanted the best for her, he would not accompany her to such events again.
In April 1977, the Rock and Roll Hall of Famer spoke candidly about the type of person her husband is during a cover interview with People. "He's sort of shy and quiet," said Parton, adding what they have is unique and would not want to jeopardize it.
In March 2015, the businesswoman opened up more about her relationship with Dean: "He's a deep person, but he has a great and warped sense of humor. He makes me laugh and entertains me. He's very secure within himself."
Speaking about how they keep their union intact, Parton said it has a lot to do with their contrasting personalities because it creates room for the element of surprise. She stated that although they are not the same, that is "what makes it fun," adding:
"I never know what he's going to say or do. He's always surprising me."

Despite their fifty-year romance, Parton and Dean do not flaunt their love for all to see. The pair are seldom seen in public, and Parton usually shares throwback images of the couple.
On November 2, 2021, the Queen of Country posted an old picture of her and Dean holding hands and praised him for his continuous support.
Later that month, Parton shared another vintage image with Dean cuddled up on the couch during Thanksgiving. She wished her followers a "Happy #Thanksgiving."
Parton's recent social media upload of her and Dean includes a photo of her being kissed by her spouse on Valentine's Day in February 2022. She urged others to show appreciation to their loved ones.
The Couple's Casual Dates Tradition
Parton and Dean still keep their romance alive by going on low-key dates. She revealed in 2016 which venue the couple usually goes to for dinner.
The two normally load their RV and head to Taco Bell. "I love their tacos. They also have little pizzas that I love," said Parton.

Moreover, while the "Shine" singer enjoys dressing up, she keeps it casual and low-key during their date nights. Parton said she only wears her hair "up in a scrunchie and a little bit of makeup. I don't look like I'm going on stage."
The no-glam look works in Parton's favor when she and Dean pass by the drive-through, as the employees do not recognize her. However, there have been times when they get a real good look at her and realize who she is.
When they do, Parton happily signs their autographs and has done so "on napkins." It does not bother her, but she joked that what she finds offensive is when they get her order wrong.
In terms of appearing in public with Dean, Parton said although he would step out with her, he would not be seen.