Donnie Wahlberg and Jenny McCarthy raise their blended family in a beautiful Chicago home. The couple, who renew their wedding vows yearly, claimed they fell in love with the residence the first time they saw it together.
Before Donnie Wahlberg met Jenny McCarthy, he was married to Kim Fey. The pair met while the singer was looking for a Spanish-speaking woman and was taken aback by Fey's beauty.
In August 1999, the couple made their relationship legal and tied the knot, welcoming two sons, Xavier and Elijah, throughout their marriage. However, on August 13, 2008, the pair ended their nine-year marriage and filed for divorce, citing irreconcilable differences.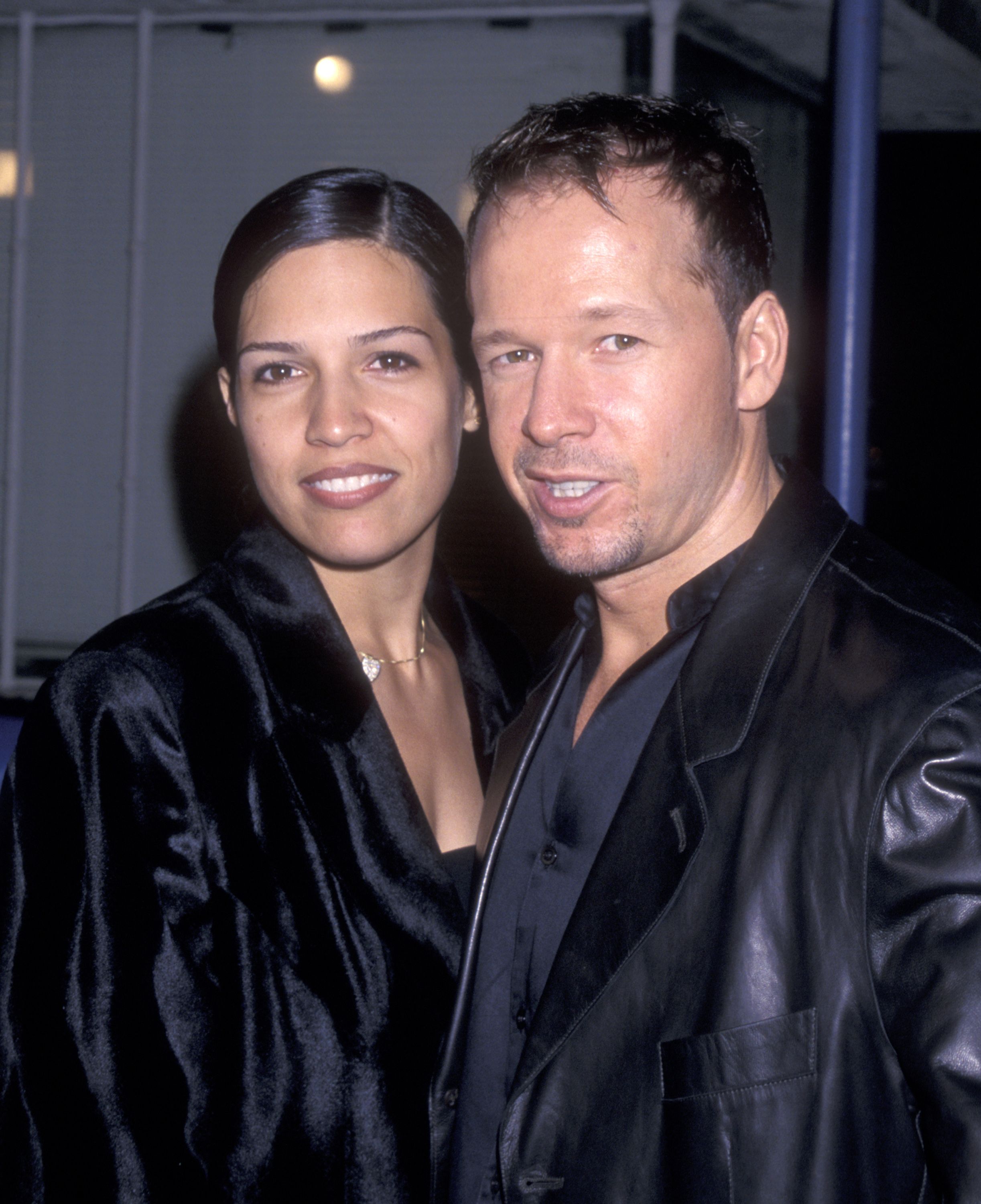 Donnie Wahlberg and Kimberly Fey during the "Three Kings" Westwood Premiere on September 27, 1999 at Mann Village Theatre in Westwood, California. | Source: Getty Images
Fey sought sole and legal custody of their kids, only granting Wahlberg visitation rights. She also wanted spousal support and attorney's fees from her ex-husband but remained friends with him. According to Walhberg's representative:
"The couple has been separated for some time now and remain friends."
It took a few years after the divorce before the "New Kids on the Block" artist loved deeply again when he met Jenny McCarthy in 2013.
JENNY MCCARTHY'S FIRST MARRIAGE
Like Wahlberg, the "Dirty Love" actress was also once married to John Asher in 1999. However, their relationship lasted only six years following their divorce in 2005, partly because of their son, Evan's autism diagnosis. McCarthy said:
"I felt very alone in my marriage. [Asher] never sat down and said, 'What did you find out on Google?' There was never that connection of wanting to know and being there."
McCarthy and Asher welcomed Evan in 2004 but only discovered his autism two and a half years later when he suffered a series of seizures. "Holding my convulsing baby, and he tried to breathe, from that day on, I was not who I was before," she recalled.
Following her divorce, the former "Playboy" star entered into a fun-loving relationship with Jim Carrey that lasted five years. In 2007, McCarthy revealed that the actor was someone she could depend on when it came to her son.
"He has been through it all with me," she said. "He's so good with him. [He's] opened his heart and the relationship is great." But like all breakup stories, there was a side that the public did not know of, which may have contributed to their split.
The pair announced the end of their relationship on social media, but even with their situation, Evan continuously looked for Carrey,
Sadly, despite many attempts to invite the "Bruce Almighty" star to visit, he did not. Some speculated that Carrey's depression may have played a role in their breakup, yet the pair confirmed nothing.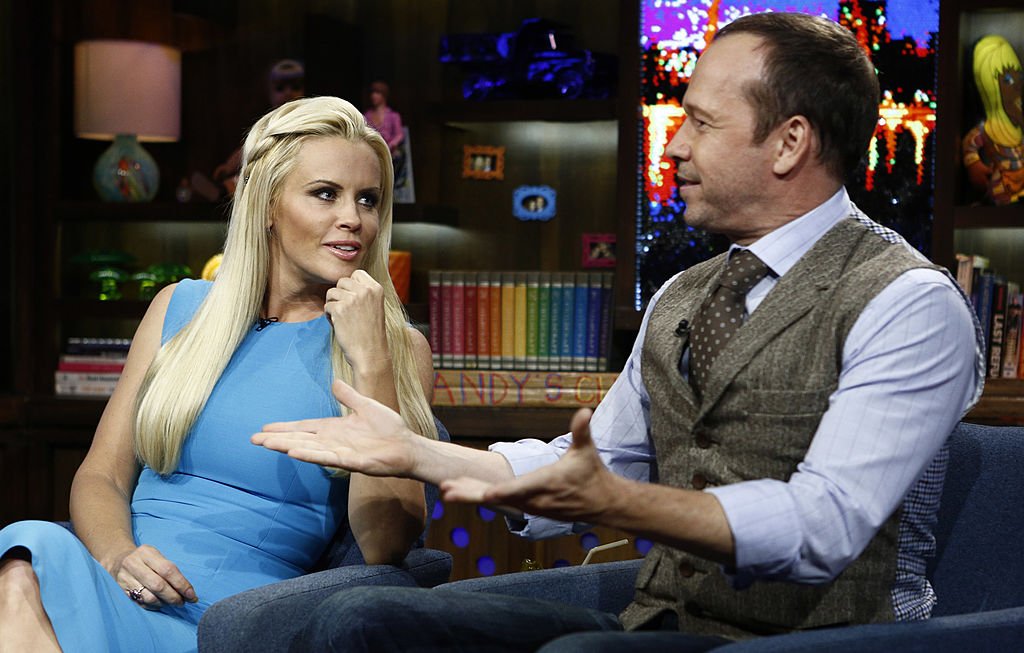 Jenny McCarthy and Donnie Wahlberg during "Watch What Happens Live with Andy Cohen" Season 8. | Source: Getty Images
WAHLBERG AND MCCARTHY'S LOVE STORY
Two years later, in 2012, McCarthy met Wahlberg during an appearance on "Watch What Happens Live With Andy Cohen." Although the host asked Wahlberg to ask McCarthy out, he did not.
It took an entire year for the couple to meet again at "The Jenny McCarthy Show" and another two weeks for the singer to ask her out. McCarthy said:
"I went a year without dating anybody, so I don't know if I was really randy or really ready, but he was there, and I gave him my phone number."
An insider confirmed that the pair were happily dating and celebrated that 4th of July together with friends.

The pair knew the risks of dating, given their relationship history, but still gave love a chance. "Before I met Donnie, it was really difficult," McCarthy admitted. "Being a single mom is so difficult, and then being a single mom with [a kid] with special needs adds another whole difficulty to the basket."
In April 2014, Wahlberg proposed, to which McCarthy happily gave her "Yes." The "Blue Bloods" star made it even more special by including Evan in the proposal. Evan's role was to take out cards that spelled "Will you marry," while Wahlberg came out in a shirt that said, "Me."
"Of course, I said yes. In that moment, Evan yelled, 'I have another dad!' and it made all of us cry," McCarthy said. "I feel like the luckiest girl in the world. He's so wonderful."
EXCHANGING WEDDING VOWS
In August 2014, Wahlberg and McCarthy tied the knot in a beautiful ceremony outside Chicago. The ceremony was magical, with an altar decorated with thousands of red roses and white candles.
The bride looked stunning in a Di Santo corset gown, while the groom dressed in a black Reiss tuxedo. The couple exchanged wedding bands to seal the deal, with the actress adding a diamond band to her 10-carat sapphire engagement ring.

Then 12 years old, Evan played a unique role in the wedding as he walked McCarthy down the aisle and gave her away to his new stepfather. McCarthy narrated:
"He came up to me and said, 'I have the most important job at the wedding,' and I said, 'You do,' and then the time came where he walked in the door in his little tuxedo. Donnie helped him get dressed […]."
The couple has since renewed their vows every year as a reminder of each others' unconditional love and commitment. "It's so nice to take that moment when you're so busy to remember those words that you say to each other and the vows and the promises," McCarthy said.
THE COUPLE'S BEAUTIFUL CHICAGO HOME
For the past years, the couple has been living and raising their children in a five-bedroom home located in St. Charles, Illinois. It was the first residence they looked at and instantly fell in love with. McCarthy, who grew up in Chicago, said:
"It resonated like home. Even though the decor wasn't us, I felt an energy telling us this [was] where we're supposed to be."
The pair liked the quiet neighborhood in the city's suburbs and knew it was the right place to raise their kids. They have since renovated parts of the home, making the style suit their preferences more in black and white tones.
Wahlberg and McCarthy's home includes a piano room with ample space and an eye-catching painting of an angel's wings. It is also decorated with picture frames that remind them of their marriage and beautiful memories.
The room also has an impressive entrance to McCarthy's sewing room, complete with different sewing machines and mannequins.
Interestingly, the couple's designer crafted the leather doors with knobs shaped with a "D" and "J," representing the pair's first names.
Already in her 50s, McCarthy revealed that she wants to dedicate all her time and energy to her husband and their family while enjoying their later years in life.
The couple's kitchen has hints of gold with neutral colors. It features a black dining table, a large center island, and an organized pantry room. McCarthy credits John Wolf for designing every detail of their kitchen.
Another exciting feature of their home is Wahlberg's office, which sits behind two Louis Vuitton custom doors. The room has several framed jerseys, photos, and records. He said:
"This is my whole life and career – there's records and American Music Awards and stuff, but I think that the things that are most important to me are the personal things by our fans."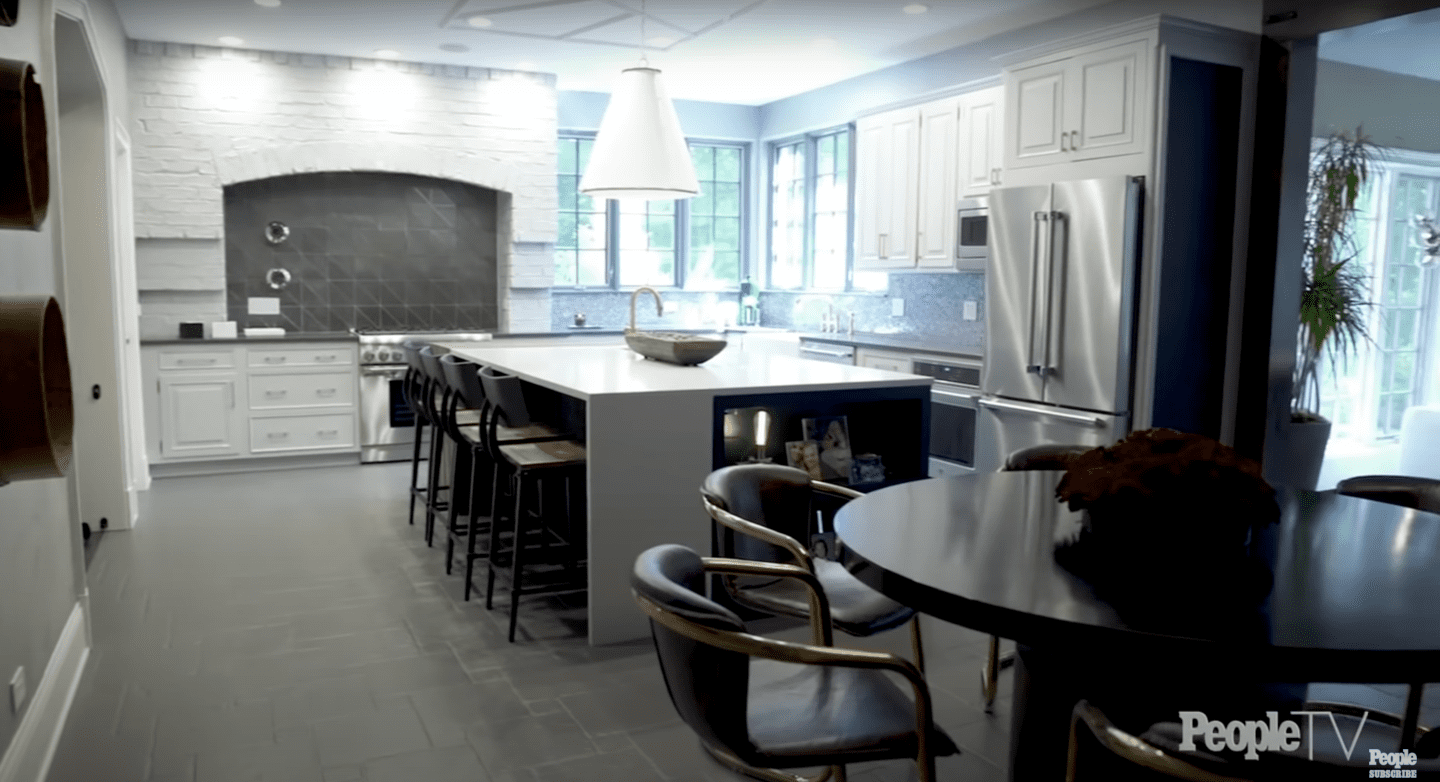 Inside Donnie Wahlberg and Jenny McCarthie's home, Chicago, Illinois. | Source: YouTube/People
The couple also has a small dedicated spot called the "Blondie's Bar," where they store alcoholic beverages to unwind during a long day.
RAISING EVAN TOGETHER
While raising their blended family, Wahlberg deepened his relationship with Evan, describing him as an affectionate type with whom he has a great relationship. "I get all these amazing ways to connect with him that I don't get with my son," he said.
Donnie Wahlberg and Evan Joseph Asher at Dick Clark's New Year's Rockin' Eve 2017 at Times Square on December 31, 2016 in New York City. | Source: Getty Images
Evan also gets along with his stepbrothers, especially Elijah, who is a year older. According to the songwriter, Elijah has a positive influence on Evan. Meanwhile, McCarthy remains grateful that her husband came into their lives. She said:
"I'm most thankful for his unconditional love, and not only for me though, to my son. Any single mom that knows our story can understand that because I think that's one of our biggest concerns."
Although happy raising their children, the couple has no plans of adding to their brood. Already in her 50s, McCarthy revealed that she wants to dedicate all her time and energy to her husband and their family while enjoying their later years in life.