Dr. Oz, who went from being a TV personality to a political candidate, is a doting grandfather of four who prefers to live quietly, away from the scrutiny and criticism of public life at his family farm.Dr. Mehmet Oz, who came to fame as a health consultant on "The Oprah Winfrey Show," is a cardiothoracic surgeon of Turkish-American descent.
He stepped forth from Oprah's shadow to debut his talk show called "Dr. Oz" in 2009 and built a fan base according to his own beliefs and appeal.Dr. Oz has been married to Lisa Oz since 1985, and they have four children together—Daphne Oz, Oliver Mustafa Oz, Zoe Yasemin Oz, and Arabella Sezen Oz. Their firstborn, Daphne, is married to John Jovanovic, a financial analyst, and they have four children, of whom the TV doctor is a fan.
In 2015, the surgeon faced a phalanx of fellow physicians demanding his dismissal from Columbia University. Oz is a director of the Integrative Medicine Center at the school and was involved in its origin in 1994. Speaking of his wife Lisa, who stood by him through it all, Oz said:
"She's the best, she rubs my head. She gives me ideas. She calms me down, because you know the perspective around a lot of these things is important. You've got to realize that you're gonna have good times, you're gonna have bad times, and that's just life."
Oz's friend, Oprah, who had experience with naysayers and critics, also encouraged Oz not to take criticism personally. It is a fact of life that not everyone will like or agree with you at any given moment. Sometimes criticism results from operating on a scale that can make you a target.
The couple keeps their love vibrant by regularly renewing their relationship. Dr. Oz believes every relationship, whether married, professional, or platonic, needs a reboot every seven years. So even though he and Lisa have been married for 37 years, it feels like being married to five different women.
Raising children is an example of a significant life change that transforms individuals and couples alike.
According to the Oz's playbook, the bottom line is to let go of the past and accept life's changes. It also means giving your partner the space to evolve and welcoming the new version of your significant other.
Taking Care of Four Grandkids
Having children is an example of a significant life event that transforms individuals and couples alike, prompting the need for renewing the relationship. Having grandchildren is an entirely different experience. Speaking to his daughter Daphne after the birth of her firstborn Philomena, Dr. Oz said:
"The most important part is that I can give her back. I remember when you guys were all young. There'd be that moment when you're just about to break. But now I don't have to have that because I only see her in those cute, beautiful moments when she's awake, bathed, clean and lovely like this."
Being a grandfather, Dr. Oz enjoys watching his daughter navigate the new stage in her life. And with his grandchildren, Oz can relive the wonder of looking at the world through a child's eyes without the stress of being their full-time caregiver.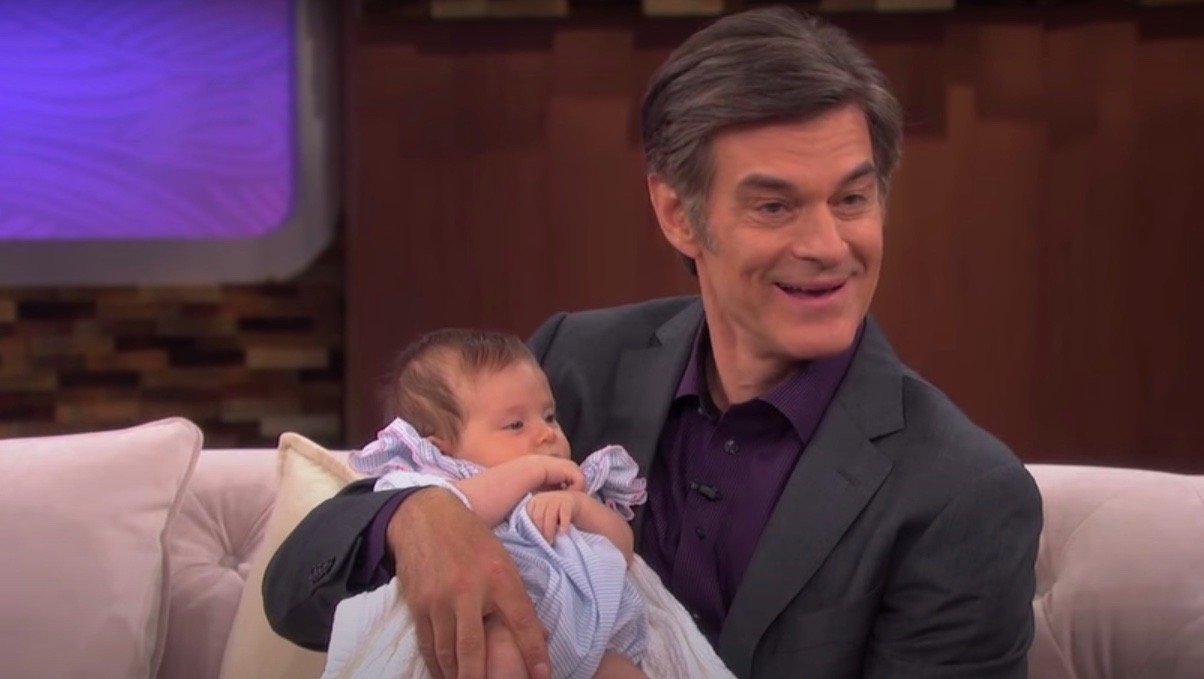 Dr. Oz and his granddaughter Philomena on the set of the Dr. Oz show | Source: YouTube/@DoctorOz
Now Philomena is eight years old and has three siblings: Jovan, 7; Domenica, 5; and Giovanna, 3. They keep their doting grandpa fit by playing with him. Oz says his grandchildren like to spend time with him because they have a lot of fun together swimming, running around, and dressing up.
"The Oprah Winfrey Show" earned Oz the title of "America's doctor."
Getting hugs from his grandchildren is one of his favorite things. But Dr. Oz also likes to spoil them, seeing it as "appropriate payback" to his adult children. He finds it hard to say no when his grandchildren ask for junk food and sweet treats, and at the end of the day, he sends them back to their parents.
Enjoying Life on a Ranch
"The Oprah Winfrey Show" earned Oz the title of "America's doctor," but some of his peers and viewers felt that he was straying from the principles he had studied and taught for many years. Speaking about his experience when psychic John Edwards visited his show, Oz said:
"Let me tell you, it changed my life! I've learned in my career that there are times when science just hasn't caught up with things, and I think this may be one of them."
In the latter part of his time on TV, he increasingly recommended unconventional treatments like meditation, hypnosis, and acupuncture. He invited controversy by partnering with producers of weight loss, fertility, and diet programs that had no basis in science.

Besides courting controversy in the medical field, Dr. Oz attracted a new set of detractors when he decided to run for the United States Senate. He wanted to offer solutions to the people of Pennsylvania, but his opponents pointed out that he couldn't possibly relate to the locals since had been a resident of New Jersey for more than 30 years.
He and his wife bought a 34-acre farmstead in Pennsylvania's Montgomery County in 2020 and began renovating the 7,300 square-foot house that sits on the estates. He also purchased a farm in Okeechobee, Florida called Emerald Oaks. A secluded farm would be the perfect place to retreat from the critics and spend time with family.
He may not have won the senatorial battle, but the doctor isn't "out" yet. He likes living and promoting the good life. And to him, that means supporting organic farmers so that the public can access fresh and nutritious food.
Dr. Oz remains committed to his ideals and his family. He and his wife, Lisa, have built a good life over the past 37 years, raising four children and working on various books together.