Dustin Hoffman's son, Jake Hoffman, is the spitting image of him and follows in his footsteps. Jake was named a "fighter" when he was born. The younger actor opened up about his relationship with his father and how he once made him cry.
Dustin Hoffman and his wife, Lisa Hoffman, tied the knot in 1980. A year late, at age 25, Lisa graduated, and three weeks after taking the bar exam, she welcomed their first son, Jake Edward Hoffman.
In 2007, Lisa revealed how her son was born critically ill with Hyaline membrane disease and a month premature. The condition saw the baby's lungs needing treatment due to not being fully formed.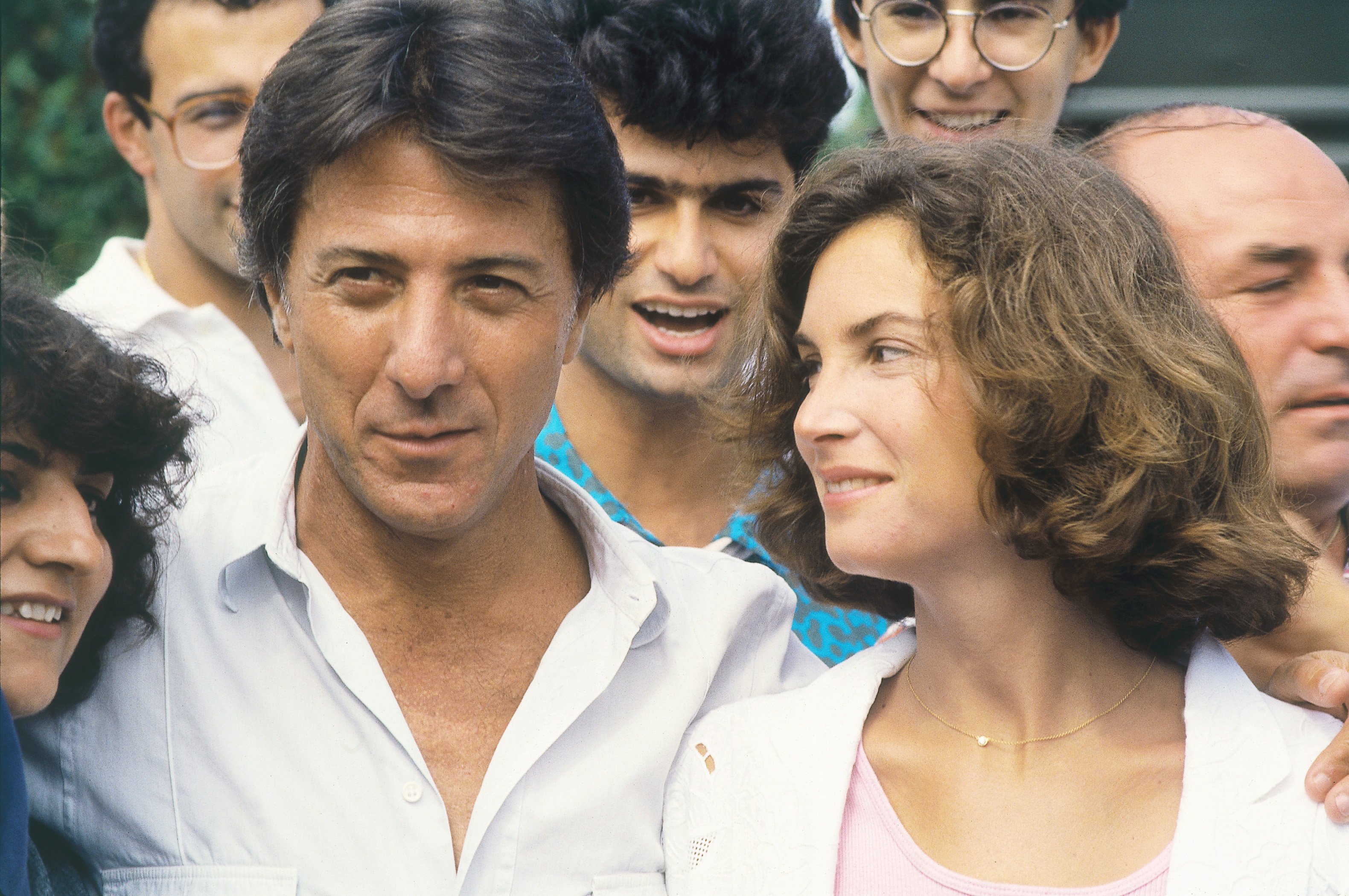 Dustin Hoffman and his wife Lisa Hoffman in the 1980s | Source: Getty Images
Dustin's wife said smothering became her focus, and she and the star welcomed three more children: Becky, Max, and Alexandra. The actor traveled the world with his family, and his two children from a previous marriage, Jenna and Karina, joined.
Lisa said she and her husband had "traditional" values, and it was important for the star that his family was together, and for him and his wife, that was the point of marriage. Jake, his father's lookalike when the actor was younger, followed in Dustin's career footsteps.
He was probably the most well-known of all his children. However, his birthing circumstances led to him earning a badge of honor that he and his parents have never forgotten.
Why Is Dustin's Son Jake Described as a "Fighter"?
In 2015, Jake revealed how he'd struggled with life-threatening health issues from birth. The Oscar Award winner's son recalled how doctors thought he wouldn't make it when he was born on March 20, 1981.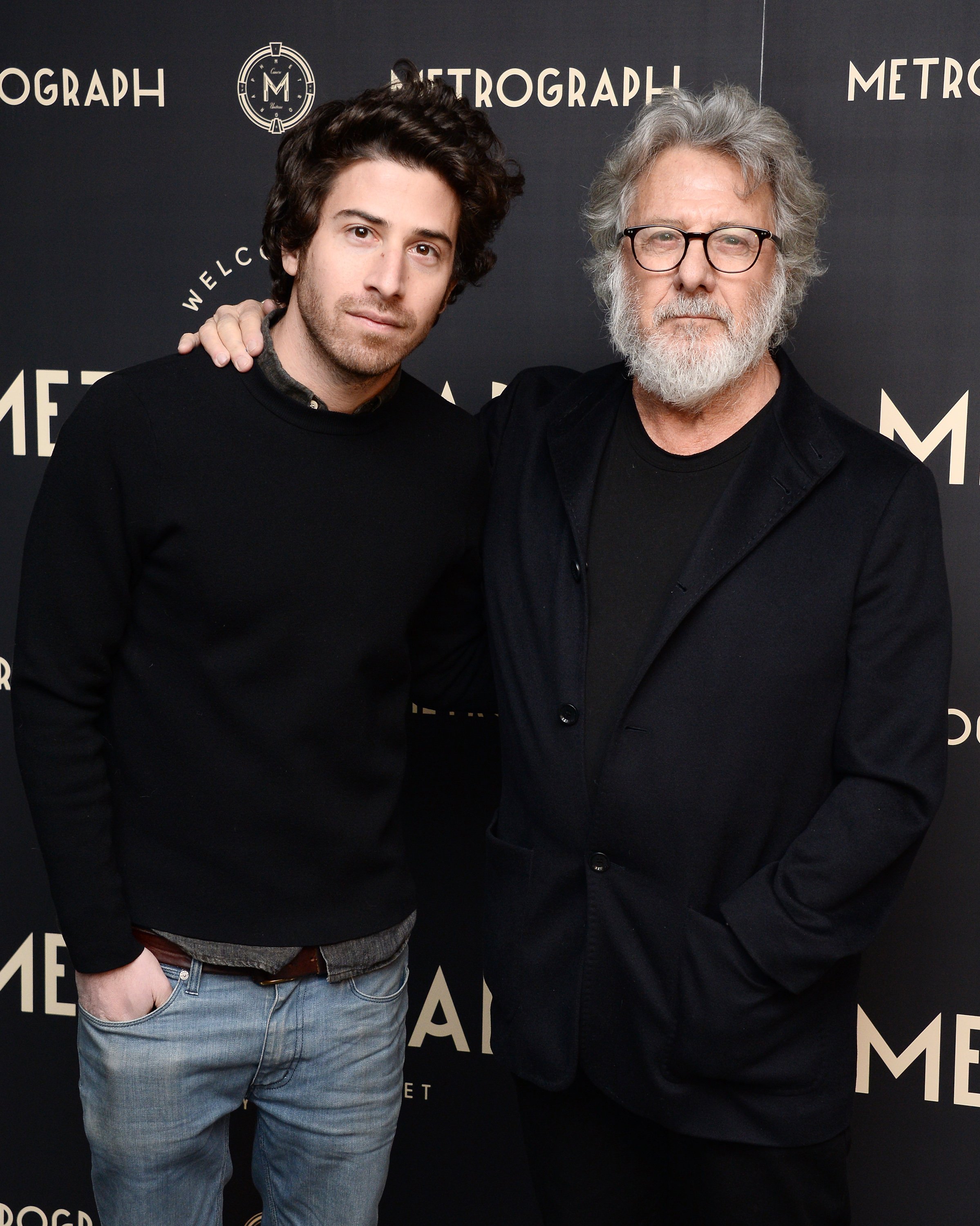 Jake and Dustin Hoffman at the Metrograph opening night on March 2, 2016, in New York City | Source: Getty Images
The star's son explained how he was born through an emergency cesarean section a month early. His lungs hadn't fully developed, but when he pushed through, the doctors said:
"I was a fighter."
Jake's survival inspired his parents to name him after Jake LaMotta, the boxer from the film "Raging Bull," one of his favorite movies. He ended up following in his father's career footsteps as an adult by becoming an actor and a director.
Jake [Hoffman] jokingly mentioned how he was able to get some revenge!
He's starred in 2013's "The Wolf of Wall Street," 2019's "The Irishman," "Click," and 2022's "Sam & Kate." His directorial debut came in 2014 when he worked on "Asthma," but he started sharing the spotlight with his father from a young age.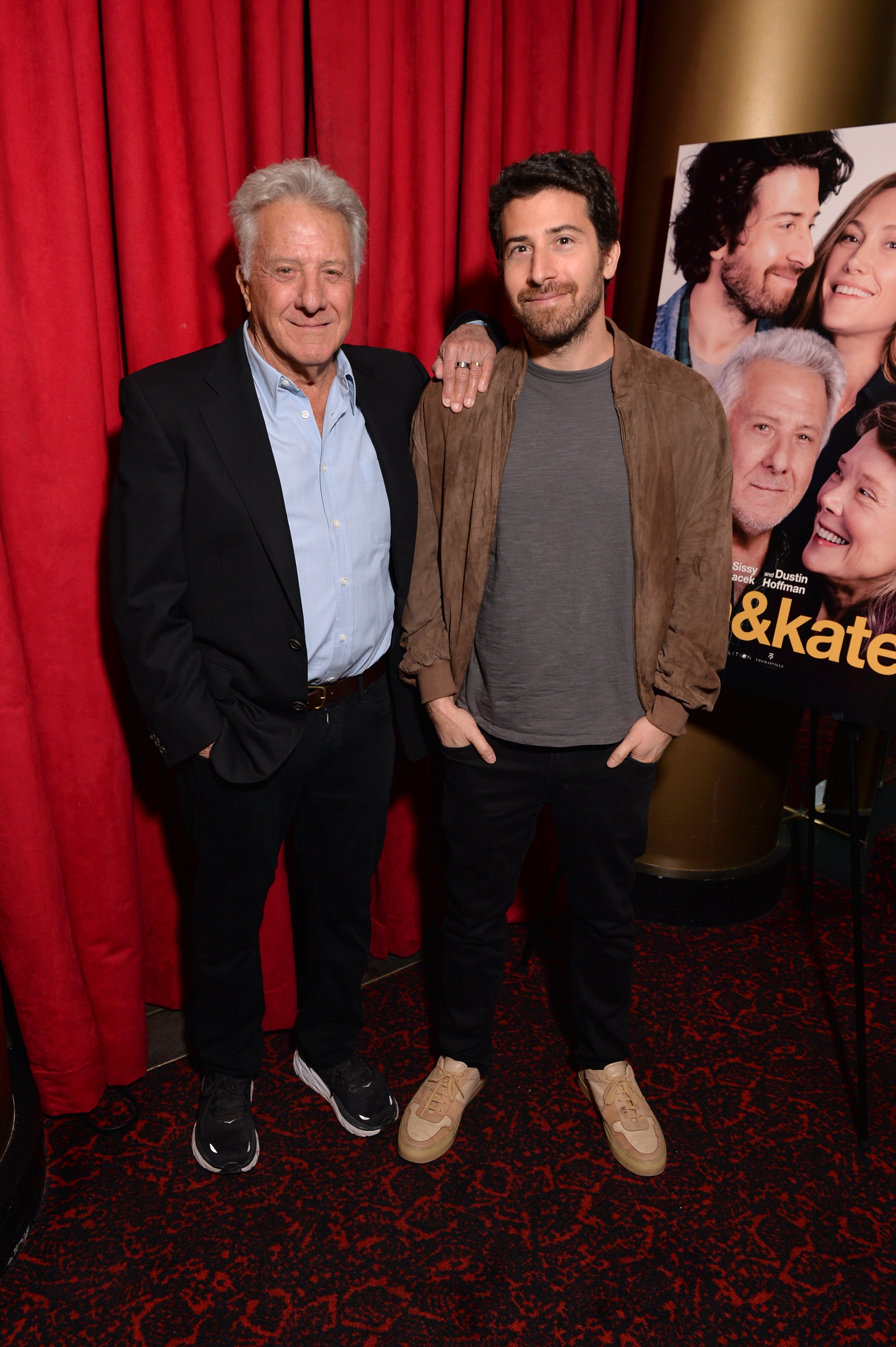 Dustin and Jake Hoffman at the "Sam & Kate" Los Angeles screening on November 17, 2022, in Beverly Hills, California | Source: Getty Images
Jake once featured alongside Dustin in "Hook" and "Rain Man." In November 2022, the star made a rare appearance in Los Angeles with his father while out for dinner, and they signed autographs for fans, showing how bonded the pair were.
What Relationship Does Jake Have with His Father?
Jake once confessed that he was close to his father, who had always supported his work. Dustin's son admitted that "I have a great dad; I've learned a lot from him," adding:
"Both of my parents have been influences in my life."
In November 2022, the younger Hoffman confessed to having "so much respect" for his father as a parent and an actor. Jake said when he was in high school, an anniversary screening of his father's movie, "Midnight Cowboy," was done.
He hadn't seen the film and didn't know what to expect but ended up embarrassed because he cried throughout it. Jake recalled people looking over at him and could see he was with Dustin.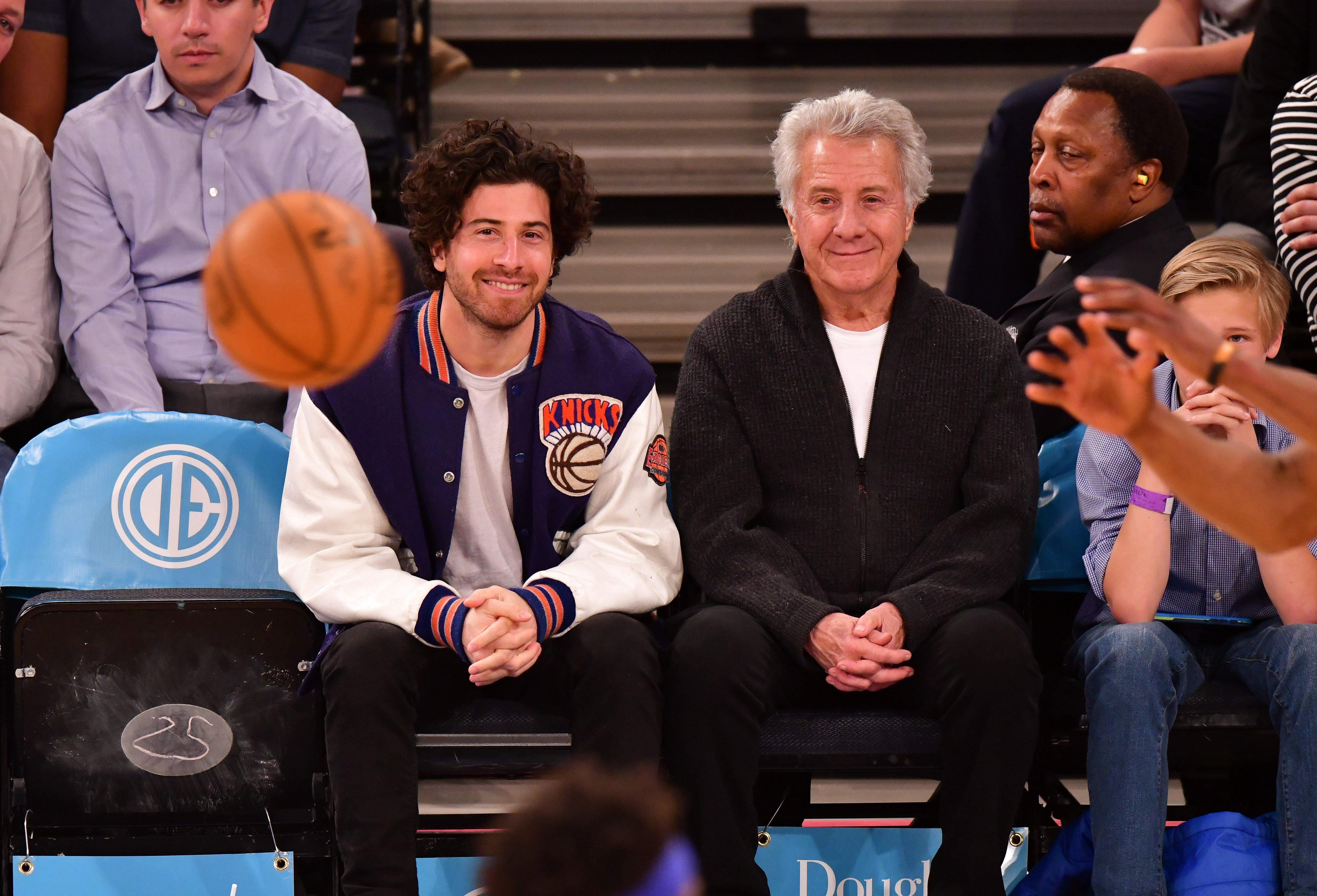 Jake and Dustin Hoffman at the Detroit Pistons v New York Knicks game on April 10, 2019, in New York City | Source: Getty Images
However, when "Sam & Kate" was screened in Austin, Texas, the younger Hoffman was able to make his famous father cry a little in the theater. Jake jokingly mentioned how he was able to get some revenge!
In the movie, Dustin played his son's onscreen father. In July 2017, Lisa opened up about her relationship with her husband and mentioned what had kept their marriage going for so long, saying:
"We work hard at it. I knew I was going to end up with Dusty, and that my life would be traveling around with him."
In 2023, the couple would be celebrating their 43rd year of marriage, and the duo was still going strong! We wish the Hoffman couple many more happy years together with their children!