Eric Robert is almost inseparable from his wife, Eliza Garrett. The pair have been together through some rocky times in their marriage and his sterling career, but there was a time when Garrett wouldn't even be with Eric because she thought he was gay.
Eric Roberts had it good from the start of his Hollywood career that began in the 70s. The star's first movie appearance was in "Runaway Train," and it earned him three Golden Globe nominations.
There was no going back from here as Eric further appeared in more blockbusters like "King of the Gypsies," and "Star 80." Towards the peak of his career, Eric experienced a life-changing dip that threatened the foundation of all that he had built as a successful actor.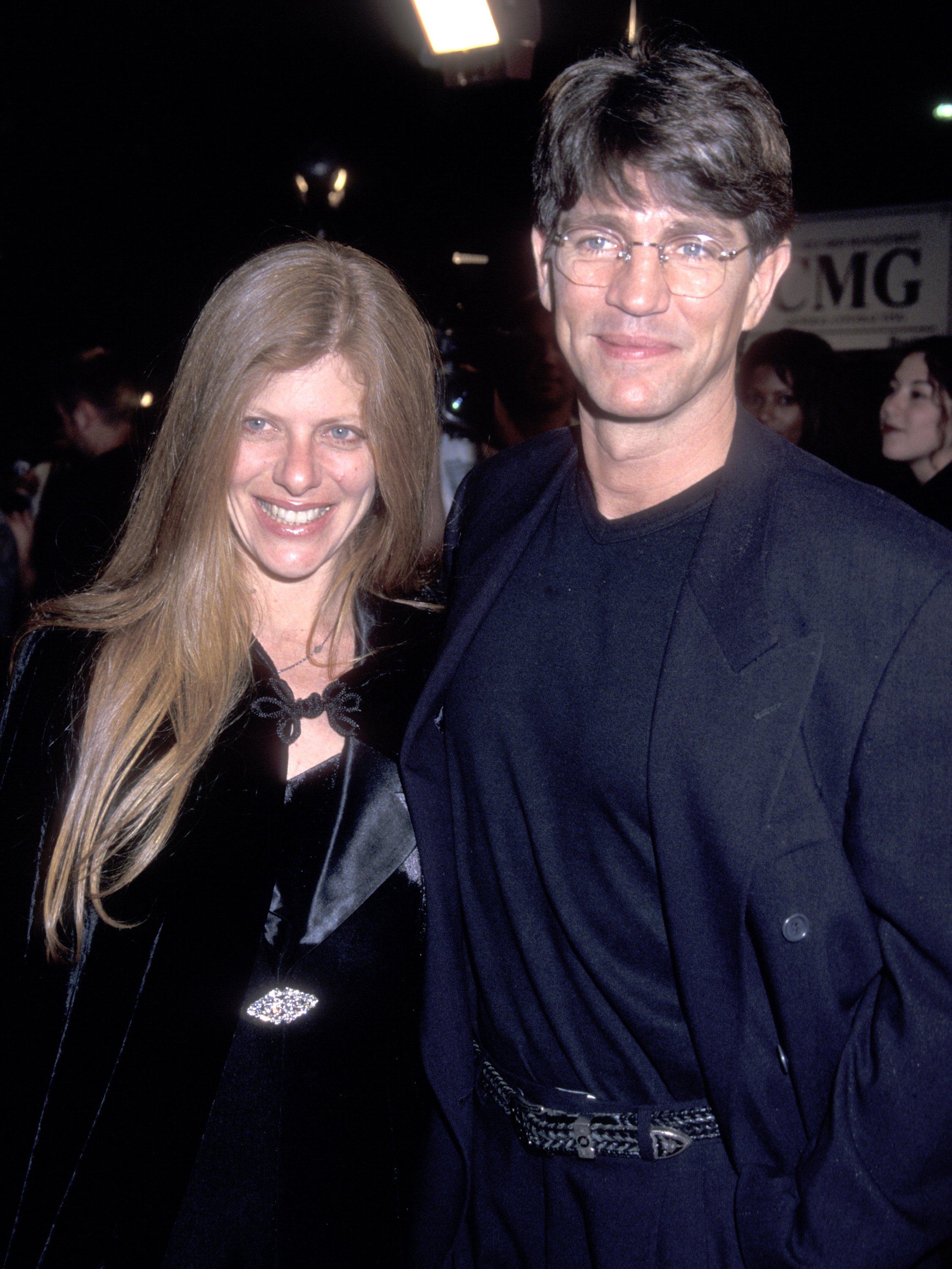 Actor Eric Roberts and wife Eliza Roberts at the 'Analyze This' Westwood Premiere on March 1, 1999 at Mann Village Theatre in Westwood, California. | Source: Getty Images
The star crumbled to the wiles of drug addiction, but a resounding jolt from his wife made the difference. Here's a look through the troublesome years, the refreshing presence of his wife, and enduring marriage.
HOW ERIC ROBERTS MET THE LOVE OF HIS LIFE
Eric Roberts and Eliza Garrett met on a plane en route to Los Angeles from New York. The two had been seat partners, but that didn't quite do the magic. In an interview with Lifestyle Magazine TV, the couple explained how they got to know each other.
Robert joked that his wife did not like sharing the story, but they had been reading movie scripts on the plane. The Hollywood veteran stated that he and Garrett closed the scripts simultaneously, creating a chasm for them to have a conversation.
Amid their brief discussion, the pair found out they had more in common. Eric also discovered that his favorite scriptwriter, David Rayfiel, was Eliza Garrett's dad.
Garrett intercepted, stating that she "didn't even want to talk shop," but the past weekend had been a huge one for Eric due to his Oscar nomination. She added:
"So there were all these strange connections. . . . But I thought he was probably gay because he was very pretty and had a cat on his lap named Tender."
Garrett gushed about her husband's sex appeal and how it had thrown her off at first. She shared in the interview:
"He's had the bad-boy image from age 19 to 59, and still the crush-worthiness of him spans generations and genders."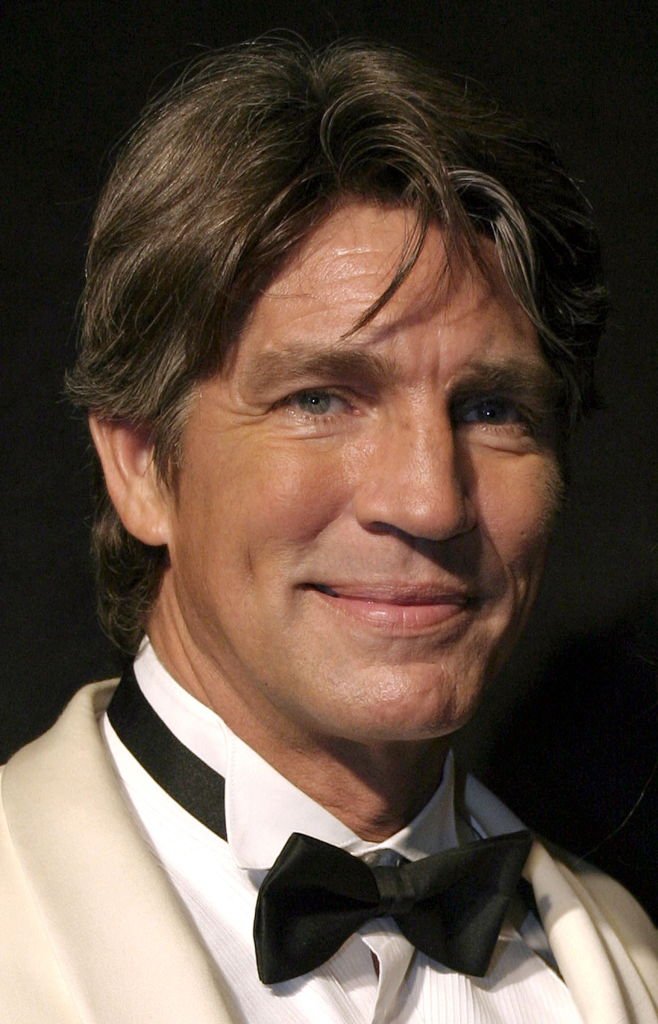 Eric Roberts on December 17, 2004 in Hollywood, California | Source: Getty Images
Eric's bad-boy image did not deter Garrett from building a beautiful relationship with him. Six years after their "love at first script" introduction, the Hollywood stars tied the knot. Eric and Garrett were married on August 11, 1992.
GARRETT STOOD BY HIM IN THE DARK TIMES
Eliza Garrett is Hollywood royalty by virtue of her movie executive dad. The star herself grew up to own a career in the industry. She is a casting director and actress known for movies including "Tasmanian Devil," "Dr. Who: The Movie," and "National Lampoon's Animal House."
Garrett, who was previously married to James Simons, has been a supportive wife to Eric Roberts since their wedding 30 years ago. She was also by his side when he witnessed a rather bleak period in his career.
Eric got to a point where he became addicted to drugs. He explained to Vanity Fair that drug use was rampant on the set of movies, and he sunk deep into the clutches.
The effects started telling on his career, and Eric became a "pothead." Garrett watched her husband slip away, but she jolted him to reality when she asked him to choose between her and "coke."
The drug use eventually reached a breaking point when Eric totaled his car in an accident. The star was in a coma, and his speech and walking were terribly affected when he came around.
It took two months for Eric to become himself again, and all the while, Garrett did not leave his side. Despite picking himself up, Eric's career took the fall. He stopped receiving casting calls and had to rely on B movies.
With his wife's encouragement and unwavering support, the "Best of the Best" actor starred in several movies numbering up to 70 films. However, Eric became the butt of the joke due to his decline to B movies.
This was a difficult period in his career, but Garrett encouraged him. With her words, Eric continued working as he soon rounded up 250 movies. This consistency turned him from a joke into an actor that could excel at any role.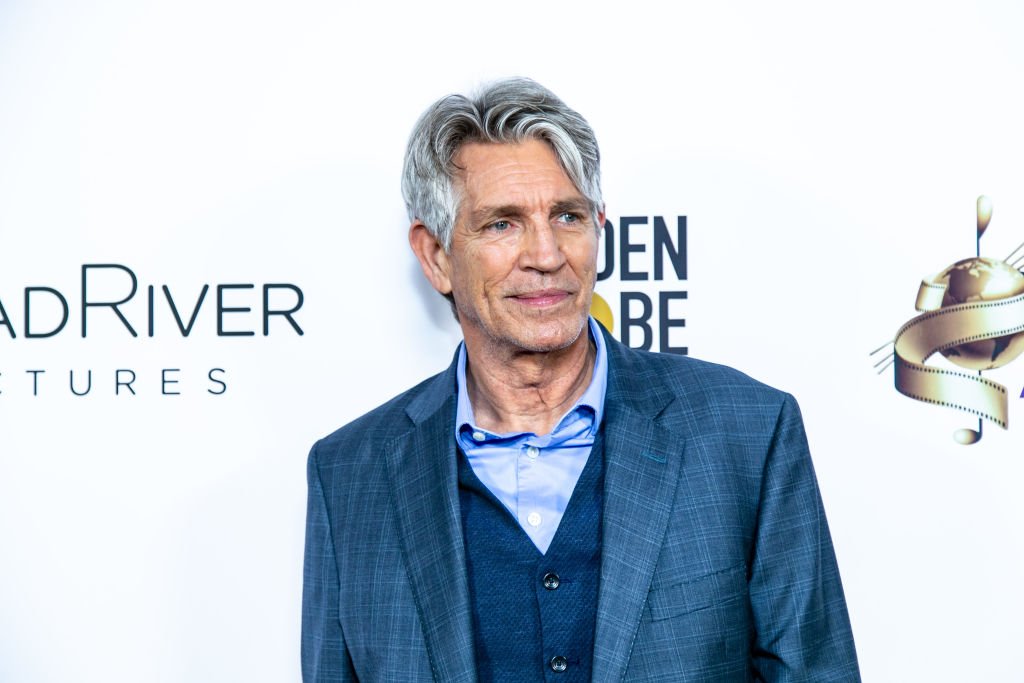 Eric Roberts attends the closing night gala of the 22nd Arpa International Film Festival at the American Legion Post 43 on November 10, 2019 | Source: Getty Images
INSIDE THEIR ENDURING MARRIAGE
It's been three decades and counting for the couple in their enduring marriage, and Eric still feels the same way he felt from the very first day. Once in an interview with Closer Weekly, the star shared how inseparable they were. He explained:
"I was on a trip for only three days and I thought, 'God, I hate being away from her!' I can't stand it, because I got old with her, this is my roommate, my pal, my confidante, my manager, the girl I kiss."
Speaking about the secret to the union, Eric mentioned honesty and great sex life. In another interview, Garrett attributed their great marriage to good communication and the fact she and Eric worked together.
ERIC AND GARRETT RUN A BLENDED FAMILY
Eric and Garrett do not have kids together, but the pair are parents from older relationships. Eric is dad to Hollywood star Emma Roberts whom he had in his relationship with Kelly Cummingham.
Emma grew up with her mother but had a close-knit relationship with her father's family. She would often go on movie sets with her aunt, Julia Roberts, and that's how she nurtured her acting career.
Garrett's marriage to James made her a mother to two kids, Keaton and Morgan Simmons. According to his Instagram bio, Keaton is a musician and the lead guitarist for Brett Young Music.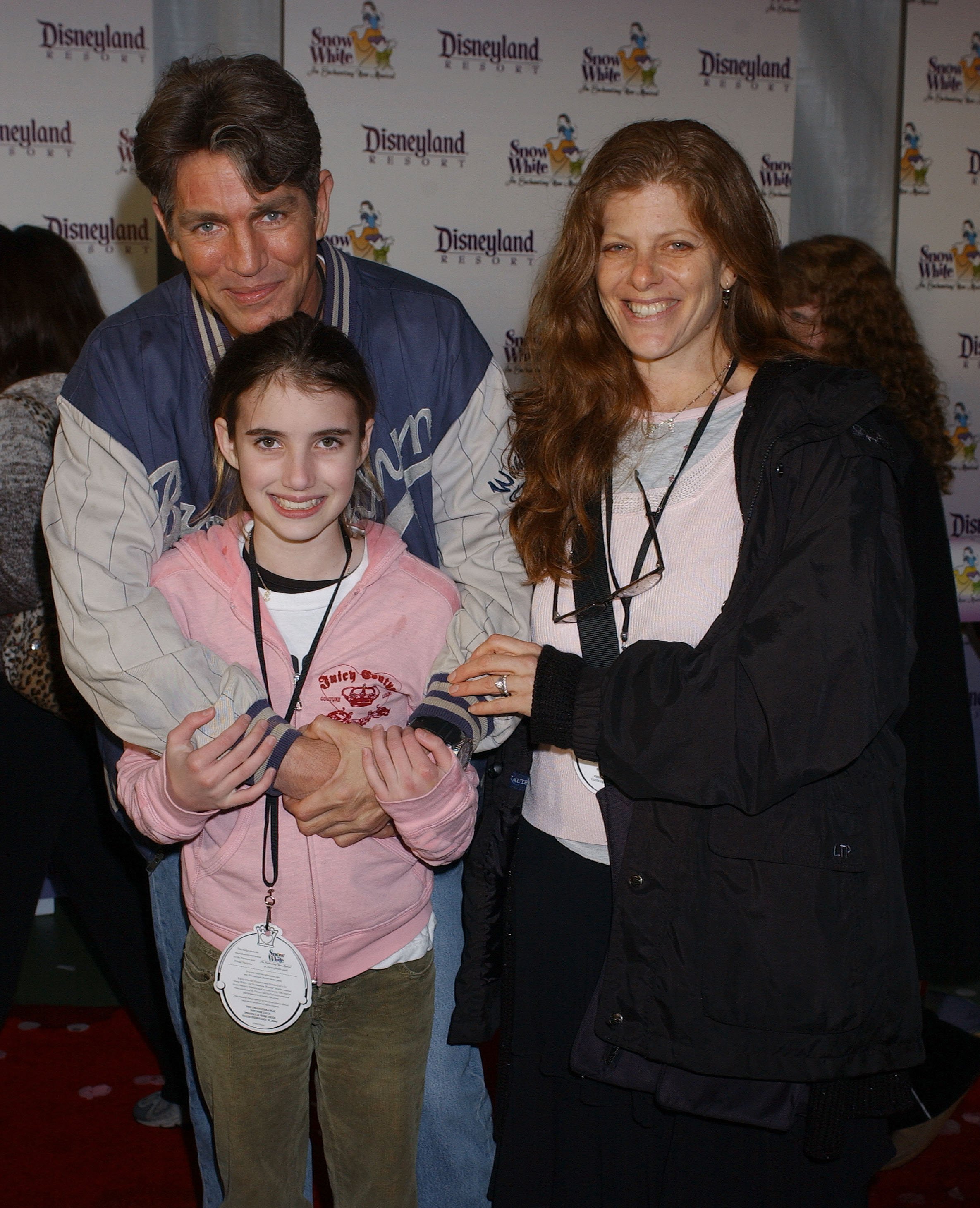 Eric Roberts, his daughter Emma, and his wife Eliza during "Snow White – An Enchanting New Musical" Premiere – Arrivals at Fantasyland Theatre at Disneyland in Anaheim, California, United States. | Source: Getty Images
Keaton also works as a producer and film composer. His sister, Morgan, is a culinary expert who owns a bakeshop called Pi Bakeshop. According to the website, Morgan completed her culinary education and established a catering company.
The blended family of Eric and Garrett also includes the love and influence of aunt Julia. Eric himself loves and believes that Garrett's kids are his. He once attested:
"They're both such Robertses. You know?"
The doting stepdad fawned over Morgan and Keaton as he promoted their business and music career. He displayed his fondness, noting that he loved how much they looked alike.
Eric and Garrett have come a long way as a couple in the spotlight. With 30 years of marriage between them, the couple has realized how being each other's partner was invaluable.