On average, the typical marriage in the United States lasts just eight years.So when a couple's love story and their commitment to each other spans several decades, there's a reason to celebrate.
Frank and Tommie Otway recently celebrated 80 years of marriage!The couple who live on their own in Orange City, Florida met when they were teens living in the same apartment building in East Orange, New Jersey.
They never looked back.
"Well it all started in East Orange, New Jersey and here we are in Orange City ending it up," Tommie told FOX 35 Orlando.
The couple first met when they crossed paths in a New Jersey apartment building they both lived in. One of their first dates included a trip into New York City where Tommie said, "He would buy me a 5-cent orange drink and a 10 cent hot dog."
On February 6, 1942, an 18-year-old Frank and 16-year-old Tommie eloped.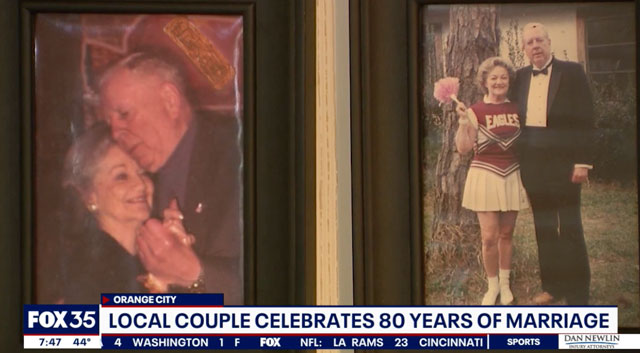 Screenshot
Before the couple started their family, Frank served in the U.S. Marines.
They had five children, all whom have since died.
"We had our precious five children, but the Lord thought they were more precious and he took them to be with him," Tommie said.
They currently have more than 20 grandchildren and great-grandchildren.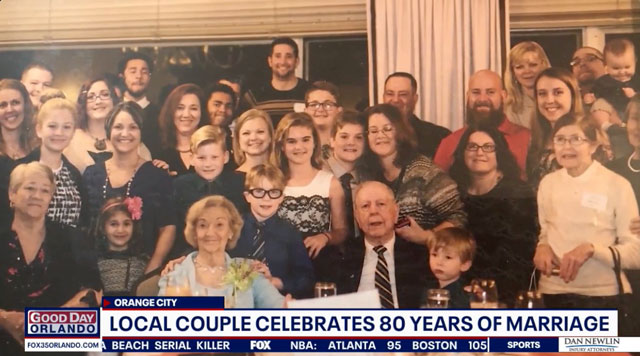 Screenshot
So while so many marriages don't make it to the 10-year mark, how did Frank and Tommie survive to be one of the longest marriages?
Four words have kept their relationship intact over the years.
"Christ, we have to have Jesus in our lives, and I say commitment," Tommie said.
They also believe in communication and compassion.
The couple celebrated their 80th wedding anniversary with a party at a local restaurant. Their next celebration will be in March when Frank turns 99!