Goldie Hawn and her husband, Kurt Russell, have been together for 40 years, and they successfully built a close-knit family while still being the longest-standing love birds in Hollywood. Even though their kids are older now, Hawn still loves to cook them a big breakfast.
Goldie Hawn is an all-around entertainer. She built a successful career as an actress, singer, and producer. As an actress, she was loved for playing the shy and innocent roles in comedies.
The actress was married to musician Bill Hudson, and together they had two kids, Oliver Hudson and Kate Hudson, both successful Hollywood actors. She also has two more kids with her husband of 40 years, Kurt Russell, Boston, and Wyett.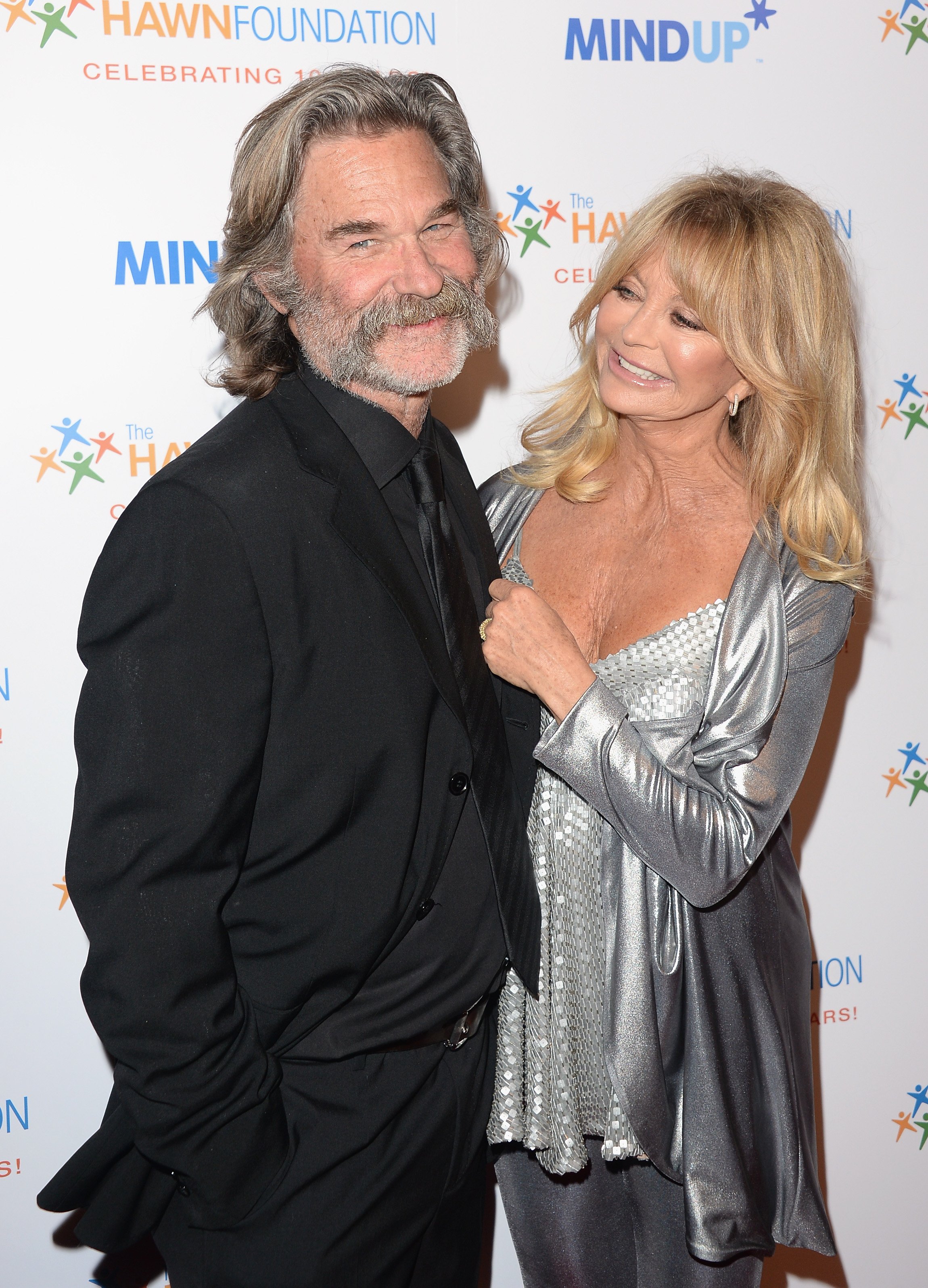 Kurt Russell and Goldie Hawn in California in 2014. | Source: Getty Images
Goldie Hawn Almost Lost Her Firstborn Son
Hawn's firstborn, Oliver, arrived in 1976, but his birth was one of the most traumatic events in her life. The actress shared the story on Kate and Oliver's podcast, "Sibling Rivalry."
She said her baby boy was delivered with a cesarean section, but she was not allowed to see him because she was told he had a 40% chance of surviving.
Hawn was terrified, especially as a new mother, and seeing the doctor looking upset only made her feel worse. But her doctor tried his best to be positive, and Hawn did her best to do the same. Eventually, the doctor confirmed that Oliver would be fine; but Hawn admitted she was still scared to see him.
Firstly, she feared holding her baby boy, connecting with him, and having him lose his life. But none of those worries became a reality; Oliver is a grown man with a wife and children.

Kate was welcomed in 1979, but since 1983, the Hudson siblings have had their mother's husband, Kurt Russell, as a father figure. Hawn's marriage with Bill ended in 1982 after he was reportedly sent pictures of her with another man.
Bill said that Russell quickly became part of his children's life which affected his relationship with them. Russell asked the kids to call him "Pa," and he and Hawn's started to connect their family.
Russell and Hawn have four children altogether, and for the past 40 years, the couple has built a close-knit family and remained one of the long-standing love birds in the entertainment industry.
While Kate and Oliver came from a famous family, they said they had a normal childhood behind closed doors, even though it might have seemed their life was all glitz and glamour.
But their parents came from humbling beginnings, so they made it a priority to instill values in their children. Now that Hawn and Russell have the kids out of the house, they still miss them being around, but they are lucky enough to have their entire family living close by.
Goldie Hawn Still Loves Making Her Children Breakfast
Hawn is a mother with big surprises up her sleeve. It was discovered that the actress had bought a house in Brentwood, California, for $2.9 million.

The house was 4000 square feet with four bedrooms, and the actress purchased it in 2009. Years later, Hawn had filed a Gift Deed with the county, and the house now belonged to her eldest son Oliver.
Oliver has a successful acting career and has been married to Erinn Bartlett since 2006, with whom he shares three children, Bodhi, Rio, and Wilder; he can afford to live in bigger homes.
But when Oliver and his wife decided to remodel their house, they moved in with Hawn and Russell instead of renting out a place.
While having a family of five sounds chaotic, Hawn was happy to have her grandchildren, daughter-in-law, and son live with her. In fact, Oliver also loved living with his mother; he especially enjoyed his mother's breakfast which was gravy and biscuits.
However, Kate would also have loved having her brother move in because her kids would have enjoyed having their cousins around, especially because she only lived seven blocks away from Hawn, but Oliver chose mommy's house.
Eventually, it was time for Oliver and his family to move back into their house. He gave an update on his social media that his wife was happy to be back home, but Hawn was crying when they left.
When Oliver was asked what he would miss about living with his mother, he said being around his family, but mostly Hawn's amazing cooking.
Interestingly, Oliver and Kate revealed that they did not watch each other's work; Kate admitted to only watching one episode of her brother's show, "The Cleaning Lady."
Oliver also said he had only watched a third of Kate's movies. The siblings reasoned that they understood and knew how talented and deserving they were of their opportunities, but they did not see each other as celebrities.

Luckily they have their mother as their biggest fan. After Oliver moved out of Hawn's home, she gushed over how proud she was of Oliver's project, "The Cleaning Lady."
Kate said she was still trying to be the favorite child, but Oliver was continuously outdoing her. Hawn, on the other hand, believes she has no favorites and loves her children equally.