Many of us dream that we will be able to spend our last moments on earth with people who are close to us and mean a lot to us. Harry and Doreen Wilsden had similar plans but then life forced them apart…
This is the story of how true love has the power to overcome just about anything.Doreen was only 16 years old when she saw Harry for the first time. The couple got to know one another better and after a few years, they decided to tie the knot.
While Doreen held down a job as a nurse in a school in Darlington, England. Harry switched between many jobs and professions including working as a postman for the Royal Mail service to serving as a fireman for steam engines. Harry very much enjoyed switching careers.
Like most couples, they stuck together through thick and thin. They had two daughters together, Christine and Ann, and years later welcomed a grandchild; Laura.
The couple nurtured their daughters endlessly and made sure that they had everything that they needed. Harry showered attention on his two girls; always entertaining them with stories about his work.

Both their daughters had always thought of their parents together at all times so when life forced them to be apart, it was a new experience for them too.
In their sixty years together, the couple had seen it all. They had seen how technology had modernized so much that people could use the internet and smartphones to constantly stay connected to one another.
Harry caught the deadly virus at 91 years old. Before he had tested positive for Covid, the family had been planning to send Harry and Doreen to Grange Care Home in Darlington, England. They thought their ages were much too advanced to be able to take care of one another.
Things were according to plan until Harry tested positive for Covid. Harry had to isolate apart from the rest of his family.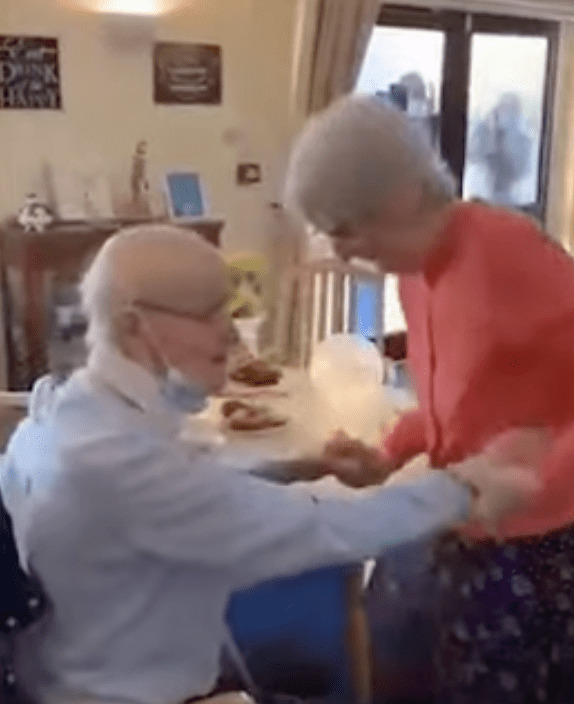 Burlington Care LTD via Facebook
Doreen went on to the care home alone while Harry was admitted to the hospital. Everyone thought the couple might not be able to see one another again because of the various restrictions that came with testing positive.
After decades together, it was tough for the couple to be on their own. They did not know whether fate would allow them to be together again.
But Harry was determined to see his beloved Doreen again. He spent time in the hospital, trying to be positive so that he could see his wife once again. And once doctors gave him the green light, Harry made his way straight to his beloved wife.

His 87-year-old wife was at Grange Care Home and had no idea her husband would be coming to see her.
A video of the couple's reunion showed the pure joy on both of their faces. Doreen is unable to believe that she is finally seeing her husband in person after 2 months.
The couple is overjoyed at their reunion. Harry holds out his hand for Doreen to hold. And Doreen is in disbelief, almost thinking she is imagining it, she says "I'm not imagining it in me?"
She leans in to hug her husband and sits on his lap. Both of them lament the amount of time they had to stay apart.