Hollywood A-lister Jamie Foxx's parents abandoned him as an infant. However, his grandparents stepped in and raised him, and he wants the same experience for his children by inviting both his mom and dad to live with them.In an interview with the Daily Mail in September 2009, esteemed actor Jamie Foxx revealed that his parents gave him away when he was seven months old.
His mother, Louise Annette Bishop, placed him up for adoption, and throughout the years, he lost contact with her and his father, Darrell Bishop, who worked as a stockbroker at the time.Foxx, born Eric Bishop, was adopted by Estelle and Mark Talley, his grandparents. When reflecting on why his parents left him, the singer said he still wonders why they wanted nothing to do with him.
"I still ask myself why they didn't want me. Maybe they weren't ready to raise a child. Was it too inconvenient? I lived just up the street from them. I'll never understand it because I know how great it feels to have a child love you back."
Foxx's grandmother played a crucial role in shaping him into one of the most prominent figures today. When he won his Oscar Award in 2005 at the 77th Academy Awards, he revealed in his acceptance speech that she was his "first acting teacher," adding:
"She told me, 'Stand up straight. Put your shoulders back. Act like you got some sense."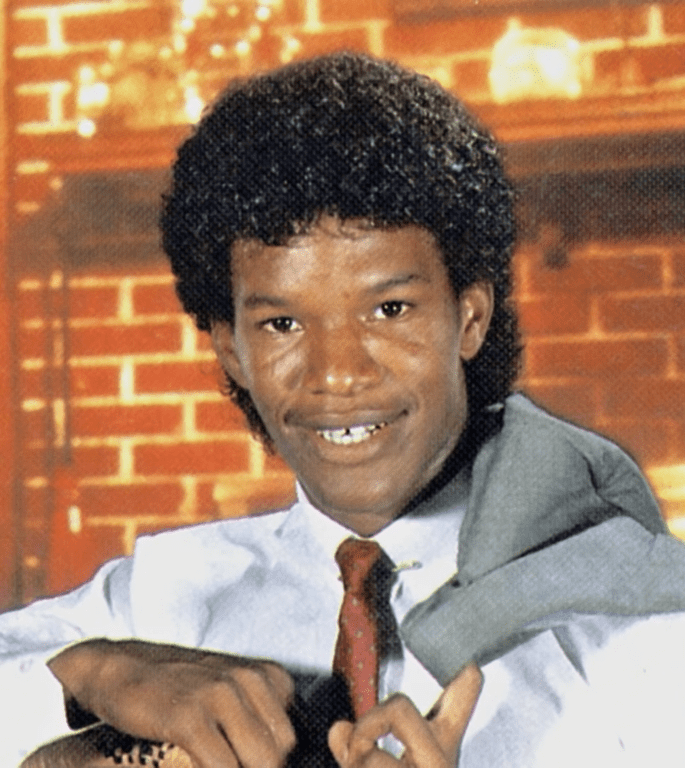 A throwback picture of musician Jamie Foxx wearing a white shirt with a gray blazer ┃Source: YouTube@TheGrahamNortonShow
"We would go places, and I would wild out, and she says, 'Act like you've been somewhere,'" Foxx explained. He also revealed that his grandma would give him a hiding whenever he became mischievous:
"When I would act the fool, she would beat me. She would whup me. And she could get an Oscar for the way she whupped me because she was great at it."
The Texas native said that after Estelle gave him a beating, she would tell him why she did it, saying, "I want you to be a southern gentleman."
Foxx said he learned a lot from his grandparent, who believed he could make something of himself. "She just viewed the world differently. She said, 'Get everything you can, learn everything you can,'" he shared.
The "Ray" star grew up in a small town, and his grandmother told him that he would eventually go "out into the world" and "make something of yourself." Estelle was the one who taught her grandson how to play the piano:
"She said, 'I've paid good money for this thing, and now you're going to play it."
Rescued by Grandparents
Foxx said he did not feel the absence of his parents in his life because his grandmother and grandfather filled that void. "Any gaps – emotional gaps, spiritual gaps – my adopted parents filled them. So, I didn't skip a beat. I was never short on the love of a mother and a father, though it came from an earlier generation of the family."
Estelle and Mark were present at every one of their grandchild's sporting activities and were his consistent cheerleaders.

Despite living close by, Foxx's dad never made it to his school games, and again, he wondered why: "I was puzzled. Why couldn't he drive 28 miles to check on a son who passed a football more than 1,000 yards?"
Estelle was an attentive grandparent who noticed that her grandchild was bright. "She saw me reading early, saw I was smart, and believed I was born to achieve truly special things," Foxx recalled.
The comedian divulged that his "grandmother was a confident woman" and "knew who she was." He added, along with the "love" she and his grandfather showered him with, "she passed on that confidence."
The triple threat revealed that Estelle was 60 years old when she adopted him. She had her own business, ran a daycare at her home, and had a library.
During an appearance on "The Late Late Show with James Corden," Foxx described his grandmother as a "tough" woman who always told people in the neighborhood that "he is special."
She also stood up for him when people made life difficult for him. The biggest takeaway for Foxx was that parents need to be able to "go all the way for your kids."
Reconciling with Parents for the Sake of the Family
In 2020, Foxx appeared in the film, "Just Mercy," which is about a young attorney (Michael B. Jordan) who travels to Alabama to defend a man (Foxx) wrongfully convicted of murder.
The storyline hit too close to home for the singer as his father, Darrel, was imprisoned for seven years for being in possession of illegal substances. When reflecting on the impact his dad had on his life at a later stage, Foxx said he "taught" him "everything I know."
However, the "Sleepless" star could not visit his father in prison because of how highly he thought of him. Foxx wrote to his biological parent that things were going well for him and that he would rescue him once he got released. After that, Darrell moved in with his son. The Golden Globe Award winner revealed in July 2020 that Darell had been living with him for two decades.
His mother, Louise, also decided to move in with them. Foxx shared he used to send his mom "a ticket to come and visit" until over ten years ago, she came over for Christmas, then News Year's, and "her birthday in January, and then all of a sudden it was February, and she hadn't left."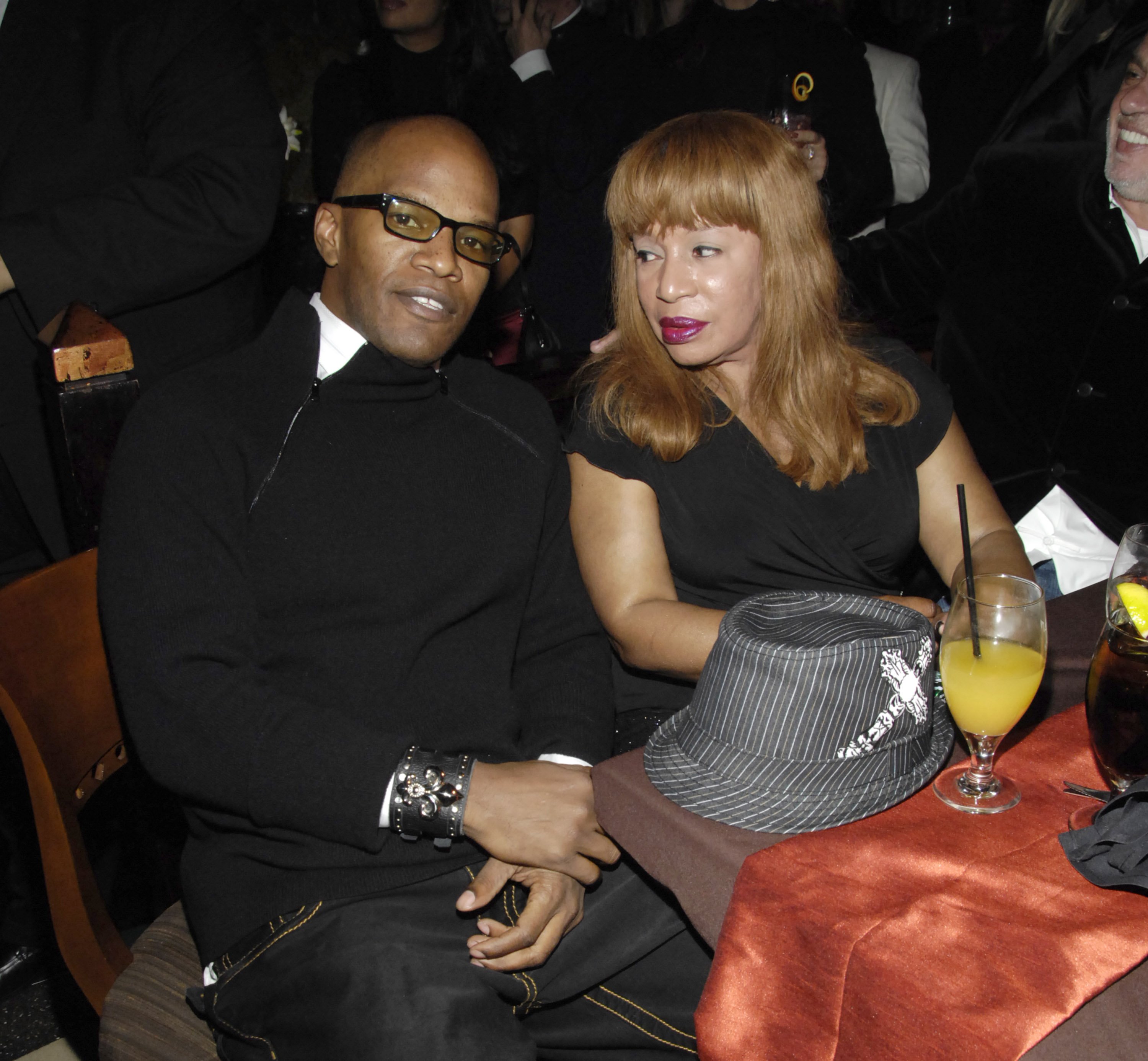 Jamie Foxx and his mother Louise Bishop attend the 10th Anniversary of Crustacean Restaurant Beverly Hills on January 26, 2008 in Beverly Hills, California ┃Source: Getty Images
The Grammy Award winner's parents divorced nearly 30 years ago, and although they are no longer husband and wife, they do not make the living arrangement with their son uncomfortable:
"They live under the same roof, and what's crazy is that he still dates, and my mother will go to his side of the house to check things out! It's a weirdly fun household."
Foxx is a proud parent of two daughters, Corinne Foxx and Annalise Bishop. Both kids are from different relationships. Although the half-siblings have a 15-year age difference, they seem to have a close bond and often spend time with their famous dad.
When it comes to parenting his daughters, Foxx said he tries to balance being their friend while also not forgetting to be their parent. The "Day Shift" star shared he has an open policy with his children.
In October 2021, Foxx said he wanted to instill the values that his grandmother taught him in his kids, which means being able to "go anywhere in the world and be comfortable."
The father of two takes his girls to certain places to show them women in charge of different positions as a means to empower them. The BAFTA Award winner said he told his brood to break barriers:
"I want you to crack that glass ceiling. I want you to break it wide open because you're mine."
Foxx shares his oldest daughter, Corinne, with his former wife, Connie Kline, and his youngest, Annalise, with his ex, Kristin Giannis. Annalise is said to be a talented basketball player, while her older sister Corinne is an actress and a producer.