Hollywood BFFs Jennifer Aniston and Courteney Cox formed an unbreakable friendship after meeting on the set of the famous American sitcom, "Friends," in 1994. Cox played Monica Geller, and Aniston portrayed Rachel Green on the show.
The leading ladies and their former castmates were encouraged to spend more time together off-screen to form a meaningful bond that could make their friendships seem genuine and authentic on-screen.
Although the NBC hit show ended in 2004, Aniston and Cox remained best friends for nearly 30 years. The pair still play integral roles in each other's lives and frequently post social media snaps together.
They have leaned on each other over the years through difficult times, continued to work together on-screen, and sung each other's praises in interviews and online.
Back then, Aniston, Cox, and their fellow co-stars were often asked whether they were real friends off camera. The dynamic duo always answered that they were indeed pals and revealed they even had lunch together on set every day.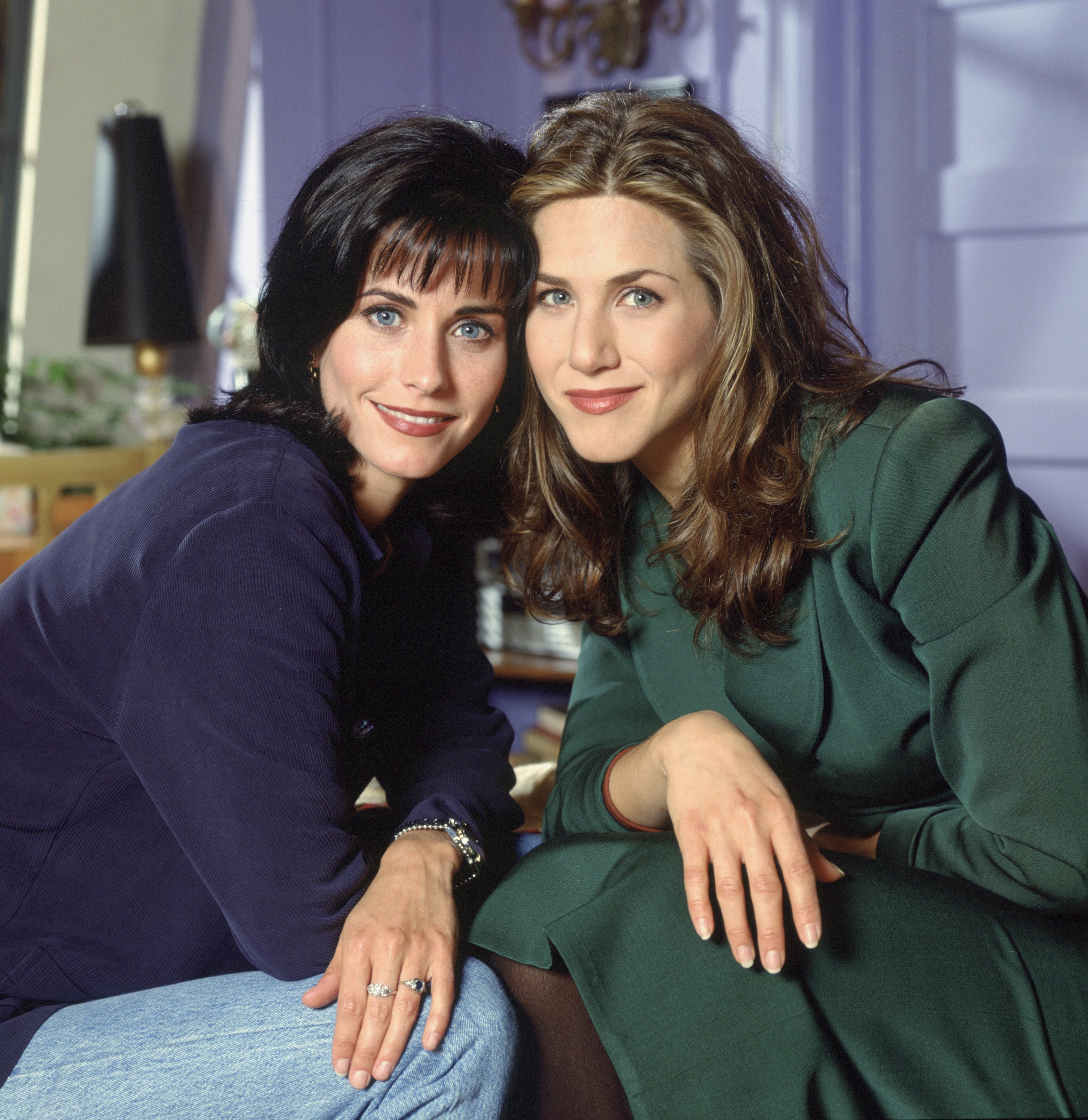 Actors Courteney Cox as Monica Geller and Jennifer Aniston as Rachel Green in the NBC sitcom "Friends" on June 15, 1994 ┃Source: Getty Images
It became a tradition that led to the two women adopting each other's eating habits. Cox reportedly disclosed what she and Lisa Kudrow, known for playing Phoebe Buffay on the series (who also remained a dear friend in real-life), did together in the absence of Aniston:
"Cox revealed that she and Kudrow started eating the 'Jennifer' salad' – a Cobb but with turkey bacon and the addition of garbanzo beans – for lunch every day."
In 2016, Aniston spoke earnestly about the rest of the cast's bond on the "Friends" show, saying, "We fell in love with each other and wanted to hang out."
Apart from spending time together, the Emmy Award winner revealed she still wears one of Cox's dresses from the series. In June 2022, she made a cameo on her longtime hairstylist Chris McMillan's Instagram Sunday, donning the black floral dress Cox wore from the show.

Aniston posted two pictures on her Instagram Stories featuring her best friend wearing the lace-trimmed dress during a Season 8 episode. "Does the dress look familiar? Still got it!" she captioned her post.
The celebrated actress previously revealed that she took the garment from the "Friends" wardrobe department after the TV show ended.
She does not only wear clothes previously worn by Cox, but the pair also pack up on coordinating looks. In April 2022, they posted a boomerang-style video on social media that showed them wearing matching T-shirts with printed words: "Friends Forever."
The statement featured six keys around it which symbolize the series finale when Monica and Chandler Bing (Matthew Perry) move out of the apartment.
Friendship of Almost 30 Years
Cox and Aniston do not only wear matching clothes, but they also go on trips together, much like their on-screen characters did on "Friends."
They have traveled together in real life and have captured all the memories on camera. Over the years, the producer and filmmaker were photographed on vacation in Cabo and Tahiti. In 2021, they spent July 4th at their other close friend Kudrow's beach house.

Besides traveling and celebrating occasions together, the ladies also ensure their presence at each other's milestones. So far, Cox attended Aniston's first wedding to actor Brad Pitt in 2000. She and Kudrow later went to the Golden Globe Award winner's second wedding to another actor, Justin Theroux, in 2015.
Not only was the dark-haired beauty in attendance for the second wedding, but she also served as the bride's maid of honor. The nuptials took place at the couple's Bel Air mansion. However, they ended up divorcing in 2017.
Cox's only marriage to actor David Arquette ended in 2013 following 14 years of matrimony. The former couple tied the knot in 1999.
After she went through a divorce and Aniston through two of them, the ladies comforted one another during their tough times and became each other's support system.
Their real-life experiences mirrored their fair share of on-screen failed relationships as Rachel and Monica were always there for each other through their never-ending break-ups on "Friends."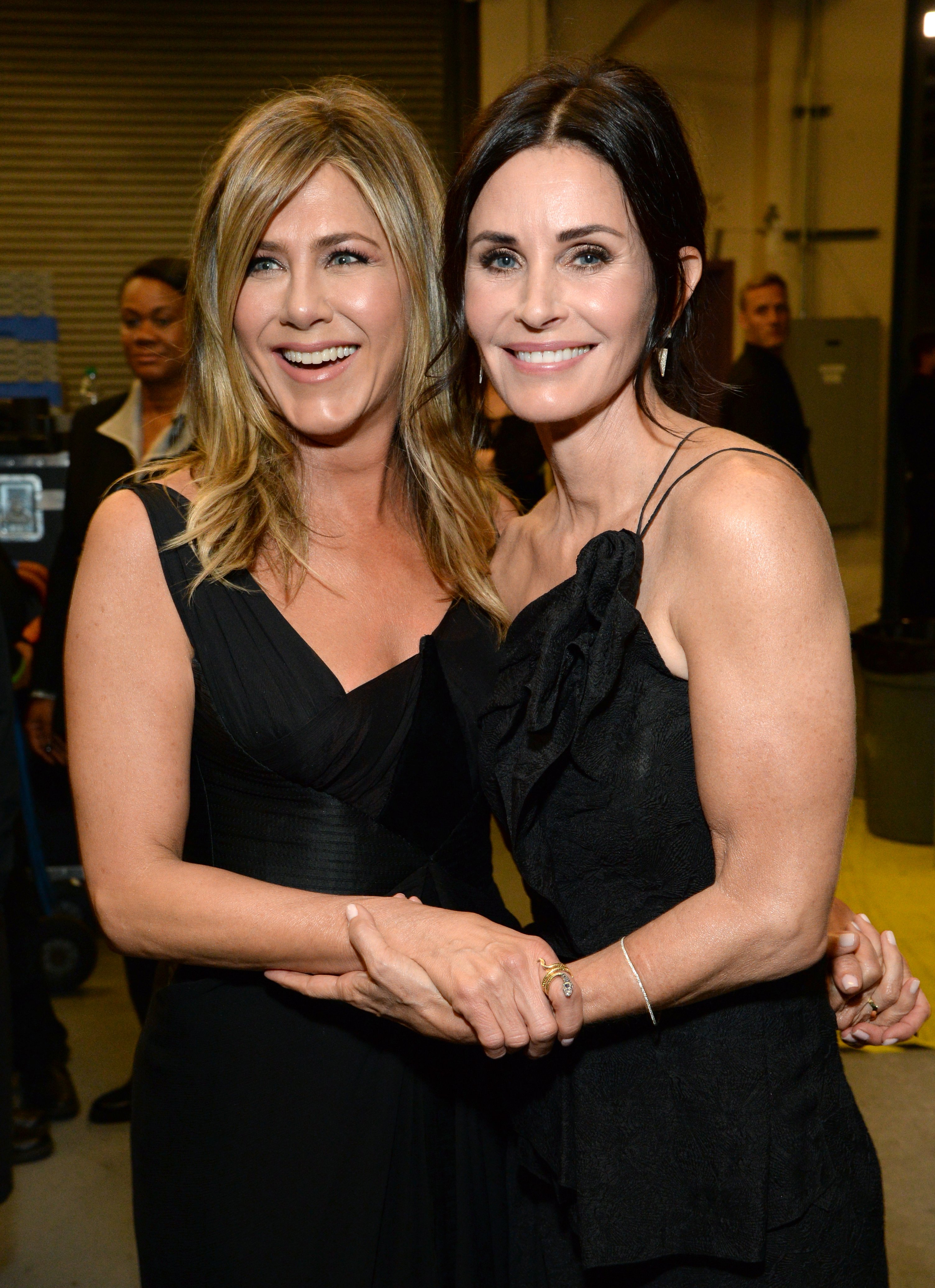 Jennifer Aniston and Courteney Cox attend the American Film Institute's 46th Life Achievement Award Gala at Dolby Theatre on June 7, 2018 in Hollywood, California. ┃Source: Getty Images
In 2019, Aniston spoke frankly about the level of support she received from Cox when going through hard times and divulged she knows how to be there for her without passing judgment:
"There's absolutely no judgment in Court. You'll never feel scolded. She's extremely fair, ridiculously loyal, and fiercely loving. I've slept in her guest bedroom a lot. Without giving away too much of my private stuff, all I can say is she's been there for me through thick and thin."
Cox has also opened her doors to other former "Friends" cast members for a reunion. All six members from the series had dinner at the Screen Actors Guild Award winner's home in December 2019, including David Schwimmer (Ross Geller) and Matt LeBlanc (Joey Tribbiani).
While the show was still airing, Cox candidly spoke about her fertility issues, and her experience became part of the script in the final season. However, although her character could still not have kids, she fell pregnant in 2003.
The Alabama native welcomed her one and only child, Coco Arquette, in June 2004. Following Coco's birth, Cox asked Aniston to be her daughter's godmother.
The proud godparent celebrated her godchild's seventeenth birthday with a social media post in 2021, writing: "Happy birthday, my sweet Cocolicious!"
Embracing Aging Together
Both Aniston and Cox are now in their fifties. The California native is 53, while the mother of one is 58. In August 2019, Aniston reflected on when she first turned 50:
"Fifty was the first time I thought, 'Well, that number.' I don't know what it is because I don't feel any different. Things aren't shutting down in any way. I feel physically incredible."
Courteney Cox and Jennifer Aniston arrive at the American Film Institute's 46th Life Achievement Award Gala on June 7, 2018 in Hollywood, California. ┃Source: Getty Images
The blonde beauty stated that it feels "weird that it's all of a sudden getting telegraphed in a way that's like, 'You look amazing for your age.' I think we need to establish some etiquette around that dialogue and verbiage."
Aniston also addressed women's decision to boldly flaunt their gray hair when asked what she would advise them to do if they fully wanted to explore it. The "Just Go With It" star said people, in general, should unapologetically feel comfortable with their own choices:
"You do you! If you want to go gray, go for it! If you want to keep coloring your hair, that's great too. I think everyone should feel confident in whatever choices they make, including embracing natural color or texture."
The beauty icon further assured that one's hair is a form of expression that impacts "mood and energy," adding that everyone should "embrace whatever is going to make you happy."
Aniston also discussed the societal pressures on women because of their aging process, whether it be them enhancing their looks to downplay their age or being that they do too much to conceal it. She said growing old is unavoidable and that there will always be criticism around that:
"Two things are inevitable. The first aging. The second, there's always going to be critics."
Aniston has focused more on improving herself both "physically and mentally." She added it is possible to flourish even in old age because of "all the advancements in health, nutrition, technology, and science."
While in her forties, the much-loved A-lister had already developed wrinkles but said they did not faze her. Instead, she deemed them "beautiful." Still, "The Morning Show" alum has admitted to trying out Botox once and later realized that facial lines give one's face character:
"Wrinkles happen to human beings, I think they're kind of beautiful on women – I've got wrinkles on my forehead and smile lines, but what's wrong with that? I love to smile."
Aniston and her beloved pal, Cox, have accepted the way they are and embrace aging together, which has not prevented them from feeling and looking beautiful. In June 2017, Cox said:
"I feel better than I've ever felt."
Despite feeling good about herself as she ages, the "Cougar Town," alum admitted that growing old in Hollywood has not been an easy journey: "Hollywood makes it hard; this business makes it harder."
Growing up, she became overly fixated on how she looked and believed it was how it was supposed to be, but she later learned the hard way. "I grew up thinking appearance was the most important thing. That as long as I looked OK, I would be OK, which got me into trouble," Cox explained.
The "Scream" star became too committed to attempting to keep her youthful look and found it difficult to accept that she was growing old, and that left her at crossroads with herself:
"I was trying so hard to keep up, and that actually made things worse. Now, I'm as natural as I can be."
Like her friend Aniston, Cox also had work done to her face. She previously had fillers but had them all removed to retreat to her natural look, which has made her gain back her self-confidence:
"I feel better because I look like myself."
Cox believes that she now "looks" more like her usual self before getting fillers which proportionally affected her facial features. She disclosed that a doctor recommended them, and afterward, another friend suggested she do something else to her face, and it ended up disfigured.
"The next thing you know, you're layered and layered and layered," said the A-lister, adding that because it was a gradual process, she realized only later what the facial adjustments had done to her face:
"And it's worse in pictures than in real life. I have one friend who was like, 'Whoa, no more!' I thought I haven't done anything in six months. I didn't realize."
Because of aging, Cox wanted to keep everything fresh, but it only "made me look fake." She struggled to move her face, especially because her skin was thin. "I've learned to embrace movement and realize that fillers are not my friend," she proudly said.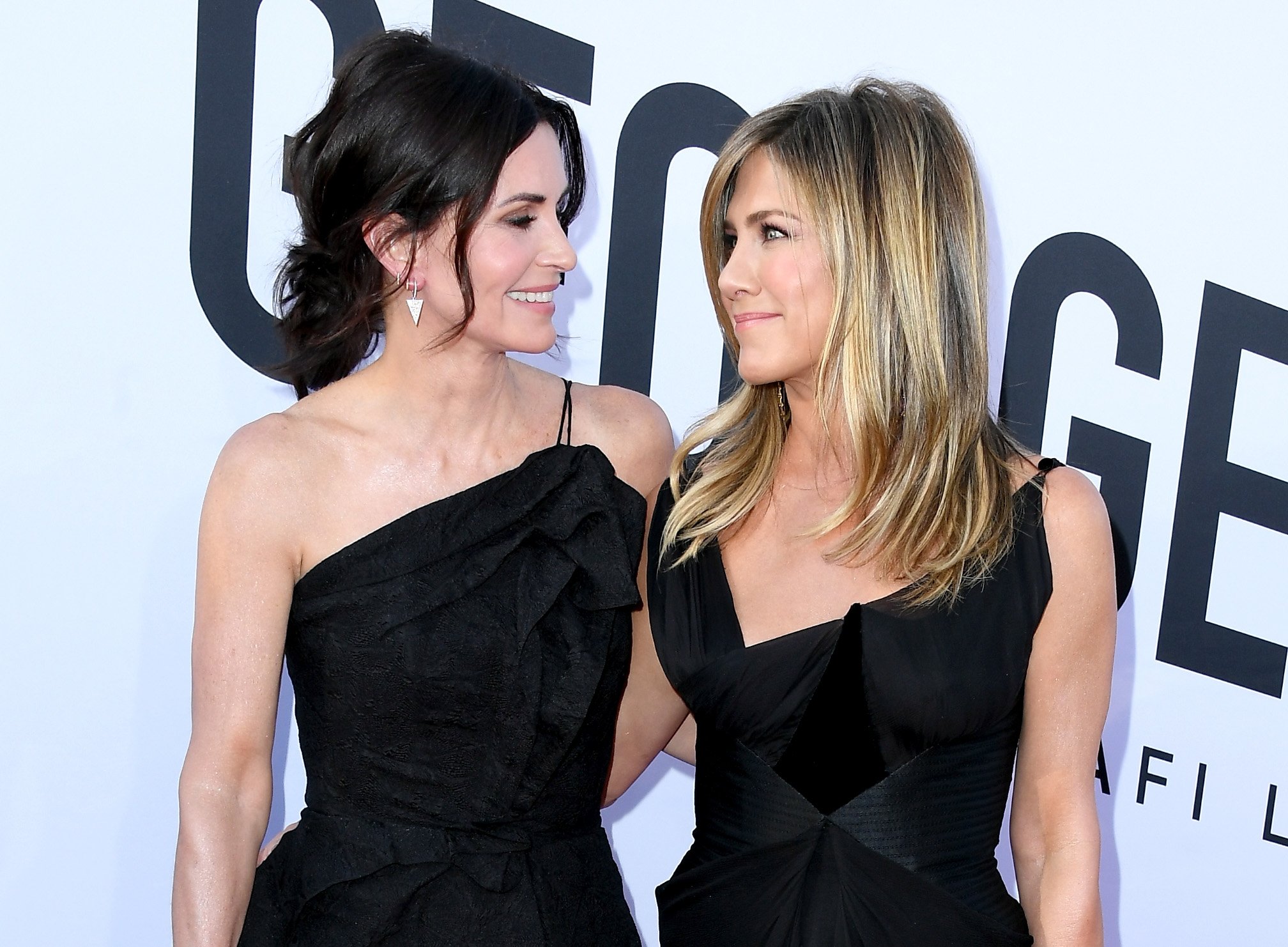 In addition, Cox is known for her fabulous hair and is the spokesperson for Pantene. When asked what her secret is for good hair, she revealed that she adores the product and puts it to good use.
The award-winning star added, "I have been lucky because I have thick hair, but I didn't realize that as you age and you go gray, it gets thinner and starts breaking." But Cox has a perfect solution to maintain her naturally thick hair, especially when she goes to work.
"When I'm working, I have to use a lot of styling tools – there's always something hot-plugged in – so when I'm not working, I don't even brush it. I take a shower, use a conditioner, towel-dry it, and that's it. I think that helps keep it thick and healthy," said the TV star.