Jennifer Aniston is celebrating her 54th birthday, and it comes as no surprise that she's aged gracefully after putting smiles on people's faces for decades through her shows and movies. Born on February 11, 1969, in Sherman Oaks, California, the actress was destined to be one of Hollywood's brightest stars.
She is the daughter of Nancy Dow and the late John Aniston, an actor known for his role as Victor Kiriakis on "Days of Our Lives." Although her parents separated when she was nine, and she was raised mainly by her mom, she still developed a love for acting like her dad.
Being surrounded by art throughout her childhood, Aniston attended the High School of the Performing Arts in New York City and spent several years acting in Off-Broadway productions before deciding to move to California. Her humble beginnings paved the way for the stellar television and movie career she's built so far.
When she landed in Los Angeles at 20 years old, Aniston didn't know her life would change forever. She was a long way from her New York City home, wearing a flowery dress and with a crystal around her neck – it was all foreign to her.
However, everything worked well for her, and she's grateful for that. She was one of those who got lucky and are privileged to still have a seat at the table today. She acknowledges that show business is tricky and is not always kind, inclusive, or supportive.

Through it all, what matters most to her is enjoying the ride as it comes. "I think that's a real key to success in life, to not worry about the landing, but enjoy the experience," she said.
From being the popular poster girl of the '90s to being the regal Hollywood A-lister she is, Aniston has much to be proud of in her 54 years of life. She is best known for playing Rachel Green on "Friends," which once made her one of the highest-paid television actors when the show ended in 2004.
Aniston is no stranger to the spotlight, with paparazzi following her since the 1990s and different generations knowing her name. Even after "Friends" ended, people would assume her career was going to tank, but it was just the beginning for Aniston, who went on to become a movie star in her own right.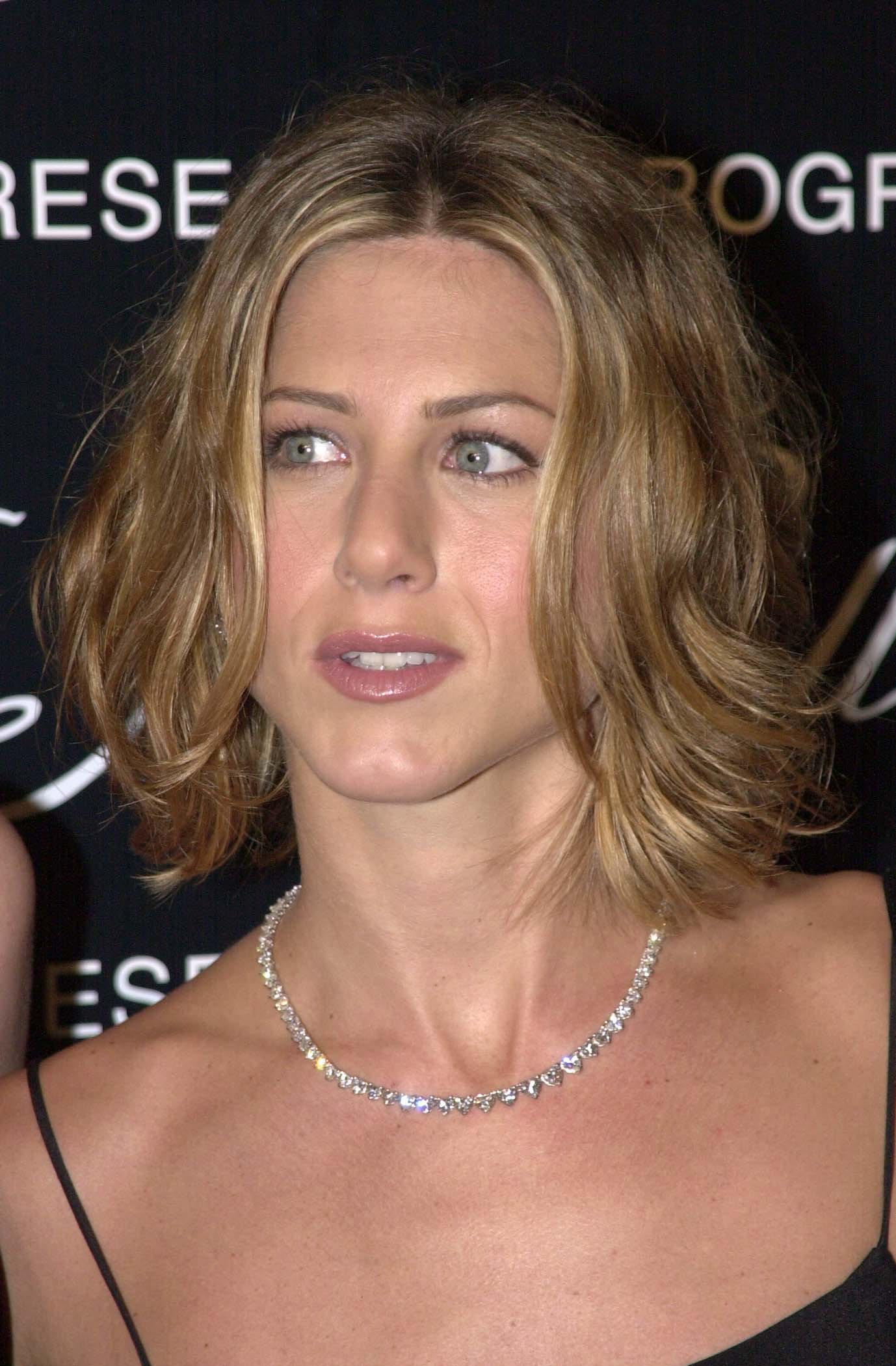 Jennifer Aniston at the Fire & Ice Ball in Beverly Hills, California on December 11, 2000 | Source: Getty Images
Aside from her effortless acting and her ability to make people laugh and cry depending on the project she was on, her overall looks drew in crowds. Her fashion sense was iconic on and off screen, with Aniston donning slip dresses, strappy sandals, and bandeau dresses back in the day, which blazed a trail for many laid-back 1990s trends that, until today, women can't get enough of.
No matter where Aniston went, she showed up in style. She was the fashion icon of an entire generation in the 1990s when her hit show "Friends" was all the rage. By the end of the decade, her popularity skyrocketed even more when she began gracing red carpets with her fellow-blonde-haired husband, Brad Pitt, in tow.
The classy pair was the epitome of sartorial elegance, and it wasn't long before they became one of Hollywood's favorite couples. Unfortunately, their relationship was short-lived, and they officially separated in 2005 after five years of marriage.
Despite cementing herself as a Hollywood great with nothing to prove to anybody and living her best life in a luxury community in the hills above western Los Angeles amongst the elite, Aniston is not spared from critics and haters. Now that she's gotten older, it's no longer her acting that people seem to point out but her looks.
The internet can be a cruel place – even for celebrities. With most aspects of their lives made available to the public so easily, stars often get the tough end of the stick, having to comb through the meanest comments about their appearances, partners, and life choices.
Many comments about Aniston have something to do about her looking old. At 54, she's had people pointing out how she looked, with one accusing her of missing "being young."

Despite the haters, many fans have chosen to see how gracefully Aniston has aged through the years. Some even pointed out how they don't understand why people have pegged Aniston as "old and bitter" just because both her marriages ended in divorce.
Some of Aniston's loyal fans took to the internet to defend her. They claimed she'd done nothing to be viewed this way and that they'd never heard the actress do anything wrong throughout her time in Hollywood.
The truth was, Aniston was trying everything she could to get pregnant. She went through years of IVF, drinking Chinese teas, and doing anything else that doctors recommended for her to do.
No matter what people have thought of her, Aniston is proud of how she managed to care for herself through the years. She pays great attention to her health, even cutting out on junk to ensure she looks and feels her best as she ages. Speaking about it, she said:
"It's just sort of been a theme in my life: to enjoy the age I am and not look at aging as a negative, but as the privilege that it is. We all age!"
More than anything, after Aniston began focusing on her health, her life began to thrive. "I feel the best in who I am today, better than I ever did in my 20s, or 30s even, or my mid-40s," she shared. She wants to look back at her life when she's a senior citizen and say how good she looked at a certain age – and she's positive she'll get to that point one day.
She's Struggled to Have Kids
Through the years, Aniston's popularity meant having to read through countless articles about not having children. Without asking for her truth and with no regard for how she felt, tabloids would write about how she didn't want to have children, prioritized her career over family, and wasn't interested in having children.
Admittedly, the "We're the Millers" actress used to take all the accusations personally. She claimed they were hurtful and downright nasty, as they didn't know what was going on with her personally and medically.
"The narrative that I was just selfish," she recalled about the time she had to read through what was being said about her. "I just cared about my career. And God forbid a woman is successful and doesn't have a child. And the reason my husband left me, why we broke up and ended our marriage, was because I wouldn't give him a kid. It was absolute lies," she declared.
The truth was Aniston was trying everything she could to get pregnant. She went through years of IVF, drinking Chinese teas, and doing anything else that doctors recommended for her to do. Unfortunately, there was one thing she wasn't able to do, and that was freeze her eggs.
Now in her 50s, Aniston acknowledges how that ship had officially sailed. However, while she wasn't able to do it, she feels relieved that she no longer has to sit and think about the possibilities. "'Can I? Maybe. Maybe. Maybe.' I don't have to think about that anymore," she said.
During an interview with her good friend Sandra Bullock, Aniston acknowledged many things, including the one thing she had yet to do in her life. At first, the two actresses exchanged pleasantries about how they met at a party after being introduced by their shared ex-boyfriend, Tate Donovan.
"He seems to have a type," Aniston joked. Bullock agreed, saying Donovan liked "talented, funny, kind, introspective, and generous women." Aniston quipped that he liked "lovers of architecture, lovers of interior design," like the truly empowered women they both were.
Through it all, Bullock couldn't help but describe the warmth Aniston exuded as a person. A star like her had every right to be closed, reserved, and stern, but she wasn't. She was filled with joy, positivity, and light, making it easy for generations of fans and friends alike to love her for who she was on and off the screen.
The actress credits her parents for that, claiming she grew up in a destabilized household and felt unsafe. She didn't want to be like her parents and didn't want people who came in contact with her to feel the way she felt when she was younger. "You can either be angry or be a martyr, or you can say, 'You've got lemons? Let's make lemonade,'" she said.
While it seems Aniston has achieved it all in 54 years, there's one thing she hasn't done yet that she's been envisioning in her brain. It was a vivid picture of what she wanted to happen in her personal life one day – of how she imagined her reality to be like for the rest of her days.
She dreams of a time when she sees and hears the ocean, hears laughter, sees kids running, hears ice in a glass, and smells food being cooked. "That's the joyous snapshot in my head," Aniston admitted.
Her Quiet Life in a Farmhouse
While she has yet to experience sharing her home with children, Aniston has at least two luxury properties under her name to actualize the picture she has in her head. Her first property, worth $21 million, is in the Bel Air area of Los Angeles, where she lives with her dogs, Clyde and Chesterfield.
Her primary home has been likened to a "comfortable art gallery, with the smell of new shoes transported in a Louis Vuitton steamer trunk full of gardenias." More recently, however, she's chosen to get a taste of the quiet life away from the hustle and bustle of Los Angeles by purchasing her home away from home in Montecito.
She bought a Tuscan farmhouse property between the Santa Ynez Mountains and the Pacific Ocean, once owned by Oprah Winfrey. It's an approximate hour and a half drive between her Bel Air and Montecito homes, so despite her busy schedule, Aniston can easily make the drive up to her property.
She purchased Winfrey's Mediterranean-themed home for a whopping $14.8 million, which was once part of a more significant estate in the area. Winfrey made quite the sale after purchasing the house in 2021 for only $10.5 million. Aside from selling the main home to Aniston, she sold two small cottages for $2.3 million to her trainer and property manager, Bob Greene.
Aniston joins the growing list of icons who have purchased a property in the Montecito area. Meghan Markle and Prince Harry moved into their $14 million Montecito home after moving to the US with their children, Aniston's good friend Ellen DeGeneres repurchased the $45 million ranch she had previously sold in the area, and celebrities like Rob Lowe, Ariana Grande, and Tyler Perry also have homes there.
With an approximate net worth of over $300 million, Aniston has had the most impressive Hollywood career. She's living her best life, and it's pretty remarkable to think about how she's managed to keep her career bright and booming through the decades.
"No one's ever going to be famous the way she is," one journalist said of her undying fame. "That kind of mass-fame phenomenon burning bright for so long, it's just not achievable today." For that reason alone, Jennifer Aniston is a star for all seasons worth celebrating at 54, with no signs of stopping any time soon.