John Travolta and his late wife, Kelly Preston, met in 1987 when they both attended a screen test for "The Experts." At the time, Preston had already separated from Kevin Gage, who she married in 1985, but they were not yet divorced.
The "Grease" star described the moment he met Preston as "love at first sight," but, Preston, who dated George Clooney shortly until 1989 and got engaged to Charlie Sheen after, didn't quite agree.
It was only after Preston broke things off with Sheen in 1990 that Travolta shot his shot, and they fell madly in love. Travolta proposed on New Year's Eve in 1991 at the Palace Hotel restaurant in Switzerland, surprising Preston altogether.
Producer Jonathan Krane from "Look Who's Talking Too" said everyone was shocked by the actor's decision. Apparently, Preston screamed at the time. However, she later told People they had plans for babies and were already "practicing." The actress added:
"This could be barefoot and pregnant for the next 10 years."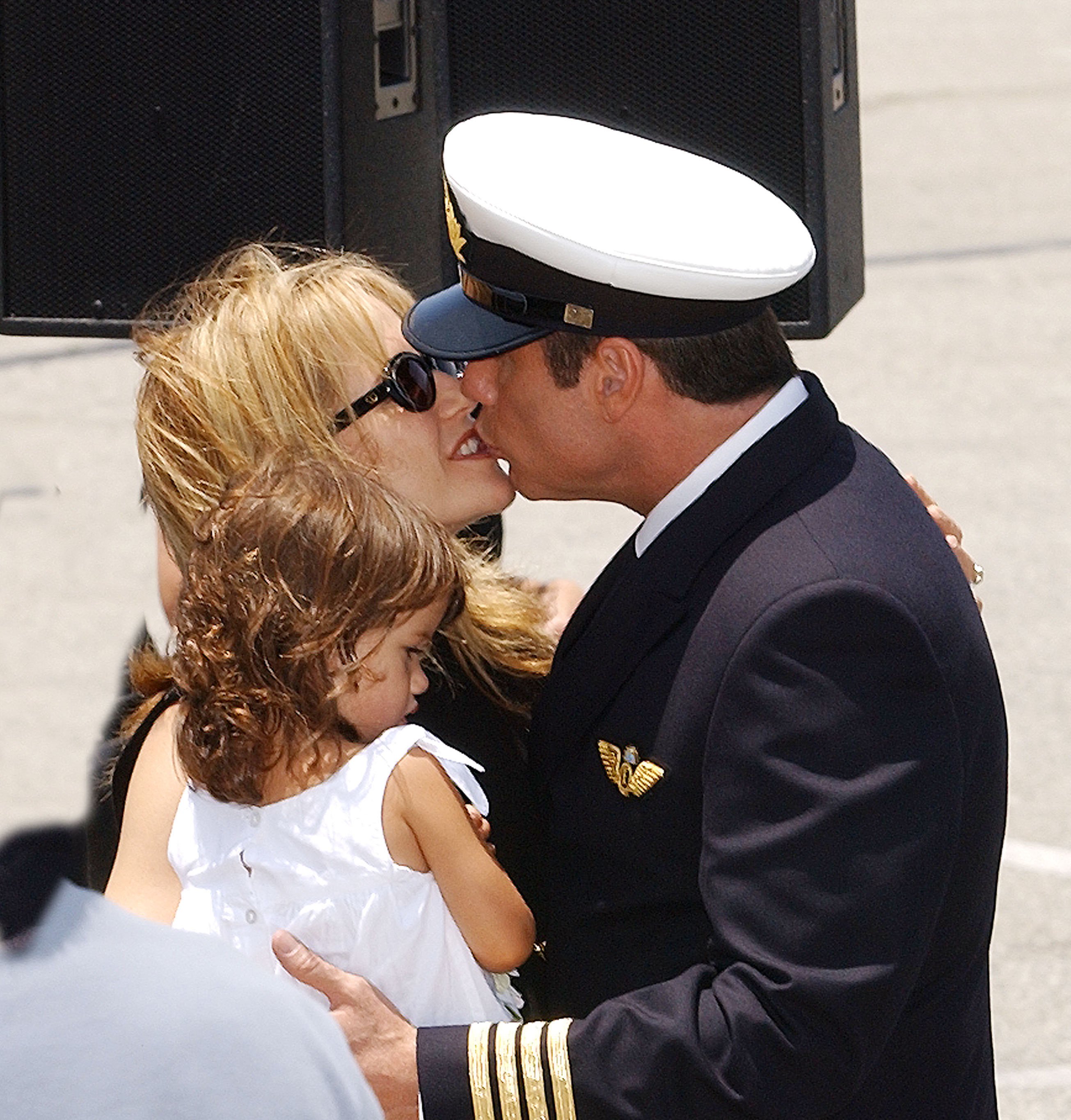 John Travolta with wife Kelly Preston & daughter Ella Bleu in 2002 | Source: Getty Images
Despite the sudden engagement, everyone was hopeful for the couple, especially Travolta, who had lost a wonderful woman, actress Diana Hyland, who died in 1977.
Meanwhile, even Preston had to admit she never chose the right kind of man. Her mother, Linda Carlson, said Preston often picked "the bad-boy kind," so she was delighted for her daughter because Travolta was kind and generous. Carlson commented:
"I just thank God. That's what she wants and that's what she needs."
Wendy Travolta, married to John's brother Joey, said the actor was so happy and they were both ready to settle down. The couple refused to talk much about their wedding, but Carlson often told the press that she was ready to be a grandmother. She added:
"I can't wait to have a grandchild. Kelly is part English, German and Hawaiian, and him with his Italian good looks, the baby is going to be a gorgeous blend."
Her hopes became a reality when Travolta and Preston had their first child, Jett, in 1992. They welcomed Ella Bleu in 2000 and their youngest son, Benjamin, in 2010.
Benjamin was like a gift for the couple, calling him "a new beginning" and "nothing short of a miracle" after the family tragically lost their son Jett in 2009.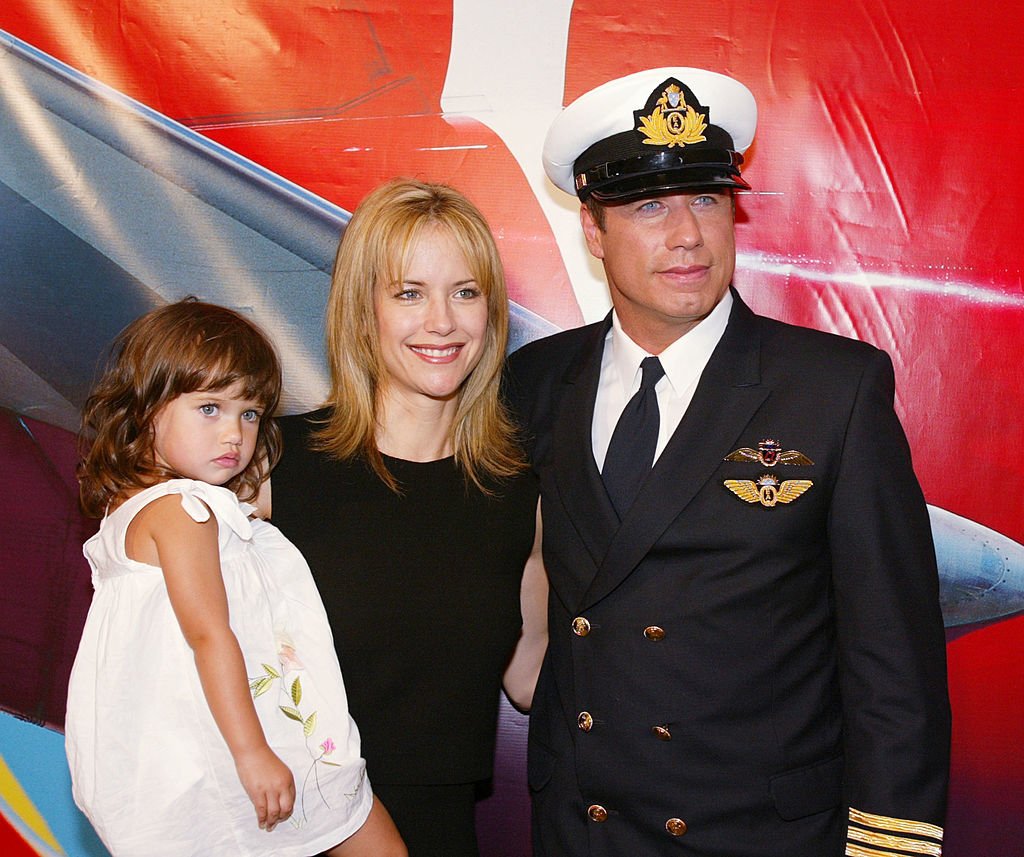 John Travolta with wife Kelly Preston and daughter Ella Bleu at a press conference to announce Travolta's ambassadorship for Qantas Airlines at LAX, Los Angeles, California on June 24, 2002 | Source: Getty Images
The "Saturday Night Fever" actor told People Benjamin's birth had renewed the spirit in their home and brought joy back. Everyone was rooting for them after what they dealt with and were glad to see them happy once again.
Their daughter was waiting in the other room while Preston gave birth to Benjamin. She was accompanied by Kirstie Alley, who remained a close friend to the Travoltas through everything.
The Travoltas lost their firstborn after he suffered a seizure and was injured. They were vacationing in the Bahamas at the time. Just was just 18, so it was a massive blow for everyone. The actor told People:
"All our memories are connected to Jett over the last 18 years — our photos, our homes, our travel. It's not something that will ever leave us."
Unfortunately, the actor went through another tragedy when Preston died on July 10, 2020, after a long battle with breast cancer. Travolta took to Instagram with the news but praised his dear wife for her bravery. The post said:
"It is with a very heavy heart that I inform you that my beautiful wife Kelly has lost her two-year battle with breast cancer. She fought a courageous fight with the love and support of so many."
He asked the public and his fans to respect his family's privacy in their time of grief. He also asked for forgiveness because they might be away from the limelight for a while, but they also thanked the public for their love and condolences.
Despite these two tragedies, Travolta remains a devoted father to his children, knowing how short life can be. Now that his daughter has entered the Hollywood spotlight, he supports her completely and has showered her with praises. Fans online also had a lot to say about Ella, but some comments were unexpected.
Ella Bleu Slammed Online
The 22-year-old made her debut as a model at New York Fashion Week in September 2020. She walked the runway for Karl Lagerfeld's "Cara Loves Karl" collection, and her father couldn't have been prouder. The actor sang her praises online, writing:
"So proud of Ella's debut at fashion week in New York City!"
When the young model posted a picture from the event on her Instagram, once again, the actor told her he was extremely happy for her.
In the photo, Ella was rocking the outfit she wore on the catwalk, which consisted of a tailored black suit with a sexy yet elegant lacy corset top. She completed it with black pants, and her hair was slicked back, showing her beautiful face.
Ella reminded some people of her late mother, revealing their an uncanny resemblance, but she also emanated a vibe of Travolta.
Sadly, not everyone was as pleased as the proud dad. Some users were quick to slam the young woman, asking her to be more modest. One person implied she was a "hooker," and another asked for her Only Fans account.
Luckily, many people replied to those haters, calling them out for the hateful comments and insisting that Ella was just a wonderful, beautiful young woman who didn't deserve to be talked about that way.
Many people saw her resemblance to Preston and told her that her late mother would be just as proud as her father. One person wrote: "Wow! I see your mom in this photo. Beautiful."
Ella Has Three Careers
Ella might have just started to make her name in the modeling world, but she is no stranger to working in entertainment. 2022 was a busy year for her, as she debuted her single "Dizzy" in January, which you can listen to on Spotify, and started preparing to release her EP. The rising star said in a video:
"It's been a long time coming but I'm still that 14-year-old weird girl at heart and I love it. Hope you like it, link in my bio and story."
That's not all! She's not just a singer and model. The young Travolta will also appear in the movie, "Get Lost," which is a modern take on Alice in Wonderland, where she plays the leading role. Of course, her father couldn't wait to announce the news on his social media, posting a picture with the caption:
"Here's my daughter Ella starring in a live-action re-imagining of Alice in Wonderland! Called 'Get Lost.' I'm a very proud dad!"
With parents like Travolta and Preston, no one is surprised that Ella is already doing so well in Hollywood at her young age. She might receive a few negative comments in the future, but it's part of being in the spotlight.
The Proud Father Will Always Support His Daughter
In 2019, Travolta appeared on "The Talk," where he revealed so much about his daughter and the immense pride he felt for her. Speaking about the time he worked with his daughter on the 2019 film, "The Poison Rose," the actor described himself as a "stage dad," saying:
"I am ridiculous. I'm behind the camera mouthing every word she says, doing her moves. My wife, Kelly [Preston], gets hysterical watching me watch her, because I just want it to go great."
Travolta further explained how Ella was given a difficult challenge on her first day of filming, knowing the last movie she acted in was with Robin Williams in 2009's "Old Dogs."
They gave her the most challenging scene immediately with a brutal schedule. She had to start at 4 a.m. and cry immediately while holding a gun. It's not easy for actors to get that emotional quickly and early, but Travolta said Ella was amazing, adding:
"The crew gave her a big applause because you wouldn't give it to anyone to do at that time. But I said, 'Well, she's on her own. She's got to deliver.' And she did."
The young actress revealed it was a huge relief when asked about having her father accompany her on set. It helped her so much to have his support and he gave her a bunch of suggestions between scenes. She said:
"I would know that I had him behind the monitor, just watching, making sure it was good."
But Travolta is not just a devoted father to his children. He tries to keep up with the times for their sake. He puts on the latest music at home and gets into popular dance trends online.
Ella revealed he's their teacher, not the other way around. She added that her father taught them the moves when the floss came out and even showed them videos. "You have to stay current," the actor said.
Unlike many children, Ella doesn't feel embarrassed by her father's dancing. However, she told Jimmy Kimmel during an appearance on his late-night show that Travolta mortified her in another way, which happened in front of Taylor Lautner.
Ella was "Team Jacob" during the height of "Twilight" popularity, and Lautner went to their house. She and her friends were looking at pictures of the actor and gushing about meeting him. His family was also visiting them, so Ella wanted to learn more about them.
But to Ella's embarrassment, when Lautner arrived at the Travolta house, Travolta immediately told him and his family that Ella had just been researching them online. Travolta defended himself to Kimmel, saying:
"A father's point of view is, you know, everybody loves Taylor Lautner. Wouldn't he be flattered that Ella's looking him up?"
Fortunately, Lautner laughed, and the embarrassment passed quickly. However, Ella said that her face was red, and she felt a huge amount of "cringe" at the time.
It's evident in Travolta and his daughter's social media posts that they share a beautiful relationship. For instance, for Ella's birthday, the actor posted a photo of Ella with the caption:
"Happy 21st birthday to the most beautiful, kind human being and artist I know. Your dad adores you!"
Ella also loves her father dearly, and on Father's Day in 2019, she posted a throwback photo of them from when she was a little girl. The caption read:
"Dad, you are my role model, you have taught me so much and I know I can always go to you for advice on anything and everything and you'll have the perfect answer. Thank you for your constant and unconditional love and support always, thank you for the laughs, the adventures and the beautiful opportunities, thank you for your incredible patience and kindness to everyone. To the best father, husband, brother, son and friend to mankind, I love you so much."
Ella's relationship with Preston was just as beautiful. The young actress would often post about her mother on social media for birthdays, Mother's Day, and even Valentine's Day. In 2019, she posted a throwback photo with her mother with the message:
"Happy Happy Birthday Mama!! You are so beautiful, kind, talented, smart, funny and so much more!! I love you to the moon and back."
In another post, Ella wrote:
"Happy Mother's Day to this incredible woman. Beautiful inside and out, hard-working and the most amazing mother and wife. I love you so much!!!"
No one in the Travolta family will forget Preston, and Ella will honor her legacy in the future, as shown in a tribute video she posted on October 13, 2022, to celebrate her birthday.
It's clear Ella loves both her parents dearly, and it's easy to tell that they bonded even more after going through tragedy together.