John Travolta had an epic romance with Kelly Preston while she lived, and that love led to the birth of a "miracle baby" the strong woman risked her life to bring to the world — she had no fear even though the doctors made sure she knew the risks.John Travolta was married to Kelly Preston for about 29 years.
Together, the two lovebirds experienced many highs and endured many lows. Yet, they overcame tragedy, and he remained steadfastly by her side until she succumbed to breast cancer in July 2020.The two first met when Travolta, with his two dogs, walked into the room where she was waiting to do her screen test for a spy movie called "The Experts."
It was an instant attraction for Preston even though she had been married to "Space Camp" co-star Kevin Gage at the time.
Travolta had also felt the same instant chemistry with Preston, and when he once admitted that he thought she was a gorgeous woman, they had to dance together. An activity they loved to do even when they got older and had kids.
Preston's relationship with Gage prevented anything major from happening when they met, even though she later admitted that when they met:
"Well, I was not that happily married, let's put it that way. I was really with the wrong person."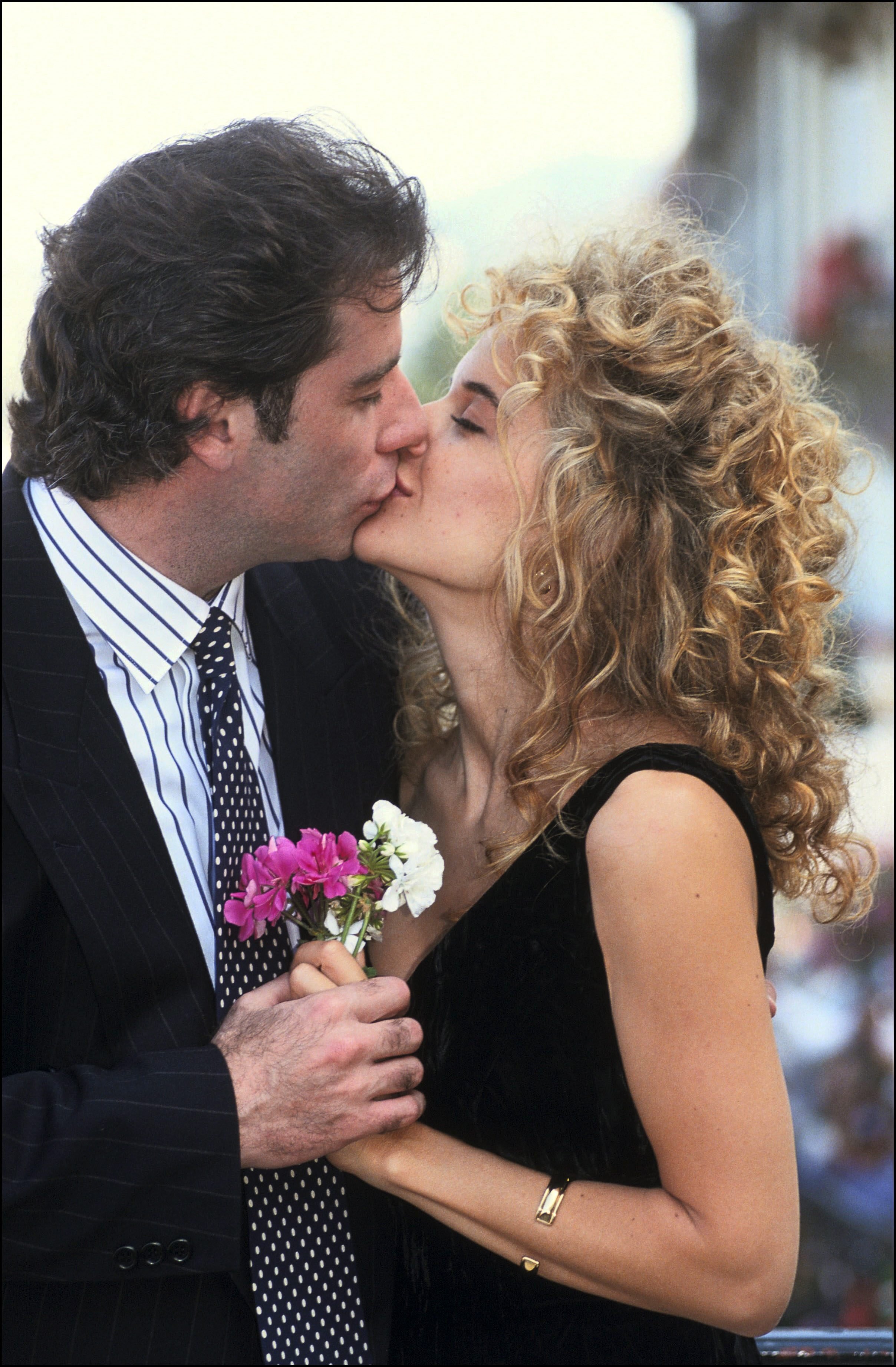 J.Travolta and Kelly Preston at Deaville film festival in Deauville, France on September 08, 1991. | Source: Getty Images
The two got exposed to each other while working on the set of "The Experts." After they confirmed their admiration for one another, they became close friends and, years later, eventually eloped to Paris, where they had their wedding because the plans they had in New York became unstable.
Of course, they later had to return to the states and make it official, but only after they learned that there were residency requirements to marry in France.
The second wedding ceremony took place in Florida on September 12, 1991, a couple of years after she left Kevin Gage, her first husband.
After their marriage ended, Preston was romantically linked with some other famous names back then, including George Clooney and Charlie Sheen, who was her fiancee for a brief period.
It took a few years, but eventually, Preston realized that it was Travolta her heart truly yearned for. When they connected on that level, that was it.

The talented actor popped the big question in Gstaad, Switzerland, on New Year's Eve in 1990, and when she said yes, he slipped a six-carat diamond ring on her finger.
It was just one of the spectacular things about their union, besides the traditional and beautiful wedding dress she wore and Travolta's devilish good looks in a suit.
A TRAGIC LOSS
There was little doubt in Travolta and Preston's minds that they were meant for each other, so the two were already trying to get pregnant even before they got married. They gave birth to their first son Jett, on April 13, 1992, on a night they were house guests of Bruce Willis and Demi Moore.
When he was only born, Jett was diagnosed with Autism — a condition she believes may have been caused by mistakes on her part.
For instance, she once admitted that she had to endure food poisoning and has even blamed her hard and fast labor.
Besides that, Preston also believed that the antibiotics she had been taking while breastfeeding had given Jett thrush — a common yeast infection that targets the mouth, and some studies had declared it as a symptom of Autism.
At 15 months old, little Jett was diagnosed with the Kawasaki syndrome, which is a rare ailment that mainly targets kids, causing complications, including inflammation of the arteries and lasting damage to the heart.
The boy was a fighter, and at some point, Preston admitted that he had been shedding his autistic skin. However, one day, at the age of 16, the boy suffered a seizure and hit his head in the bathroom on his way down. It led to his demise, and he had been at their vacation home in the Bahamas.

Only her friends and family had known that she had been undergoing medical treatment for some time in an attempt to defeat the virus.
Preston revealed the medical conditions that accounted for his death when she spoke about it. She said:
"He was autistic, he had seizures, and when he was very young, he had Kawasaki syndrome."
Before he passed on, Preston and Travolta had been planning to have more kids; On one hand, they wanted Jett to have more people to play with, and on the other, they had to focus on caring for the special needs boy.
But unfortunately, it took nearly a decade before she finally conceived another child, whom they named Ella.

THEY HAD A "MIRACLE BABY"
Ella was the second child Preston and Travolta had, but after her, they entered another long spell that saw them try for months without success until she was 47. Then, according to Preston, it was hard to believe it was really happening. Preston once confessed:
"When I found out I was pregnant, I was floored. I'd snuck out of bed and then came back and woke Johnny up in bed. We both started crying. It was wonderful."
She gave birth to their third child on November 23, 2010, in Florida, and they named him Benjamin. According to her, it was a silent delivery that happened via C-section in a caring and calm environment.
When asked if she had any doubts about carrying a child at such an age, Preston, who the doctors had informed about the risks, revealed that it was a "miracle." She said:
"I didn't (consider the risks). I just considered that it was difficult. I never thought that would be me at all. So, I think we're just really happy that we're so fortunate."
Her willingness to take on the challenge of carrying a child at that age did not surprise many because, according to her, she enjoyed being pregnant as it meant she shared an intimate connection with the babies.
The birth came two years after Jett's death, and it acted as a balm to soothe their sad souls even though Preston admitted that they missed the boy every day. Travolta chose their son's name as it was a name he and Preston loved.

PRESTON'S SAD EXIT
Despite how devoted Kelly Preston was as a mother, she will not be witnessing Benjamin grow up to become the good man she knew he would be because she passed away early.
On July 12, 2020, she passed away after a two-year battle with breast cancer. Before her death, only her friends and family had known that she had been undergoing medical treatment for some time in an attempt to defeat the virus.
Travolta confirmed her death via his Instagram page with a tribute that praised the strong fight she put up and a note of thanks to the doctors and nurses who treated her.
He also added that he would be taking time off to be there for his kids and begged forgiveness as they withdrew to heal their wounds. He would later admit to Kevin Hart that:
"Mourning is individual and experiencing your own journey is what can lead to healing. The most important thing you can do to help another when they are in Mourning is to allow them to live it and not complicate it with yours."
The devoted dad had a heart-to-heart with his son after the tragedy, where he revealed one of life's greatest lessons to him. Your brother left at 16, too young.

Your mother left at 57; that was too young, but who's to say? I could die tomorrow. You could. Anybody can. It's part of life. You don't know exactly. You just do your best at trying to live the longest you can."
John and his kids may have lost Preston, but they are learning to keep her memories alive as they continue to thrive. On mother's day, Travolta shared a family shot of himself, Preston, and their two kids and captioned it with a short message of gratitude and a declaration of love.
His daughter also shared a tribute via Instagram, thanking her for all she ever did for them before she passed on. She also wished Preston a happy mother's day and declared that her warmth would be "everlasting."