Johnny Depp is famously known as Captain Jack Sparrow in "Pirates of the Caribbean." With the fortune Depp made from the franchise, he purchased a village in the South of France to raise his children. However, after breaking up with his girlfriend of 14 years, Vanessa Paradis, the actor has struggled to sell the estate.
Christopher John Depp II, also known as Johnny Depp, is a Kentucky-born actor and musician known for his eclectic and out-of-the-ordinary acting.
Initially, Depp dropped out of school to pursue music. He had a band called "The Kids," and together, they moved from Florida, where Depp grew up, to Los Angeles.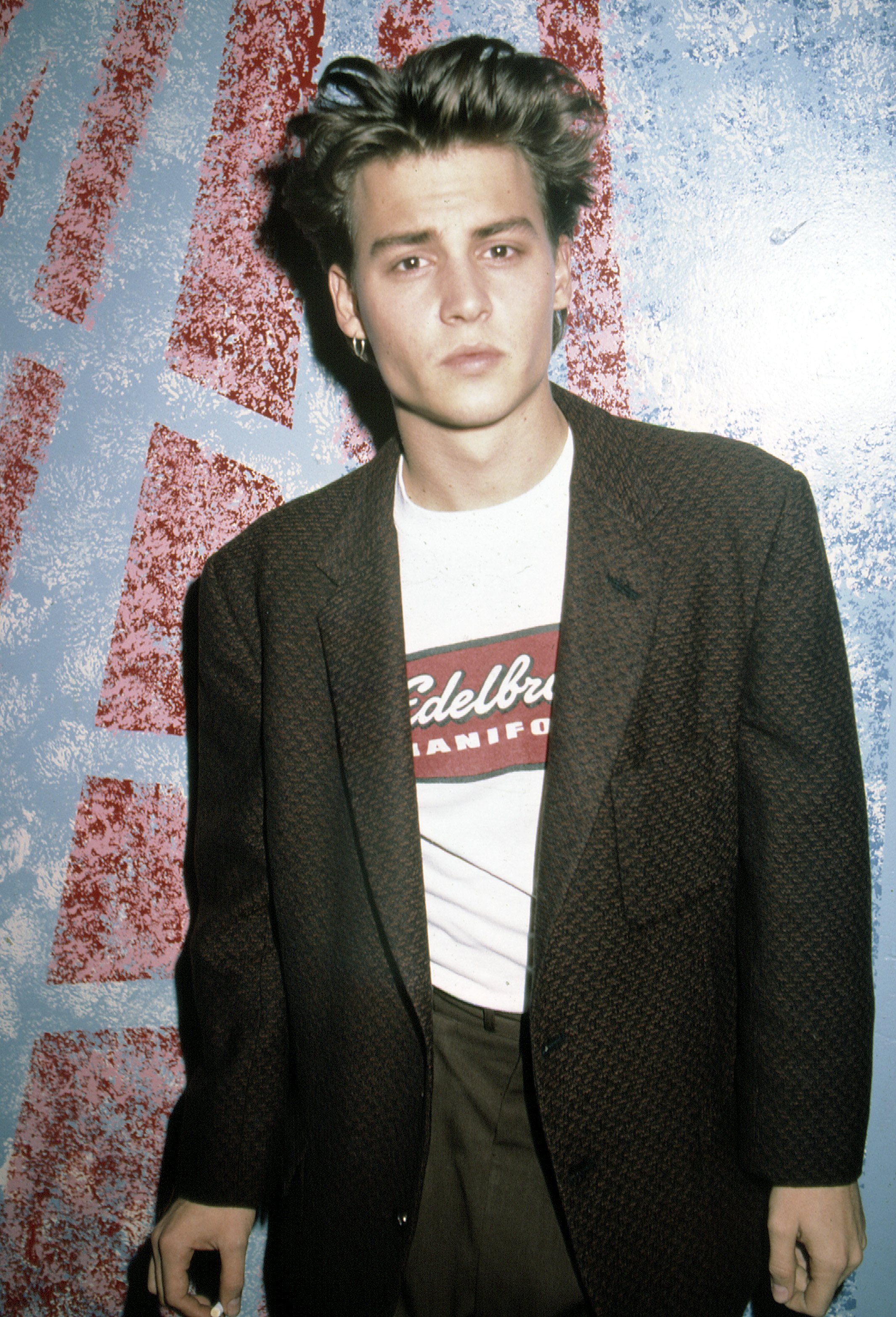 Johnny Depp in the United States in 1987 | Source: Getty Images
When he got to Los Angeles, he fell in love with Lorie Anne Allison, and they married in 1983. Allison was a makeup artist, and Depp was a struggling musician. Allison, who was friends with actor Nicolas Cage, asked him to organize an audition for Depp with director Wes Craven.
Through that audition, Depp was introduced to the world and debuted in the 1984 film "A Nightmare on Elm Street," where he played a teenage boy eaten by his bed.
Depp may have built a career that has made him one of the canonical actors in Hollywood, but he has also proven to be a family man who will do anything for his family's privacy, including building a restaurant.
Johnny Depp Met Vanessa Paradis and Made a House Decision
Depp and french singer Vanessa Paradis met in 1998 when the "Pirates of the Caribbean" star was filming "The Ninth Gate." He remembers the first day he laid eyes on Paradis in detail. It was at the Hôtel Costes, and the singer was wearing an open-back dress.
Depp was first exposed to Paradis' back, then her neck, and when she turned around, he was mesmerized by her eyes. That was also when the actor knew that his bachelor days were ending.
Paradis also confirmed that their connection was instant. She revealed they had always known each other but lived in different countries. She mainly resided in France, and Depp was in America. So, when they found themselves in the same country, there was no holding back for either one of them.
Paradis said they had seen each other sparingly for four years, but when they saw each other in France, they knew there was no time to waste.
The couple welcomed their first child together less than a year after meeting. Their daughter Lily-Rose Melody was born on May 27, 1999. Depp revealed his daughter arrived while he was playing a Keith Richards piano cover of Hoagy Carmichael's classic "The Nearness of You."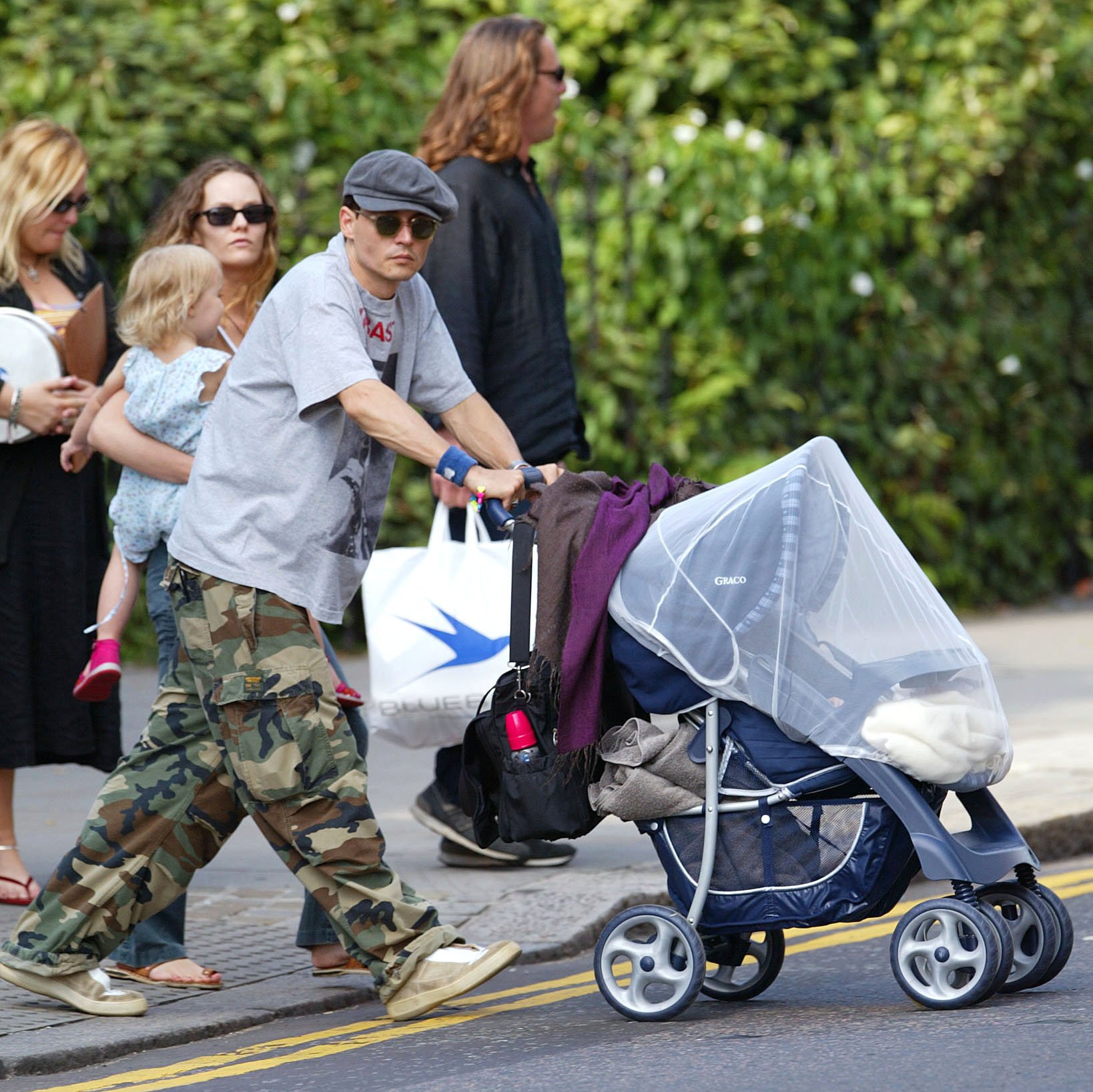 Johnny Depp, Vanessa Paradis, and their two children in London in 2002 | Source: Getty Images
In 2002, Depp and Paradis welcomed a son, John Christopher "Jack" Depp III, in France. This time there was little detail about the birth besides an update from the couple's rap assuring people that the mother and son were in good health.
The couple was constantly asked about their plans to walk down the aisle, but Paradis shut down those questions after she clarified that marriage was not even a topic of discussion in her relationship.
She reiterated that what she and Depp shared was perfect and did not need them to tie the knot. Paradis agreed that the idea of getting married sounded romantic, but her life with Depp already looked like one of a married couple.
When Depp had children, he wanted the best environment for his family to grow up in, so like the unconventional actor he is, his thinking, in reality, was still out of the ordinary. He purchased a village he wanted to sell for $55 million.
Johnny Depp Bought a Village in Which to Raise His Family
In 2001, Depp purchased a French village for an unknown amount, but he spent millions renovating the 19th-century estate. The decoration was French, inspired by his girlfriend. The actor and singer spent most of their time there raising their two children.
The village gave Depp and his family the necessary privacy, and his children had all sorts of entertainment there. The primary residence is 45,000 square feet big, and the property is filled with beautiful 300-old oak trees, vineyards, and olive trees.
Depp was the creative genius behind the decoration of the entire estate. For instance, the actor had a bistro built inside and named it Chez Marceline.
The living spaces that surround the estate are reported to be between 12,000 and 14,000 square feet big. The primary residence has five bedrooms and three and a half bathrooms. There are also six guesthouses around the property. One of them was reportedly formerly a church.
Depp also has a range of exciting amenities and facilities around the estate. For instance, there is a wagon equipped with a whole kitchen and bathroom. The home also has an art studio and a full gym.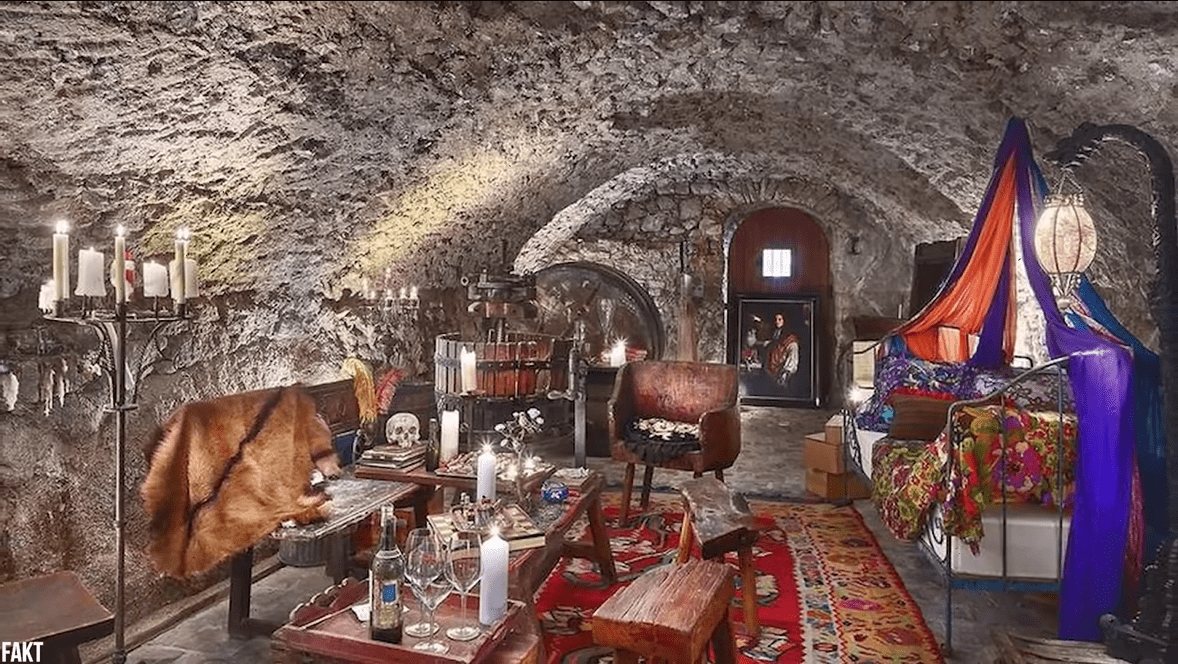 Inside Johnny Depp's home in France | Source: Youtube.com/The Richest
The village is filled with scenic outdoor dining spaces, including the bistro, set up like an authentic bistro with a professional kitchen.
The estate, perfect for creating experiences and which could have been an escape from the masked reality the world just survived, is just 17 miles from the vacation hot spot for celebrities, Saint Tropez.
Depp purchased the property at the beginning of his time in the "Pirates of the Caribbean" franchise. He reportedly considered it the ideal environment for raising his children and for his girlfriend to easily access the local surroundings.
The village has 15 bedrooms and 14 bathrooms in total. Maintaining the home's exterior was not cheap. Depp reportedly spent $10 million to preserve the buildings' original stone and wooden beams.
The home also has large garages and massive laundry facilities. The amenities are off the charts, with a skate park and two swimming pools.
Depp let his creativity flow when it came to designing his estate. With state-of-the-art facilities and enough room to host a population, the property was a work of art and a safe space for a family of four.
Due to his profession, Depp had to split his family life between his home in France and Los Angeles. Surprisingly the actor did not find the back and forth to be strenuous for him and his family.
He said his children were happy, and his relationship with Paradis then was still thriving. Depp praised his girlfriend for being supportive and understanding of their setup.
The actor was happy with how unconventional his family life was. He has been described as a laid-back person who dislikes taking life too seriously.
While Depp might like to keep things interesting in his life, parts of it are ordinary, like ending the day with a glass of wine and watching the sunset while his kids run around.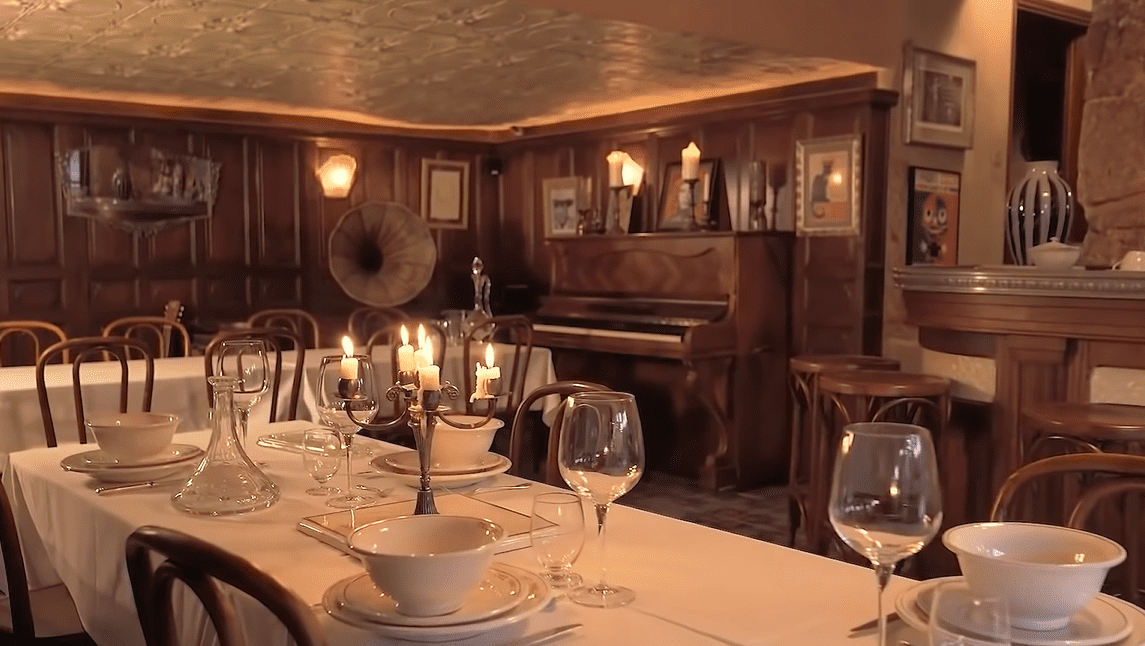 Johnny Depp's restaurant in France | Source: Youtube.com/The Richest
Life in his French village compared to his home in Los Angeles was almost at two extremes. His town was enclosed for him and his family, while in California, the actor complained about the number of people that tried to climb his fence to see Captain Jack Sparrow from "Pirates of the Caribbean."
The actor further explained how proud he was of the amazing body of work he has contributed to the industry and understood that fame came with the territory, but sometimes he wished to get coffee with his children without fuss.
Depp also reiterated that he feared for his kid's safety because he always had paparazzi following him and overwhelming his space. His only solution was to get more security.
Even though the presence of his security made things better for him, Depp still feared for his kids' safety because he felt responsible for keeping them protected as their father.
Furthermore, Depp knew that his anonymity was out the window and that he could not complain much about his situation because of his job. Still, it made it difficult for him to participate in simple activities like going to the park with his children.
The End of Johnny Depp's 14-Year Relationship
"Pirates of the Caribbean" gained Depp a significant amount of fame, and as he continued to film more of its sequels, his career continued to boom. However, while Depp was cementing himself as Captain Jack Sparrow, his relationship with Paradis took a hit.
The couple seemed to adjust well to the long distance, per Depp's confirmation. However, in 2012, an insider revealed the couple had been living separate lives for months.
The couple's split had not been confirmed, but another insider said things got tense between the two when Depp went back to work.
The insider also stated that the couple had hoped for things to continue as they were in the South of France, but that changed when Depp was swallowed by his role on "Pirates of the Caribbean."
The insider cited that the sacrifice of taking breaks between projects was not equal. It was said that Paradis had taken up to seven years between albums and movies, and while she was on a sabbatical, Depp was becoming a movie star.
While rumors of Paradis and Depp's split were circulating, the couple was seen sailing on their family yacht with their children, but it was reported that Depp went to fetch the boat alone. After their vacation, they both reportedly went their separate ways.
Another clue of the couple's split was when Paradis showed up alone at the "Café de Flor" premiere. The singer's publicist allegedly instructed Paradis not to be asked anything about her personal life. Eventually, the couple broke their silence and announced their break up in 2012. Depp's publicist said the split was amicable.
An insider revealed that the couple had known their relationship was over for a while and realized they were out of solutions to fix it. However, it was reportedly made final when Paradis landed in France to promote her film "Je Me Suis Fait Tout Petit."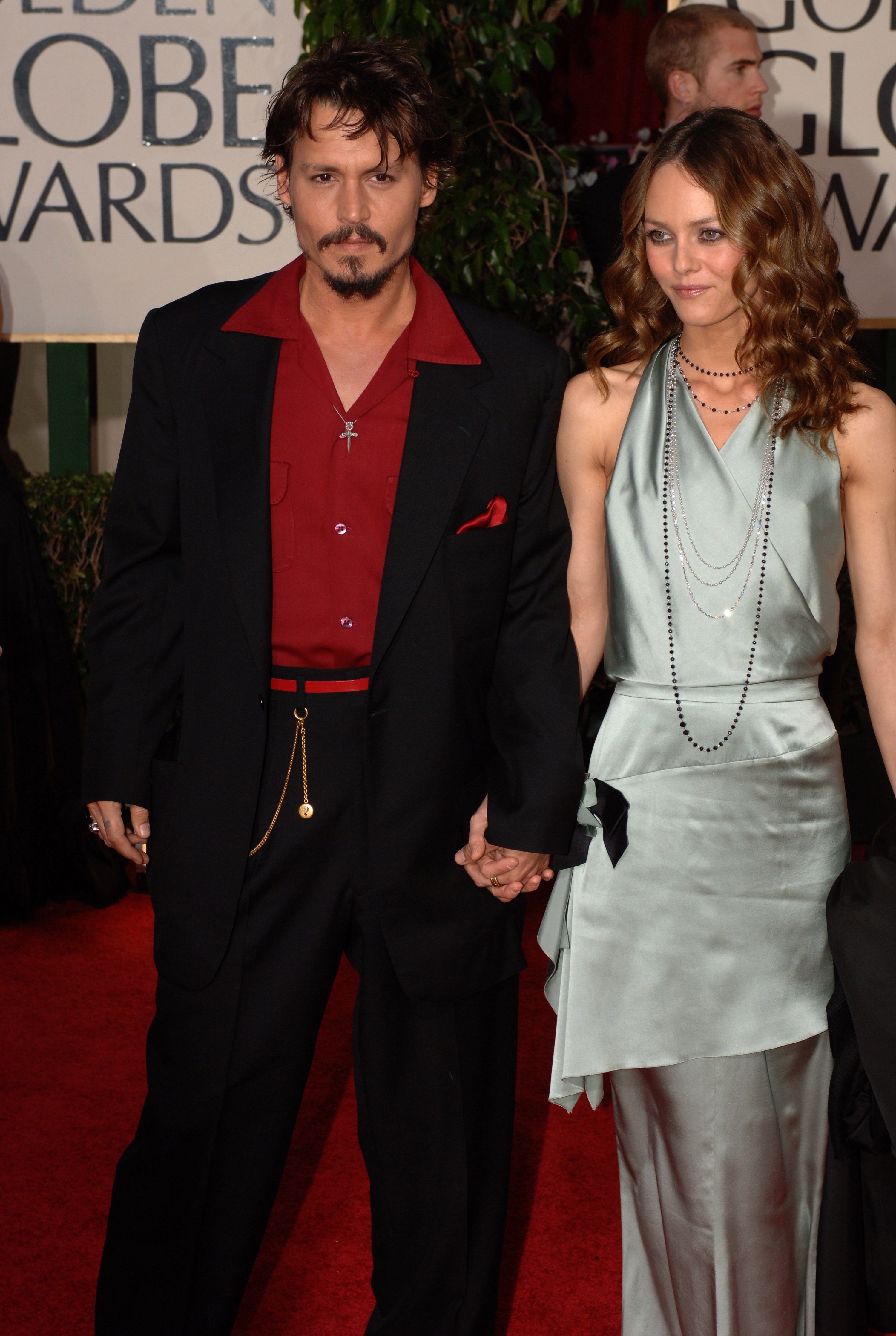 Johnny Depp and Vanessa Paradis at the Golden Globes in 2006 | Source: Getty Images
Since his break up with Paradis, Depp has been trying to get his hands off his French village. The actor initially listed the estate for $26 million in 2015. But after being on the market for a while, the actor increased the listing price to $65 million in 2016.
Eventually, the property was relisted again for a whopping $55 million. Depp reportedly believed the first listing was significantly below the property's worth, so he decided on $55 million.
The actor described the property as perfect for someone looking for privacy, which is an attractive description for famous and rich people. Several billionaires have reportedly viewed the property, but no offers have been made. Depp continues to keep it up for sale.