Multi-talented musician, Jon Bon Jovi, made a love declaration on Valentine's Day to his wife of 33 years, Dorothea Hurley, whom he met in high school.
The New Jersey native posted a black and white throwback snapshot of him and his spouse lovingly embracing one another."Every day is Valentine's Day with you," the superstar captioned his post. In September 2020, Bon Jovi and Hurley got candid about their four-decade-long romance. They revealed the secret to a happy relationship, and he said:
"Mutual respect. Having grown up together and grown together. And we like each other. We want to hang out."
As for Hurley, she said she has a knack for "spotting good potential too. I have a gift," said the karate instructor. Besides how they feel about each other, the couple loves leading a simple life despite Bon Jovi being a celebrity.
Bon Jovi Declares His Love in a Rare Picture with His Love of 43 Years
Bon Jovi loves sharing nostalgic photos with his spouse, whom he waited years to marry. He adores her and made it known with his Instagram post on Valentine's Day.
The couple tied the knot in the '80s and welcomed four kids together: sons Jacob, Jesse, and Romeo, and daughter Stephanie.
Bon Jovi and Hurley met at Sayreville War Memorial High School in New Jersey. The pair waited nine years to get hitched and eloped in Las Vegas in 1989.
Apart from building a life together, Hurley and her famous spouse founded the JBJ Soul Foundation together in 2006 and have also opened three pay-if-you-can restaurants around the country.
The Secret of Their Marriage and Wish to Lead a Non-celebrity Lifestyle
Speaking further on their marriage, Bon Jovi shared Hurley keeps him grounded despite his fame. The "It's My Life" hitmaker admitted that the mother of his kids is undoubtedly his pillar of strength:
"We work hard at it, but we enjoy each other, and we never fell for the trappings of what celebrity can do."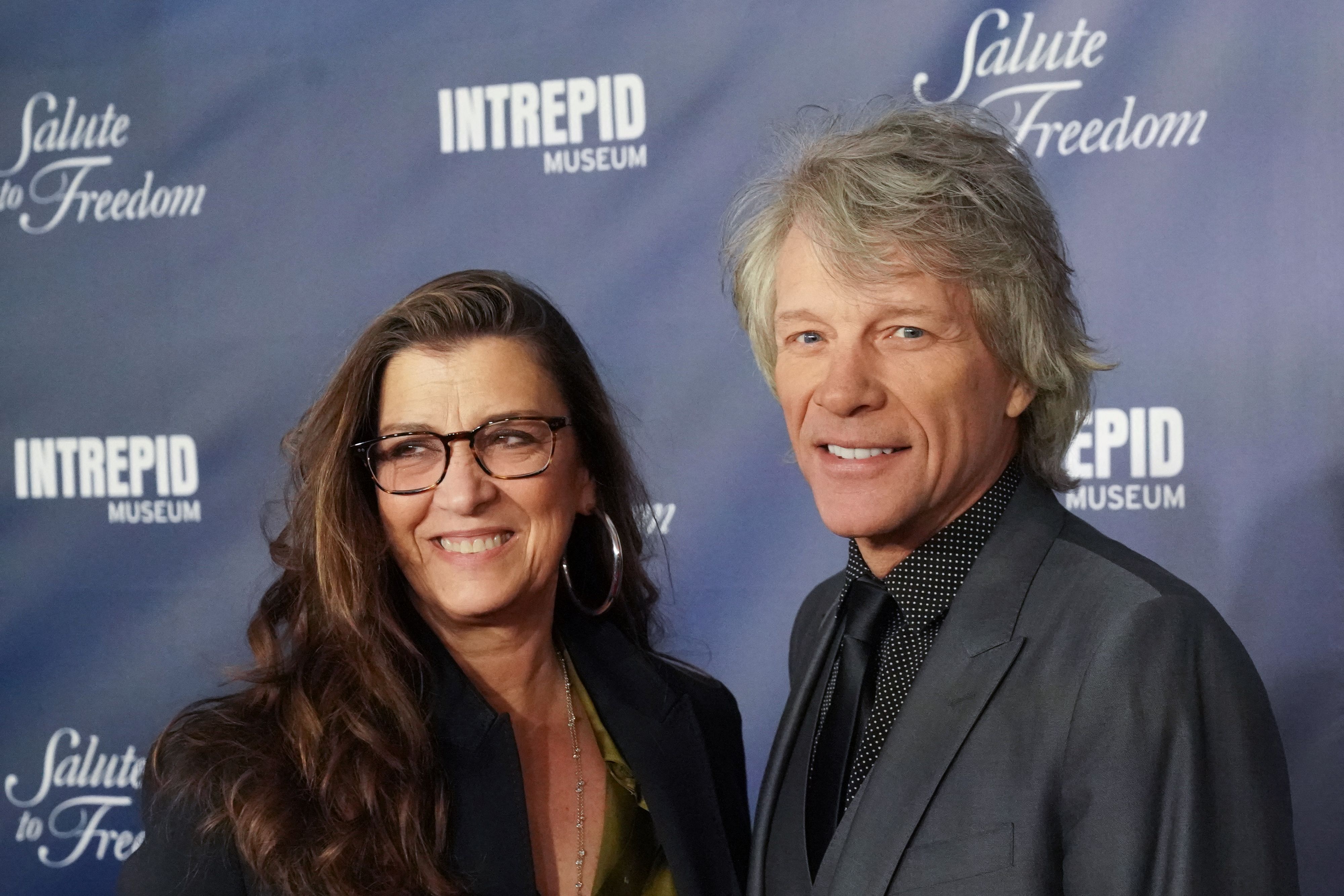 Dorothea Hurley and her husband Jon Bon Jovi arrive for the Intrepid, Sea Air & Space Museum's inaugural Intrepid Valor Awards on November 10, 2021 in New York | Source: Getty Images
The singer-songwriter explained they have seen what those close to them have experienced throughout the years because of fame, including those they were not-so-close to. Moreover, Bon Jovi said his career does not define him, but it is mainly his profession, adding he writes "songs" and happens "to be very good at performing them. That's it."
Bon Jovi and his wife are often asked what keeps their relationship going. Hurley revealed in November 2016 that "Somehow, it works. […] We grew equally and not in opposite directions." Meanwhile, her husband stated that she is the "glue" that keeps "it all together."
Meet Their 4 Kids: When Bon Jovi Had to Save His Eldest Child's Life
Hurley once revealed that she and the guitarist, whom she allowed to "cheat off her in history" at school, have always prioritized their family. Stephanie, the couple's only daughter, is the eldest child, born on May 31, 1993.
The 29-year-old reportedly works as a camera operator. Per IMDb, she previously worked with the Comedy Central series "Impractical Jokers," and truTV.
Stephanie has had her fair share of trouble. While in college in 2012, she got arrested for drug use following a suspected heroin overdose. However, the charges were eventually dropped.
Stephanie's dad addressed the incident shortly after. He said what she did was only "human," adding the family would eventually overcome the challenge.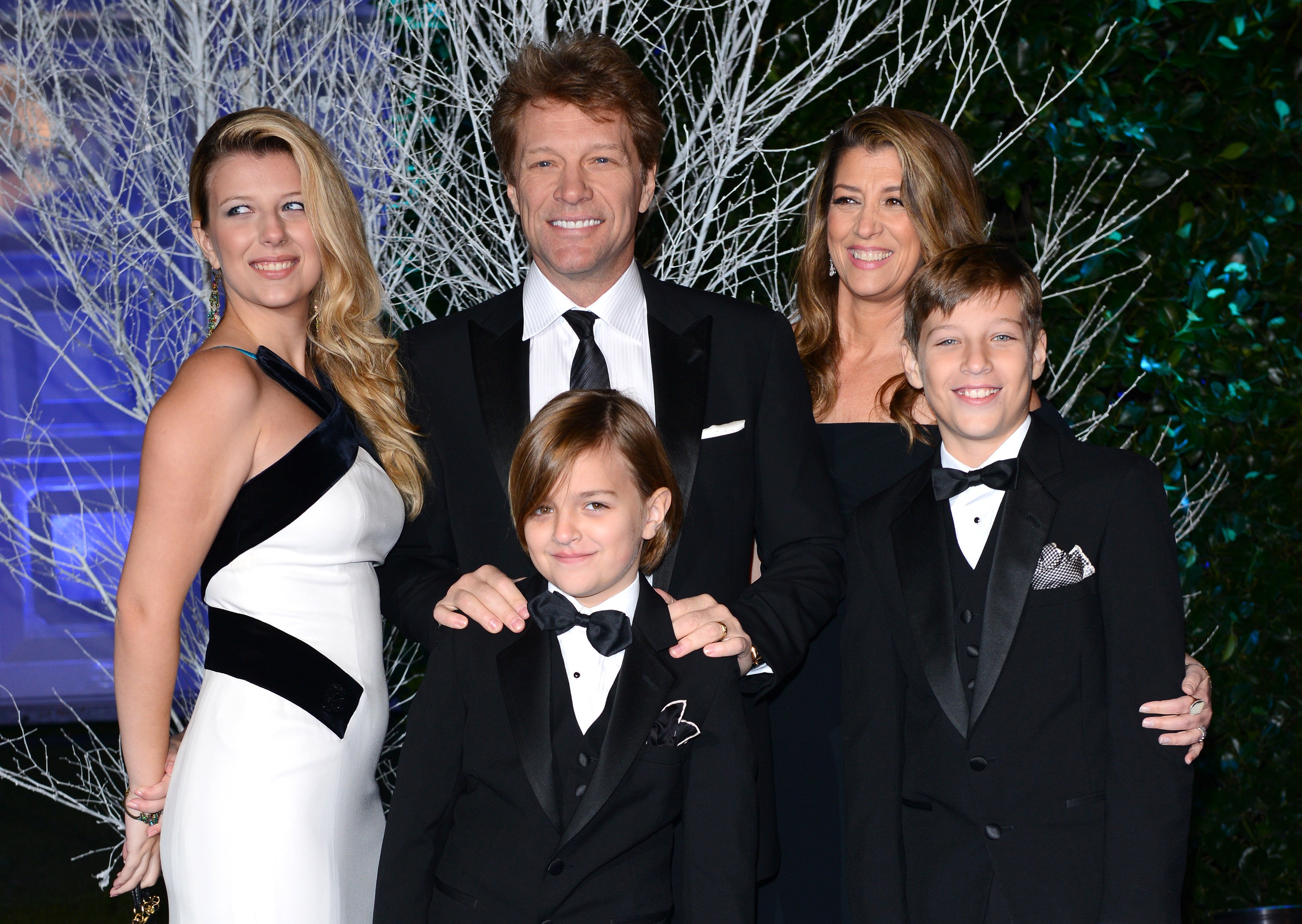 Stephanie Bongiovi, Jon Bon Jovi, Romeo Bongiovi, Dorothea Hurley and Jacob Bongiovi attend the Winter Whites Gala in aid of Centrepoint at Kensington Palace on November 26, 2013 in London, England | Source: Getty Images
Bon Jovi and Hurley's eldest son is Jesse, whom they welcomed on February 19, 1995. At 27, Jesse is a businessman who runs a Hampton Water Wine Co.
He graduated from the University of Notre Dame, and according to his LinkedIn profile, Jesse studied political science and government.
In August 2022, Jesse got engaged to his girlfriend, Jesse Light, after proposing at his East Hampton home in front of loved ones. The bride and groom to be at the time celebrated their engagement on the deck of the Surf Lodge in Montauk, New York.
The couple's third child, Jacob, mostly known as Jake, arrived on May 7, 2002. The 20-year-old is a student at Syracuse University in New York.
Jake hogged headlines in 2018 when he assisted in organizing a national student walkout to protest against the government's lack of response to mass killings in the US. That year, the protest occurred after a shooting incident in Parkland, Florida.
The actor and restauranteur's youngest child is Romeo, born on March 29, 2004. At 18, Romeo is a high school student in Manhattan.
The youngster's parents expressed excitement about "looking forward" to his graduation so they could "finally" be empty nesters.