When Jonathan Scott and Zooey Deschanel met for the first time, he didn't respond to her texts. After he did respond, the two didn't stop talking. They reconstructed a house for themselves, and Jonathan's dream of raising kids was realized through Zooey's kids.
Jonathan Silver Scott became famous for the TV show he shares with his brother, James Daniel Scott (JD for short), called "Property Brothers." Besides this, the TV personality has a myriad of other talents, including being a clown, a comedian, and a magician.
The master of many skills was born on April 28, 1978, in Vancouver, Canada. He has two brothers, Drew Scott and JD, whom he collaborates with to make his shows. Together, the siblings have created hit shows, including "Buying & Selling" and "Brother Vs. Brother."

Jonathan, Drew, and JD use their combined knowledge of construction and real estate to give people the homes they dream of. Twins Drew and Jonathan feature most together, collaborating in as many as seven shows, but JD has often lent a helping hand.
Jonathan shared that their first interaction was a bit awkward, and he eventually decided to stop the conversation and go home early.
The Scott brothers' ingenuity and entrepreneurship have been evident since they were kids when they created clothes hangers covered in nylon. Their product was a hit, even selling like hotcakes in a chain of stores in Japan.
These days, the Scott boys have an expansive entertainment and production company, a furniture line, and several shows. Jonathan's true passion has always been with performing magic, though, and he recently focused on that. He even changed his middle name to suit his magician persona.
Jonathan Was Lucky in Life but Unlucky in Love
The one thing Jonathan always wanted was a family. He looked forward to the prospect of raising kids with his previous girlfriend, Jacinta Kuznetsov, but things, unfortunately, didn't work out. After the split, they remained friendly and publicly thanked and wished each other the best.
The two were together for almost three years before they split up in 2018. Jonathan especially hoped to remain close friends, since Jacinta was the development producer for his and his brother's company, Scott Brothers Entertainment. In honor of their sustained amicability, the Property Brother posted:
"Sometimes life takes you on unexpected paths and those paths aren't always in the same direction. There's no drama or negativity; no jealousy or hate. Not even sadness or sorrow. Our memories are filled with joy and we will continue to advocate for each other as friends wherever we go."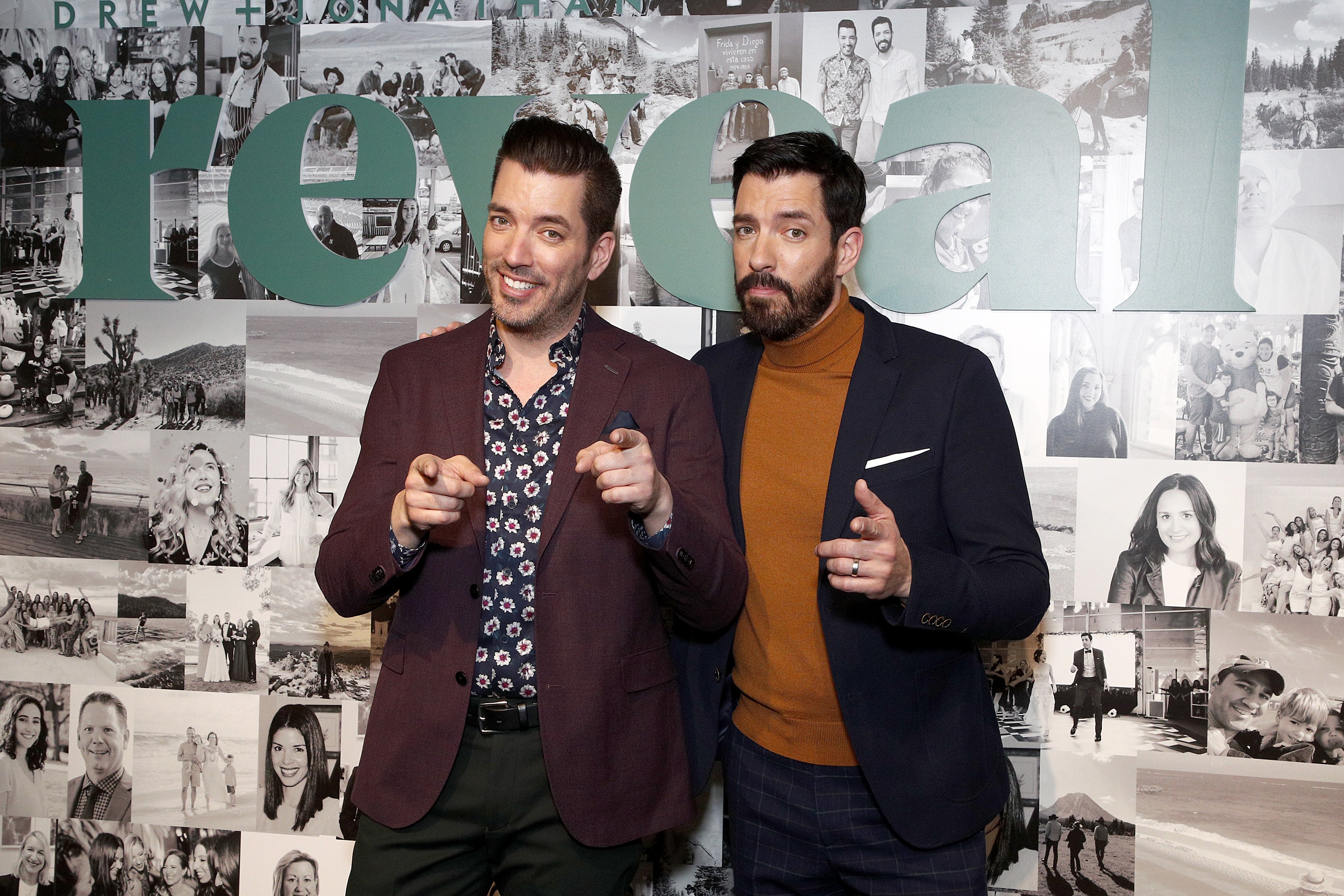 Jonathan Scott and Drew Scott celebrate the premier issue of New Meredith Corporation's lifestyle publication Reveal at Meredith, INC on January 09, 2020 in New York City | Source: Getty Images
Jonathan and Jacinta met in 2015 at a charity gala, which interests them both. The two started talking, and, initially, things could have gone better. Jonathan shared that their first interaction was a bit awkward, and he eventually decided to stop the conversation and go home early.
Considering how long Jonathan wanted kids, it's no surprise he's so close with Zooey's youngsters.
They met up on another occasion, though, and things went much smoother. Soon, the pair became inseparable. The two shared a house in Toronto and one in Las Vegas, and they often went on trips together. Jonathan hoped Jacinta would be the mother of his children, but things fell apart after a few years.
Jacinta isn't the first big heartbreak the handyman had, though. Before meeting Jacinta, he was married to Kelsy Ully until their divorce in 2007. He also said he had dated often throughout his life, and after Kelsy and Jacinta, the TV personality needed to take a few steps back to figure out what he wanted.
Jonathan Finally Found a Match
Jonathan spent two years alone after Jacinta. He traveled around and did a few things on his own. Then, in 2019, he was invited as a guest on the show "Carpool Karaoke." Zooey Deschanel was on the show with him, and he was intrigued by her "from the first moment she walked over to say hello."

After filming the episode of "Carpool Karaoke," the TV host went on a trip into the Rocky Mountains, where he had no reception. Zooey messaged him but got no answer for four days, at which point she thought he was deliberately not replying. When he came back, though, he had a surprise for her:
"The very first text I sent when I came out of the mountains was a video I recorded to a Canadian country song that she had mentioned to me. She was like, 'Oh, this guy likes me.' And we've literally talked every single day since. It's been the best three years of my life."
Zooey was in a long marriage before she met Jonathan. She shares two kids, Charlie Wolf and Elsie Otter Pechenik, with her former husband, Jacob Pechenik. But now, Zooey has a new helping hand with her kids. And the actress mentioned that Jonathan is doing a fantastic job. "I love it," Jonathan reveals, adding:
"Just (to) be sitting doing nothing and they'll come over and just plant a big hug on you or say something really sweet. Like, that came out of left field but I will take it!"
Considering how long Jonathan wanted kids, it's no surprise he's so close with Zooey's youngsters. The TV personality mentioned a while back that he would adopt kids if he couldn't find a suitable partner. Luckily, he found one in Zooey.
Jonathan, who said he waited his whole life to find Zooey, believes he'll be a good dad, and even Zooey admitted, he is "an amazing stepdad."

After being together for three years, Jonathan and Zooey seem just as happy as they were at the start. The couple designed and renovated the house they share and named it Park House. The two made it clear they plan on being together for a long time. They said they wanted the home to be perfect for the kids when they inherit it.