Renowned for his impact on the entertainment industry, Justin Timberlake is a towering figure in Hollywood. However, amidst all his triumphs as a singer and actor, his greatest joy comes from being a devoted family man.
From a young age, Justin knew he was destined for Hollywood, and his mom, Lynn Harless, his biological father, Randall Timberlake, and his stepfather, Paul Harless, supported that dream.
Born in Memphis, Tennessee, on January 31, 1981, Timberlake, a multifaceted talent, shot to stardom as the youngest member of the iconic boy band *NSYNC, ruling the charts in the 1990s.
Before that, in the late 1980s, he began his career as a child star in Disney Channel's "The New Mickey Mouse Club." He shared the spotlight with Christina Aguilera and Britney Spears, both of whom became influential pop sensations in the 1990s.
Following the release of *NSYNC's third album in 2001, Justin embarked on a successful solo music career and released his own music while delving into the acting world.
He made his big-screen debut in the early 2000s with films such as "Alpha Dog" and "Black Snake Moan" and went on to appear in several popular movies like "Friends with Benefits," "Bad Teacher," and "Trolls."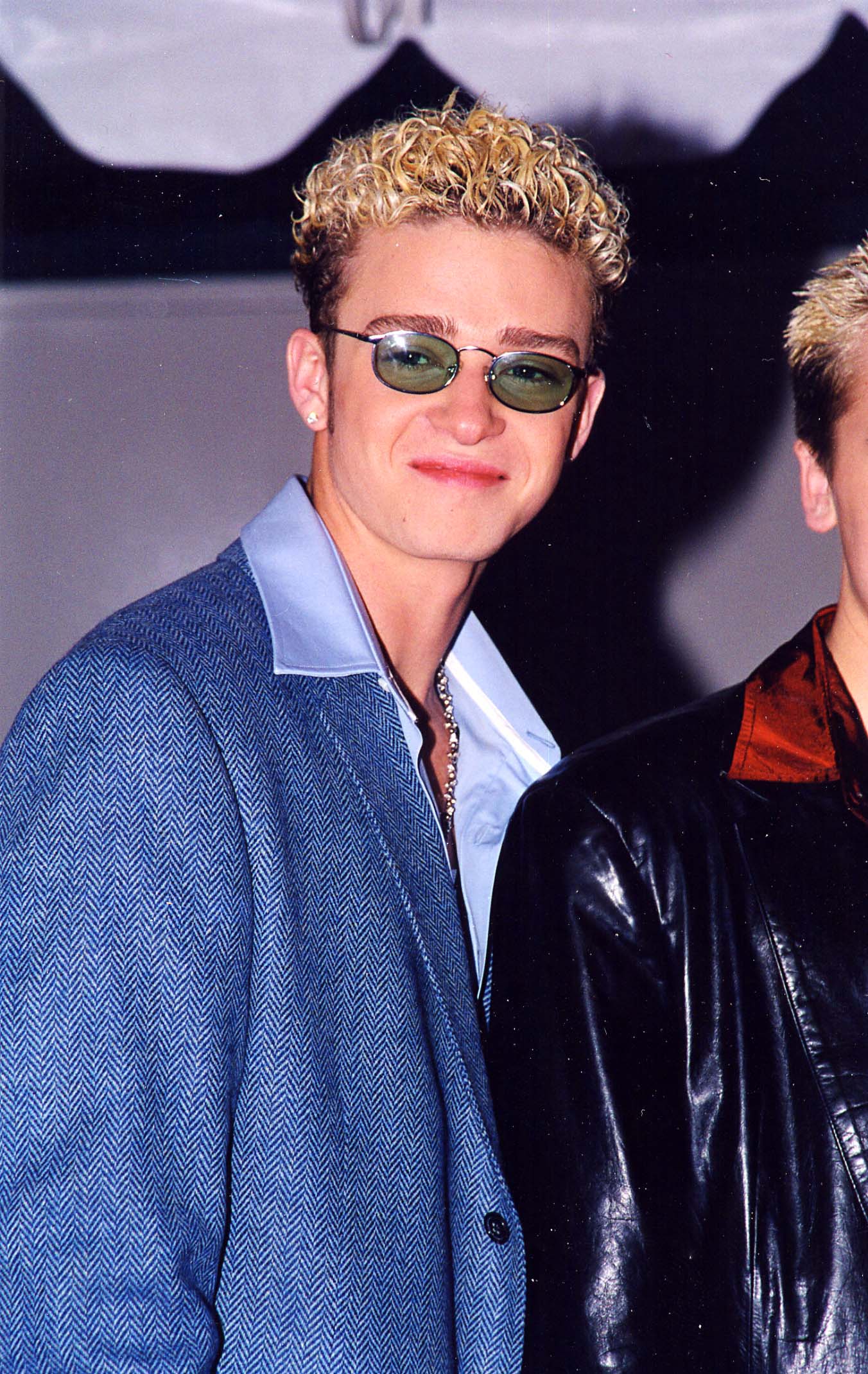 Justin Timberlake at the 1998 Billboard Awards at MGM Grand Garden Arena on September 6, 1998, in Las Vegas, Nevada | Source: Getty Images
In addition to his creative pursuits, Justin started several businesses. In 2011, he bought a small stake in Specific Media, which acquired Myspace. He assisted Myspace's transformation as the company's creative consultant.
Today, Justin is a father, a loving son, and a man who cares a lot about his ailing stepfather. Inside the story of the star's journey from childhood to fatherhood.
A 'Messed Up' Childhood
Justin grew up in Shelby Forest, a small community near Memphis, where his father, Randall, served as the choir director at the local Baptist church. His mother, Lynn is a supportive parent; she took him to every audition to fulfill his dream.
As a young boy, Justin already knew from the beginning that he wanted to pursue the world of entertainment. Despite his parents' 1985 divorce, his mom and dad supported him throughout his artistic journey.

Justin's mother promised to accompany him to every audition and give him unwavering support. However, she warned him that she would stop supporting him if he ever lost his passion for performing.
Justin eventually developed a strong desire for excellence through his journey to fame. When he joined *NSYNC, he ultimately stepped up his game even more.
As the group's youngest member, he understood the value of being prepared due to his athletic background. To ensure top performance, the band would have "quick outs," in which they would soon leave a concert venue and travel to the next city.
On the bus, Justin would watch a recording of their performance and make notes for improvements. He would then share his insights with the lighting team and the rest of the band.
When he thinks back on those days, Justin confessed to having a perfectionist personality and taking his work very seriously. Despite his current fame, he remains humble.
Unlike many famous individuals, the acclaimed singer prefers not to discuss his wealth. However, when questioned about it, he attributed his success to "good parenting."
Justin credits his stepfather Paul, a banker, for his knowledge of intelligent financial practices. During his teenage years, when he became famous, his mother's words also significantly impacted him.
According to Justin, Lynn taught him the value of staying humble and respectful, even when he was successful. This lesson has stuck with him, and he tries to live by it daily.

Although incorporating smart financial practices and maintaining humility has become a daily routine for Justin, he admitted being a child star has its downsides, saying:
"I think we can all agree that I did not have a normal childhood."
At the age of 14, he had already become a star, robbing him of a normal childhood. It was his dream to become one, and his parents did everything to fulfill it—his mother took him to every audition to make him happy.
When he was around 15 or 16, he recalled being on a tour bus in Germany after a festival concert and saw a group of excited girls following the bus outside the window. It changed his views on being a teen star.
Now father to his sons Silas and Phineas, he understands how unique his own upbringing was. While he claimed he had a messed up childhood, he has appreciated the good and bad experiences, including his "childhood traumas."
Justin recognizes he has much to be thankful for because his parents did their best despite facing challenges. Although he is famous and married to actress Jessica Biel, he still wants to keep their sons out of the spotlight.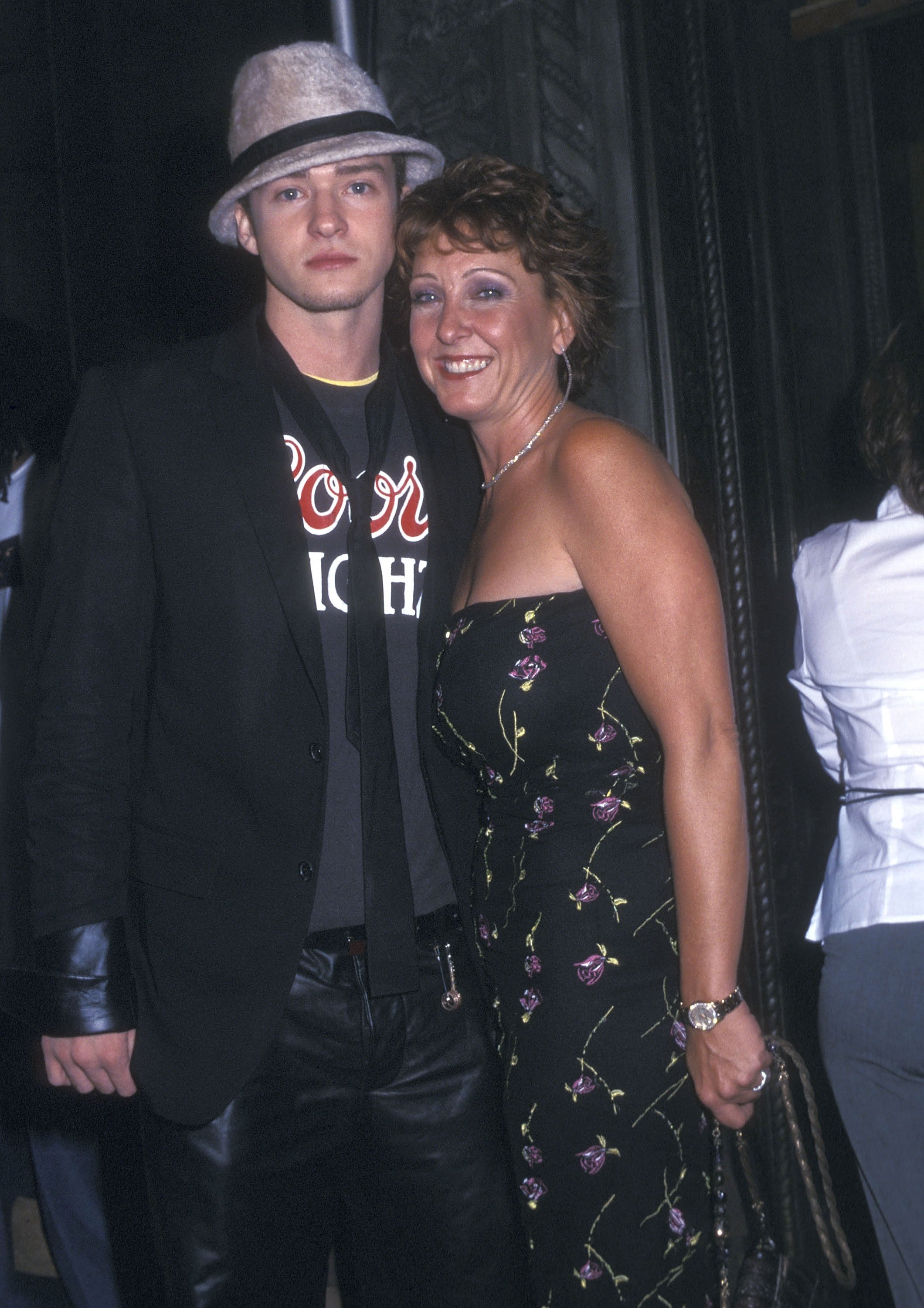 Justin Timberlake and his mother Lynn Harless attend the 19th Annual MTV Video Music Awards after-party hosted buy Guy Oseary at Cipriani's on August 29, 2002, in New York City. | Source: Getty Images
Back in 2017, he said that if Silas decided to pursue a career in show business, he would be the "good guy" and would be willing to be a sounding board and offer advice on how to avoid common pitfalls.
While Justin sees himself as a singer, actor, and father and relies solely on his instincts when making decisions about his future, he knows these are the only skills he has and takes pride in them. He added:
"I'm mostly just glad this is all working out because I really can't do anything else. I'm not gifted at anything else."
Justin: A Devoted & Caring Son
Even though he has his own family, Justin maintains a very close relationship with his mom. He recognizes that his mother has played a crucial part in helping him achieve his current success.
In a Rolling Stone interview in 2003, Justin talked about his close bond with his mother. "We have a very special relationship," he told the outlet. "She's been my best friend since I figured out who I wanted to be. She's great, and such a fun woman."
He also admitted that his mom's presence made it hard for him to find a girlfriend, as he believed no one could measure up to her. Luckily, he met Jessica, to whom he has been married since 2010.
Justin celebrated Lynn's birthday in 2015 by posting a childhood photo of them at the beach on Instagram. In his sweet tribute, he referred to her as his "first partner in crime" and "queen of the house."
Justin also expressed his love and gratitude, saying they had overcome many challenges. He emphasized that his mother is the reason for his current and future successes and that his love for her is indescribable.
The mom-son duo's close relationship is also evident in their geographic choices— Justin bought a house near his mom's residence. He purchased a 126.63-acre property in Williamson County's Leiper's Fork community in Tennessee for $4 million.
Aubrey Preston, known for his philanthropic and preservationist efforts, sold the property to Justin. The piece of land the music superstar acquired was only a portion of Preston's 244-acre lot in the same area.
The extensive property is located near Lynn and her husband's residence. Justin's mother and stepfather live in Brentwood, where they purchased a 10,000-square-foot house on a 10-acre lot worth $2.83 million.
When not visiting his mom's home, Justin takes her to dinner. In 2019, he and Lynn enjoyed a celebratory dinner in New York City after he received an honorary Doctor of Music degree from Berklee College of Music.
Although Jessica and then-only son Silas were not around for the special dinner, they did celebrate Mother's Day together that year. Jessica shared her gratitude for her mother and mother-in-law on social media.
In addition to showering his mom with loving gestures, Justin also held her in high regard for her remarkable strength as a partner to his stepdad, who was diagnosed with Dementia in 2016.
Justin was profoundly impacted by Paul's diagnosis, as he felt as though he was losing his partner. Lynn revealed the pop singer had closely monitored his stepfather's condition, adding:
"It was so difficult for Justin to watch. It's been heartbreaking."
In 2022, Lynn admitted to struggling with grief and missing the intimacy she shared with her husband through conversation or physical touch. Most people do not know how to act around Paul because of his condition, which makes the situation even more lonely.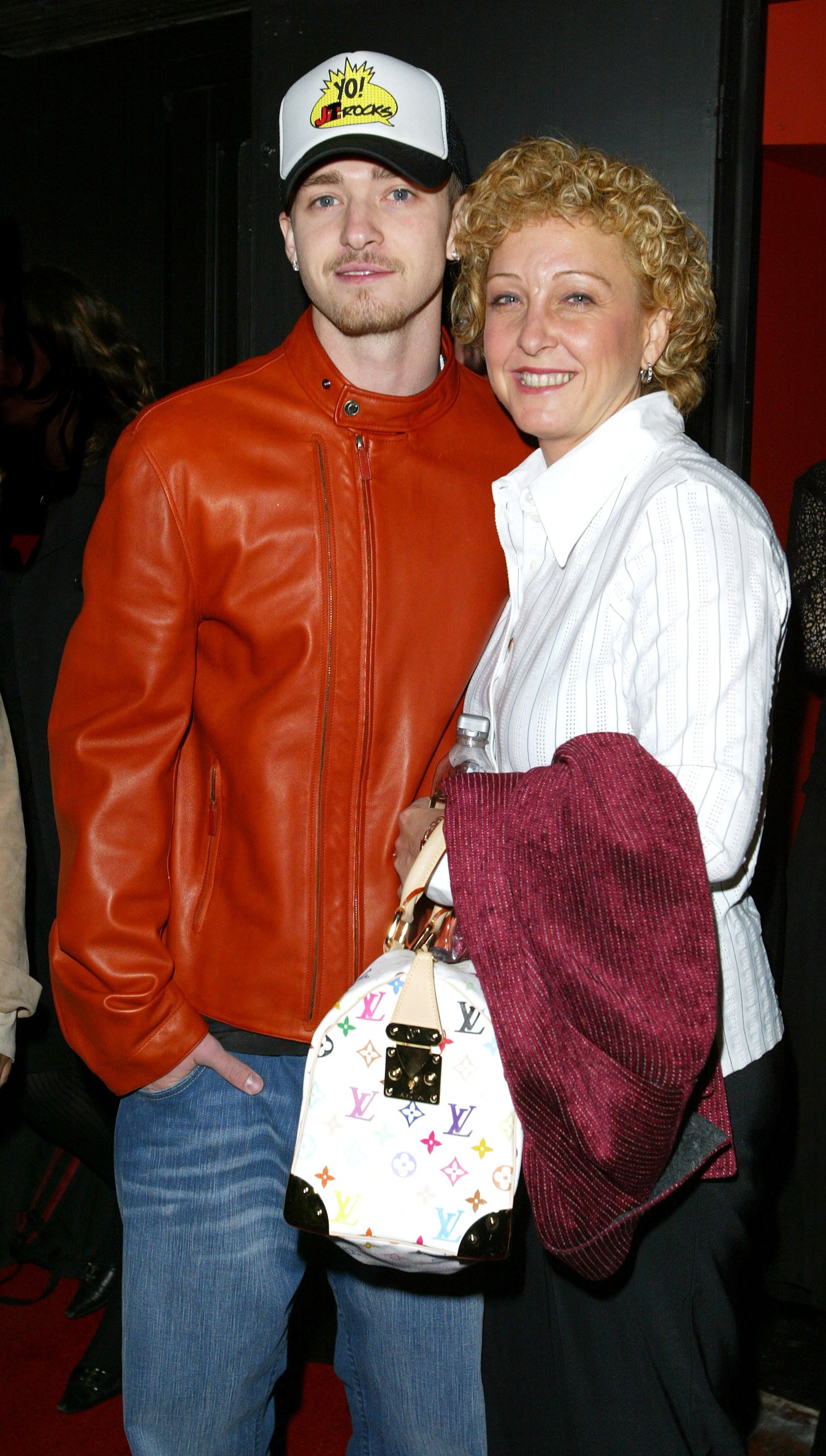 Justin Timberlake and his mother Lynn Harless attend the Rex Cinema & Bar Launch Party in in Central London, England in 2003. | Source: Getty Images
Lynn stated that despite their circumstances, she maximizes each chance to attend to her husband who seldom communicates but is aware of his surroundings.
Before Paul's diagnosis, Lynn knew that brain disease ran in Paul's family. She had already noticed earlier signs of his condition, such as forgetfulness and feeling disoriented.
She recalled one incident during a cruise trip when in the middle of the night, Paul asked her when they would be heading back to the boat. Thus, they visited a physician, who subsequently validated Paul's medical condition.
To help Paul, Lynn sought cryotherapy, changed his diet, and used liquid crystal amethyst therapy. Her family also sought the assistance of an "energy healer," which yielded positive results.
Paul's doctor noted improvements in his memory and communication, and Lynn claimed he returned to his normal and loving state when he awoke the next day, making sweet gestures to her.
Even though Paul has bouts of illness occasionally, his family members maintain a "cautiously optimistic" outlook, and he continues to receive medical treatment under his physician's care.
Striking a Balance between Privacy & Popularity
Justin became a father for the second time in 2020 when he and Jessica secretly gave birth to their son Phineas Timberlake during the pandemic after welcoming Silas in 2015.
The acclaimed musician has had some difficulties with fatherhood, but he also loves being a dad. When Silas was born, he had to deal with the exhaustion of sleepless nights and the not-so-fun task of changing diapers.
Jessica shared that her husband is very involved in parenting and does everything he can to care for their son. While she appreciates his efforts, Justin remarked that being a parent requires teamwork.
During the pandemic, Phineas' arrival appeared to be a silver lining for the couple as they enjoyed their second pregnancy without fanfare while living peacefully in their Montana home.
Justin shared his feelings about his two children and the importance of keeping their privacy and safety in a 2021 "Armchair Expert" podcast interview with host, actor, and comedian Dax Shepard.
Justin opened up about how he and Jessica manage the tricky situation of striving to provide their children with a normal childhood while safeguarding them from the public's judgment. He said:
"I try to be conscious of making sure we can live a life where we're not weirdly private, but we're conscious of making sure they can be kids for as long as possible…"
Moreover, Justin was concerned that his kids might encounter difficulties establishing real friendships and being treated differently from other kids simply because of their parents' jobs.
Justin has aimed to teach his children that their professions, while exciting and enjoyable, do not determine their worth as individuals. He thinks that this message will be more important as they grow up.
Justin's path from his early years to fame and finally becoming a father highlights the importance of having strong backing from family, perseverance through hard work, and remaining authentic to oneself.
As a devoted family man and successful entertainer, Justin values the lessons he learned from his mother, including staying humble and being respectful. These are two values he wants to pass on to his kids.