Kate Jackson was once at a time in her Hollywood career, where she lost herself in the making of "Charlie's Angels" that it took an exit off the show to save her. Jackson found the strength to leave after she met her first husband.
Kate Jackson was one of the pioneers of the 1970s TV series "Charlie's Angels." She played a significant part by giving the classic show its title and taking on the prestigious role of one of the angels, Sabrina Duncan.
Yet, despite being the brain behind these impressive feats, the TV star felt like a fish out of water and struggled to keep herself together on the show's set. Jackson was on auto-pilot through the first three seasons of "Charlie's Angels," solely focusing on her job.
Publicity studio photo of actress Kate Jackson from the television program "Charlie's Angels" 1976. | Source: Wikimedia Commons Images
While fans cheered her excellent job on TV, Jackson felt far from fulfilled and majorly struggled with her mental health until she made her exit. Here's a look through that rocky moment.
Inside Jackson's Plight on "Charlie's Angels"
Kate Jackson left "Charlie's Angels" after filming season three in 1978, and it was clear that it only felt right to exit the show. However, after her stint ended, there seemed to be a sigh of relief from Jackson and the showrunners, Aaron Spelling and Leonard Goldberg.
The star actress was on vacation when news got out that she would no longer reprise the role of Sabrina Duncan on the crime fiction series.
However, Jackson was far from perturbed after learning the development because she was already at a breaking point. She told People in 1979:
"I guess I did cause a few problems. What it comes down to is I got tired of them and they got tired of me. I'm glad I've finally been able to hang up the halo…"
Goldberg and Spelling also subtly attested to this, sharing that Jackson was let go "due to problems on set." While Jackson might have defaulted in her work ethic, she personally struggled with being on the set of "Charlie's Angels."
For one, the 14-hour work schedule on set took its toll on the TV actress. The stretching hours made Jackson confused. It perplexed her mind and made her lose a "sense of self."
Jackson recalled how she attained success through the famous show but still could not find happiness. She noted that her life "was all geared to work," even when millions of fans displayed their unabashed admiration.
The Turning Point for Jackson
Jackson literally had the world at her feet and success within her grasp, but she discovered it was not enough. Instead, it all left a vacuum in her until she met fellow star Andrew Stevens.
The "Making Love" actress met "Dallas" actor and Stella Stevens' son, Andrew Stevens, while she filmed her last season on "Charlie's Angels."
The "Scarecrow and Mrs. King" actress found lasting love not in the arms of a lover but in the joy of being a mom to Taylor.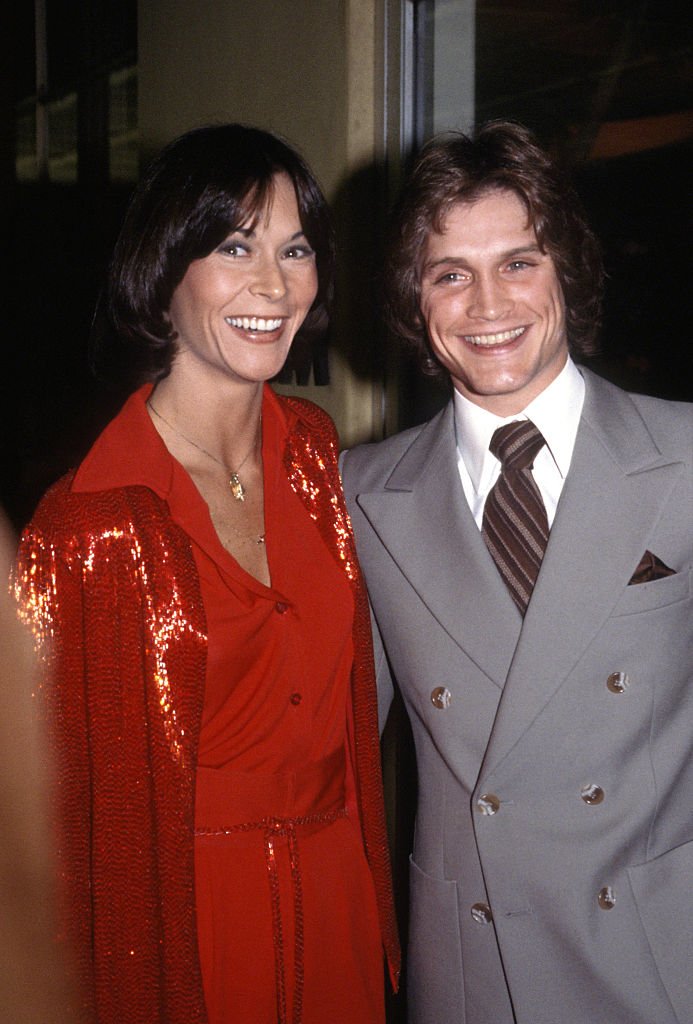 Couple Kate Jackson and Andrew Stevens smiling in a photo circa 1980. | Source: Getty Images
And by August 1978, the star actress eloped with Stevens and tied the knot at Martha's Vineyard. Jackson gushed to People about her man:
"Suddenly there was this adorable man really caring about me, even when I was crying and my hair was all weird. Before we knew what hit us, we were madly, passionately in love."
Jackson shared that they mutually supported each other and that alone felt like a gift. Stevens, who is six years younger than Kate, was by her side, taking away the loneliness she felt after a long day on set. However, it did not lessen her restiveness at work.
The star came to a point where she realized that filming "Charlie's Angels" drained her, possibly transcending her love life with Stevens. This was where she decided it was time to hang up the halo.
Their Union Did Not Last
Within three years of enjoying bliss and a refreshing change with Stevens, things turned sour in Jackson's marriage. After three years, the star who formerly described Stevens as a caring man had a different opinion.
It is safe to say that Jackson felt the impact of their failed marriage mostly on her finances. The actress once said about their lovely marriage that turned sour:
"I felt as if my ex-husband drove up to my bank account with a Brinks truck."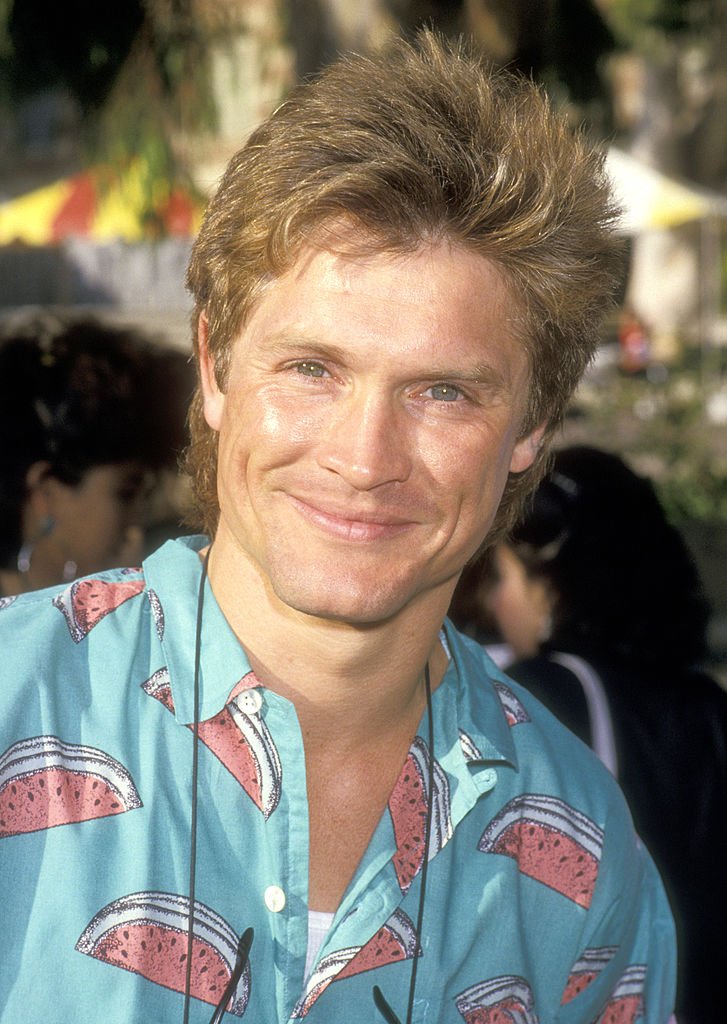 Actor Andrew Stevens attends the Opening Ceremonies for the 1987 California Special Olympics on June 19, 1987. | Source: Getty Images
She and Stevens called things off in 1981, and by the following year, Jackson was married to New York business executive David Greenwald. The star married the movie director in a private ceremony at her Beverly Hills home.
While it was "The Rookies" actress' second marriage, Greenwald walked down the aisle for the first time. Then, in 1984, the pair hightailed it to the divorce court, where their marriage of two years was dissolved.
Jackson tried her hand at matrimony a third time when she married Tom Hart in 1991. All the while, the star actress longed to have a baby. But unfortunately, her wish did not come true, and just like the first two, her third marriage crumbled within a few years.
Jackson decided it was time to take a break from marriage and the matters of the heart, but her quest for a baby did not end. Instead, she found the motivation to adopt a child after visiting fellow actress Rosie O'Donnell at home.
At the time, O'Donnell had just adopted a child and pitched the idea of adoption to Jackson. So, without further ado, Jackson found herself signing adoption papers and was able to go home with a little boy she called Charles Taylor Jackson.
Jackson found true love being a mom to Taylor. The love she felt further expanded after she became godmother to fellow "Charlie's Angel" star Jaclyn Smith's daughter.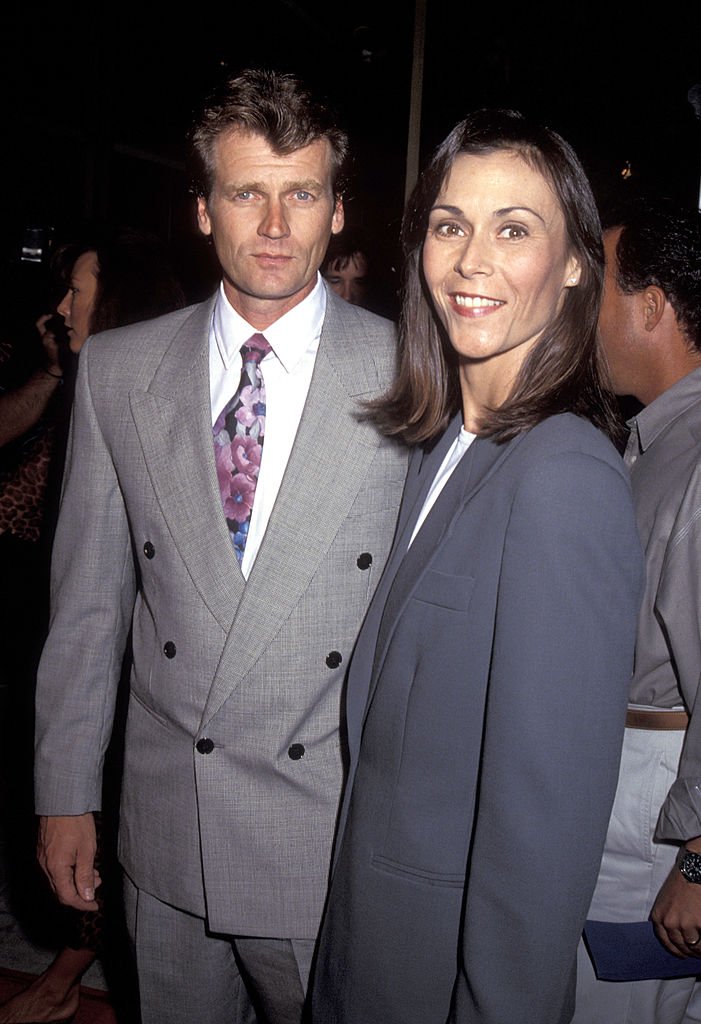 Tom Hart and Kate Jackson at the "A River Runs Through It" Los Angeles Premiere on October 01, 1992. | Source: Getty Images
The "Scarecrow and Mrs. King" actress found lasting love not in the arms of a lover but in the joy of being a mom to Taylor and godmother to Spencer Margaret Richmond, and for her, that was more than fulfilling.
After leaving "Charlie's Angels," Jackson continued soaring in Hollywood, having gained enough recognition from the show. She also expanded her resume, going on to become a producer and director.