Movie star, Keanu Reeves, has endured endless tragedies over the years. He and his then-girlfriend, actress Jennifer Syme, were expecting their first child together when tragedy struck.
The couple's daughter, Ava Archer Syme-Reeves, was stillborn on Christmas Eve in 1999, eight months into Syme's pregnancy. Reeves and his significant other were left devastated by the loss.
Unfortunately, they broke up weeks after the death of their child. The Hollywood pair met in 1998 at a promotional party and immediately "fell in love" with each other.
Sadly, two years after losing their daughter, Reeves suffered more heartbreak when Syme died in a car accident. She had attended a party and was offered a ride back home but instead chose to drive herself in her Jeep back to the event while drunk. Consequently, she crashed into parked cars and died on the scene.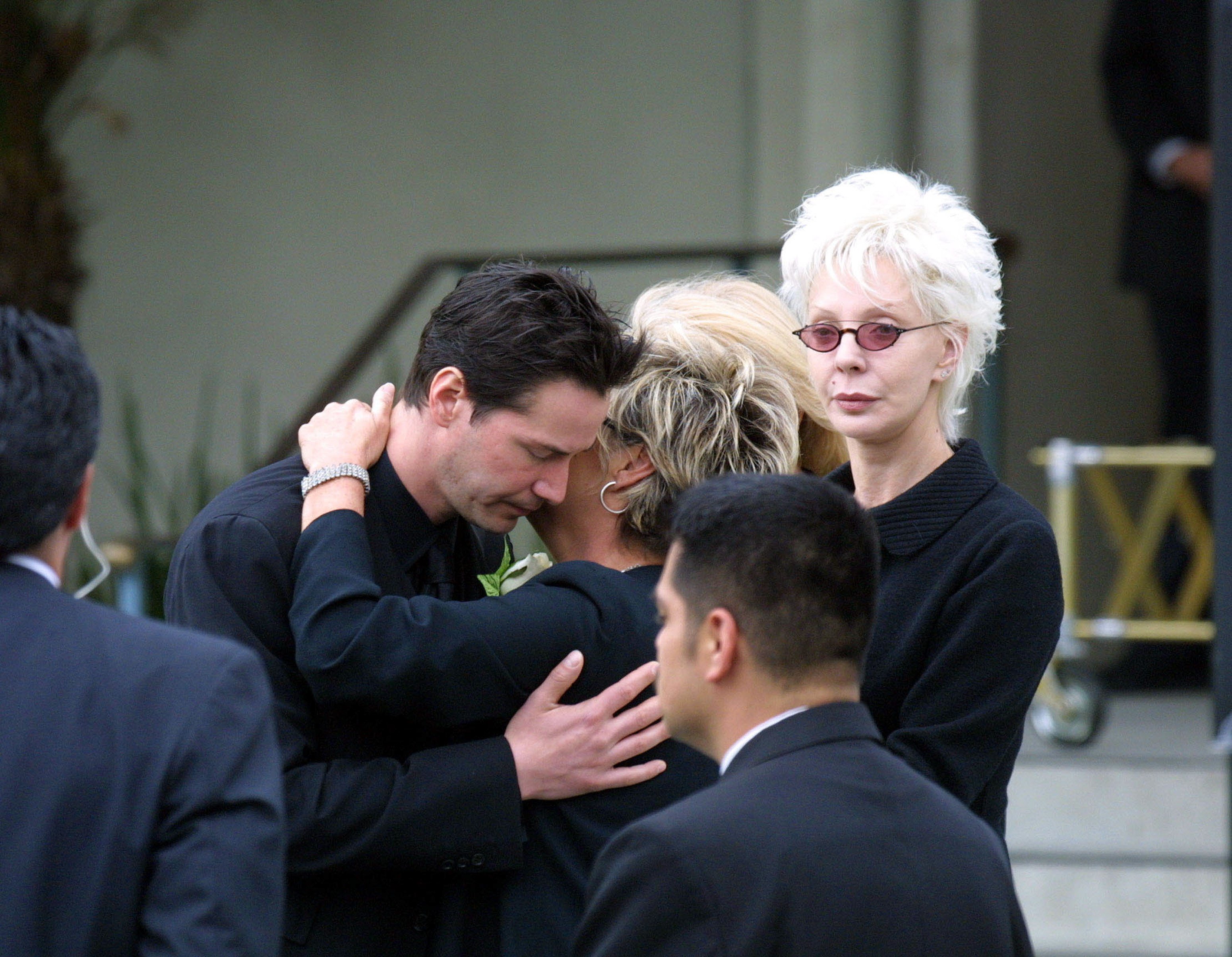 Keanu Reeves and his mother Patricia Taylor pictured at the funeral of Jennifer Syme on April 7, 2001 in Los Angeles, California ┃Source: Getty Images
Grieving Syme's untimely passing, Reeves reportedly said he found it "very, very difficult to cope with her death." To face the tragedy head-on, he took up the role of John Wick, who lost his wife in the 2014 movie. Of the character, the Canadian native said:
"I thought it was one of the foundations of the role. I love his grief. I relate to that, and I don't think you ever work through it. Grief and loss don't ever go away."
Reeves further explained that grief and loss stay with a person despite their stage in life, "It's always with you, but like an ebb and flow."
Since losing his longtime partner and child, Reeves never married or had any kids. And for a long time, he never revealed he was in a relationship until recent years.
He went public with his artist girlfriend, Alexandra Grant, whom he met in 2009 and was friends with for years. The pair crossed paths eight years after Syme passed away and bonded over what Reeves deemed his "self-pity" poetry.
His relationship with Grant was the first he had gone public with in years, as he decided to keep some of his past relationships under wraps. He and the Ohio native had been together publicly for more than two years and a reportedly madly in love.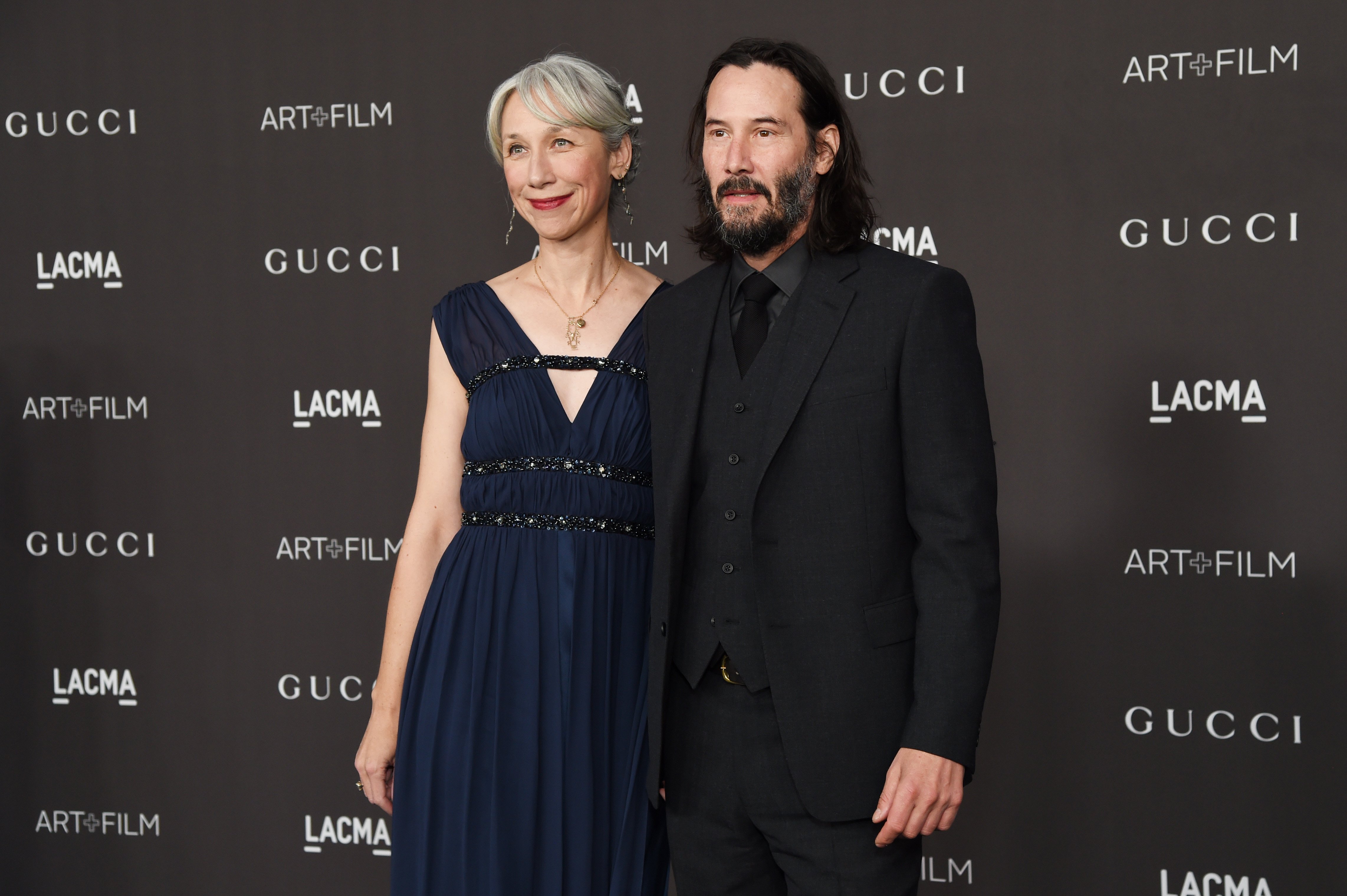 However, that is not to say that Reeves has fully grieved for his former love and child, and he explained why that is. The actor said people have a pre-conceived notion that people who lose their loved ones could quickly go through the grieving process and it is all over:
"People have a misconception that you can deal with it and say, 'It's gone, and I'm better.' They're wrong. When the people you love are gone, you're alone."
Reeves admitted that he longs to have the people he lost back in his life and misses being a part of their lives too. He added that he ponders how their lives would have turned out were they still alive and what he would have accomplished with them:
"I miss all the great things that will never be. Damn it! It's not fair! It's absurd."
"The Matrix" star stated that all a person could do is remain hopeful that one day, their grief would be "transformed" and that in place of "feeling pain and confusion," they would be reunited with their loved ones "in memory" and that there would be comfort and gratification and not only "loss."
Reeves expanded on the subject of death in May 2019 when he appeared on "The Late Late Show with Stephen Colbert." The host asked him what he thinks occurs when one dies, and he took a moment before he answered:
"I know that the ones who love us will miss us."
Apart from losing his love and daughter, Reeves also lost his beloved friend, actor River Phoenix – who died from a drug overdose at age 23 in 1993.
When he lost his beloved pal, Reeves was also 23 years old and was filming the action movie "Speed" with actress Sandra Bullock. She revealed that the Oregon native's death significantly impacted Reeves, who tried his best to hide it at the time. "He hides great pain," she disclosed.
Reeves himself admitted that he felt "terribly" about Phoenix's passing, adding he was "Incredibly sad. And, I miss him very much."
When speaking on his friendship with Phoenix, he shared that he was like an "older brother," to him but "only shorter." Reeves previously expressed his love for "My Own Private Idaho" co-star during a joint interview, adding:
"I've always loved you, River. River is my best friend, and I don't have many of them."
The mega-star also has a particular perspective on love. When Reeves appeared on "The Drew Barrymore Show," he and the actress-turned-television host debated about the subject when she said, "I'm not a fighter. I'm a lover." To which he replied:
"No, because if you're a lover, you've got to be a fighter. If you don't fight for your love, what kind of love do you have?"
Reeves Shows up at a Couple's Wedding
Despite his grief from losing loved ones and never getting hitched, Reeves is all for love. In August 2022, he was brave enough to show up at a fan's wedding, which stunned the bride and groom.
The "Point Break" star appeared unexpectedly at Nikki and James Roadnight's wedding reception. The UK couple exchanged wedding vows in front of friends, family, and Nikki's then-five-year-old daughter, following two years together.
The wedding occurred at the Fawsley Hall in Northamptonshire when James learned that the Hollywood star was staying at the hotel. In an interview, his newly wedded wife recalled that he bumped into him before the reception at a "bar area" and told him he had gotten married while asking him to come over to celebrate their nuptials if he did not mind.
She further explained Reeves warmly received the invitation and told her husband he would drop by "later on." Still, they did not expect him to show up as he said and only appreciated the fact that he politely interacted with James.
While enjoying their special day, a staff member approached Nikki an hour later and informed her that a "very special guest" stood outside and wanted to see her. She was greeted by the "Speed" star when she eventually made her way outside.
Nikki expressed exhilaration when she reminisced about the encounter. She recalled introducing herself to the movie star and asking him whether he wanted something to quench his thirst, but he politely turned down the offer.
He explained he had been on a "long flight" and would only remain for a short while. Still, Reeves gave Nikki something to rave about as she revealed he was pleasant enough to wish her and her newly wedded husband well on their new life together:
"He was so kind and friendly and congratulated us on our wedding."
Nikki added that Reeves was so accommodating that he took pictures with them and made time to engage with the guests while taking more photos. She admitted that she and her wedding guests were left "a bit star-struck" by his presence, even though the encounter became the main subject on her wedding day.
The British native shared that her mother also took photos that day and asked everyone to shout out "Speed" while capturing the moments. They all burst into laughter upon her request, as it was Reeves' old movie.
Nikki divulged that she and her family are huge fans of Reeves, adding that she enjoyed watching "The "Matrix" films and that they are all "really big fans of the 'John Wick' films too! It was so cool."
She and James described their big day as "absolutely perfect anyway, and we had the most magical day." She added having Reeves stop by was the highlight of their day and that it was something they would cherish forever
Reeves Can Not Say "No" to Fans
Reeves has been known for being gracious enough to interact with his beloved fans over the years and has made headlines for his genuine interest in others.
In July 2022, the "Youngblood" star boarded a plane with television producer Andrew Kimmel from London to New York. Kimmel revealed on Twitter that he witnessed Reeves interacting with a young fan who approached him for an autograph at baggage claim.
Not only was he willing to sign one, but he also engaged in a lengthy conversation with the said fan and was happy to answer some of the teenager's questions.
The youngster asked the film star about his trip, why he traveled to London (apparently filming a Formula 1 documentary series), and what business he had in the Big Apple (seeing American Buffalo on Broadway).
According to Kimmel, when the fan ran out of questions, Reeves took his turn and asked a few questions of his own. He asked the boy about what he was doing in "Europe," he asked about the "galleries" he visited "in Paris" and which of them were his "favorite."
While admiring the interaction between the two, Kimmel admitted that he "geeked out a little and asked for a photo" too and praised Reeves for his genuine self:
"The man could have been nicer. [..] I thought I'd share this because the man is a class act and little moments like this can make such a big difference in people's lives."
That was only one of Reeves' track records in engaging with fans. In 2021, personal trainer Patrick Murphy recounted when he worked with the award-winning star in his franchise film, "John Wick 3," in NY.
Murphy disclosed it used to take half an hour to take a "3-minute" walk from his place to the gym "because he couldn't say no to fans asking for a photo." He added Reeves would even allow fans to walk along with him, and they would "share their ideas" and discuss films.
That came a day one Reeves got ambushed by a child with special needs, and his reaction melted hearts. An "autistic boy jumped on him from behind," and Reeves instantly turned to see who it was. Upon realizing that it was a youngster with autism, he "embraced and calmed the boy immediately, signed memorabilia, and had a beautiful chat and photo with him," Murphy remembered, adding:
"I've always admired KR's kindness. He's simply the best."
Another heart-warming story was shared about Reeves in August 2022 when he made a generous gesture toward an 80-year-old fan. An individual revealed on Reddit that their grandmother developed a crush on the A-lister as he reminded her of her late husband.
The said woman was homebound for a decade following a stroke she suffered in her early 70s. Interestingly, she found comfort in watching Reeves' films, including "Bill and Ted." The Reddit user further explained their uncle bumped into the author at a restaurant in Los Angeles.
The social media user recalled that it was during a time when "The Matrix" had just been released when their uncle was in LA for business when Reeves walked inside an establishment.
After finishing his meal, the said uncle walked up to the star's table and told him, "'I don't usually do this, but I just wanted to let you know that my 80-year-old mother loves you and has seen all of your movies. You remind her of my dad,'" the person revealed.
Afterward, Reeves asked their uncle whether he had a phone with him and said, "'Give her a call, I want to talk to her,'" the user penned, adding: "He spoke with my grandmother for several minutes and it absolutely made her year. She was so isolated and his genuine kindness to her and interest in her showed what a truly amazing man he is."