Kate Hudson believes family is not measured by blood but by the loyalty shown by those available during formative years. See how she honored Kurt Russell with a tear-jerking Father's Day post after her biological dad disowned her.Indeed, Goldie Hawn's third time was a charm as she found a devoted lover, and an impressive stepfather to her kids, in Kurt Russell.
After two failed marriages, Russell changed the game by being everything she needed.His relationship with Hawn's kids, Kate and Oliver, is commendable. Once he decided to be in their mom's life permanently, he embraced them and has since acted like their father.
Russell shares a close relationship with the younger Hudson and has extended his affection toward her children. A source claimed that he felt proud of Kate when she became a mother, which led him to play a significant role in handling the kids whenever she was unavailable. According to the insider:
"He loves nothing more than taking the kids for a weekend if Kate is working or traveling and he'll play video games with the boys and let them eat a lot of chocolate."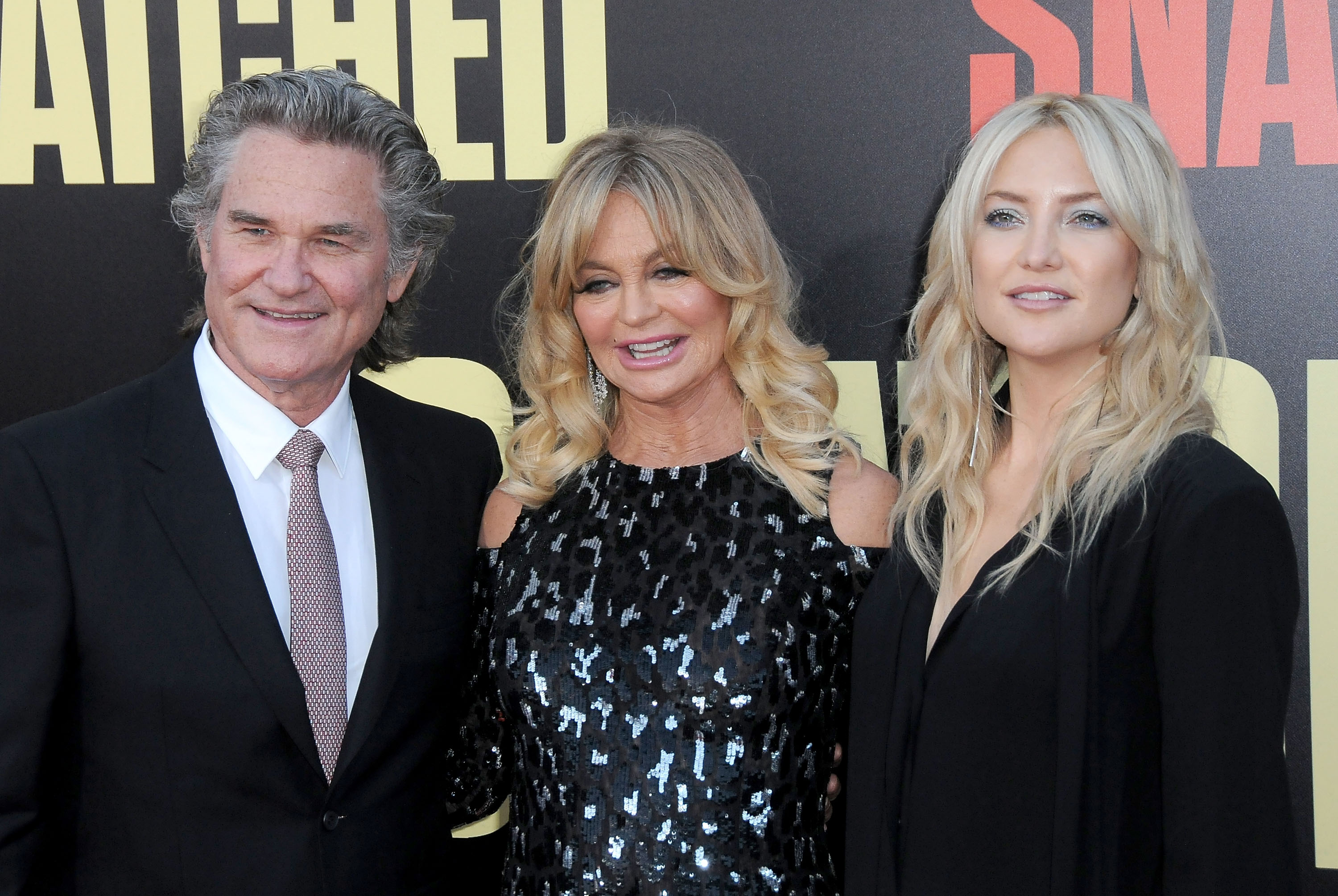 Kurt Russell, actresses Goldie Hawn and Kate Hudson attend premiere of 20th Century Fox's' 'Snatched' at Regency Village Theatre on May 10, 2017 in Westwood, California. | Source: Getty Images
Indeed, Russell's love for Hawn's kids was never superficial. He invested time in being a great grandfather to them alongside his lover. He describes them as his kids and has publicly shared memories of how the kids grew up.
While speaking on "Family Entourage," the movie star gushed about Kate's skills. He lovingly explained how wonderful it felt to hear her sing and jump as a young girl in her room.
She also made him proud during her school plays, which Russell and Hawn always attended. As Kate grew older, she harnessed her performance skills, branching into the film industry and bagging nominations at a young age.
Russell remains in awe of the actress, who has ventured into other businesses besides acting, showing that she can be a master of all trades.
On the other hand, Kate confessed that she looked up to Russell, learning virtues like patience from him, during her childhood. The actress talked about how privileged she felt to have him as her dad while watching him break a horse.
KATE HUDSON RECOGNIZES RUSSELL'S SACRIFICES

Kate's bond with Russell is one of a kind. They never address each other with the name tags "step father" or "step daughter." While the actor sees her as his daughter and calls her Birdie, she refers to him as Pa. Their relationship is not different from a father and daughter, and throughout the years, Kate has recognized his influence in her life.
Whenever she has the chance to celebrate him, the actress never minces her words. During 2022's Father's Day, Hawn's mini-me took a trip down memory lane, sharing a precious throwback where she embraced her Pa while resting next to him on a bed. The caption read:
"Fun, adventurous, passionate, determined, honest, devoted, amazing father and the best head of hair in Los Angeles! Lucky us! Love you Pa! Happy Fathers Day."
Kate's post attracted many likes and comments from fans and family. Her mom quipped, "Honey, this picture speaks volumes." Hawn showed the post to her partner, who reacted via her page in the comment section of Kate's post. Russell was overjoyed by the gesture and wrote:
"It's kinda hard to see it though cause all that water seems to somehow have found its way into my eyes…thanks for making me the luckiest father in the world sweetheart. I love you, Pa."
This is not the first time that Kate celebrated Russell on Father's Day. In 2021, she shared a snapshot that showed her leaning towards Pa; one of the actor's arms rested around her neck.
What followed was a clear description of Russell's role as the family's patriarch, which Hawn agreed to in the comment section. Kate represented him with the sweetest adjectives, calling him "loyal protector," "dependable," and an "untamed adventurer father."

KATE'S RELATIONSHIP WITH HER BIOLOGICAL DAD
Although Kate's relationship with her stepfather is desirable, that cannot be said about her relationship with her biological dad, Bill Hudson. The actress admitted that she is thankful for her family, including Russell, but her inability to connect with Bill for many years affected her life despite this blessing.
Kate maintained that Russell fitted perfectly, but knowing they had a dad who was not committed to being present left a vacuum. The actress and her brother agreed that their biological father walked out on them as kids.
So it is unsurprising that they have never celebrated him as a vital part of their lives. However, they have been vocal about his abandonment. In a 2015 Father's Day post shared by Oliver, he uploaded a throwback snap of Bill in the middle of Kate and himself, with a caption that read:
"Happy abandonment day."
This generated a reaction from Bill, who had maintained his silence for years. In an aftermath interview, he declared that they were no longer his kids, adding that they were dead to him. Bill further stated:
"I no longer recognise Oliver and Kate as my own. I would ask them to stop using the Hudson name. They are no longer a part of my life."

Bill's frustration did not end there. He accused Russell of being the mastermind behind the change they all witnessed, adding that everything changed once he came on board, even Hawn. Kate's biological father also blamed the actor for alienating him from the kids.
KATE'S REACTIONS TO HER FATHER'S PRONOUNCEMENT
Despite being disowned by her biological dad, Kate claimed she still thinks about her father. Even though they do not have a good rapport, Kate is saddened by her lack of connection with his other kids.
The celebrity confessed that she never acknowledged her half-siblings for a long time but focused more on how great her family was. Hawn's daughter maintained that her dad wronged the family when he abandoned them, but she chose to extend a heart of forgiveness to him. In her words:
"It's just something that he has to live with, and that must be painful for him. So I forgive him."
Although forgiveness has not aided their reconciliation, Kate revealed that she still loves her dad, adding that that feeling never faded. To the actress, that has been the best way to manage her healing.