Liam Neeson and his wife Natasha Richardson were married for 15 years before a tragic ski accident tore them apart. Neeson was forced to pull the plug on his brain-dead wife and had to raise his two teenage sons alone. However, he was lucky to have the support of his mother-in-law.
Liam Neeson is an Irish American actor with several iconic films. He began his career in theatre when he joined the Belfast Lyric Players Theatre in 1976.
Soon after, Neeson joined the prestigious Abbey Theatre in Dublin, which earned his first film debut in the religious film "Christiana."In 1981 the actor played Sir Gawain in "Excalibar," then bagged more supporting roles in "The Bounty," "Suspect", and "The Mission." Neeson also appeared in a few TV shows like "Miami Vice" and "Ellis Island."
The '80s became foundational for Neeson's career, and he cemented himself as an action legend in movies such as "Taken" "Non-Stop," and more. However, his versatility is seen in other romantic films like "Love Actually."
Losing the Love of His Life
Liam Neeson married his wife Natasha Richardson in 1994, and they were happily married for 15 years until her tragic ski accident happened.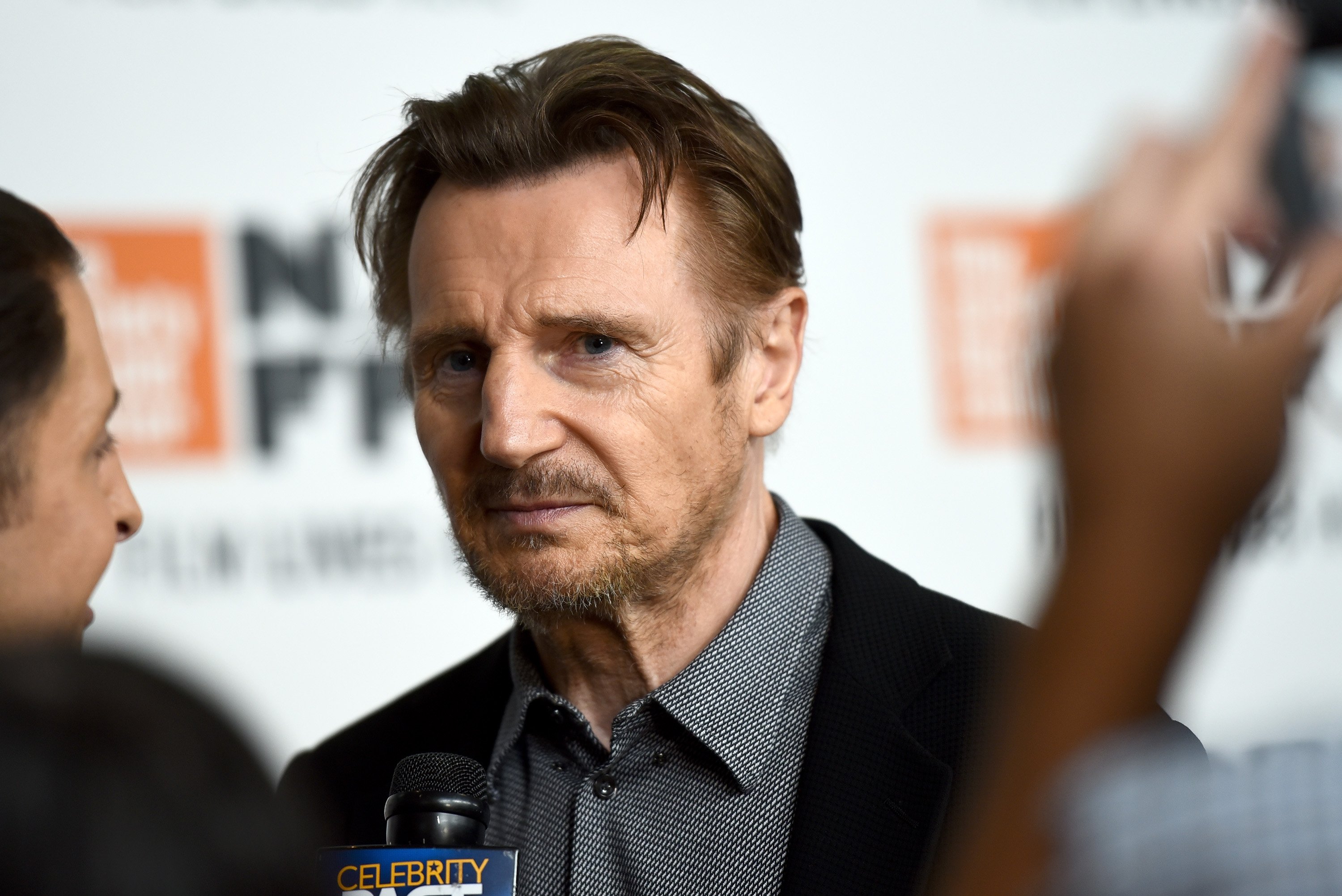 Liam Neeson in France in 2012 | Source: Getty Images
Richardson suffered a fatal head injury while skiing in Quebec's Mont Tremblant. She survived her husband Neeson and their two sons, Michael and Daniel, who were 13 and 12 years old at the time.
When Richardson tumbled down the slope, she waved at the ambulance for help. However, as time went on, her condition started to worsen.
The actress was transferred to a hospital in Montreal and reunited with her husband. Neeson was filming in Toronto, so he was able to rush to the hospital.
The doctors explained the severity of his wife's injury and showed him the X-Ray. Neeson was shocked and explained that her brain was squashed against her skull.
Therefore, the doctors told the actor that his wife was brain dead. Neeson went in to see Richardson and said his final goodbye. Neeson started by telling his wife that she had suffered a head injury and would not be able to return from it.
He was unsure if Richardson could hear him since she was on life support, but he still told her he loved her and informed her that she would go to New York to be with her friends and family.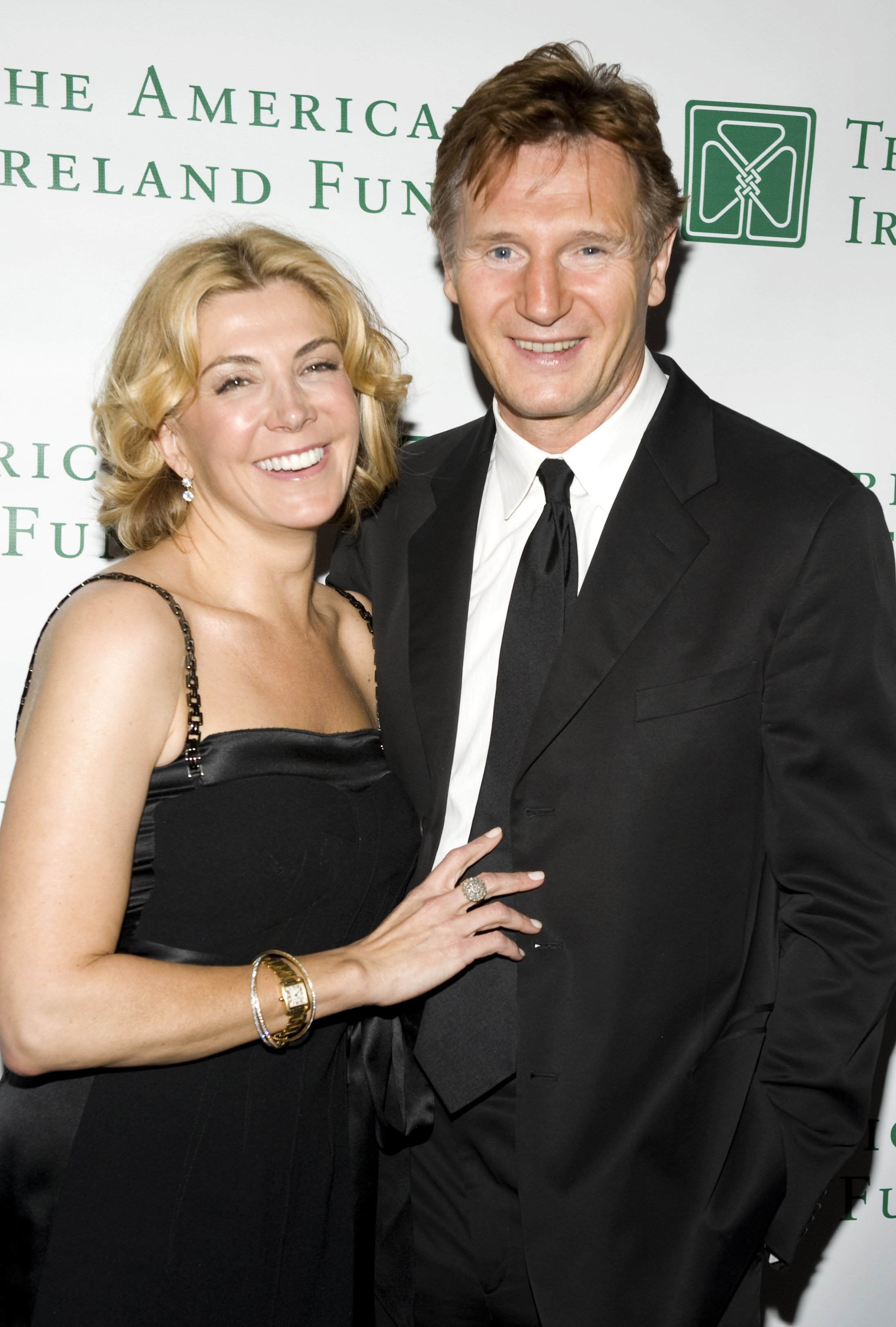 Liam Neeson and Natasha Richardson in London in 2008 | Source: Getty Images
Richardson was transported to New York and died surrounded by her friends and family. Neeson made sure that all her loved ones would be able to say their final goodbyes.
Neeson revealed that he and his wife promised each other to pull the plug should any of them be in a vegetative state. The actor even donated three of Richardson's organs, her heart, kidneys, and liver, which saved three lives.
The "Taken" star is an organ donor, so he was thrilled that his wife could keep these people's lives; he also believed that Richardson would have wanted to donate her organs.
Richardson was an English actress that starred in many fan-favorite films like "Maid in Manhattan," "The Parent Trap," and "Wild Child." She is the daughter of the legendary actress Vanessa Redgrave and renowned director and producer Tony Richardson.
Liam Neeson's Mother-In-Law Became His Biggest Supporter
Richardson was sent off to a private funeral ceremony with her friends and family. Her mother, Redgrave, broke tradition and wore a white pantsuit.
The funeral service was held in upstate New York near the home Neeson and Richardson shared with their children. The actor showed up in a black suit with sunglasses and comforted his mother-in-law as they stood next to his wife's grave.
Neeson also carried Richardson's coffin into the Episcopal Church in Millbrook, New York. Redgrave has always stood beside her daughter; on her wedding day, she was the one to walk Richardson down the aisle because her father had passed.
When her daughter died, she became the biggest support system for her grandsons and son-in-law. Neeson even credited her in one of his interviews.
After his wife's death, Neeson threw himself back into work. He starred in 34 movies in the nine years of Richardson's passing.
He admitted that he needed to work for himself and his sons. He wanted to be strong for them and not have his kids witness him drown in depression and sadness.
However, his mother-in-law was the secret behind how he balanced his personal life and work. He said, "Fortunately, I have a great support system. If I am away on a project, my mother-in-law moves in."
Redgrave became an anchor for Neeson and his sons after Richardson died. But the actor said his children had always been well-adjuted to his busy schedule.
He revealed that one of his sons was born on location. So, the life of an actor is pretty much ingrained in them. But he is grateful for the massive help and role their grandmother has played in raising Michael and Daniel.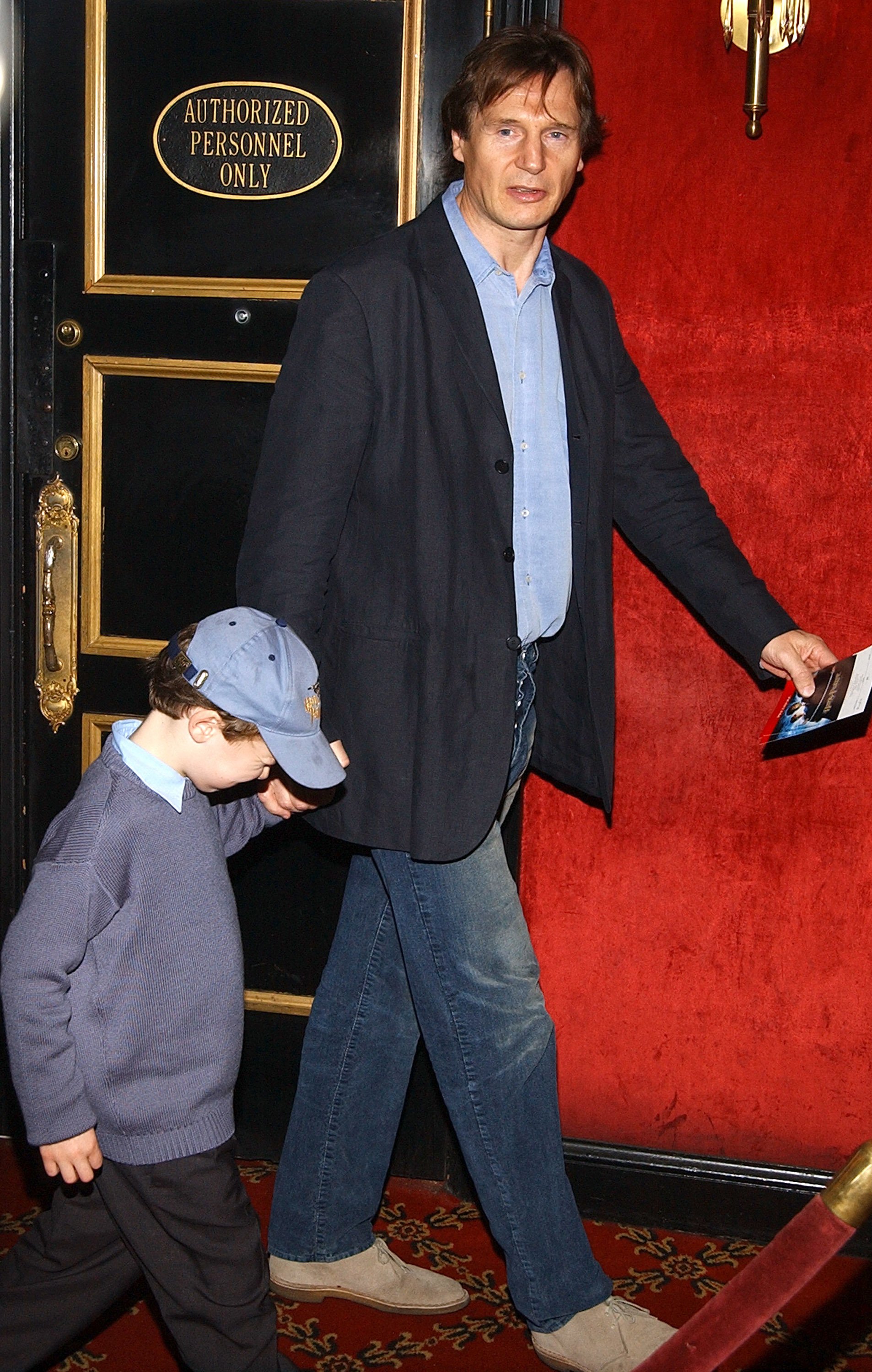 Liam Neeson and his son in New York in 2002 | Source: Getty Images
Ten years after Richardson's death, Redgrave is still heartbroken. She admitted that time had not healed her wounds. "It never becomes OK," she said.
Life after Vanessa Redgrave Survived a Heart Attack
Losing her eldest daughter made Redgrave value family more. The actress clarified that her family has always been important, but she realized how short life was and why it was critical to appreciate your loved ones while they were still alive.
Richardson's sister Joely also confessed that the loss of her sister did not hurt less as time passed; instead, she felt that grief had changed her.
However, Joley expressed that her family has gotten closer and stronger. "What we have done well as a family is that in honoring and supporting one another, we reformed to become a strong, loving unit," said Richardson's younger sister.
For Neeson, the death of his wife took a while to accept. The actor said that none of it felt real in the first few years of her passing. Whenever he heard the door open, he still hoped to see Richardson walk in.
When Redgrave was 78 years old, she suffered a heart attack. The actress was rushed to the hospital, and her chances of making it were reportedly slim.
Redgrave did not think she would make it alive, so she gathered her family and friends. Fortunately, she was able to recover fully. The actress thanked a talented surgeon for saving her life. She said she would not be alive if it were not for his great work.
After surviving the ordeal, Redgrave said her heart attack made her a funny person. She explained that coming close to death changed her in many ways. "They do affect you very much. You realize life is precious," explained the actress.
Now Redgrave wants to get rid of the seriousness of life and go through it with humor. The iconic actress also said the way she values her life now surpasses how she did before her heart attack.
She appreciated her career, nature, family, and all parts of life, but Redgrave realized how much of a miracle it was that she was still alive.
Although Redgrave has a newfound perspective on life, she admitted that she was ready to kick the bucket when she was in the hospital. "Trying to live was getting too tiring," she expressed.
However, Redgrave said her daughter spoke to her. "I was with my daughter, and I said, 'I'm sorry, I just think I'm going to have to give up,' She added, "She did not say,' Go on. You can do it. Go on.' She gave me a lovely smile and said, 'Well, if you feel you must go, then you should go. That would be good.'"
Redgrave's connection with her daughter gave her the strength to fight for her life. But the actress was diagnosed with emphysema, a lung condition that causes shortness of breath.
The actress admitted that the diagnosis came from her smoking. She explained that her lungs were only functioning at 30% capacity despite her stopping to smoke.
Redgrave revealed this information in an interview with Evening Standard. Still, she later denied that her lungs were at 30% capacity and said she did know where the publication got the information.
The actress celebrated her 86th birthday in January, and our daughter Joely shared a picture of her on Instagram where she was sitting in the garden beside her dog, smiling. Joley also shared a series of old photos from her childhood and of her young mother.
While Neeson, his mother, and sister-in-law were trying to grapple with Richardson's death and find ways to keep her memory alive, her children also wanted their mother's legacy never to be forgotten.
Liam Neeson's Son Keeps Their Mother's Memory Alive
Neeson's eldest son, Michael, is now 27, and Daniel is 26. Michael has followed in his parent's footsteps and pursued a career in acting.
He appeared in the 2020 movie "Made in Italy" with his father. The movie follows an artist who tries to repair his relationship with his estranged son.
The film director, James D'Arcy, revealed that Neeson was touched by the movie after reading the script and admitted that he was scared to do it. But he knew he had to do it, mainly because of the fear it evoked.
The storyline was close to Neeson's heart, and he did not doubt that Michael would be suitable to play his son in the film. He even supported his son's career and said, "with Micheál, acting is certainly in his blood."
Michael's mother was a renowned actress, and his father continues to make box-office hits. However, the 27-year-old decided to step out of his father's spotlight and build his acting career independently.
In doing so, Michael changed his last name to Richardson to honor and keep his mother's legacy alive. He made the decision just before the 10th anniversary of his mother's death.
While his brother Daniel chose a career outside Hollywood, he's still in the spotlight. Daniel works as a fashion designer and entrepreneur.
Redgrave explained that Michael was not avoiding his father's prominent surname, but he wanted to acknowledge the talented actress that was his mother.
Michael also opened up about dealing with his mother's death. He admitted that he still struggled to think about it. He never processed her passing. Instead, he suppressed those thoughts.
But after all these years, the actor said Richardson's death is still difficult to comprehend. Therefore, her memory must stay alive no matter how painful life without her will be.
Richardson was a Tony award-winning actress and came from a lineage of actors, so it is no surprise that her son would want to honor her as his beloved mother and an iconic actress.