Mariska Hargitay was born to Hollywood royalty and has five siblings who also briefly followed in their famous parent's footsteps in the entertainment industry.
Jayne Mansfield and Mickey Hargitay were once one of the hottest couples in Hollywood. They had three children together and three children from other relationships.
One child they shared forged a path for herself in the entertainment industry, carving a success story of her own – Mariska Hargitay. Although she is the most famous of the Hargitay siblings, the others also have acting credits to their names.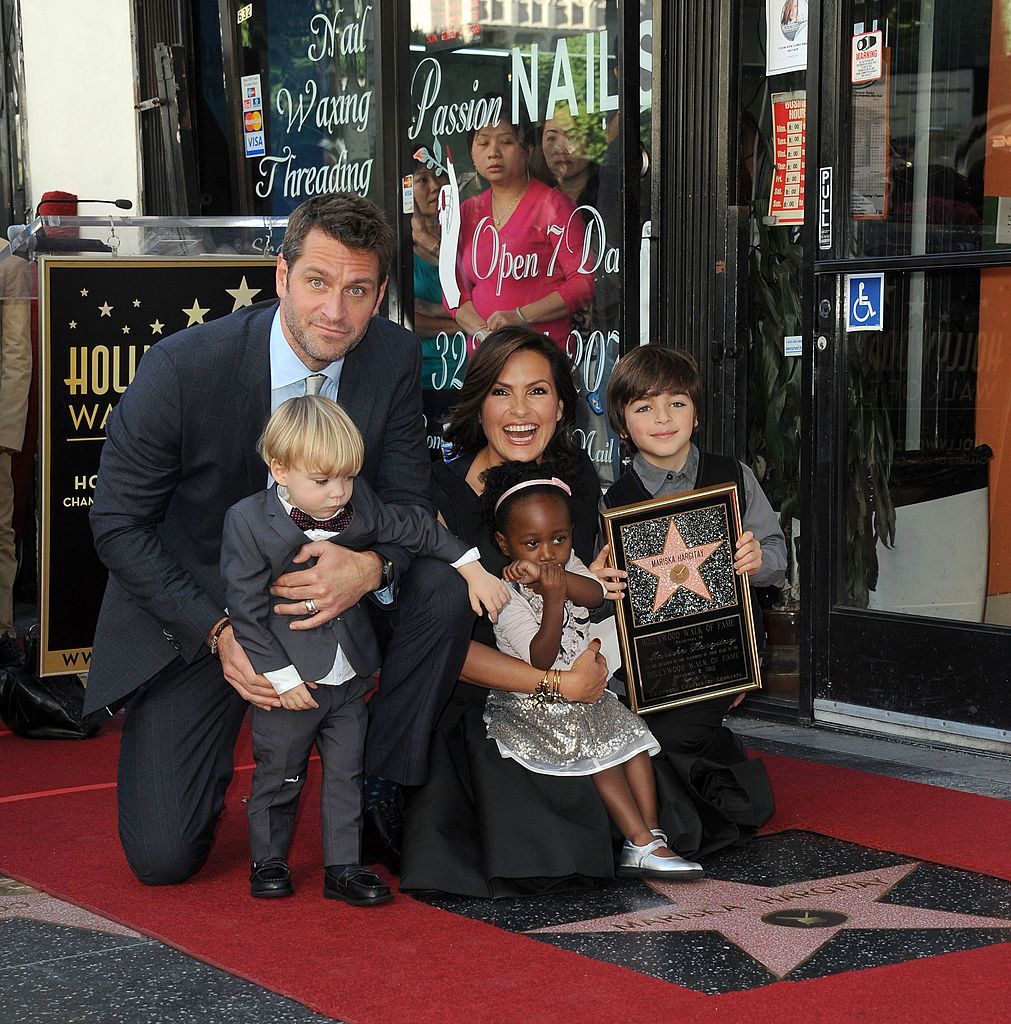 Mariska Hargitay with husband Peter Hermann and their children during her Hollywood Walk of Fame induction on November 8, 2013 | Source: Getty Images
After majoring in theater at UCLA, Mariska went to star in movies and TV shows since the 1980s. Her first movie feature was in the cult classic "Ghoulies," but she is best known for her recurring appearances on the shows "ER" and "Law & Order."
After being in the industry for fifteen years, she finally got her most significant break in her role on the "Law & Order" franchise. She's received Emmy and Golden Globe awards for her performance and was once named the highest-paid actress on television.
JAYNE MANSFIELD & MICKEY HARGITAY'S MARRIAGE
When Jayne Mansfield and Mickey Hargitay first met, Mickey was already famous. He was the 1956 Mr. Universe and worked as one of Mae West's musclemen in her shows.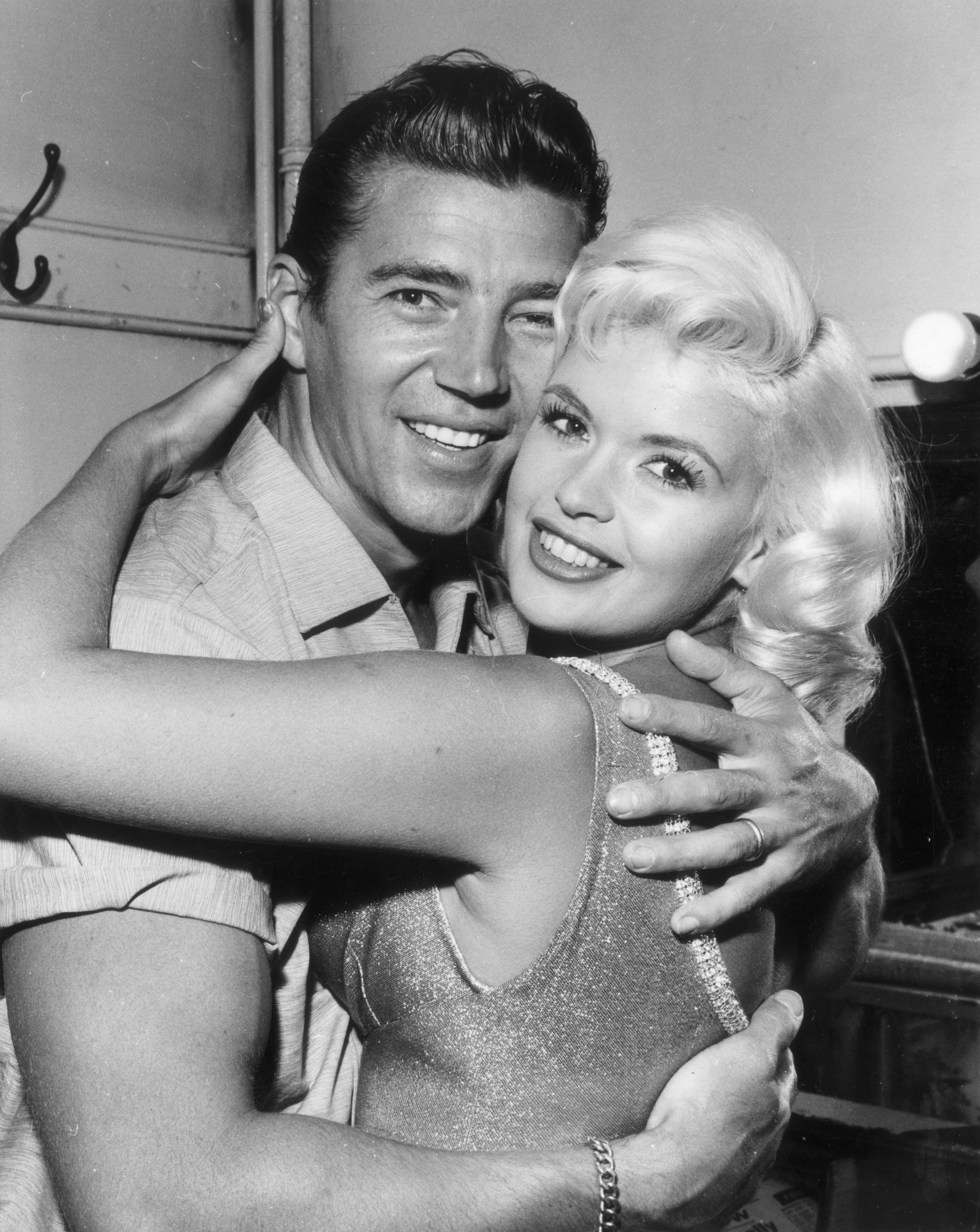 Portrait of Jayne Mansfield and Mickey Hargitay circa 1963 | Source: Getty Images
Meanwhile, Jayne was on the way to becoming a celebrity. On the night they first met, Jayne requested two things while at a show: an introduction to Mickey and a six-dollar steak for her dog. She got both of them.
Years later, Mickey spoke of their first meeting. He recalled singing on stage and seeing a girl in the audience drinking a milkshake. "I fell in love! And so did she. Both of us," he said.
After the show, they briefly met and exchanged phone numbers. Although it was difficult for them to meet due to their busy schedules, gossip columnists quickly took notice of their rare appearances.
Mae West, who at the time worked with Mickey, asked to call a press conference where she ordered him to discredit rumors of his relationship with Jayne. However, this plan backfired on her, as he admitted that he and Jayne were in love instead.
By January 1958, Jayne and Mickey were married in Palos Verdes, California. At the time, Jayne's career was at its peak. She starred in several hit films and had a Las Vegas residency while raising her children with Mickey.
In 1964, Jayne and Mickey decided to divorce, as the pressures and demands of Hollywood strained their relationship. In the end, they remained good friends and married other people.
During their divorce proceedings, Jayne charged "cruelty" against Mickey. However, she decided to clear the air by saying she had nothing but "respect and admiration" for her ex-husband.
She simply mentioned that if two people don't get along, it was best to separate rather than continue with the marriage. Opening about their divorce, she said:
"Our paths in life might be smoother separately. It is better for our children than for us to stay together not in harmony."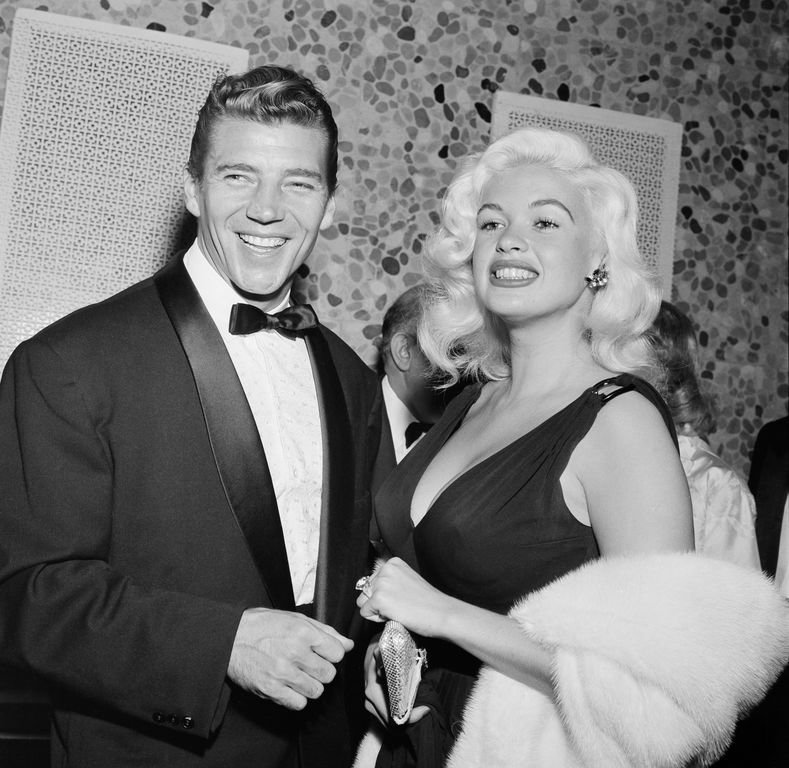 Mickey Hargitay and Jayne Mansfield at the WAIF BALL in Los Angeles on November 9, 1957 | Source: Getty Images
JAYNE & MICKEY'S OTHER MARRIAGES
Before getting married to Mickey, Jayne was married to Paul Mansfield, with whom he shared a daughter. She was only sixteen years old during their marriage and decided to keep her union and pregnancy a secret.
After getting married, Jayne would be with Paul in an apartment they rented until she had to hurry home every night in time for her 11:00 p.m. curfew. Their union ended in divorce, but Jayne decided to keep the Mansfield surname as she felt it was a good name for an actress.
Following her marriage to Mickey years later, Jayne married Matt Cimber, whom she met on the set of "Bus Stop." Together, they shared a son named Tony Cimber.
Meanwhile, Mickey was first married to Mary Birge, with whom he shared a daughter named Tina. They filed for divorce in early 1956, just a few years before his union to Jayne.
His third wife, Ellen Siano, was his wife until death. She was the woman Mickey's kids called "mom," and she embraced the role wholeheartedly.
Jayne Mansfield was killed instantly when the car she was riding alongside her three children struck the rear of a trailer truck.
MEET MARISKA'S SIBLINGS
Before Mickey found fame, he first worked as a plumber, carpenter, and contractor after migrating to the US from Hungary. He married Mary Birge in 1948 after settling in Cleveland, and their daughter Tina was born the following year.
Not much is known about Tina, but her parents' divorce was shrouded in controversy. Her mom was granted only $20 a week in child support after her separation from Mickey, but this was later amended to $300.
Jayne also had a child before her union with Mickey. She and Paul Mansfield shared a daughter named Jayne Marie Mansfield, who followed her famous mother's footsteps into the industry.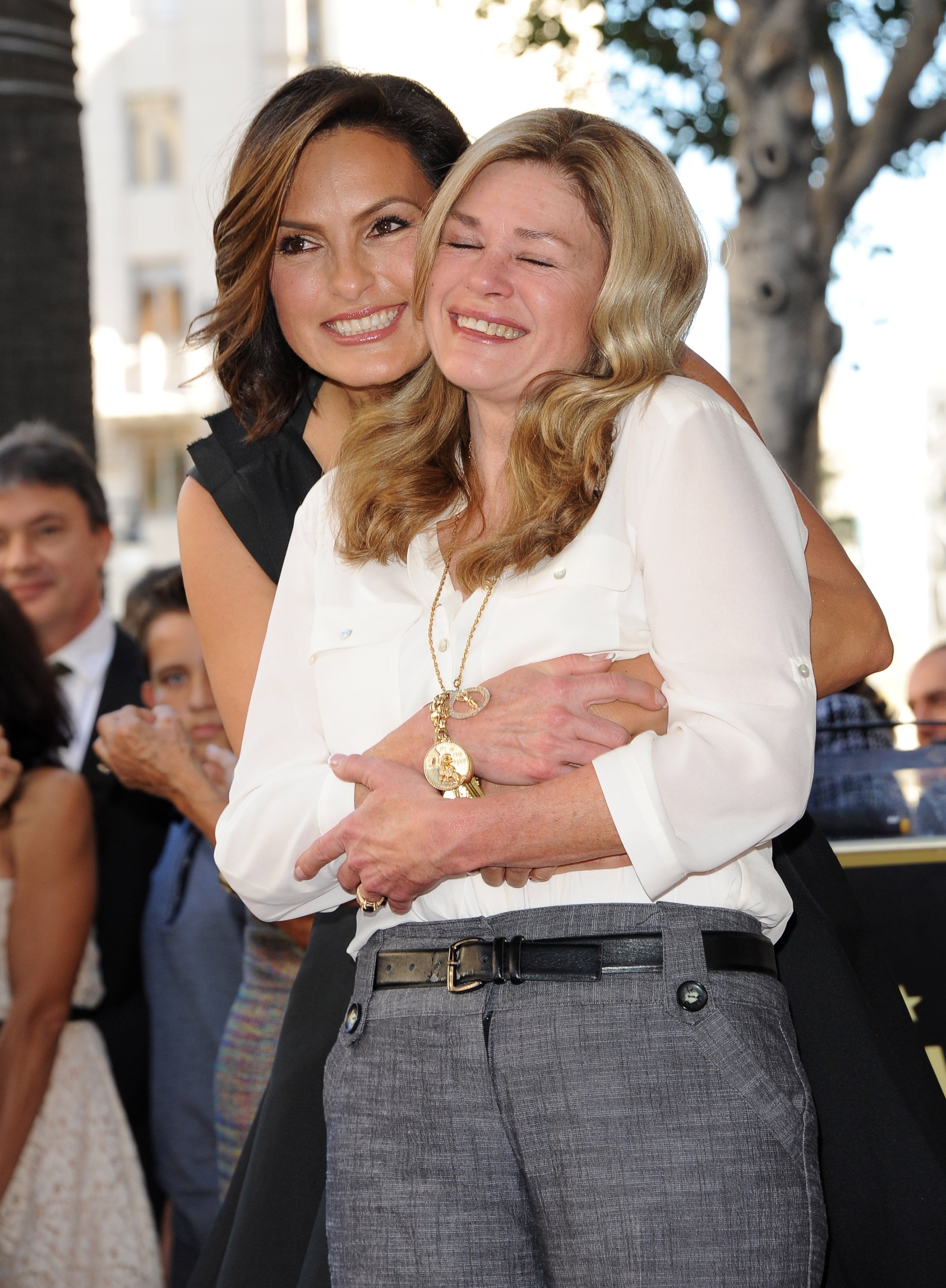 Mariska Hargitay and half-sister Jayne Marie Mansfield attend the ceremony honoring Mariska Hargitay with a Star on The Hollywood Walk of Fame on November 8, 2013 in Hollywood, California. | Source: Getty Images
Jayne Marie is best known for her work on "Olly, Olly, Oxen Free" and "Blond in Hollywood." In more recent times, she's preferred to keep a low profile with her family on the west coast.
During Mickey and Jayne's union, they first welcomed eldest son Miklos Jeffrey Palmer Hargitay, called "Mickey Jr." Although he's had some acting credits in the past, particularly on "New York, New York" and "The Merv Griffin Show," he's also preferred to keep away from the spotlight.
Currently, he runs a plant shop after choosing not to get involved in the industry he once called "phony" and "chaotic." Opening up about the decision, he said:
"[My family] made decisions to reach for the stars and I've wanted to keep my feet on the ground. I've wanted to do something that seems more grounded and is more real."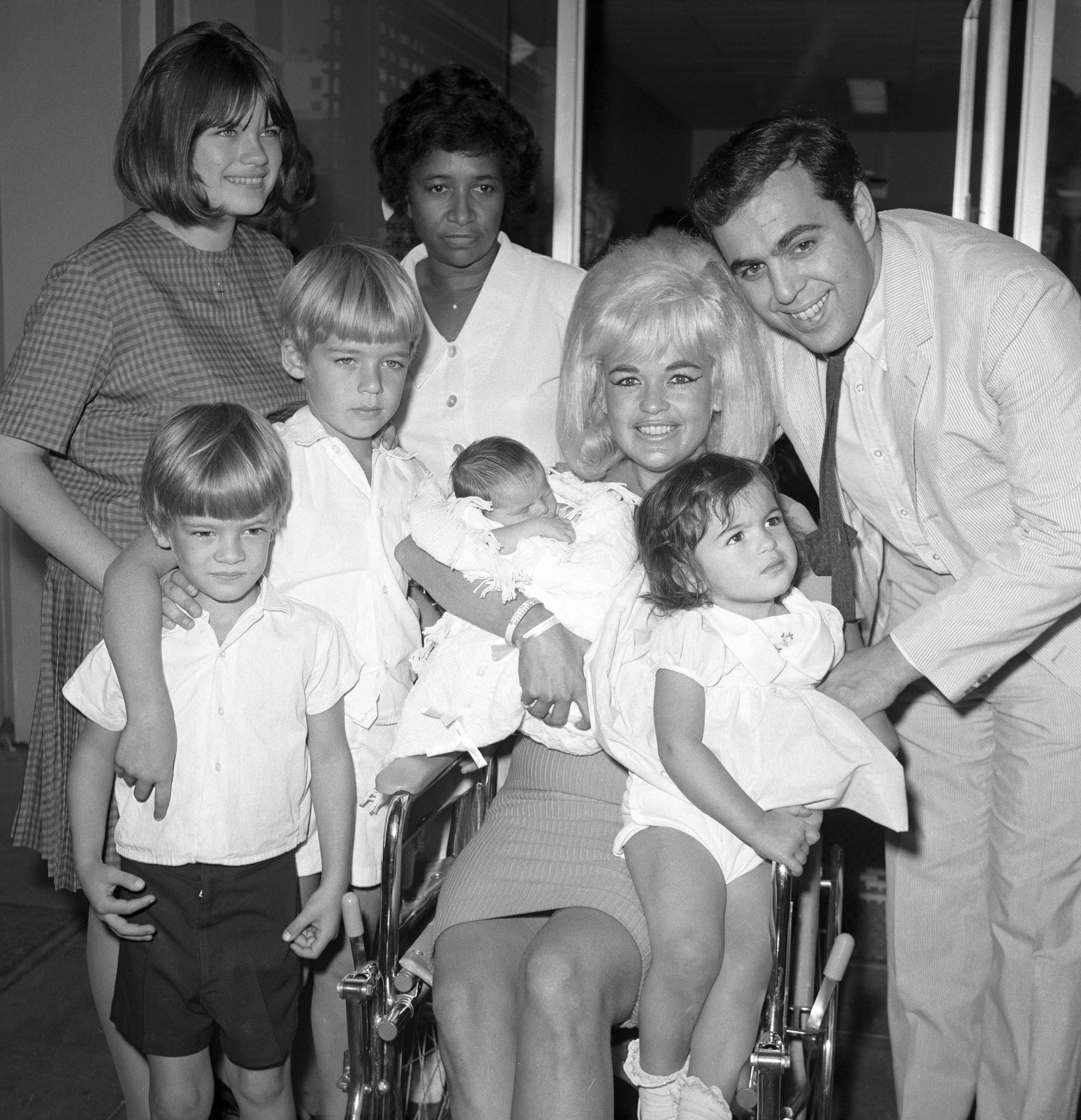 Jayne Mansfield with Matt Cimber and her children before leaving the Cedars of Lebanon Hospital after the birth of her last son, Anthony. | Source: Getty Images
Next, after Mickey Jr., is Zoltan Anthony Hargitay. Like the rest of his family, he also has acting credits for "Retroactive," "T-Force," and "Shrunken Heads" from the 1990s.
When Zoltan was just six years old, he was severely mauled by a lion at the Jungleland Zoo in Thousand Oaks, California. He underwent two surgeries after suffering a skull fracture and multiple puncture wounds. He ultimately recovered from the traumatizing incident.
After Zoltan came Mariska Hargitay, the most well-known of the siblings. She worked her way towards becoming one of Hollywood's top-paid television actresses, thanks to her recurring role on the "Law & Order franchise.
Mariska is currently married to fellow actor Peter Hermann, with whom she shares three children named Amaya, August, and Andrew.
Last but not least, Jayne had one last child with her third husband, Matt Cimber, before her death. Antonio Raphael Ottaviano Cimber, known as Tony, was less than two years old when his mother died in a car accident that also involved three of his siblings.
Tony works in the entertainment industry as an actor and director, with works like "The Original Ladies of Wrestling," "GLOW: Gorgeous Ladies of Wrestling," and "Married… with Children." He is also a proud dad to Jianni Alexandra Cimber, born in 1998.
THE FORMER POWER COUPLE'S DEATHS
On June 29, 1967, Jayne Mansfield was killed instantly when the car she was riding alongside her three children struck the rear of a trailer truck in New Orleans. Then eight-year-old Mickey Jr., six-year-old Zoltan, and three-year-old Mariska were injured but ultimately survived.
Following Jayne's death, Mickey Hargitay was deemed Jayne's husband by the court, and he was awarded her body. However, Los Angeles courts decided that Matt Cimber was Jayne's husband, making him administrator of her California estate.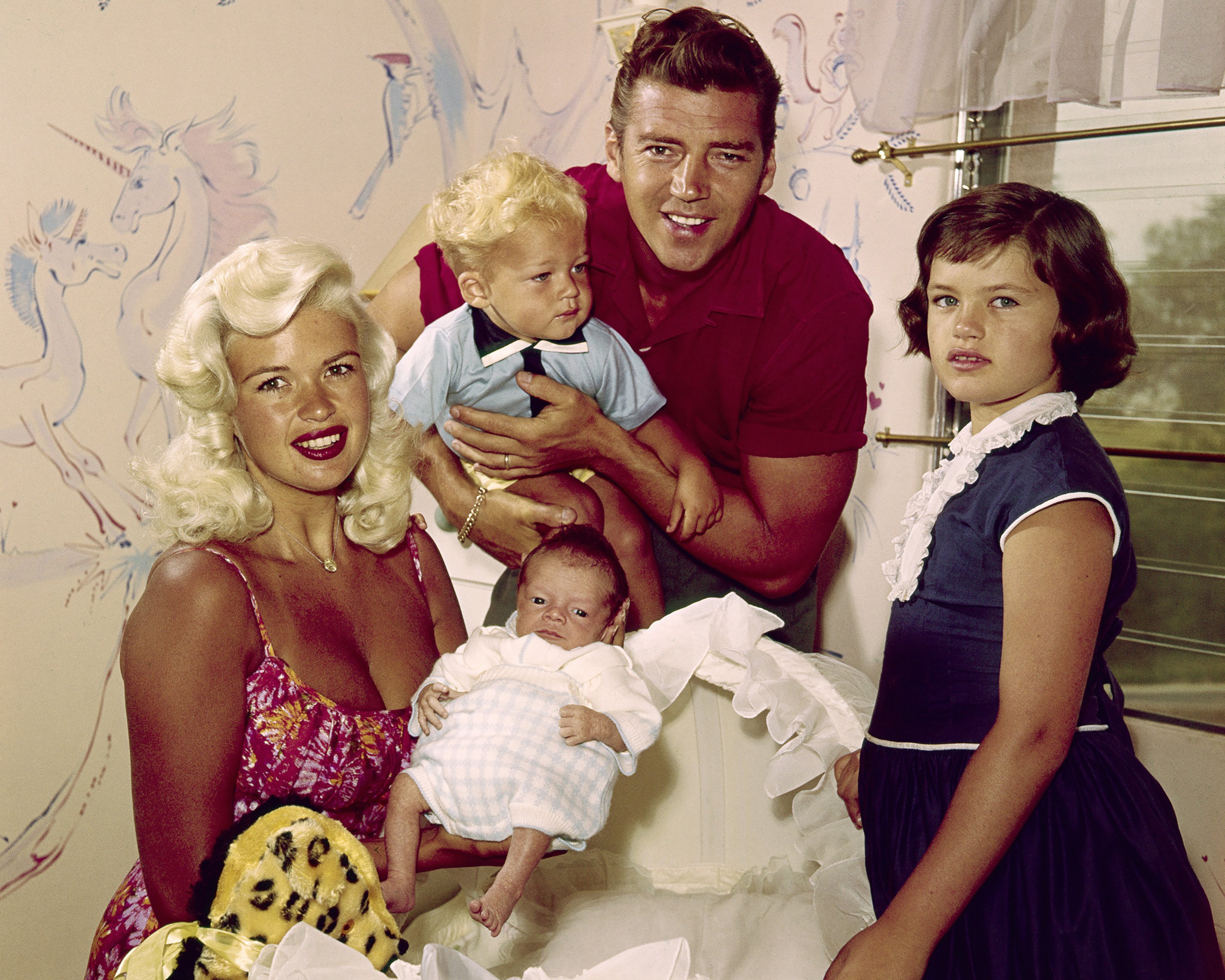 Jayne Mansfield and Mickey Hargitay with Jayne Marie, Miklos, and Zoltan in 1960 | Source: Getty Images
In 2006, Mickey Hargitay died at 80 due to bone marrow cancer. He was survived by his wife Ellen, and his four children, Mickey Jr., Zoltan, Mariska, and Tina.