Marlo Thomas was quite content to live as a single woman and against marriage when she met and fell in love with Phil Donahue. The couple has been together for almost five decades and has faced difficult trials that enhanced their relationship.
In Marlo Thomas and Phil Donahue's book, "What Makes a Marriage Last: 40 Celebrated Couples Share with Us the Secrets," the couple opened up about their marriage. Thomas revealed in the memoir that as a young girl, she wanted nothing to do with the institution of marriage.
The reason was that she didn't see marriage as having enough room to accommodate her. She was so against it that she always had a cheeky response when the discussion came up.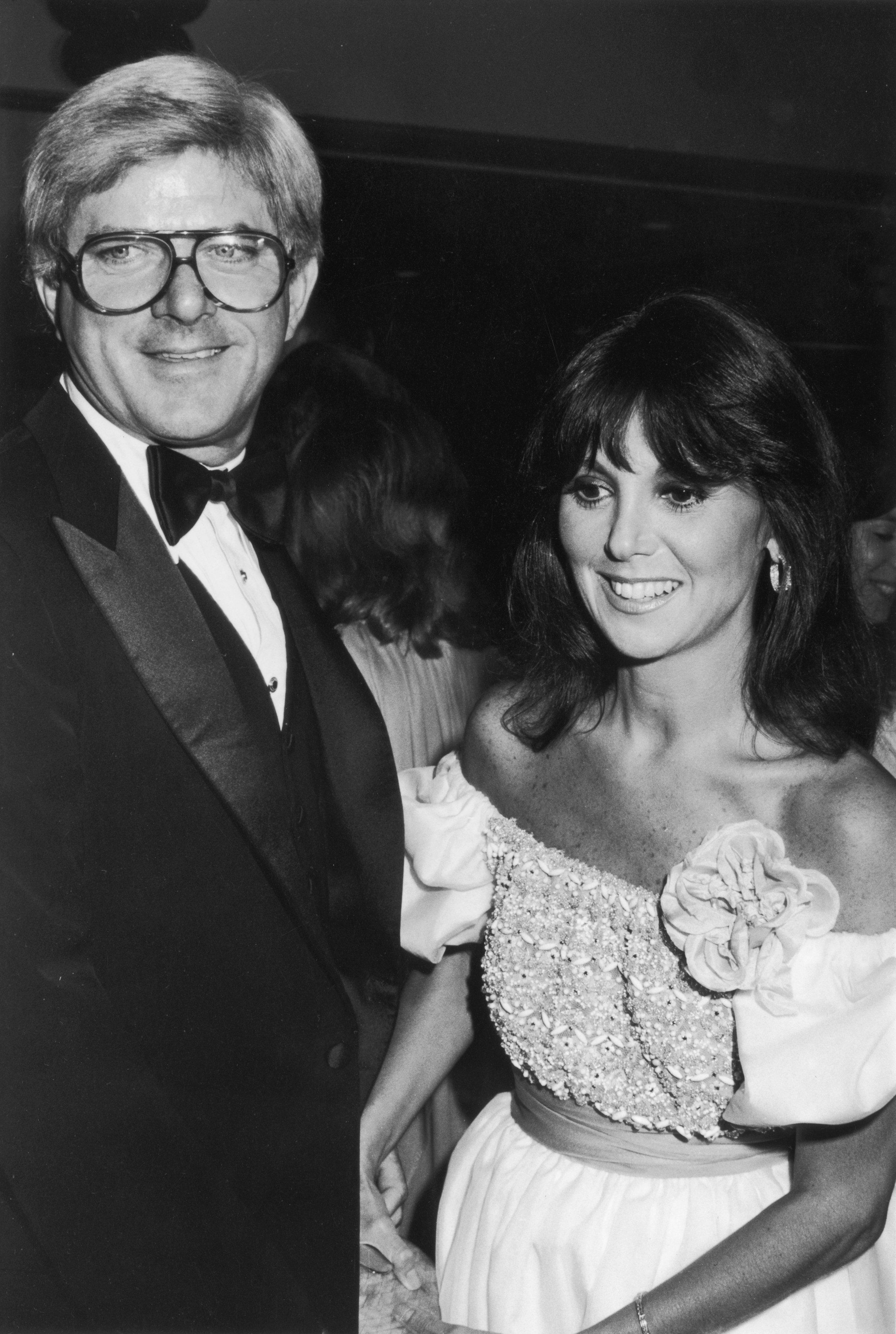 Phil Donahue and Marlo Thomas at a St. Jude Hospital charity dinner in Los Angeles, California, circa 1981 | Source: Getty Images
Thomas would say things like marriage was the same as living with your jailer and having to please them. The other retort she made against the institution was equally harsh, with her stating:
"Marriage is like a vacuum cleaner: you stick it to your ear, and it sucks out all your energy and ambition."
Yielding to Marriage and Facing Obstacles
According to their book, Donahue met Thomas once before, and the second time they met was in 1977 in Chicago. When the meeting happened, the television show host was single and raising four boys alone.
His fifth child, his daughter, lived with his ex-wife. When he met Thomas, "The Phil Donahue Show" host was getting used to social events with a woman who was not his wife.
He and Thomas went out on a dinner date the following night and dated for three years before they married in 1980! The couple's wedding celebration was a small gathering with their families, constituting 35 people.

Thomas's relatives couldn't believe it when she got married. One person she had an unspoken pact with was Gloria, who was happy for her when she returned from her honeymoon.
Gloria and someone else threw Donahue's wife a bridal shower. The pair also made small posters with all the negative things Marlo had said about marriage; these were hilariously hung up around the room!
Thomas was shocked to see the notes put together and figured it was "no wonder" she never wanted to marry! However, the person who was most surprised about her marriage was her mother, who kept asking Donahue at the wedding:
"How did you get her to do this?"
On the other hand, Thomas's father was just happy she'd found a good man and was settling down. During Donahue and Thomas's flight to Greece, he got up to use the bathroom, and a woman sitting across from them noticed the bride's ring.
The woman asked if Thomas was who she was and questioned if the actress had gotten married. The star blushed and confirmed that her wedding day had been the day before, and the stranger asked:
"Why? I am so disappointed. Why would you get married?"

Thomas was stunned by the question and wondered if she'd made a mistake because women like the one on the plane looked to her to set the example of independence. The actress was worried she'd let the women down.
However, when her husband returned to his seat, she overcame her fears. In their book, Thomas confessed they'd faced good times and bad ones in their decade-long marriage.
However, facing each challenge as a couple allowed the duo to find mutual solutions, strengthened their bond, and brought them closer together. When they married, Donahue was in Chicago taping his show while his wife worked as an actress.
One of Thomas's aunts told her that what she and Donahue were doing wasn't a marriage because they weren't living in the same city all the time. However, the actress learned that each person defined what marriage was to them.
Taking on Stepmotherhood
During a 2012 AARP interview, Thomas was asked what lessons she learned from her mother that she used when parenting her stepchildren. The star revealed that she decided not to try to be a traditional "mother" to her husband's children because they already had one.
Instead, she chose to be their friend because, growing up, Thomas's mother had played the same role to her and her siblings. The star said she was always grateful for having someone to joke with, talk to, and argue with.
So she used the same method on her husband's children and established friendships with them. The actress said the bonds she created with the brood years back were more potent today.
In 2012 on her YouTube channel, the star confessed that no one dreamt of being a stepmother because they were always depicted in a bad light in children's stories. The actress said she was reluctant when she had to take on the role.
When his [Phil Donahue] wife [Marlo Thomas] looked back on her life, she confessed that there was no one she would've settled to marry except the television personality.
So instead, she chose to be a good one and took the time to get to know her stepsons. In their book, Donahue shared how his wife had conversations with the boys and got to know them individually and not as just a group.
Marlo and Phil's Secret to Their Long-Lasting Marriage
In 2020, Donahue and his wife celebrated 40 years of marriage! During an interview with Closer Weekly, Donahue noted that long-lasting relationships hardly got the attention they deserved because people focused on divorced couples.
He and his wife discovered that lasting marriages were "strengthened by trust." Thomas explained that it wasn't just about trusting that you wouldn't betray the other, but that what mattered to one partner mattered to the other, adding:
"You build trust when you realize that this person always has your back."
Another tip Donahue gave for maintaining a lasting marriage was to want it. When Thomas looked back on her life, she confessed that there was no one she would've settled to marry except the television personality.
The actress noted how her husband supported her "in every way possible." In 2023, the couple's marriage was still strong, and since they had found the secrets to long-lasting relationships, it seemed their union would be forever.