Martin Sheen is one of today's most renowned Hollywood actors, and his four decades of work in film and television continue to generate buzz. But while he may have a stellar career, having many grandchildren is his crowning achievement.
Martin's family has a long history that dates back more than a century in Spain. As a child, the actor kept his distance from his Spanish father. Martin expressed regret when his father died and vowed that if he ever had his own family, he would never let the same fate happen to him.
Martin was born on August 3, 1940, in Dayton, Ohio, and is a celebrated actor for his work in television and film. He rose to fame with his performances in the hit television drama "The West Wing" and the comedy series "Grace and Frankie." but he is, perhaps, most famous for his role as Captain Benjamin L. Willard in the 1979 film "Apocalypse Now."
Despite his popularity in the Vietnam War-themed movie, Martin almost lost his life during its production. Martin, who was in his mid-30s then, had a heart attack while filming in the jungle, disrupting the set's crew. A village doctor stabilized him until he could be flown out of the remote location.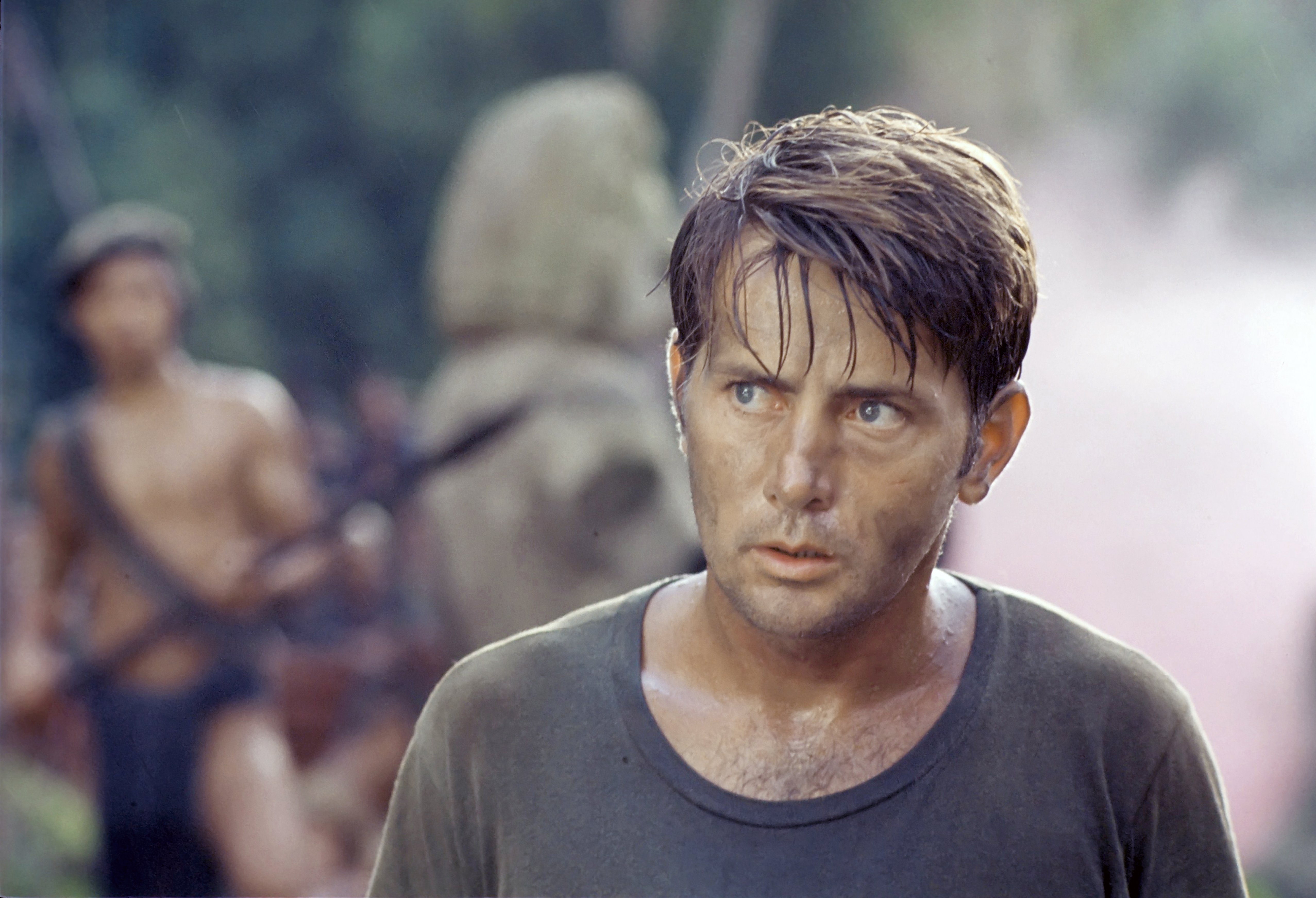 Martin Sheen on the set of the 1979 film "Apocalypse Now" | Source: Getty Images
The actor almost passed away before receiving medical care at a hospital. Nonetheless, he fully recovered and returned to filming within three weeks.
For Martin, surviving a heart attack has taken on a significant meaning as he has not only been able to maintain his success in the entertainment industry but also strengthen his bonds with his family.
Martin hails from a big family with Spanish roots. His mother, Mary Ann Phelan, immigrated from Borrisokane, County Tipperary, Ireland. On the other hand, Martin's father, Francisco Estevez, was born in Parderrubias, Galicia, Spain, and migrated to the U.S. through Cuba.
Martin's parents met in citizenship school, and his mother taught his father, English. Mary's family had IRA ties, while Francisco worked as a punch press operator at the National Cash Register Company in Dayton.
When his mother died, the actor was only 11 years old. Because of his mother's death, his father worked even more diligently to keep him and his other siblings together and as a family.
Martin decided to pursue a career in acting, whereas his brothers enlisted in the military. One of the "terrible arguments" that he and Francisco had was regarding his career choice because Francisco doubted his ability to be successful as an actor.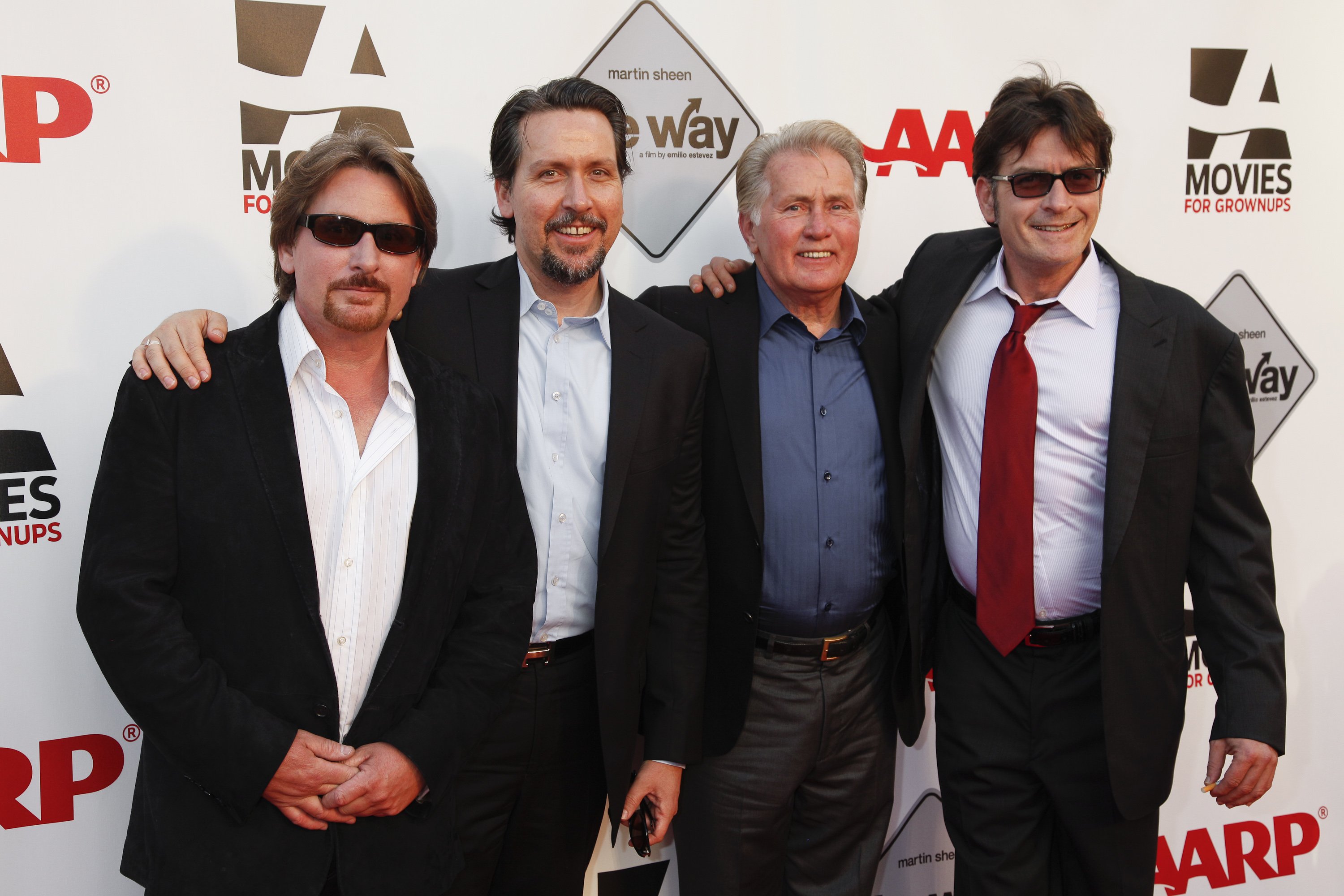 Emilio Estevez, Ramon Estevez, Martin Sheen, and Charlie Sheen attend AARP's Movies For Grown Ups Film Festival screening of "The Way" at Nokia Theatre L.A. Live on September 23, 2011, in Los Angeles, California. | Source: Getty Images
Determined, Martin followed his dreams of becoming an actor despite his father's disapproval and used the surname "Sheen" as his stage name. His birth name is Ramon Antonio Gerard Luis Estevez.
In 2010, Martin found out some fantastic things about his family history on the show "Who Do You Think You Are?" He traced his dad's lineage back to Spain and discovered that his fourth great-grandfather was a "Don" and a judge who had an affair with Martin's fourth great-grandmother. They had six children.
Martin also learned that the judge presided over a court case about a girl who had an affair with a cleric and had an abortion. It turned out that the girl in question was actually Martin's fourth great-grandmother.
Interestingly, 150 years later, the second great-grandchildren of the judge and Martin's fourth great-grandmother, who were actually cousins, got married and became Martin's grandparents.
Today, Martin is a proud father and grandfather himself. As a father, he has four children with his longtime wife Janet Sheen—sons Charlie, Emilio, and Ramon, and only daughter, Renée. He said of his role as the family patriarch:
"My father was 42 when I was born. And I was a grandparent at 42."
Despite his demanding and successful 40-year-long career, Martin remains a devoted family man due to his strong family ties and deep Catholic faith. These two factors have played a crucial role in shaping him into the person he is today.
Martin was lucky to become a great-grandfather after overcoming a heart attack. At 82, he adores all of his offspring, living his life to the fullest.
Inside Martin's Role as a Grandpa
On-screen and off-screen, Martin's exceptional role as a father and a grandfather has caused a longing among his followers, with numerous admirers wishing for him to fill the role of their own granddad.
Andrea Reiher, a well-known writer, recently shared a photo of herself as a child, smiling next to Martin, on Twitter. Behind them was a lush, verdant landscape. She tweeted, "I want Martin Sheen to be my grandpa."
One fan on Twitter was curious if Martin was the "coolest grandpa," and another remarked that the actor gave off a great mix of "wholesome but cheeky grandpa vibes" because of his talent for executing the most entertaining pranks on screen.
Another fan, who became "emotionally invested" in Martin's performance in "The West Wing" series, also expressed adoration for the actor and said, "I wish I could keep Martin Sheen as a grandpa." Another gushed, "Why can't Martin Sheen be my grandpa?! WHY?!"
A Twitter fan was in awe upon realizing that Martin is a proud great-grandfather and that his son Charlie, besides being a talented actor, is also a grandfather in his own right.
Even though Martin gets a lot of praise and admiration from his fans, there is still the question of what kind of grandfather he is to his biological grandchildren. And the answer is—the TV veteran is the loving kind.
Martin has built strong relationships with his seven publicly known grandchildren, having honed his parenting abilities through his four children. His grandchildren are Taylor, Paloma, Cassandra, Sam, Lola, and twins Robert and Max. He now showers them all with kisses.
His grandchildren's nickname for him is "Grandpeachual" or "peach" because he used to quote Shakespeare and fancy words when they were young.
The actor would often express affection for his grandchildren. He spoke highly of Paloma, calling her "wonderful," while Cassandra has a creative spirit and is known for her involvement in the performing arts.
Martin also stated his love for Taylor, who brought him into grandfatherhood for the first time. He cried when his first grandkid was born, describing it as a "mighty blessing" that he will always hold dear in his heart.
He also fondly remembers Taylor, who now resides in Spain with his soulmate, acting as his personal assistant and being nicknamed, "Taylor have you seen him."
Regarding Martin's granddaughters, Sami and Lola, he described them as "beautiful girls." He also expressed immense pride for twins Max and Robert, born in 2009.
Martin has admitted that his own father was not lacking in affection but he still seemed distant from him. Thus he never hugged or kissed his dad goodbye before he died at the hospital.
Martin was "profoundly affected" by the passing of his father, without the opportunity to kiss him and say goodbye, so he has vowed to ensure his children and grandchildren always feel valued and cherished, by showering them with kisses. He added:
"If one of my children or grandchildren would walk in right now, that's how we would greet each other. Public, private, it wouldn't matter."
One of Martin's Grandchild Is a Musician
Martin's adorable grandchildren have now blossomed into their own unique personalities. Some went into the entertainment business, while others lived quieter lives.
Cassandra, the daughter of Charlie and his former girlfriend, Paula Profit, is now a married woman. She has been happily married to her childhood sweetheart, Casey Huffman, since 2010.
On the other hand, Sami, born in 2004, and Lola, born in 2005 to Charlie and his ex-wife, actress Denise Richards, have blossomed into beautiful teenagers. The couple was married for three years until their divorce in 2006.
Lola's current interests are uncertain, but in her younger years, she was an athletic and competitive girl who enjoyed horseback riding. However, her Instagram reveals that she now enjoys beach trips and outdoor activities.
Lola is also a coffee lover. The gorgeous teen was spotted in the morning of May 2022 in Calabasas, California, with her famous father, both enjoying their drinks at a coffee shop.
Lola comfortably donned a white tank top, loose sweatpants, and light brown shoes. Charlie wore a blue shirt, navy pants, white sneakers, a baseball cap, and sunglasses as accessories.
Sami, on the other hand, is now a social media star. The blonde beauty's Instagram bio reads that she has an OnlyFans account. In a Twitter photo from their 2016 trip, Charlie shared a picture of him and his daughter, displaying their striking similarities.
Even though Denise is no longer romantically involved with Charlie, their family bond is unbreakable. They have always attended all special days, such as Lola's 14th birthday, or intimate family gatherings like special dinners.
As the years go by, Charlie's handsome twin boys, Max and Robert, are starting to resemble their grandfather Martin. In 2010, Martin was spotted taking a stroll with the twins in their stroller, pushing them around with pride.
Like Lola, the twins have a fondness for outdoor play. Their parents have documented their youthful adventures, including trips to the beach, playing baseball, and sliding down the inflatable playground.
Meanwhile, Taylor and Paloma are Emilio's children with his ex-wife, Carey Salley. He has collaborated with their two talented kids in the entertainment industry, particularly in the 2018 movie, "The Public."
In the film, Taylor served as Emilio's double, stunt coordinator, and co-producer. On the other hand, Paloma is a talented musician and percussionist who showcases her skills with her powerful percussion music.
Paloma is a woman who excels in both fitness and music. Apart from her passion for playing the drums, she competes as a triathlete, finding joy in swimming, cycling, and running.
While the children of Charlie and Emilio are publicly known, their brother Ramon and sister Renee have kept their families out of the public eye and remain private.
Martin Has Two Great-Grandkids
Martin's happiness as a proud family patriarch blooms from the presence of not one but two little great-grandchildren in addition to his darling grandkids.
In 2013, Cassandra and her husband welcomed their adorable daughter Luna. Charlie expressed his delighted at his granddaughter's birth, saying, "It's impossibly a most wondrous day. My bucket list is a thimble!" Interestingly, since Luna was born, Charlie's twins are now officially Luna's uncles.
Meanwhile, Denise shared on Twitter how happy she was that her ex-husband was a grandfather. She affectionately referred to Charlie as "Grampa."
Charlie loves being a grandparent and often shares photos of his granddaughter on social media. He raves about her looking like royalty in a pink dress, indulging in ice cream, and her cute outfit before going to school.
Like Charlie, Emilio revealed in a 2019 "Live With Kelly and Ryan" show that he was set to become a grandfather because Taylor and his wife were expecting a child that year.
Emilio's grandchild's birth appeared to be special, as the actor also mentioned that his daughter-in-law's due date coincided with Taylor's birthday.
As he looked forward to his first grandchild, Emilio said being a grandpa would be "pretty cool," and later quipped that he's not going to be a hands-on granddad when changing diapers. The birth of his grandchild has yet to be made public.
From his Spanish roots to his big brood of grandchildren, Martin's family is truly the center of his universe. With a heart full of love, and a spirit that refuses to age, Martin is a model for what it means to be a devoted family man.
He has endured hard times, kept his faith, and portrayed some of the most memorable characters in movie history. Martin may be a Hollywood star, but he will always be remembered as a grandpa to his grandkids and fans.