TV veteran, Martin Sheen, has been in love with his one and only wife, Janet Templeton, since he first saw her in the '90s. In turn, Templeton saved her husband of six decades' life.The pair, who met in 1960, are celebrating their 61st wedding anniversary on December 23, 2022. Sheen reminisced in front of his son Ramon Estevez and the general public about meeting Templeton for the first time.
"I was fortunate enough and smart enough to fall for her," said Sheen, adding it was because he quickly noticed that Templeton was a genuine individual who would not condone any deception.He knew that he had to up his stakes once he began to woo her and figured she would be more charmed if she were to see him onscreen, and it worked.
The couple soon started living together and later tied the knot in 1961.
However, Sheen admitted that he was still playful at the time and that it took him two decades to realize what he had with Templeton:
"It took me about 20 years to realize that I was leading a dishonest life and that she was my idol. She was free, and I thought, 'I want to be like that.' It was like, 'Wow, I want to come up to her level now,' and that made all the difference."
The "Grace and Frankie" alum expressed fondness for his wife, adding: "She's the best human being I've ever known in my life, and I'm continually inspired by her."
Like her spouse, Templeton also has acting credits under her name. She starred as Elaine de Kooning in the "Kennedy" miniseries in 1983. Several years later, the Ohio native produced "Beverly Hills Brats" in 1989 and served as the executive producer of "The Way," (2010) – a drama film Sheen starred.
The proud dad once revealed that the movie was "written and directed" by the couple's oldest child, Emilio Estevez, who also appeared in the project.
Templeton Saved Sheen's Life
Sheen and the mother of his kids have been through trying times together. In January 1976, he suffered a health scare because of work pressures – and she was beside him.
Sheen desperately wanted to appear in a Francis Coppola film, "Apocalypse Now," and admitted his "ego" drove him to ensure that he saw it through. However, he and the director were constantly at odds because of how he wanted him to portray the character.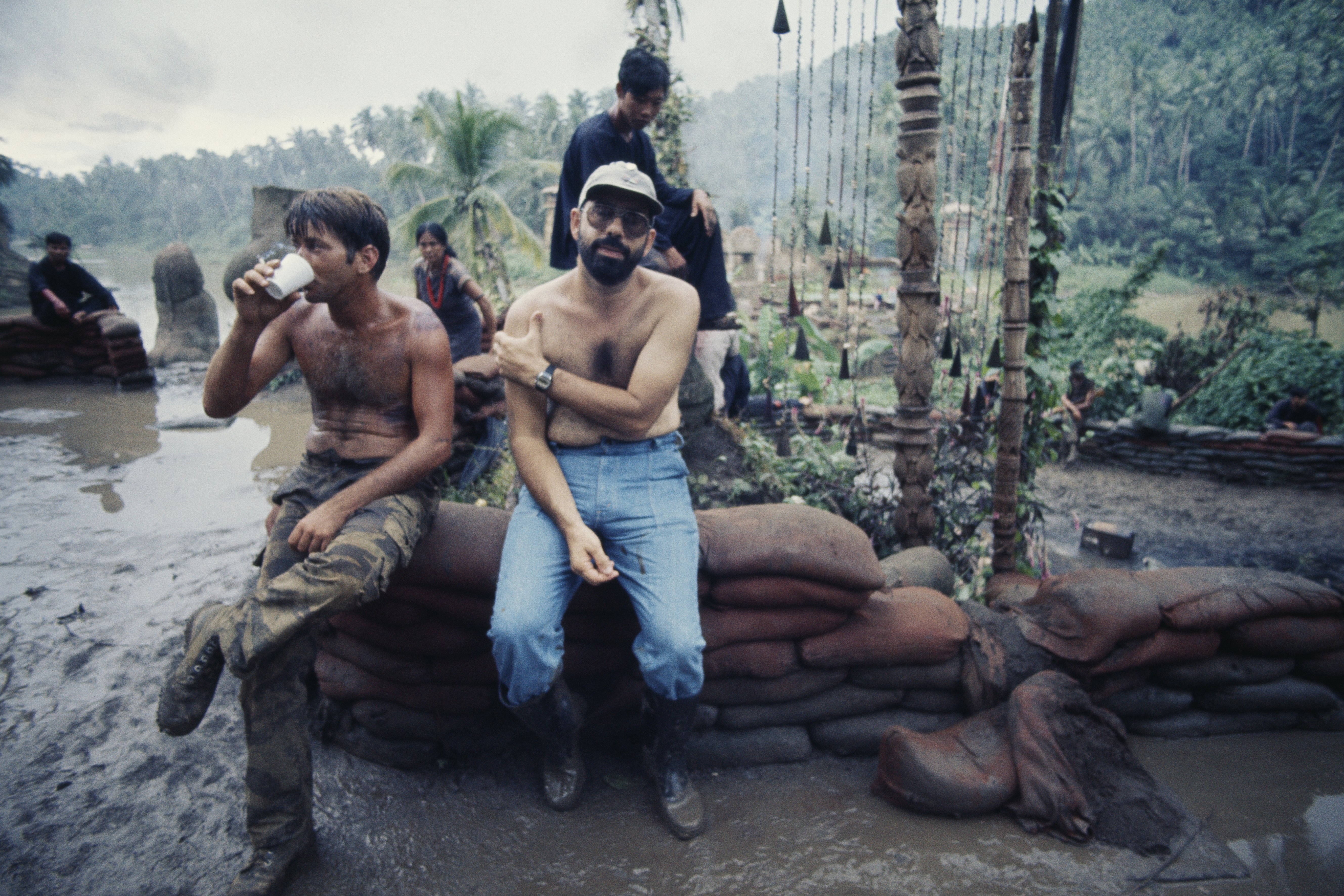 Martin Sheen and director Francis Ford Coppola on the set of "Apocalypse Now" on January 1, 1976.┃Source: Getty Images
Consequently, Sheen became ill and lost weight. One crew member revealed Coppola had a weird way of letting actors know what he wanted from them on screen:
"He would tell Martin, 'You're evil. I want all the evil, the violence, the hatred in you to come out.' Francis did a dangerous and terrible thing."
The insider added the director acted like a "psychiatrist" and brainwashed Sheen – who, in this case was "too sensitive." "He put Martin in a place and didn't bring him back," said the source.
Coppola said hurtful words to Sheen to rile him for the screen, including making him drink to get into character and locking him up for two days. That kind of treatment took its toll on "The West Wing" star.
One evening when Sheen was alone, he suffered a heart attack and "crawled to the side of the road." Fortunately, he got into a bus and later into a wardrobe van that drove him to the production office.
Upon arrival, a doctor attended to him, and he asked to see a priest, who gave him the "last rites." They transported him to the hospital, but it was a hassle to get there because they were in a remote area.
The legendary Hollywood star went into cardiac arrest and suffered a nervous breakdown, and all he wanted was to see his wife by his side. As a result, he found himself admitted to ICU:
"I completely fell apart. My spirit was exposed. I cried, and I cried. I turned completely gray – my eyes, my beard – all gray. I was in intensive care. Janet slept on the floor beside me."
He recalled in November 2016 that, Templeton ran "down the corridor" to get to him. As he was wheeled into the room, she whispered in desperation: "It's only a movie, baby. Please, it's only a movie!"
Templeton suggested her husband see a therapist, and he obliged – and saw the professional daily until he recovered. "Those two ladies pulled me through," said Sheen in 1979.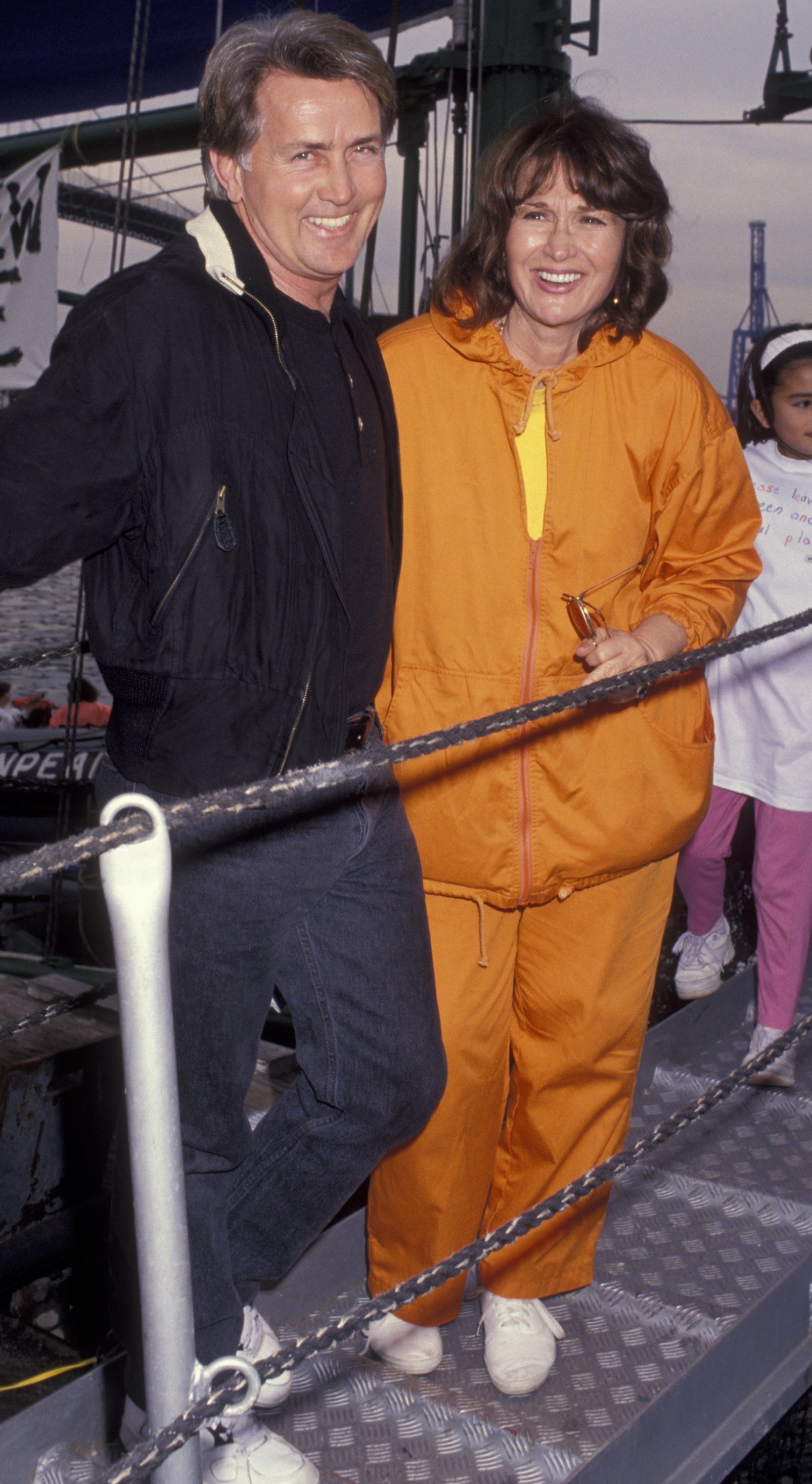 Martin Sheen and Janet Sheen attend Rainbow Warrior Launch Party on February 1, 1992 in San Pedro, California.┃Source: Getty Images
Notably, that was not the only time the actress stood by him through dark times. In December 2015, Sheen underwent quadruple-bypass heart surgery. Templeton once again helped him through the recovery process.
She was with him the entire time, and though it was a scary situation, "she handled it like a pro," said Sheen. He divulged Templeton, ensured he laughed most of the time, and told him to loosen up a bit.
How Sheen & Templeton Celebrate Their Love
The lovebirds celebrated their 55th wedding anniversary in November 2016. Sheen revealed that he and his wife never make a big deal about celebrating the special occasion. That said, they only do it for their children and grandchildren. Moreover, Sheen stated how he and Templeton embrace their love:
"Every day is a celebration with this dame."
When Templeton and Sheen marked their 60th wedding anniversary in 2021, their son Emilio and his girlfriend, Jacquie, decided to set up a cozy "private restaurant" for them indoors at home by the fireplace.
They got in character as chefs and served the elderly duo a five-course meal for the night. Emilio added the "charade" was so beyond hilarious that he and his lover failed not to laugh out loud.
Sheen and Templeton welcomed four children within their successful and enduring marriage. They had three sons and a daughter. Their firstborn, Emilio, was born in May 1962, followed by their second son, Ramon Estevez, a year later in August 1963.
Templeton and Sheen's third son, Charlie Sheen, arrived in September 1965, and their youngest child, daughter Renee Estevez, was born in April 1967.